Okay, so you're unlikely to see an S800 at the Norm Reeves Honda show tomorrow, but what about the E-AT Civic? The third-gen Civic is a wholly under-appreciated chassis among hipster Honda kids, despite the fact that it was largely responsible for kicking off the Honda tuning scene.
It was the platform that spawned the first CR-X, as well as the first Civic Si, and in Japan it was offered with a fuel-injected twin-cam ZC 1.6 capable of 129 horsepower (equal to that of your precious AE86s). Tuning house Osaka JDM was one of the OG pioneers hot-rodding these things back in the day.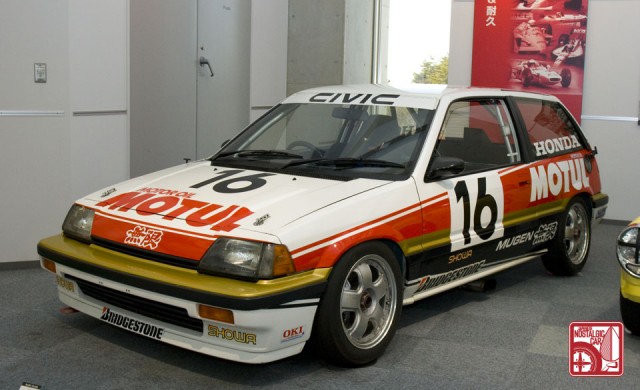 By the way, that one Civic in the video above is a replica of this, the second-oldest Honda race car at the Honda Collection Hall. It's the Mugen Motul-liveried car that won every single race of the 1600 class in the 1987 All-Japan Touring Car Championships. Take that, AE86 fanboys!
Even in SoCal, the heartland of Honda trends, we haven't really seen AT Civics at large regional shows like the Norm Reeves event. It's a logical gap that may require in-depth analysis in an upcoming article, and perhaps due to the fact that Civic tuners consider a 1993 EG "old school." Hopefully tomorrow will prove us wrong.
Photo by Dan Hsu.