At long last, Toyota is bringing out the nostalgic guns. Accompanying the Toyota FT-86 Concept's arrival at the Geneva Motor Show last week comes these official images. Unless you're steeped in Toyota history you might have missed the significance of the concept's 86 designation, but here's visual proof of where Toyota is going with this.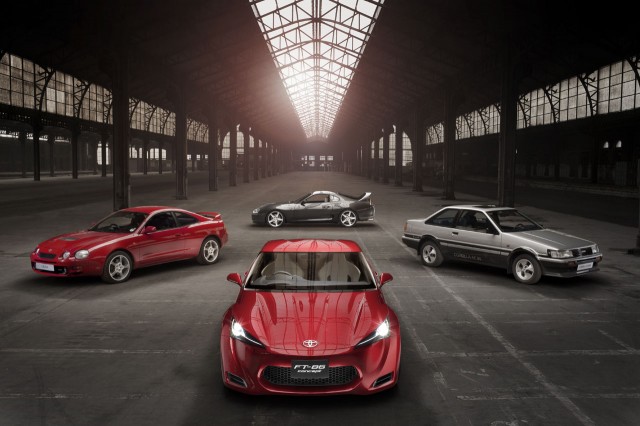 And where it's going is straight to the Corolla Levin and Sprinter Trueno, twins that make up the legendary AE86 chassis code. Toyota Europe president Andrea Formica even made direct mention of the Supra, Celica and MR2 in his speech.
If you look closely though, this family portrait is doctored. For one thing, "AE86" never appeared anywhere on the original hachiroku, except in its VIN. Instead, the door decal should say "Twin-Cam 16-Valve." The term "AE86"  was only popularized after the car caught on like wildfire with enthusiasts, who adopted the chassis code as shorthand for Corolla Levin/Sprinter Trueno.
But enough nitpicking. It's good to see Toyota drawing attention to a different type of acceleration, and to see Japanese companies drawing on their extensive heritage like Nissan did recently. But next time, Toyota, don't rely on Photoshop. We at JNC will gladly bring them together for real.