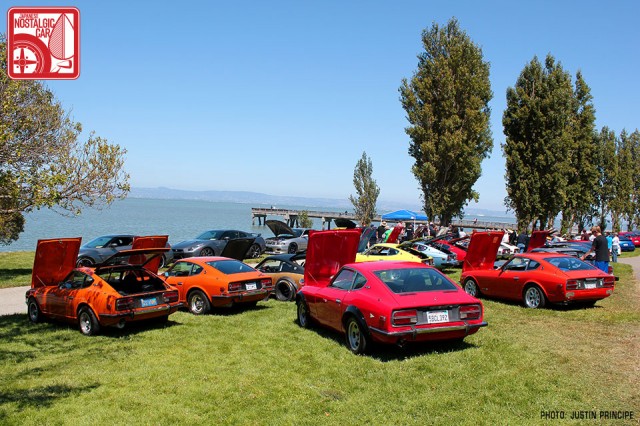 Members of the NorCal JNC team recently headed to the city of Brisbane (that's California, not Australia) to attend a car show put on by the local Z Car club. The shindig took place beside the beautiful waters of the San Francisco Bay and welcomed all kinds of Datsun, Nissan and Infiniti cars.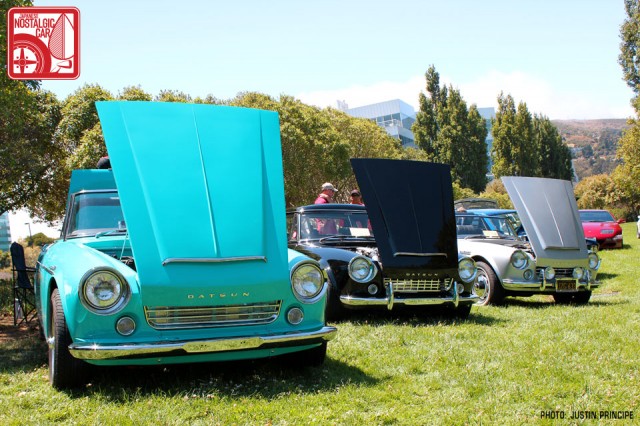 The Z Owners Club of Northern California has been around since 1976 and serves a huge swath of the state, from the Oregon border down to Visalia. Since its inception its scope has been expanded to include Datsun Fairlady roadsters, 510s, Nissan GT-Rs and the Infiniti G-series. There were three roadsters at this year's show. Amazingly, the turquoise 1966 1600 Sports has a U20 motor that's been converted to EFI and turbocharged!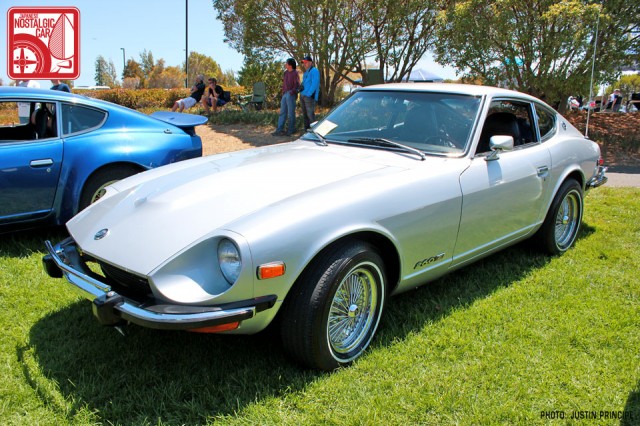 Bill Seethaler's Datsun 260Z gives us a glimpse of how British-inspired enthusiasts were tricking out their cars in 1974. Aside from the wire wheels and whitewalls, it's all original and has an astounding 385,000 miles on the odometer!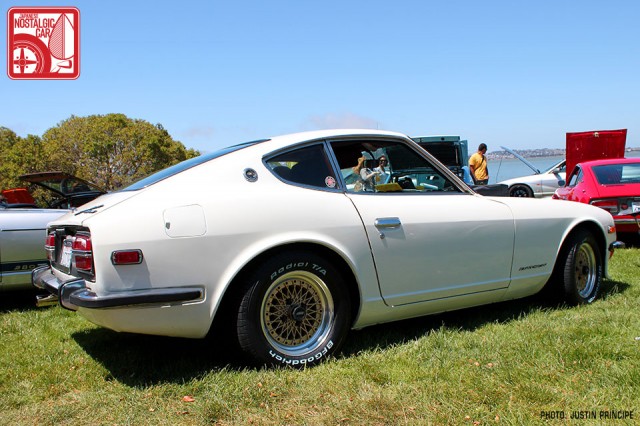 We loved the simplicity of this white 240Z. It forgoes prevailing American trends of the 70s — door ding guards, bumper overriders, slot mags — for a look that less hot rodder and more road racer. Make no mistake, with its bumper guards, side markers and BFG radials it's still plenty USDM, but its Enkei Apache meshies give it a period look that perfectly straddles east and west.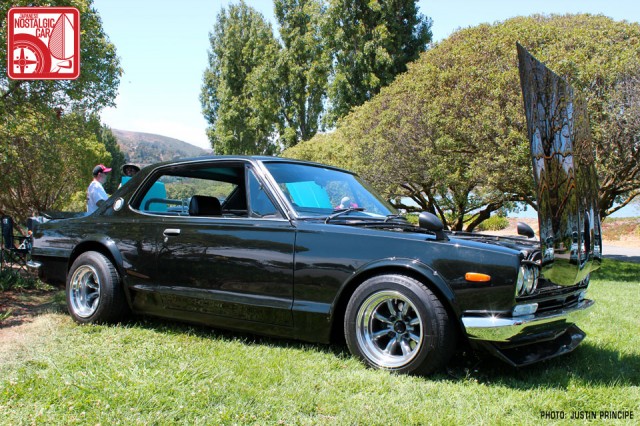 We first encountered Gary Stephenson's 1971 Skyline 2000GT at the Bayline Gathering. Extensive detailing was done at local tuning house Z Car Garage, and it must be seen in person to be appreciated. Photos simply do not do it justice.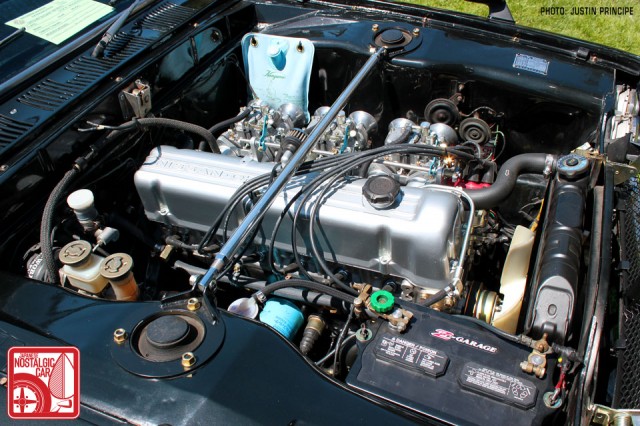 There are few things in the world that look more sinister than a black hakosuka, and this car has and engine to back it up that menace — one of Rebello's legendary bored-and-stroked 3.2 L28s.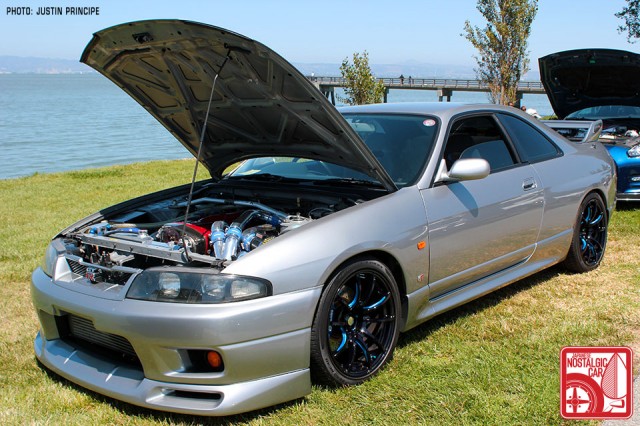 Not far away we spotted an R33 Skyline GT-R V-Spec, five generations removed from the hako but still rockin' one of Nissan's masterful straight sixes.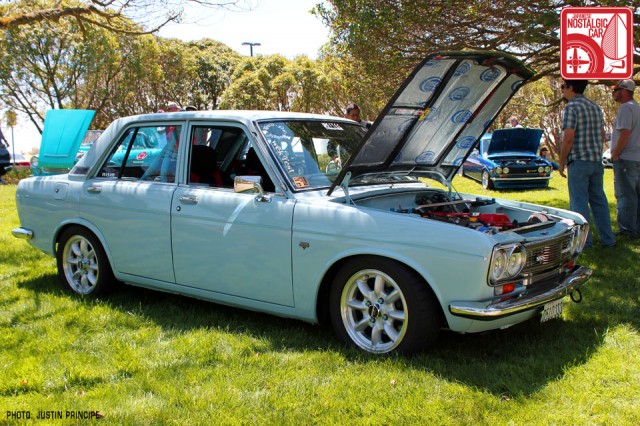 We first spotted Jose P's Panasport-shod 1971 510 at Bayline Gathering as well, but it took off before we could peek under the hood. We guessed by its ominous SSS badges and roll cage that it housed something more than a stock L16. Turns out its powered by a red top SR20DET with Silvia S15 turbo, Greddy intercooler and 650cc injectors.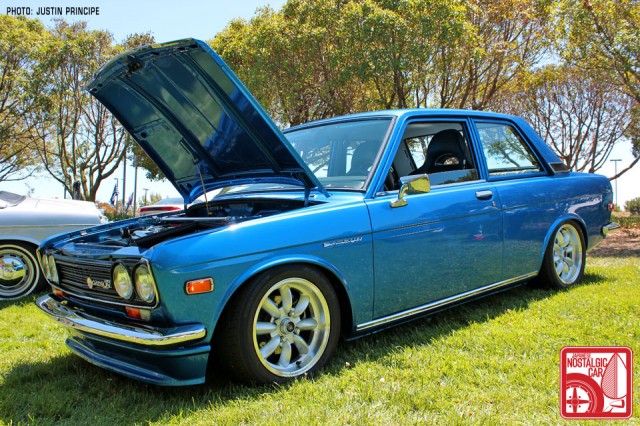 Matt G's sleeper appears to be simply a nicely lowered 510 from the outside. Under the hood, however, lies a KA24DET with modified internals and a GReddy turbo fed by a bottom-mount intercooler. Z Car Garage has dynoed it at 262 horsepower at the wheels, which makes for guaranteed trouble in a 2,000 pound package. You can read more about the build at Z Car Blog.
One of the biggest standouts was Derrick Kemnitz's 1972 Datsun 240Z, which took the Best in Show award. Covered in an interesting modern take on the 280ZX's Black Gold color scheme, its monster 15×10 front and 15×11 rear Diamond Racing rims and Hoosier slicks lend it a race-ready look.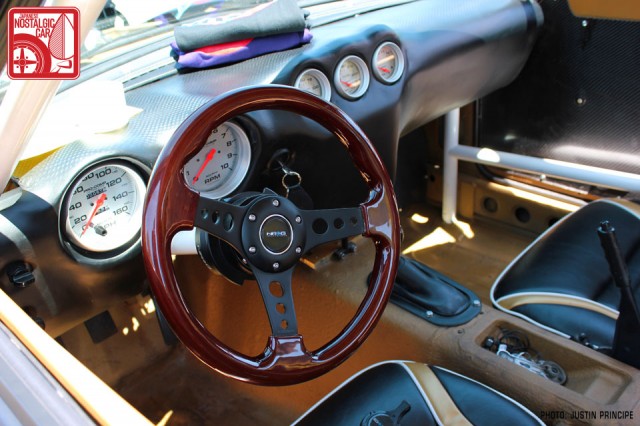 The Black Gold theme continues inside with re-upholstered seats and a custom-built fiberglass dash. Believe it or not, the underlying car was a Christmas gift from Derrick's wife!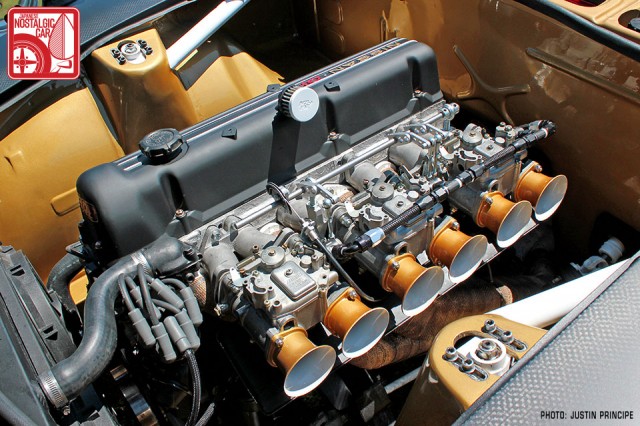 Under the hood is one another Rebello 3.2 with a 12:1 compression ratio dynoed at 345 horses. Note the clean tucking of not only the wires but the throttle cable as well. Its stance comes courtesy of Skunk2 DC2 Integra coilovers mated to Techno Toy Tuning camber plates.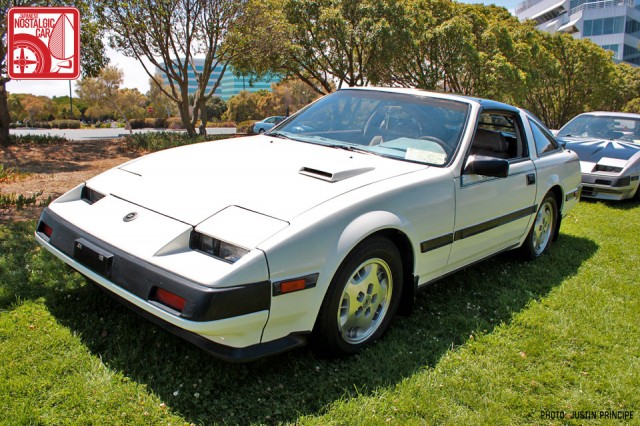 We couldn't leave without showing you this beautifully stock zenki Z31 Turbo. It ain't an 80s Japanese sports car unless it looks like it can become a Transformer (Hasbro, not Bay) at any moment.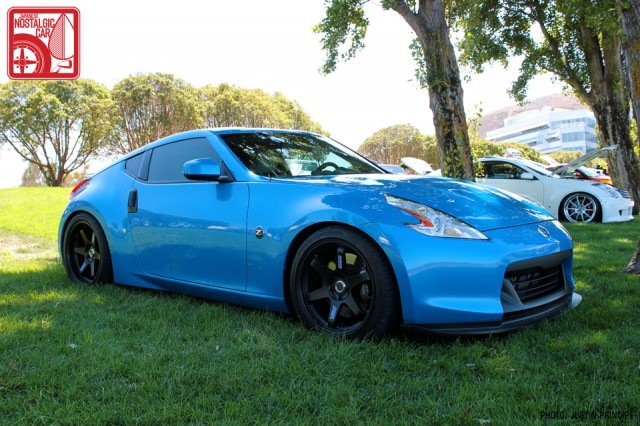 Contrast that 300ZX with a Nissan 370Z just cold lurking in the shade, ready to pounce on unsuspecting showgoers. The "vampire fangs" have been cleverly toned down with a flat black finish, and Volk TE37s never get old.
For more images, check out the gallery below.