Step into Mooneyes' Yokohama Hot Rod and Custom Show and you might think you've stepped through a wormhole to 1960s America. Every style you can imagine, from high-boys to lowriders, is represented, including ones actual Americans no longer care about. Raked street machines, muraled vans, pinstriped lead sleds, all lit up like a GM Autorama. Then you come across drool-worthy Toyota Crown you've ever laid eyes upon and that's when you realize you're in Japan.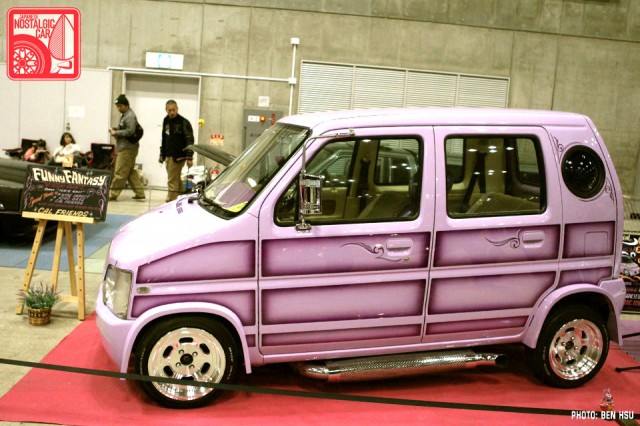 First, a disclaimer: Japanese cars done up in American customization styles is not the norm. For every porthole-windowed Suzuki Wagon R you'll see several dozen drift-spec Silvias or VIP Celsiors. Most of the 280 cars at the HCS, now in its 22nd year, were American iron; we're just focusing on the J-tin, because JNC.
Take, for example, Auto Body N's Mitsubishi Debonair, nosed and frenched like a 1950s lead sled. There are several gaudy Debonairs that are regulars at Mooneyes shows, but this one is a true standout. If you didn't know what it was, you could easily picture it at a SoCal drive-in diner.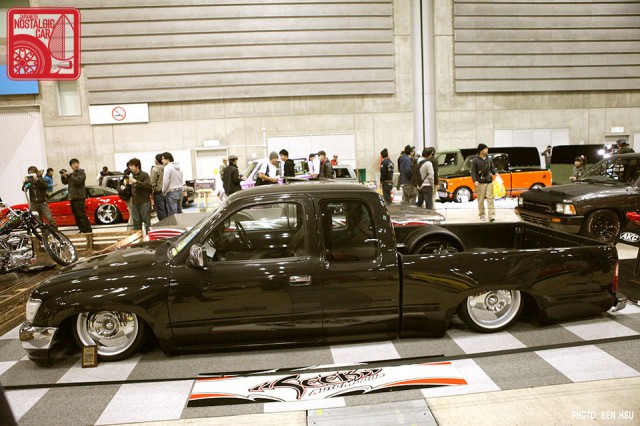 One area where J-tin did have an impact was mini-truckin', a trend that started in the US in the 1980s. The most popular platforms were Toyotas and Datsuns so it was only natural that style would migrate to the land where compact pickups originated.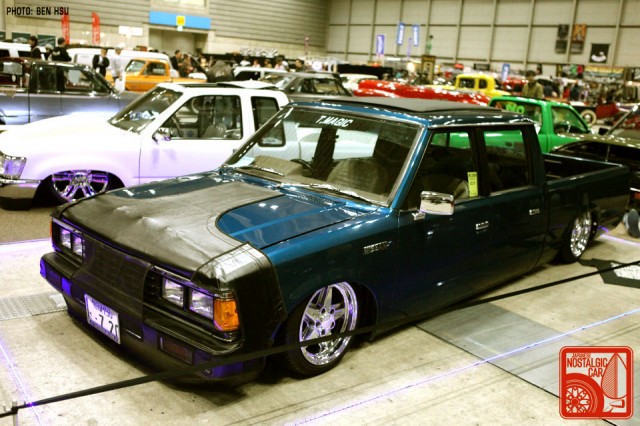 The Nissan 720 Quad Cab wasn't sold in the US but the style just works. To complete the Reagan Era look it even sports a ridiculously expansive 80s bra.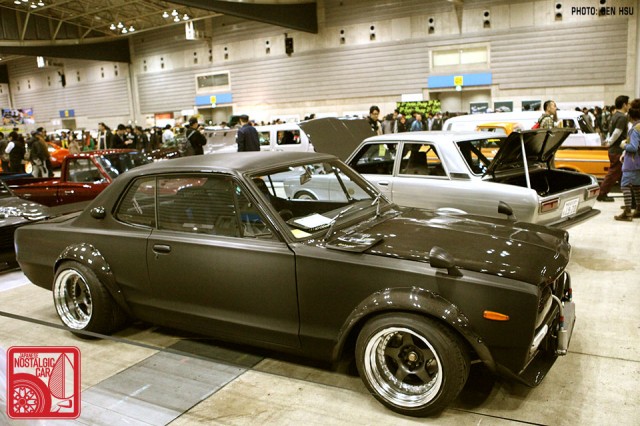 Famed Nissan tuner Rocky Auto brought out their "Carbon Skyline," which came as a bit of a surprise. There's nothing American style about the RB26-powered KGC10, but they say it was purely to have a hakosuka represented. Onlookers said they had not seen a hako at this event for 15 years.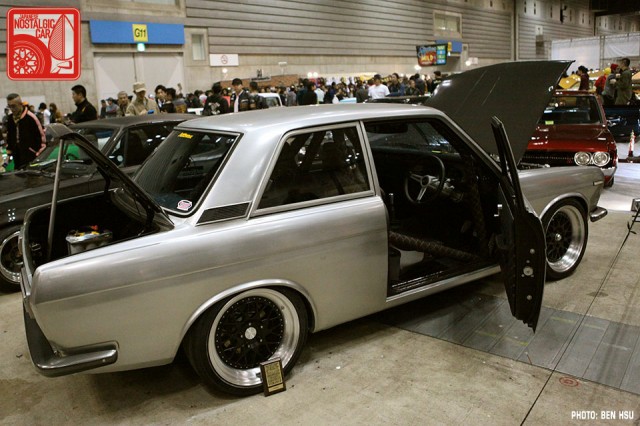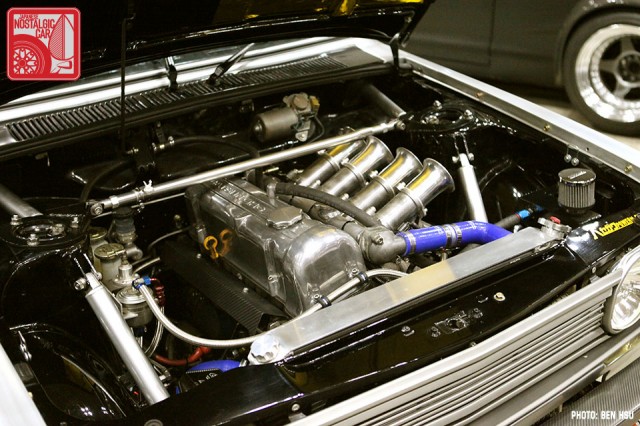 Next to the hako sat a 510 Bluebird two-door sedan, common in the US but a rare one-year body style in Japan. Finished in what appeared to be polished metal, large rims and a slew of parts from the Summit Racing catalog, it was an American resto-mod rather than a period Japanese kyuusha. Even the interior had been largely blacked out with flat, custom panels.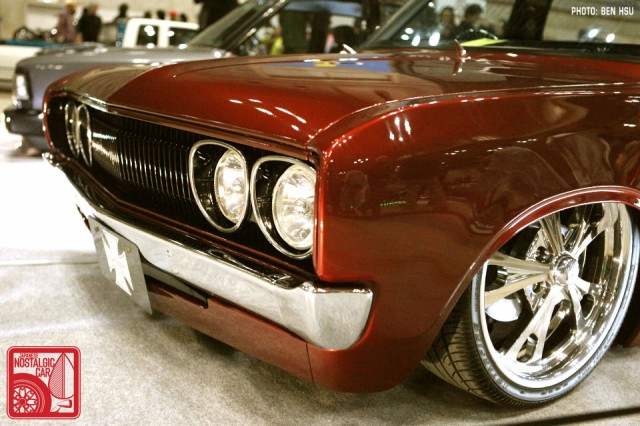 Like kustoms of old, many of the show cars had names related to the theme of the car. "Ghost of Death" was the name for this ghost-flamed Datsun 620.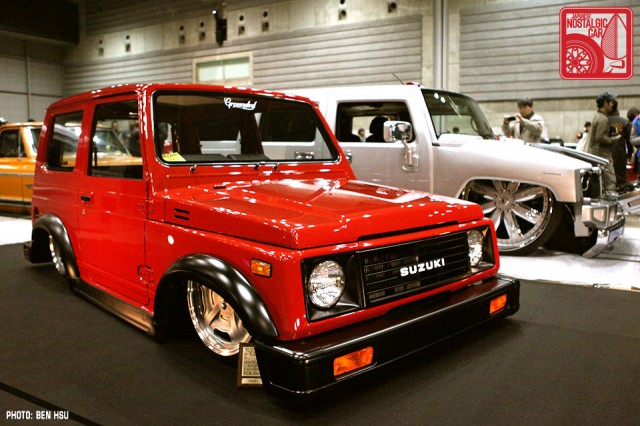 The custom shop Grounded brought a pair of ultra-slammed SUVs. Is it just us or is the bagged Suzuki Samurai a million times cooler than the Hummer you might expect to find at SEMA?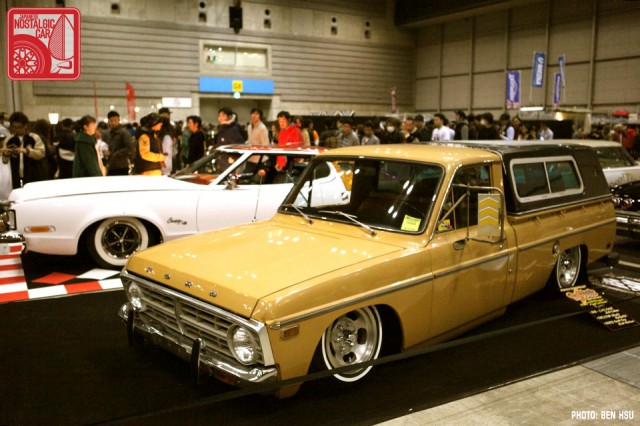 One of the coolest trucks we saw was this Ford Courier, imported from the US complete with old school trucker mirrors and a camper shell. Japanese will recognize it as a rebadged Mazda Proceed with a different grille. The 1970s-style Cougar displayed alongside it was the very definition of the word "pimpin'."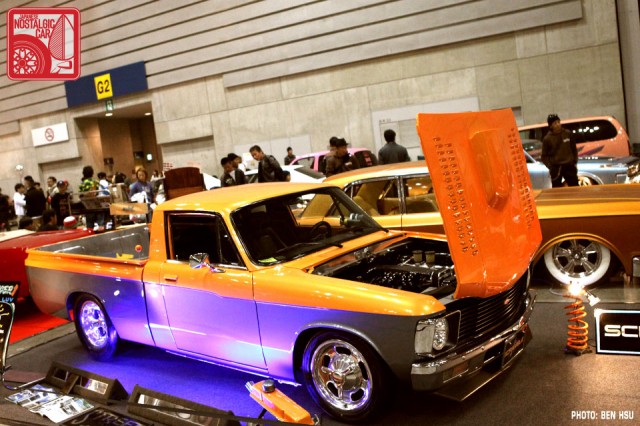 There was more than one freed captive import at the show. A Chevy LUV street machine managed to find its way back home, where it was sold as the Isuzu Faster.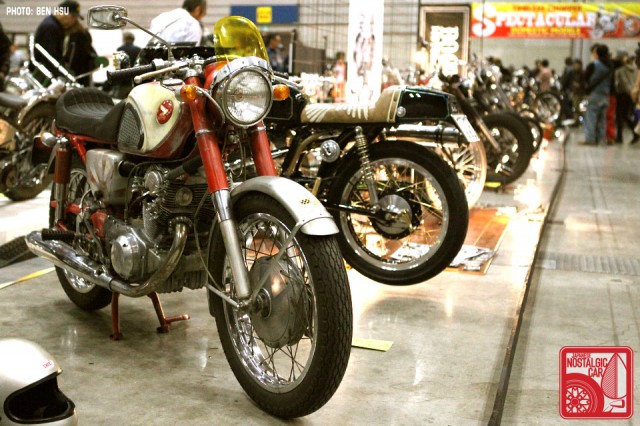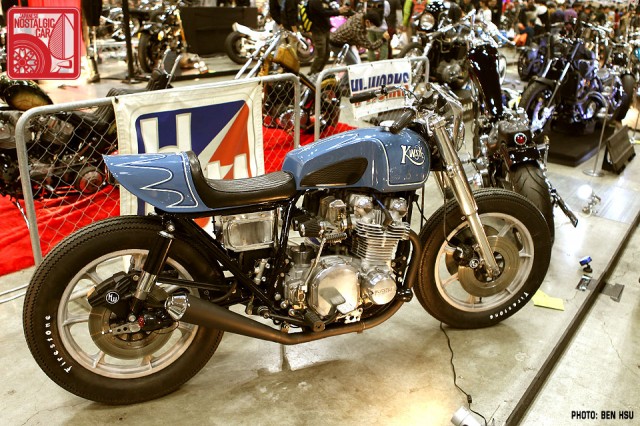 In addition to cars, the Yokohama HCS is also a major showcase for custom motorcycles. This year 650 bikes, many shipped over by custom builders abroad, were put on display.
Yamagata-based bike builder Rocket House displayed a fantastic custom 1976 Yamaha XS650. Completely stripped of unnecessary bits, it looks like a superb lane splitter for big city traffic.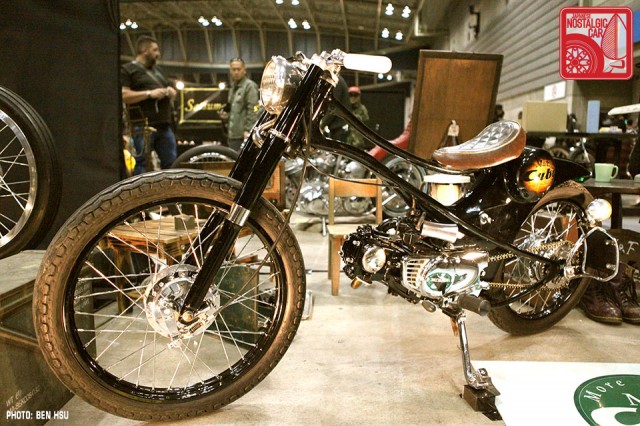 Because being in Japan rekindled our love for the Honda SuperCub, we were intrigued by this custom one. Built by Cuby, it appears to be a SuperCub transformed into a cafe racer.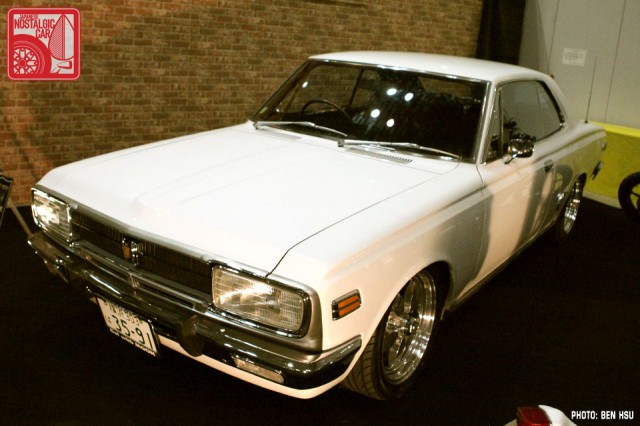 Mooneyes' 1JZ-powered MS51 Crown was displayed front and center. For full details on this gorgeous car, read the profile we did last month.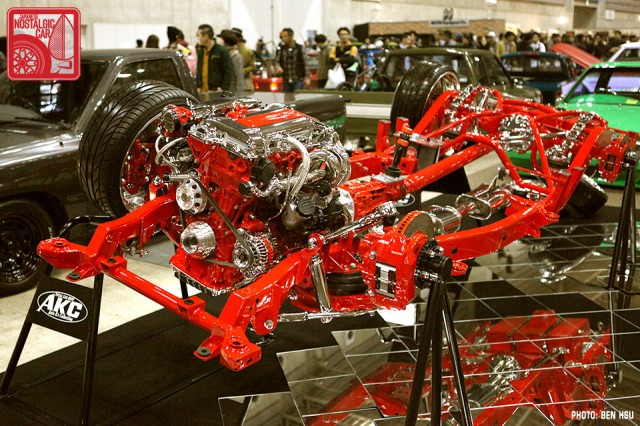 We don't know what body is planned for AKC's frame, but the build thusfar is absolutely mind-boggling. Every nut and bolt has been taken apart and either painted or polished. With an S15 SR20 sitting between the rails it must be a Nissan of some sort.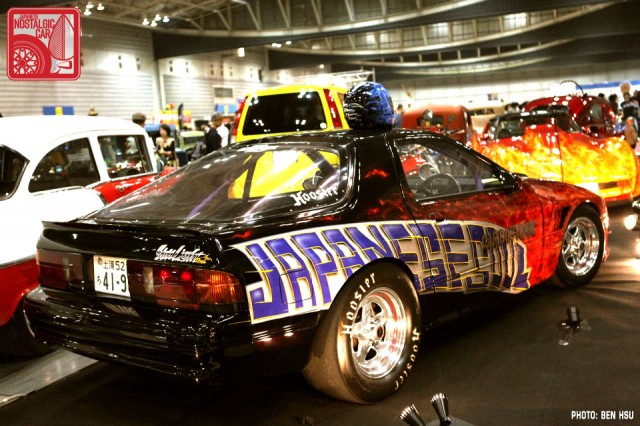 It almost seems that Mazda rotaries are popular drag racing weapons everywhere but Japan. Australia, the US, Puerto Rico, you name it. However, there was a time in the late 80s and early 90s when zero-yon (0-400m) races were all the rage in. These days you're far more likely to see an FC prepped for the touge.
The yellow Sunny sedan with ghost flames and VTO Libre replicas is a regular at Mooneyes shows. We've spotted it before at the Mooneyes Street Car Nationals. Somehow the sedan body style works better for the American style treatment.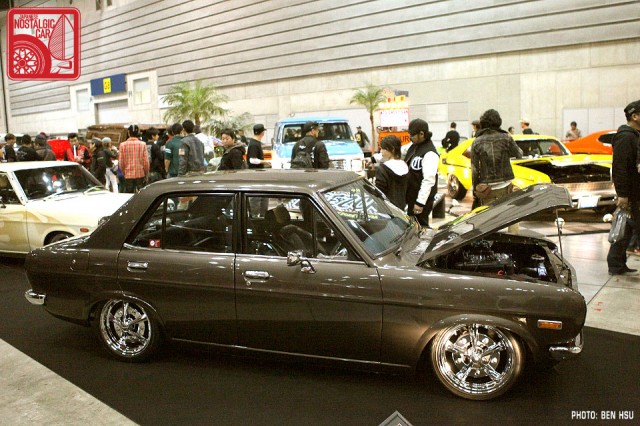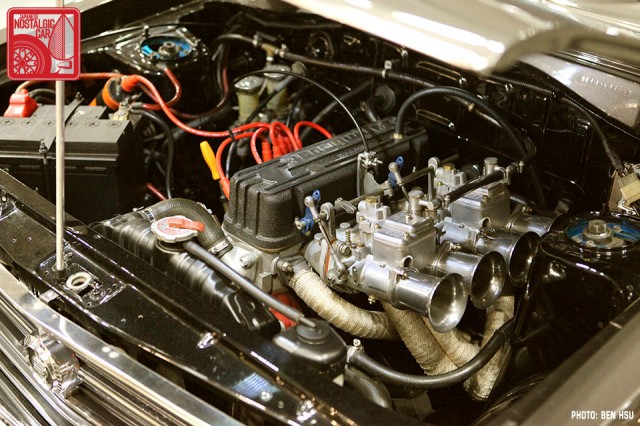 This year it had a partner in crime, another B110 sedan. Its built A12 sported a rare Nippon Armbrust valve cover and what appear to be Tomei headers. Our friend Rachel said this was her show favorite, proving that chicks do dig Datsuns. Note that it wears VW wheels so the hubs must have been changed to accept the lug pattern at point.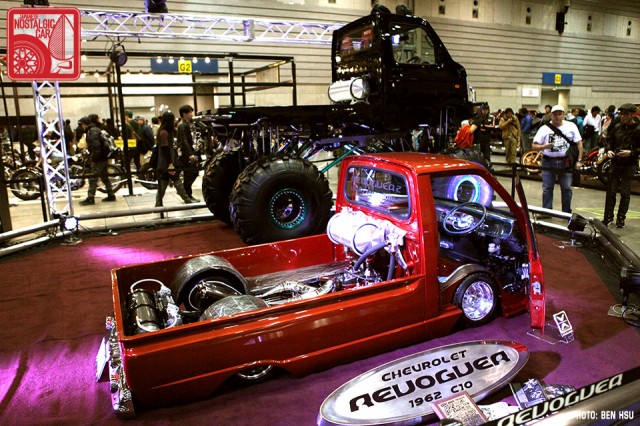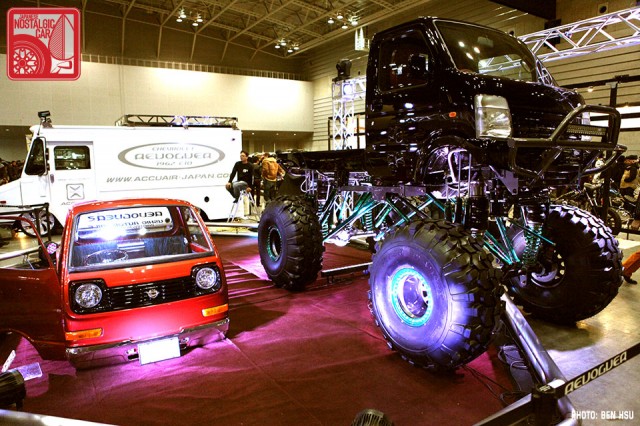 Our personal award for most insanely awesome display goes to Revolver for their kei pickup opposites. Which would you pick, the slammed 1970s Daihatsu Hijet or the go-anywhere Suzuki?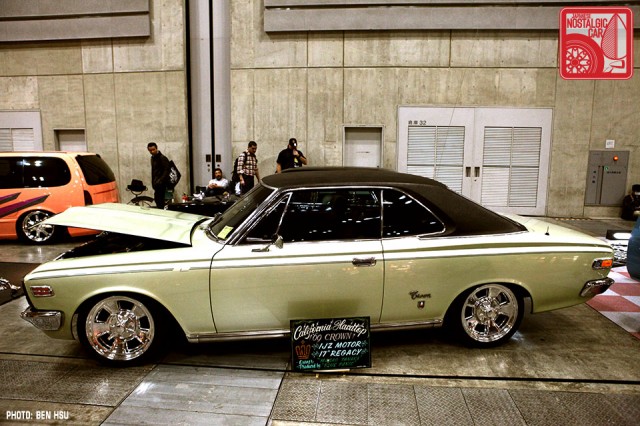 Even with a vinyl roof Blue Panic's 1969 MS51 Crown was absolutely stunning in light metallic green. Like the Mooneyes car it was powered by a Toyota 1JZ straight six. The wheel choice, though probably not the first pick for most JNC readers, is basically what many Japanese think epitomizes California style. And yes, that is a 80s style Nissan Quest in the background.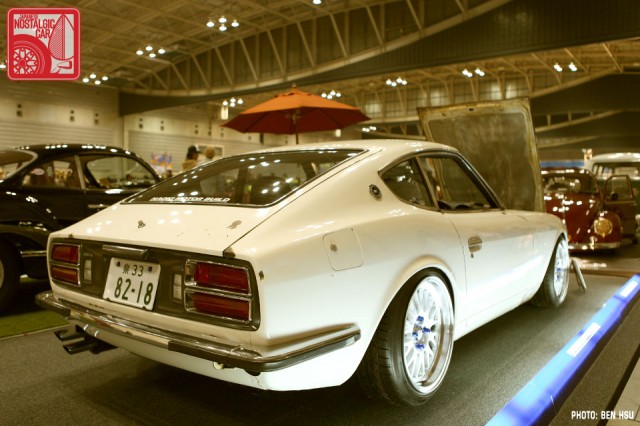 At any other kyusha show in Japan S30s would be well represented, but there was only one at the HCS. Naoki Motor Build's 1975 Fairlady Z was exactly what Japanese think of a stereotypically American — a small block Chevy 350 swap with a TH700R4 automatic transmission and XXR wheels.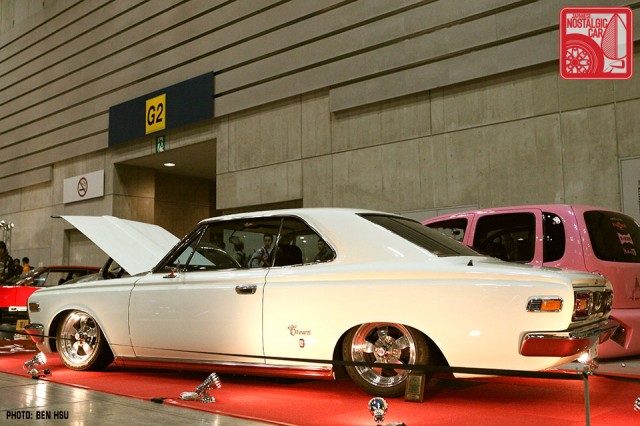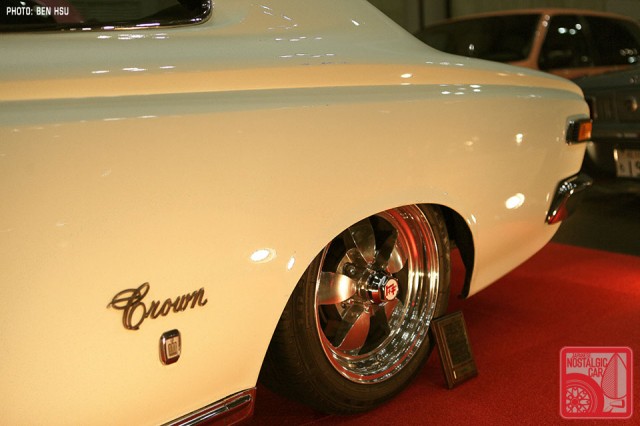 The third and final MS51 at the show was an absolute beauty, finished in all white like a proper Crown should be. Showing some hometown pride for KenAuto, it sported custom center caps that spelled out "Tochigi" in the old katakana Toyota logo's style.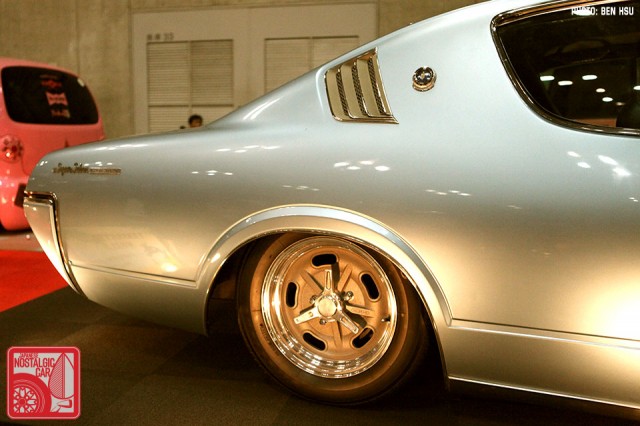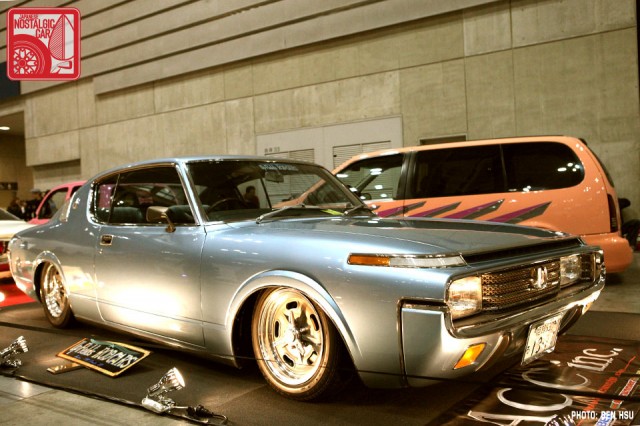 However, if we had to pick a favorite it would probably be UpFields' kujira Crown, which was named Terrestrial Whale. Lowered on a custom Air Runner suspension and fitted with Mooneyes Speedmasters, it was just an absolutely majestic example of an old school Japanese land yacht. We would've loved to take it for a slow cruise down Yokohama's Motomachi Shopping Street.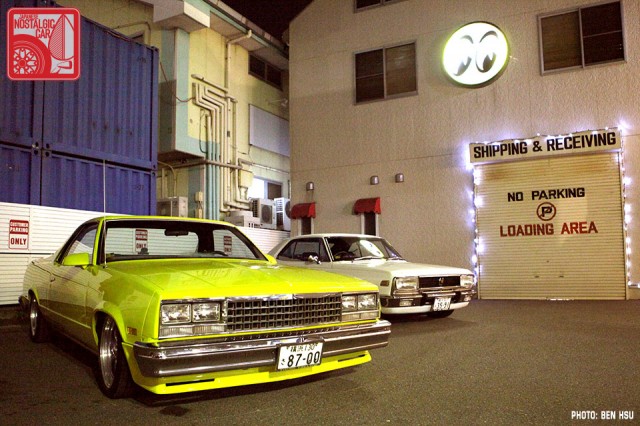 The following night there was a post-show party at the Mooneyes shop in Honmoku, Yokohama. The HCS brought owners, builders, and attendees from all over the world, from places as far off as Sweden and Australia. The 1JZ Crown was already back home and parked Next to the shop's 80s El Camino.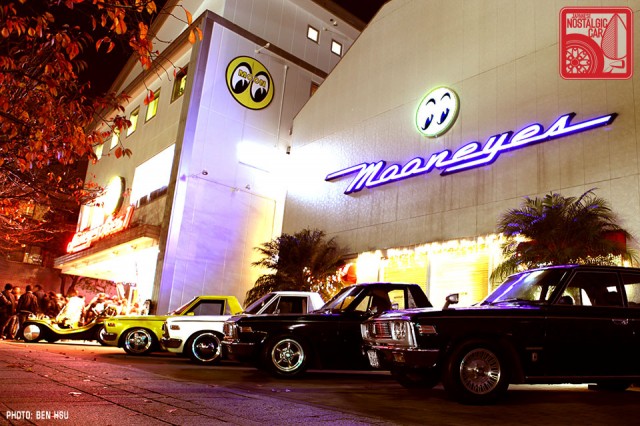 Out front, they had a row of no less than four S50 Crowns — three pickups and a sedan — line up along with a Meyers Manx dune buggy. We've explored the interior of the shop before, and this time it was just as chock-full of cool car-themed goods. Any travels to Yokohama must include a stop to this unique mix of American and Japanese cool and iconic purveyor of automotive culture.