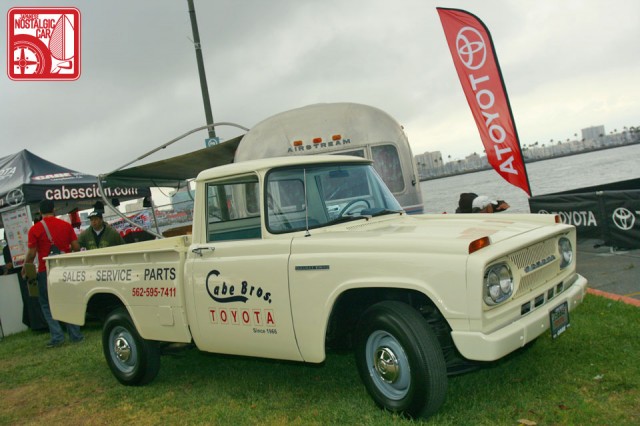 We gave you a heads up that Cabe Toyota would bring a truckload of NOS parts to Toyotafest 2011 at blow-out prices. We'd like to imagine that they arrived in Cabe's off-white Toyota Stout pick'em up. Paired with gray wheels and a vintage logo on the door, it's the perfect 'Yota parts hauler. If you didn't come down to Long Beach last weekend, here's what you missed.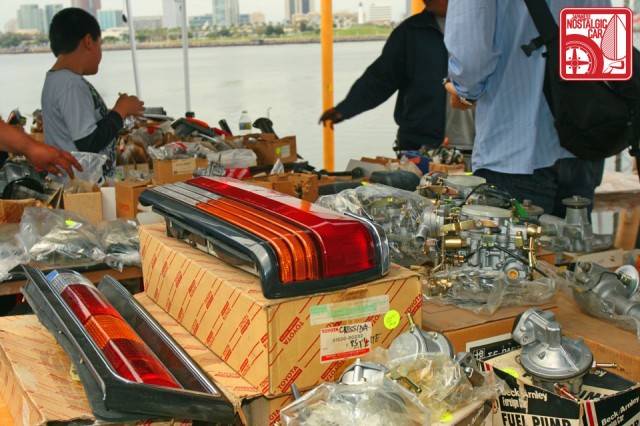 The Cabe Bros. began their Toyota dealership in 1966 and remain one of the most vintage-friendly Toyota dealerships in the US. Got an obscure part holding up your restoration? If Toyota has it stashed away somewhere, Cabe will get it for you. Those are NOS, still-glossy Cressida and MkI Supra taillights.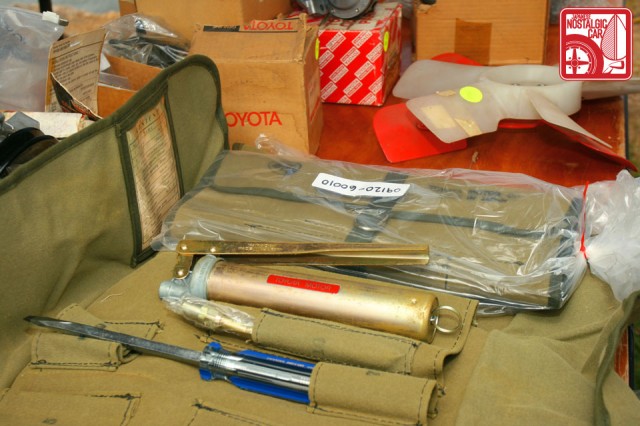 Behold these tool kits, complete with grease gun and a screwdriver that says "TOYOTA" on it, for an FJ40 Land Cruiser.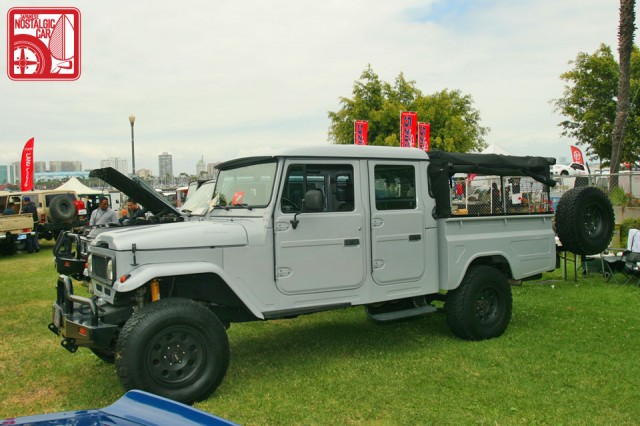 Speaking of Land Cruisers, what exactly was the scenario this beast was created for — Martian invasion? Zombie epidemic? We need to order one of these for the apocalypse.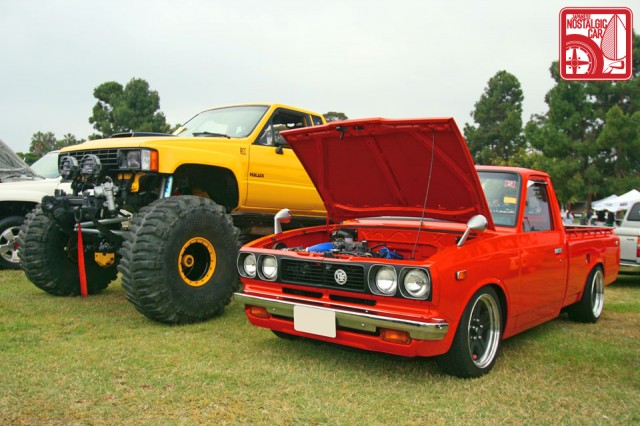 In case an extended-cab pickup FJ is not readily available at the exact moment civilized society goes down the crapper, may we suggest the Toyota Hilux as an alternative? It's already been proven in many third world republics, and there are many directions one can take with the mods.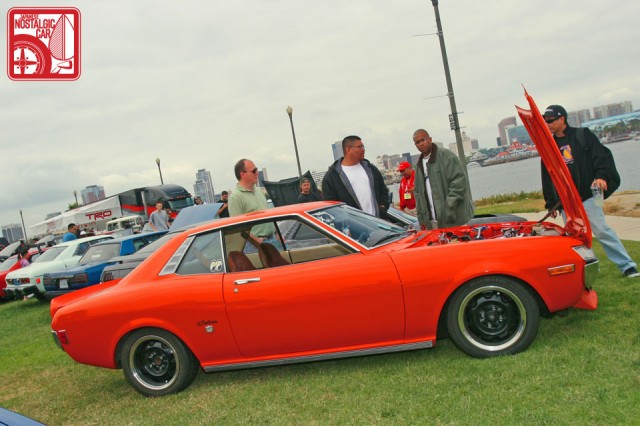 But in case the world remains in tact, we'd rather have a ride like Ray Santos's  Celica. Ray says it's the car he should've bought in high school. He wouldn't have any shortage of dates to the prom if that had been the case. There's something to be said for simple black steelies.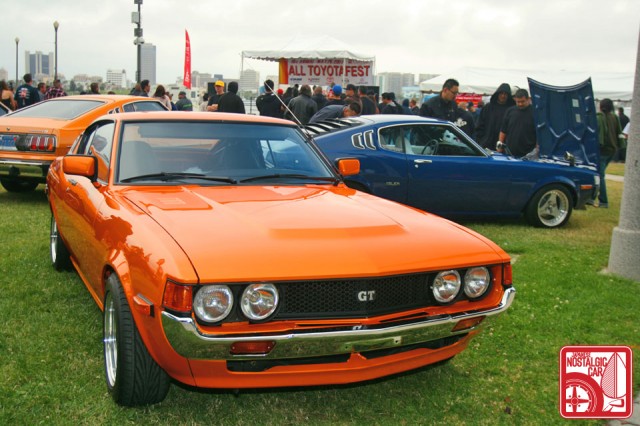 If you need a little extra hauling capacity, opt for a RA29 Liftback like Brian Karasawa's. It's pearl orange coat really pops in person and pictures don't do it justice.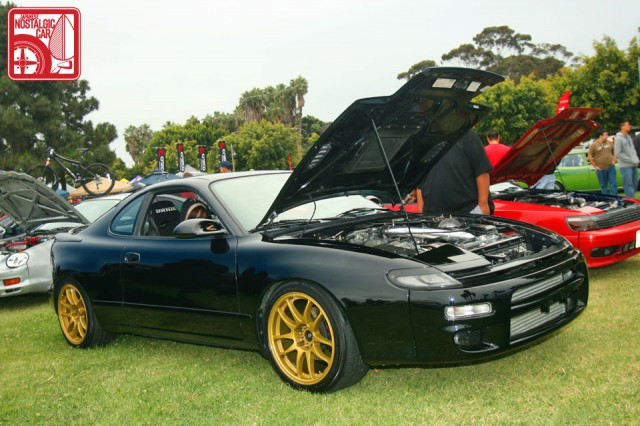 Skipping ahead a few generations, in 1990 the All-Trac was the top dog of the Celicas. Chris Yap's ST185 isn't quite nostalgic yet, but it's rare as hell and it'll get there.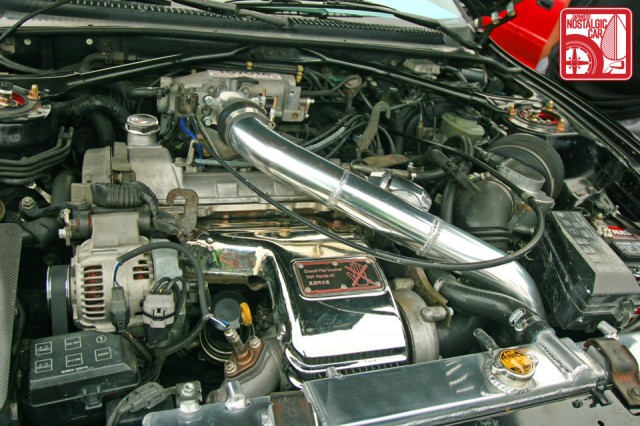 Holy lower back pains, Batman! Toyota certainly packed the engine room. And in case you were thinking about it, don't touch the turbo.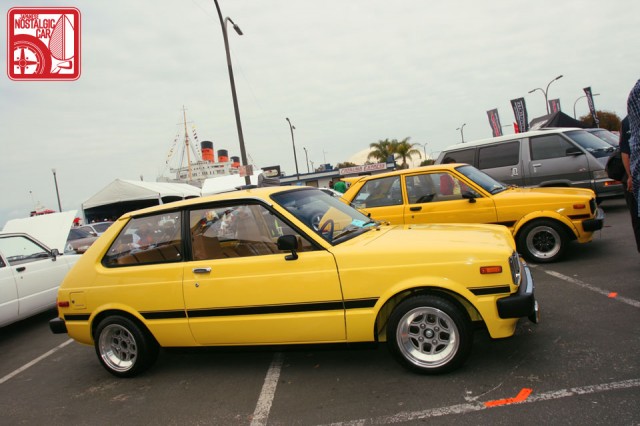 Over by the show entrance, the Starlet corral held three super clean yellow KP61s, each with slightly different mods. We really liked this one's stock appearance set off by classic TOM'S Igeta wheels. Check out that yummy brown interior.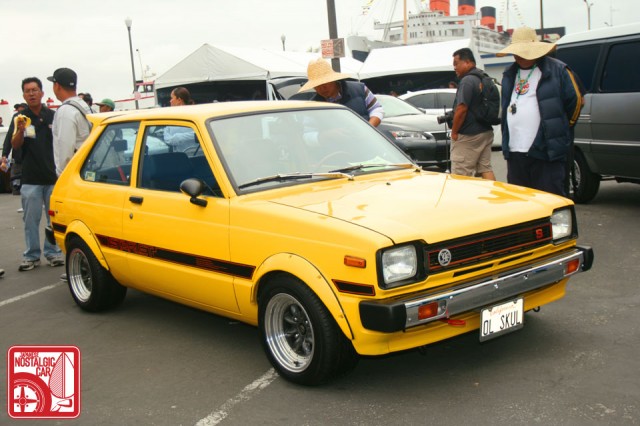 This one had a more aggressive look, with flares, rear spoiler and S grille.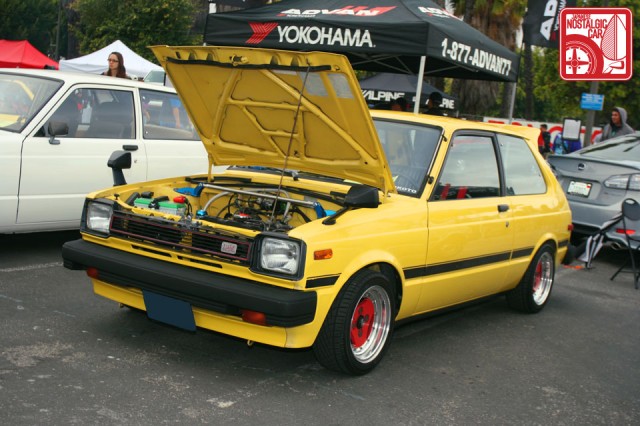 This one split the difference, with Lisse grille, racing seats, fender mirrors, and Advan A3As.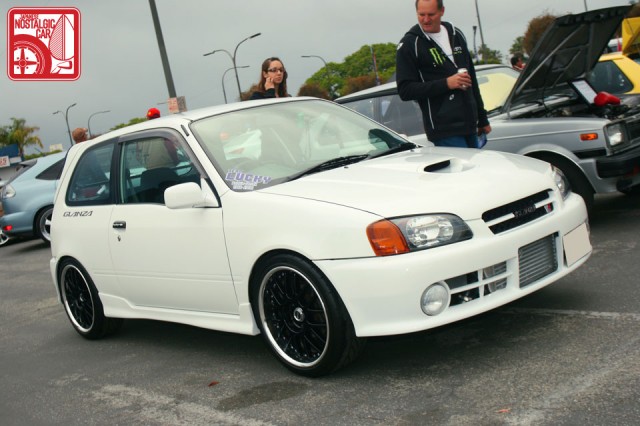 This RHD Starlet Glanza V found its way to SoCal by way of Guatemala. Top dog of the P90 generation, it's a rare sight on US shores.
FF it may be, but we bet it really scoots through LA traffic.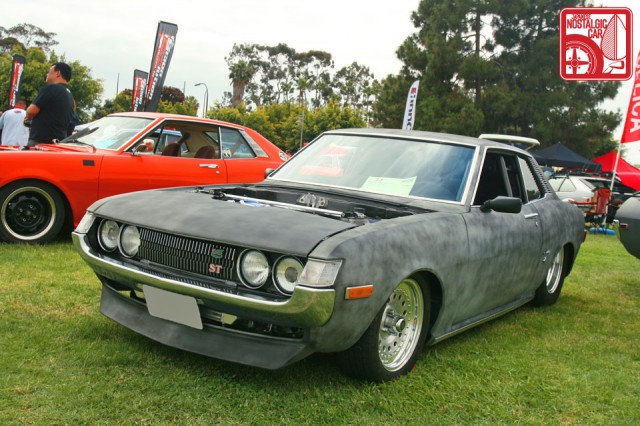 Cary Miller's infamous 1JZGTE Celica returns! Though we'd really like to see this car with a shiny new coat of paint, the build is still pretty amazing.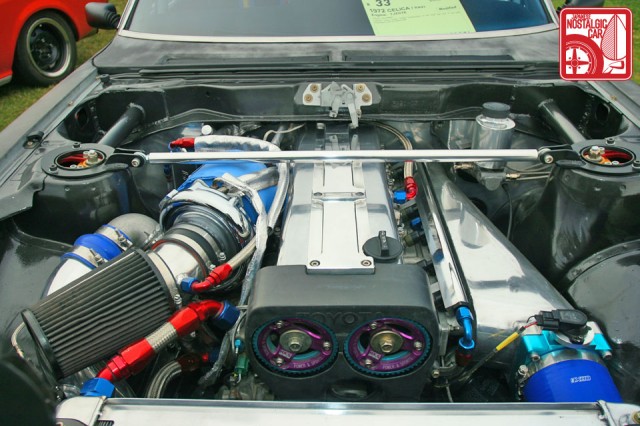 It looks like it was born with that 1JZ. The 72mm turbo could probably suck in a small dog. The overabundance of power is funneled through a GM TH350 tranny and 8-inch Ford truck rear end.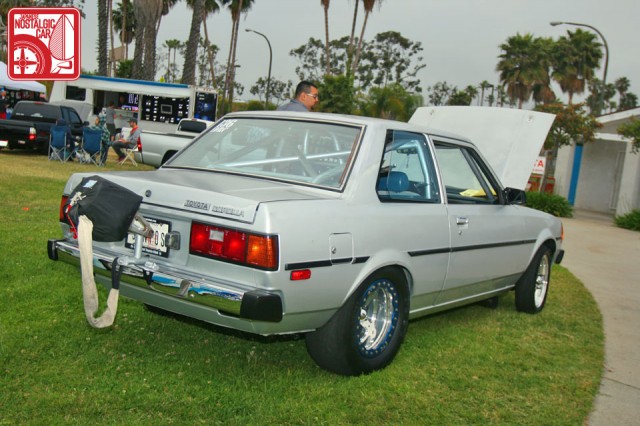 We wouldn't mind seeing it line up at the Christmas tree with Santos Renovales' TE71 doorslammer.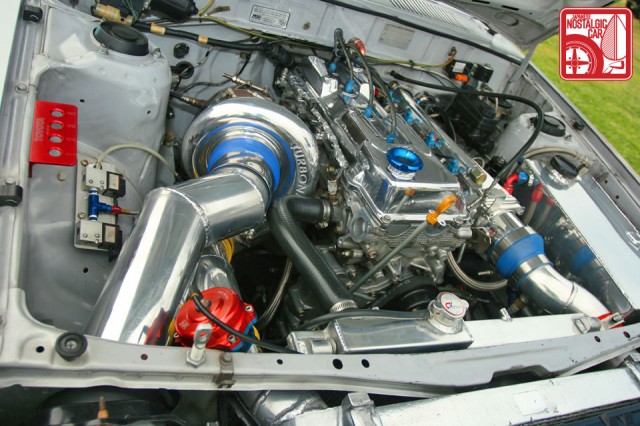 This four-cylinder Tacoma 2RZ turbo has laid down a mind-blowing E/T of 9.5 seconds @ 143 mph in the quarter mile.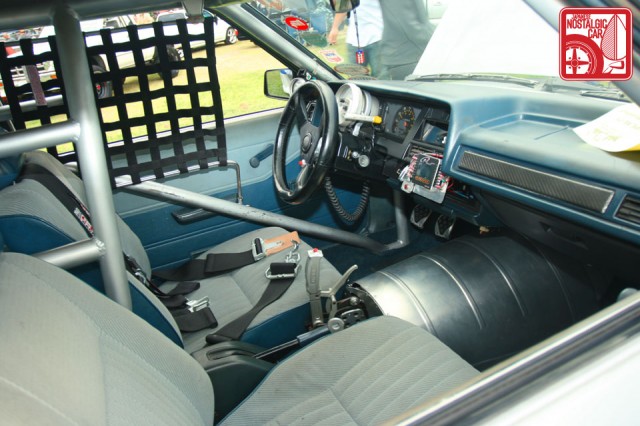 We like to see full bore drag racers that aren't totally gutted, especially when a two-tone blue interior remains. That beer keg on the floor is hiding a G-Force clutchless mated to a 9-inch Ford rear end.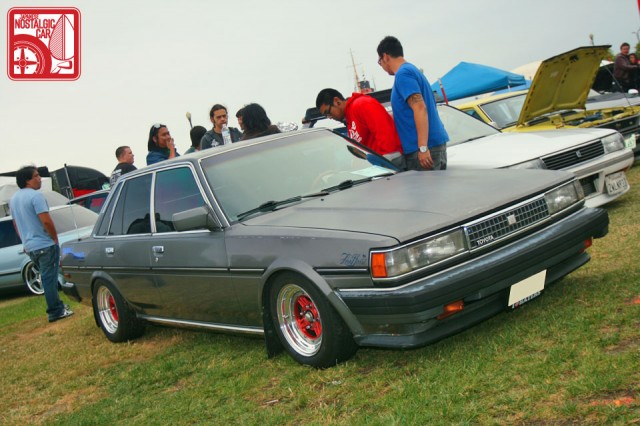 We showed you some SoCal zokusha in Part 02 already, but the world is a happier place with more Sparkle Garage. When you've got an X70 Cressida, it's important to scrape the mudflaps against every Bott's Dot on the road.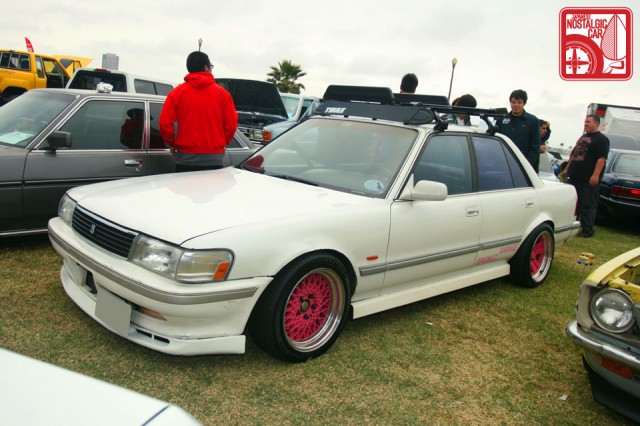 X80 Cressy with a bit more modern tuning aesthetic, with the exception of 'zoku pink wheels sported like a boss. Those are pink (rebarreled?) Starions on the rear.
And one of the originals, the flat black MS65 Crown with a dekotora shifter reaching to the sun visors.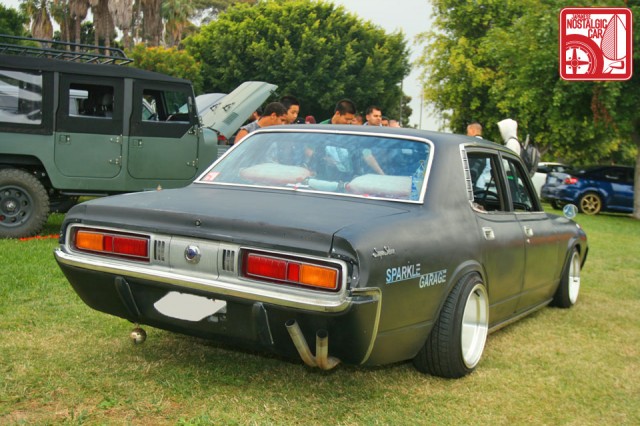 It's the little things that make us smile — bent license plate, bell hanging from the bumper, and pillows on the parcel shelf. Peace!
There's more Toyotafest 2011 coverage coming your way, so stay tuned. In case you missed it, here' Part 01 and 02.