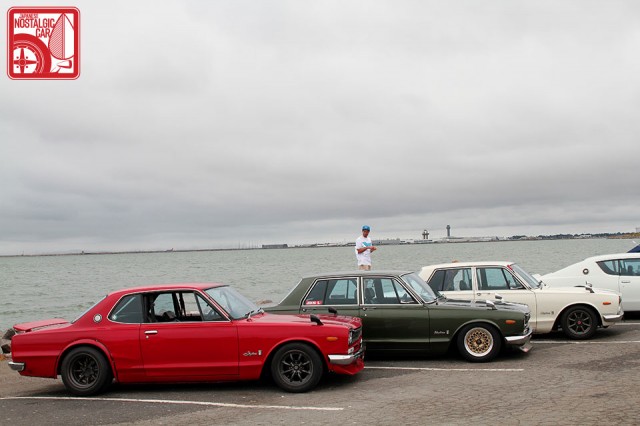 Ever since Motoring J Style faded in 2008 there's been a void in the NorCal nostalgic scene. The Bay Area is rife with vintage Nihon steel, and it needs a bona fide show to bring the cars out from their garages.
The Historic Japanese Car Gathering began when a group of American vintage Skyline owners decided that critical mass of these classic Nissans had been reached on US shores. A meeting would be held! The silver C110 above belongs to show co-founder Ivan Jarmillo.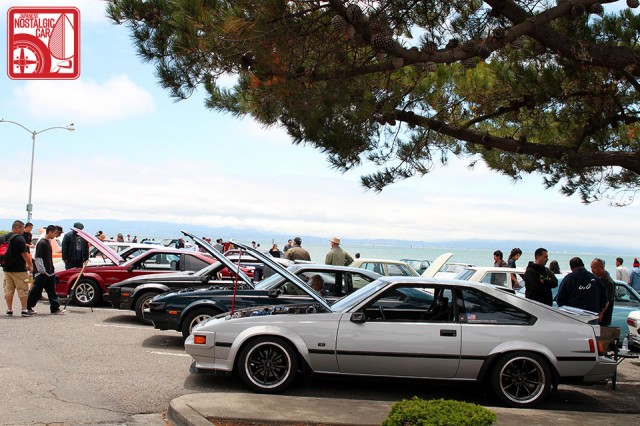 The Bay Area organizers soon opened it up to all pre-86 Japanese cars. Like gold prospectors of yore, we knew there were precious metals hidden in the hills of San Francisco, so we set off northward on a pilgrimage from Los Angeles.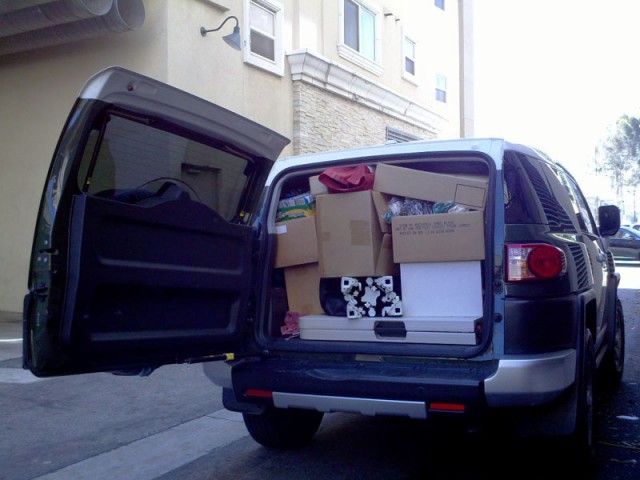 We needed a vehicle that could haul JNC's stock of apparel, decals and magazines, as well as a foldable table and EZ-Up booth. Clearly the 240Z was out of the question and Kev's Project Hako was, well, in Australia. Normally we'd enlist the ol' JNC wagon for local duties, but there were three of us and the MX72 Cressida's rear seat only folds down as one long slab. What to do?
Beg. We made an impassioned plea to our friends at Scion and got our dirty paws on a Toyota FJ Cruiser. This is a shot taken with my supremely crappy Motorola Droid X moments before we left Los Angeles. We folded down the smaller half of the 60/40 split seats and packed it like a game of Tetris. San Francisco or bust!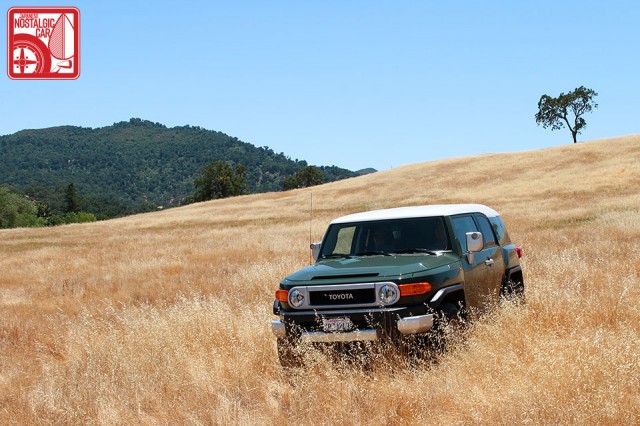 This may surprise non-Californians, but Los Angeles and San Francisco — the two largest metropolitan areas west of the Mississippi — aren't directly connected by interstate. The inland route has a considerable section of two-lane road, but it's still the fastest. We chose to travel up CA-101, longer but dotted with scenic environs like Santa Margarita (more on this later).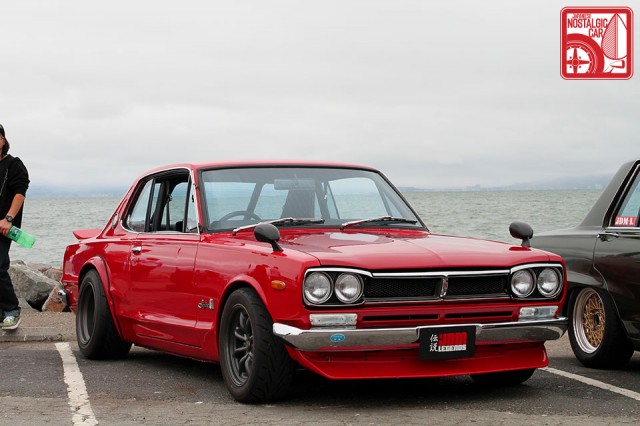 We'd planned to meet Eric Bauer and his brilliant crimson hako in San Luis Obispo, caravanning together to take some action shots car along the way. But on the morning we were supposed to meet up we received a distressing message that gave us visions of Lightning McQueen in a Vietnam War movie: "Fuel problems, go on without me!"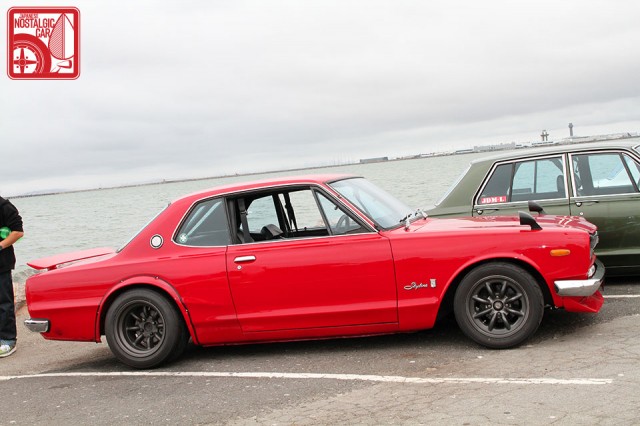 Thankfully, after a heroic carburetor repair job Eric hit the road and made it to the rendezvous point with his Skyline brethren. He even beat us there by barreling up the inland route.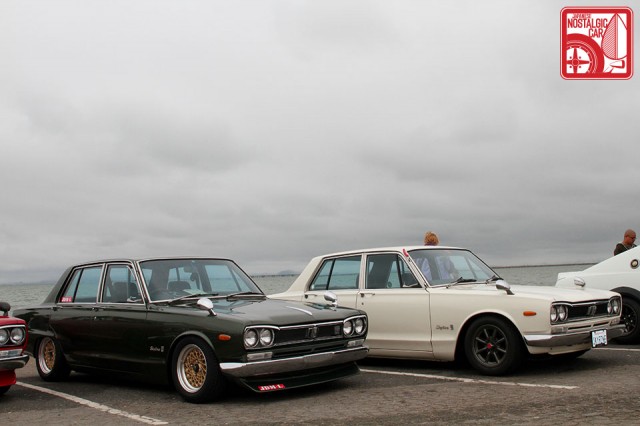 The show itself was held at San Leandro Marina, just across San Francisco bay from the city proper. It was indeed the largest gathering of classic Skylines we've seen outside of Japan, marked by the presence of two shakotan sedans side-by-side. JDM Legends road tripped the green car all the way from Utah, putting our jaunt from SoCal to shame.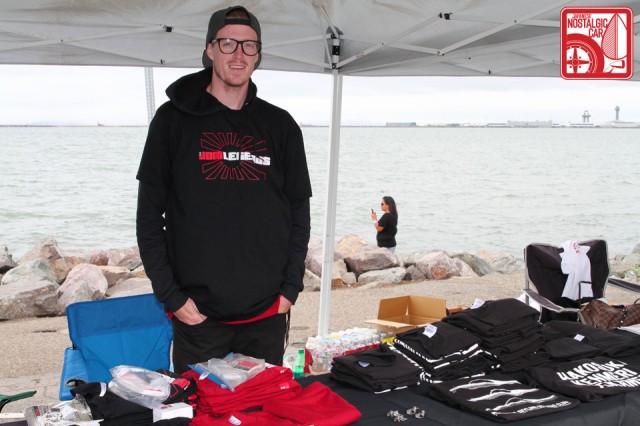 The JDM Legends booth had a fine array of T-shirts, stickers and even Japan-to-US license plate adapters (the little chrome pieces in front). That's JDM Legends' very own Todd and ladies, he's single!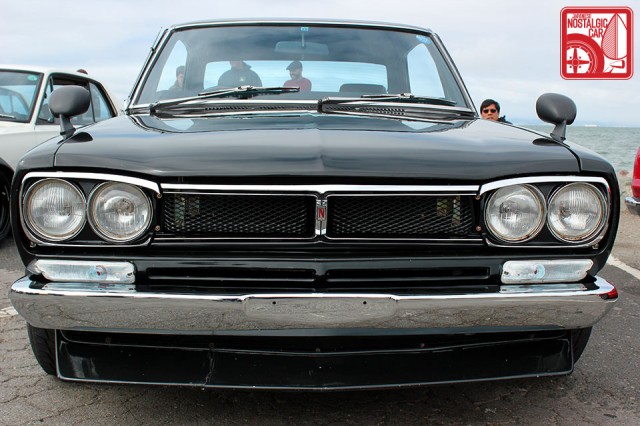 The angry four-eyed glare of the C10 Skyline is menacing enough, but one finished in black? Now that's positively demonic. The astounding detail is courtesy of a makeover at San Jose's Z Car Garage.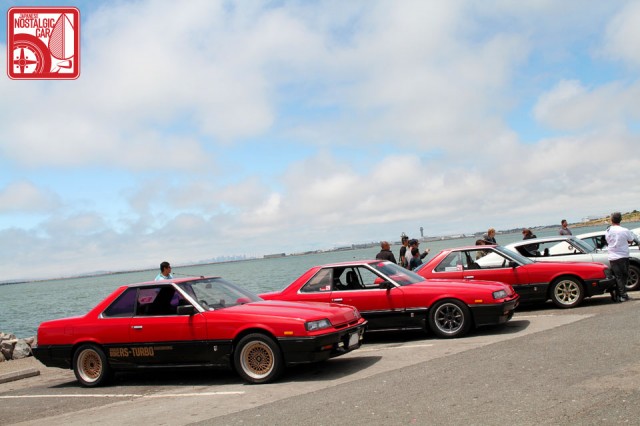 JDM Legends also brought a tekamen "Iron Mask" (the one with the gray Wats) — to complete a trio of DR30s. Three matching top-spec Newman Skylines on the waterfront was a glorious sight to behold.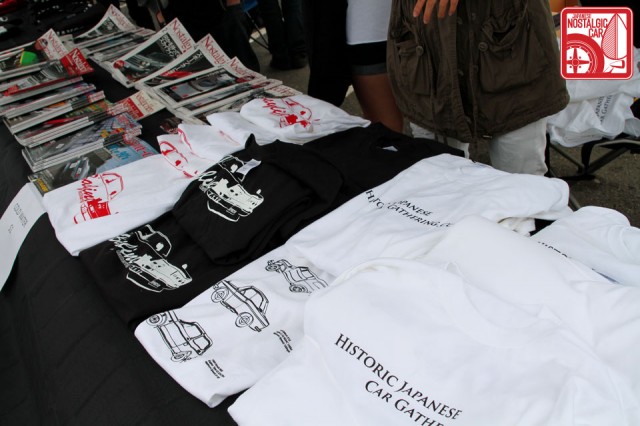 Somewhere along the way, event co-founder James Vorasane got the idea to shorten Historic Japanese Car Gathering to the short and simple Bayline Gathering. The name's so perfect it hurts, evoking San Francisco's nickname as well as Japan's legendary Bayshore Wangan and Tokyo Bay Aqualine, routes where the lore of the cars on display was forged.
By opening the show up to all pre-86 Japanese cars, the event space's 200-car limit was almost filled to capacity. NorCal has a huge population of RWD Toyota fiends, and there was no shortage of AE86s present.
Diversity in style ranged from a deadly JDM shakotan 240Z to Mark Duncan's beautiful but bone-stock B110.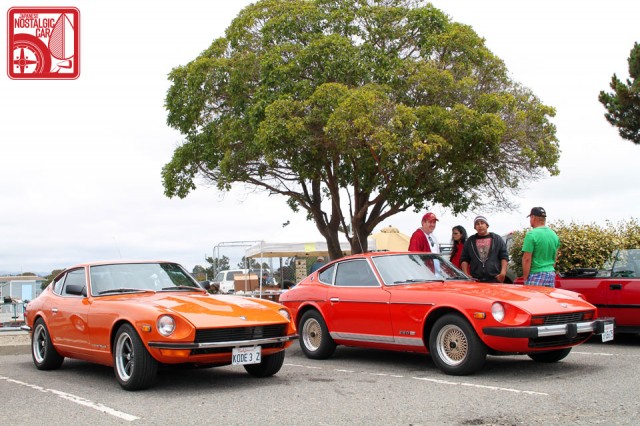 Even the 240Zs themselves were fairly varied. The big-bumpered one on the right, with the door ding guards and rocker garnish, would drive a USDM jammer into conniptions of joy.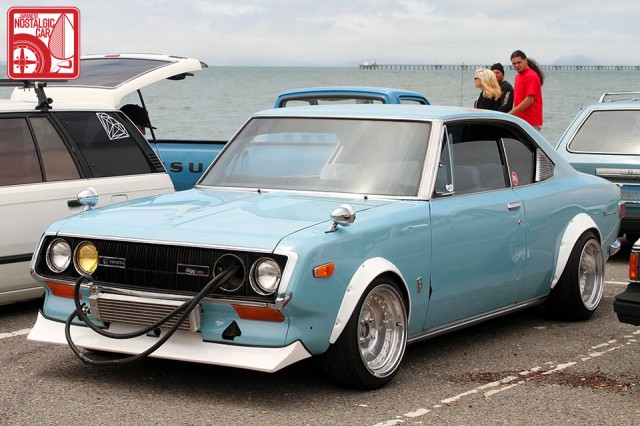 The Bay Area is home to Fatlace, so naturally cars like the unmistakable and infamous hellaflush Corona Mark II were representin' hard.
If the baby blue Mark II is too extreme for your tastes, how about a sleeper Datsun 510 on Panasports? Although it looks mostly stock, the SSS badge and roll cage indicate there's something less than factory original cooking under the hood.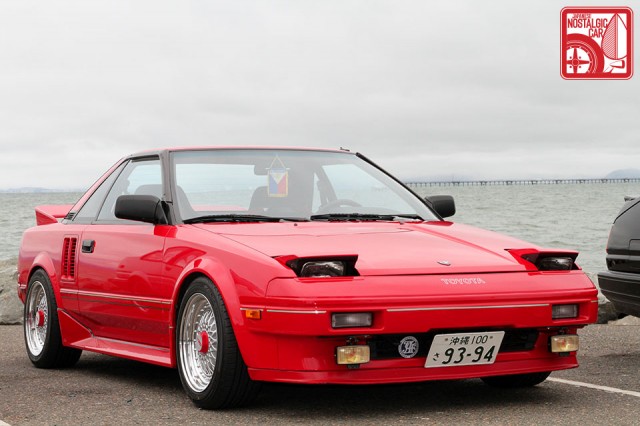 Or perhaps you're a child of the 80s, in which case you might fancy a lazy-eyed AW11 MR2. With period BBS wheels and TRD center caps, this thing has more jutting corners than a school of pufferfish.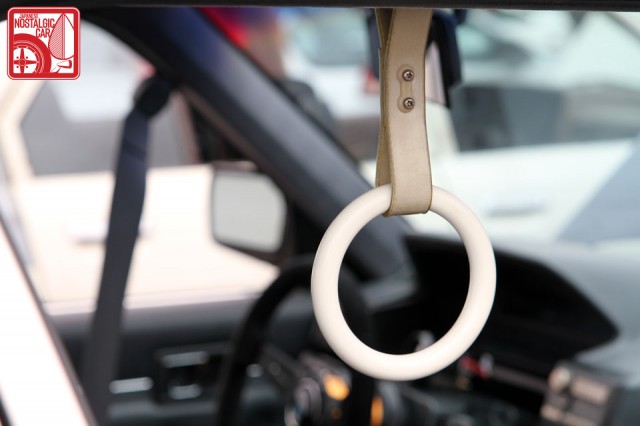 We found this tsurikawa hanging from the oh-shit strap of a familiar 80s friend. That boxy shape, those automatic seat belts, that gray-blue color…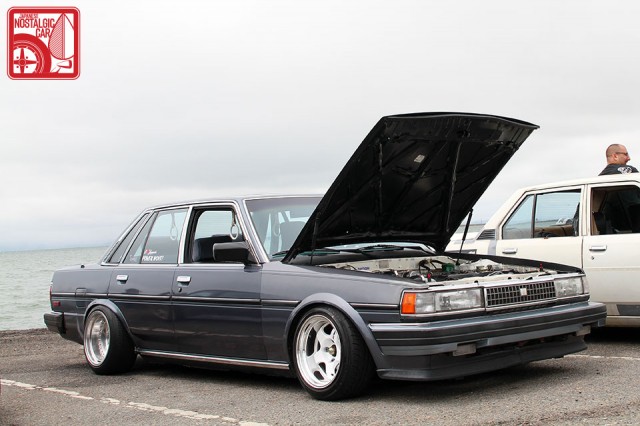 Oh how we missed you, JNC wagon! Sorry we couldn't bring you with us this time. My bias is showing, but I absolutely love this iridescent dark blue metallic color for X70 Cressidas. This one has a straight six of the JZ family crammed inside its pearl white engine bay, so something tells me it won't remain blue for long.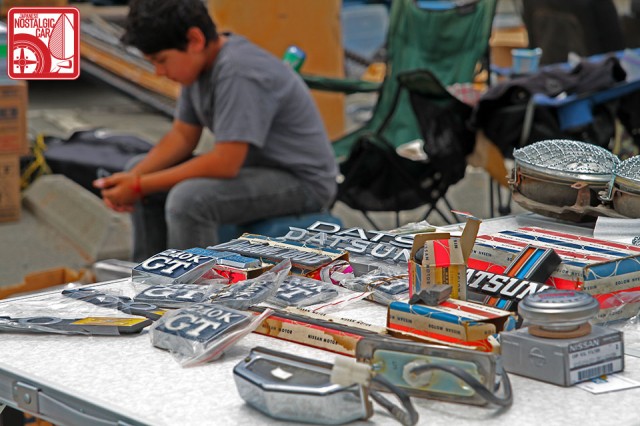 The Bayline Gathering included a swap meet section where anyone could lay out their wares for $10 a spot. Lots of old goodies were there to be found, including either Aussie or European 240K badges for the Skyline.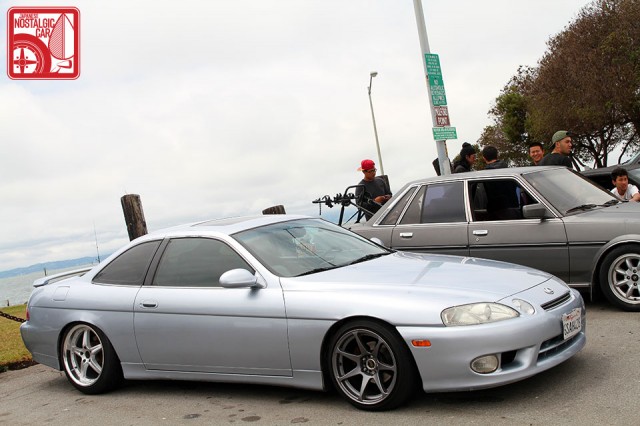 Out in the parking area we came across a 1997 Lexus SC in Platinum Metallic, a silvery blue color that is probably one of the most beautiful hues of the last 10 years. It was a 5-speed too, but sadly its fenders were pretty mangled.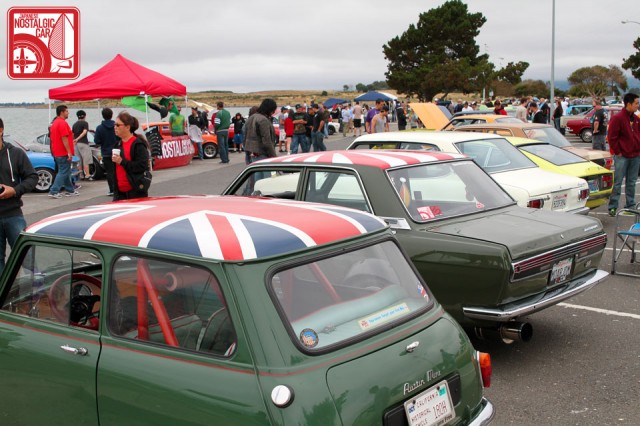 A Mini or two snuck into the festivities, but what a great contrast — the Union Jack on a BRG Austin next to the naval hinomaru on an army green Bluebird.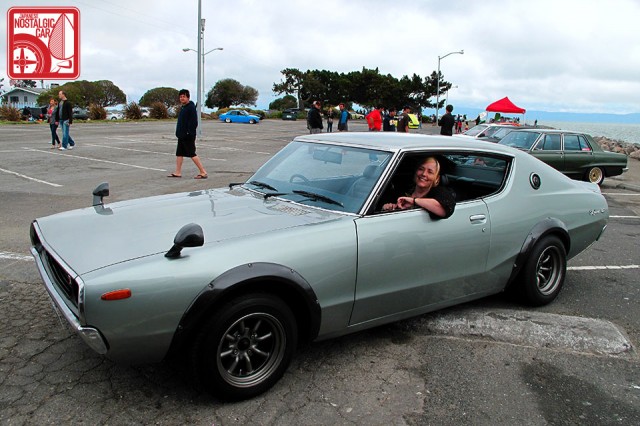 The biggest star of the show, however, wasn't a car at all. It was a Diane Krey-Wesley, the actress who played Mary in Nissan's storied 1970s Skyline commercials! This was probably the first time in almost 40 years she's sat in the car that bears her name.
When Nissan debuted the fourth-generation Skyline, they created a fictional young couple named Ken and Mary. They represented the youthful romance of open road driving at a time when Japan was just geting used to the idea of cars as leisure. The ads captured that spirit so completely that Ken and Mary transcended the car itself, becoming household names as famous in Japan as the Mr and Mrs Brady in the US. The car itself became known as the kenmeri Skyline.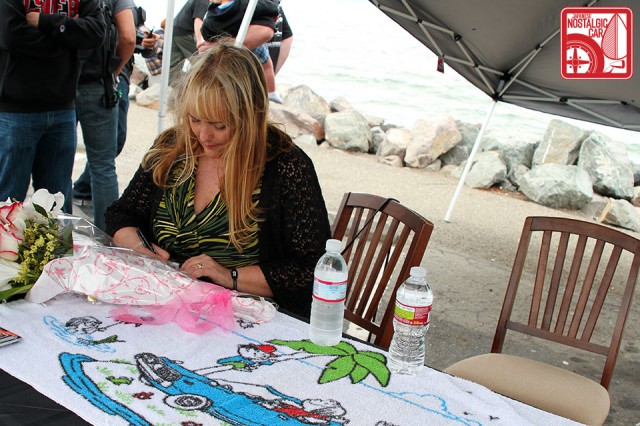 Now a science teacher in Sacramento, Diane hasn't reprised her role as Mary for 40 years. That is, until this show. No one quite knew what to expect, but it turns out Mary is a lovely and gracious lady. She generously signed photos, glove boxes, and Hot Wheels kenmeris all day long. She even brought along her collection of priceless memorabilia, like the kenmeri Skyline towel displayed on her table and several copies of now-nonexistent Prince dealer magazines.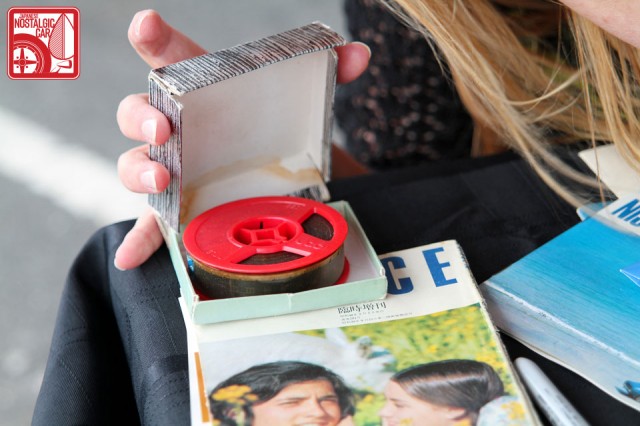 This little film reel is the granddaddy of all kenmeri swag, a genuine celluloid copy of the myth-level commercials that swept Japan by storm 40 years ago.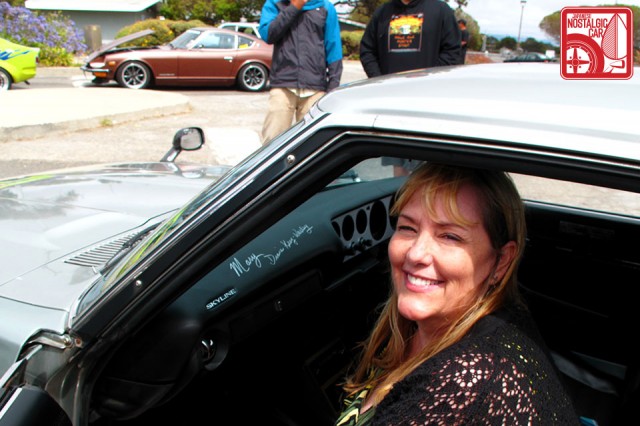 We have much more to show you from the Bayline Gathering but before we go, here's Mary herself, signing the dashboard of the event co-founder's KGC110 Skyline. Like the name said, it was truly a historic Japanese car gathering.
Photos by Ben Hsu, Justin Principe, Ricky Silverio