Surf's up, JNCers! Since today's installment of our 2011 New Year Meeting coverage coincides with Valentine's Day, let's take a look at some of the vehicles with a little more volume in the back. You know, something that Ken and Mary might choose to retire to after a long day of frolicking in the fields.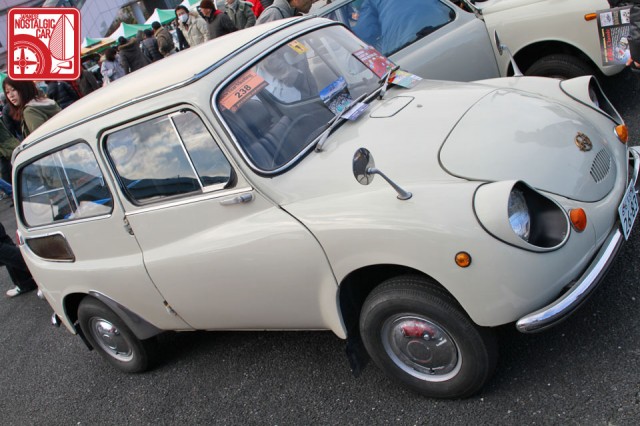 We saw plenty of tentoumushi in Part 04, but they weren't Subaru 360 Customs. In 1960s Subie parlance, "Custom" means "wagon." It makes more sense when you consider what Fuji Heavy Industries expected first-time car owners to do with their kei jidosha — go surfing. The 360 Young SS (seen in the lead photo) actually had an indentation in its otherwise dome-like roof for the purposes of board hauling. It just looks a bit funny when the board is about twice as long as the entire car.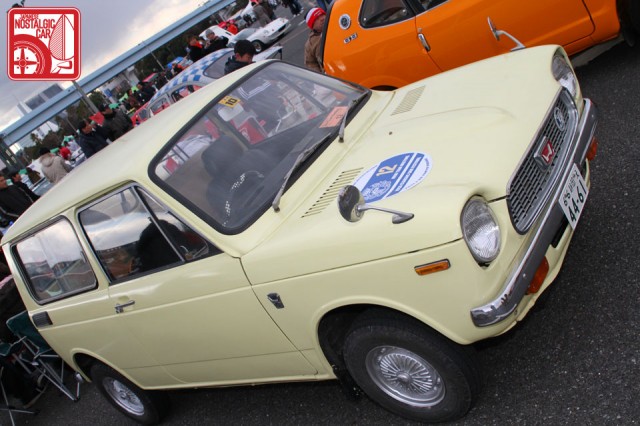 Remember how awesome 90s Honda wagons were? This little guy was the first, the Honda N360.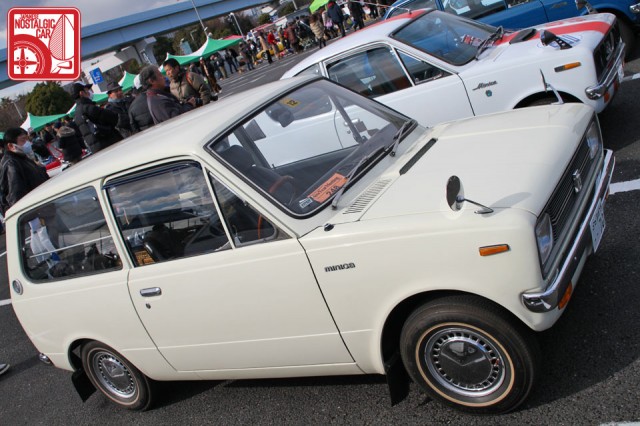 Much of the wagon action this year came in the form of kei cars and compacts. Among the plethora of Mitsubishis lurked a few Minica Vans. You can tell it's a kei when the fender mirrors are practically sitting on the headlights.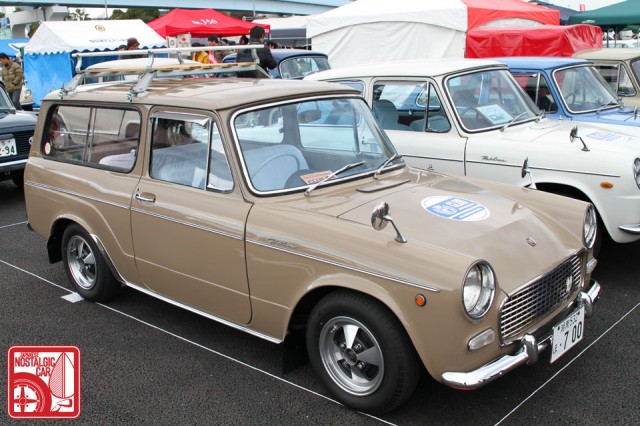 A Toyota Publica Van with a nice drop. It would make a nice city car to tool around in.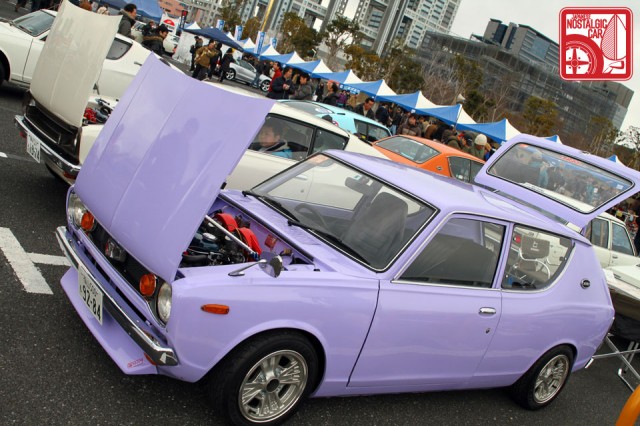 Here's something you don't see every day, a Nissan Cherry E10 Wagon. In lavender no less. Bonus points to anyone who can ID those wheels.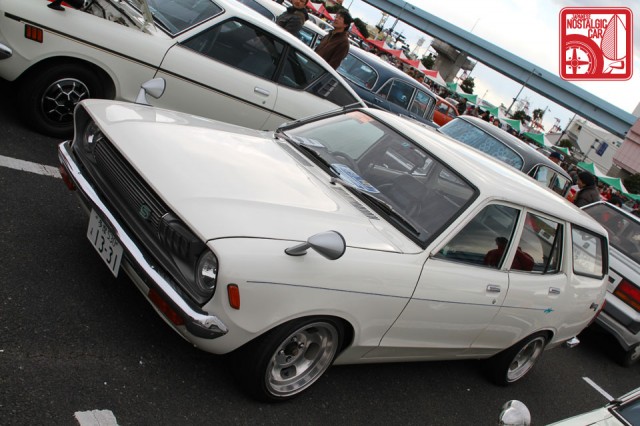 Stout B210 Sunny on re-barreled slot mags.
30-series Nissan Cedric wagon, complete with white walls. You could probably fit a piano back there.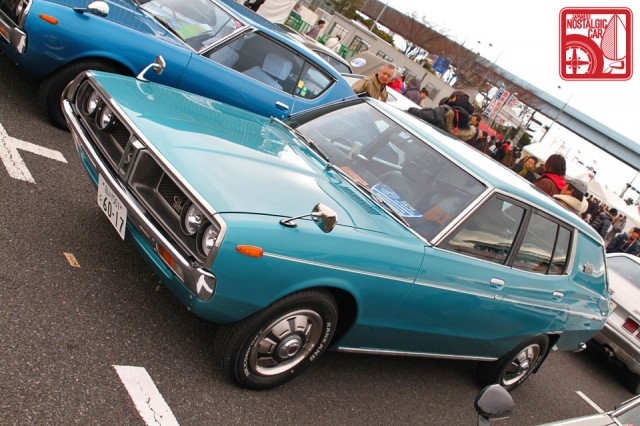 Something Ken and Mary could make a bunch of little kenmeris in. Super-wide C-pillars provide maximum privacy. Is it wrong to want a C110 wagon as much as a KPGC10?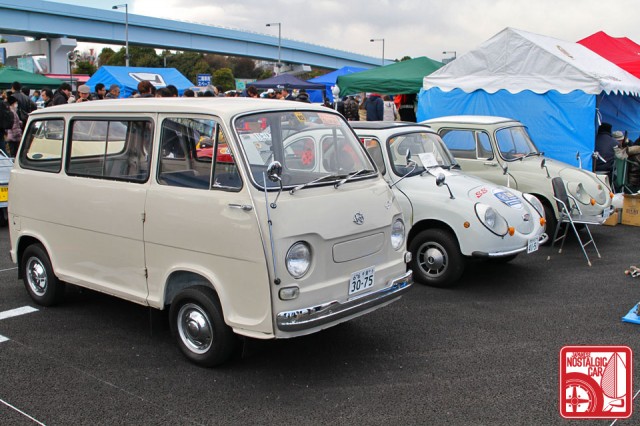 Hey, if the wagons still don't have enough cargo space for ya, there's always one-box vans. You can still see kei vans by the hundreds swarming around Tokyo today, but few have the style of the Subaru Sambar 360,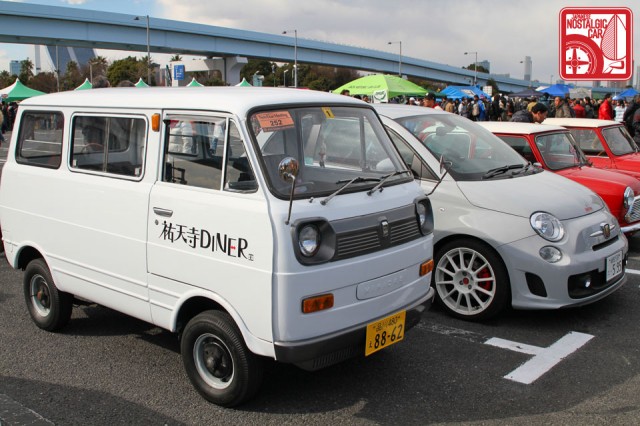 What do you get when you add the letter B to a Minica? The Mitsubishi Minicab. If you think a Delica is sweet, feast your eyes on what is probably one of the rarest triple diamonds out there.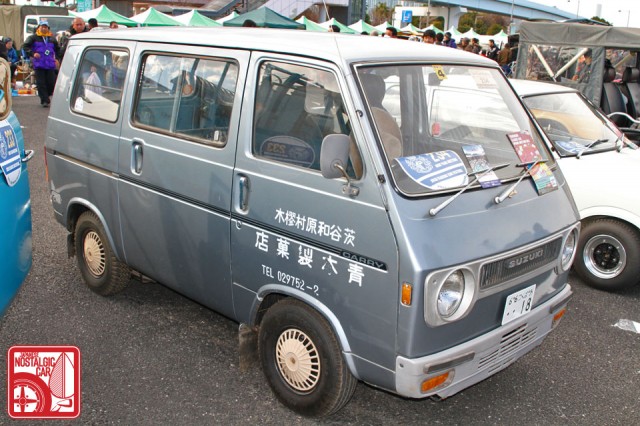 Likewise, it's reassuring to see this well-worn Suzuki Carry still alive and kicking.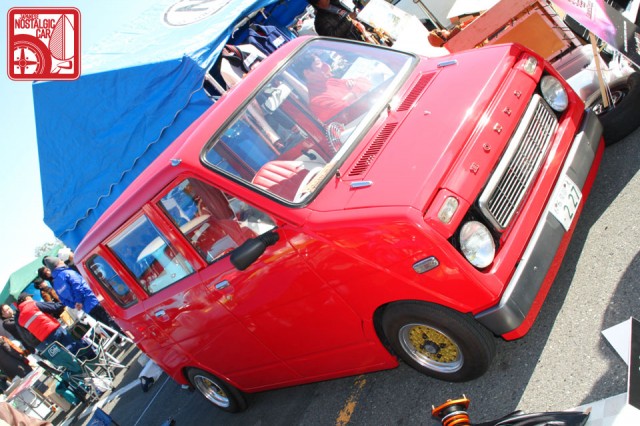 And I know I'm going to get guff for saying this, but the Honda StepVan is one cool box, especially lowdown-ed on SSR meshies.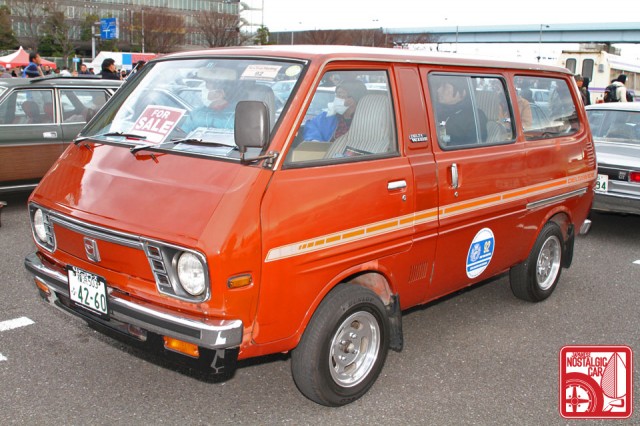 If you thought this was a Toyota Liteace, take a closer look at the badge. It's a Daihatsu Delta Wide, in awesome 70s brown and groovy stripe-age.  Of course, ToMoCo owns Daihatsu, so this actually is a rebadged Liteace, but that headlight trim is Kool Moe Dee.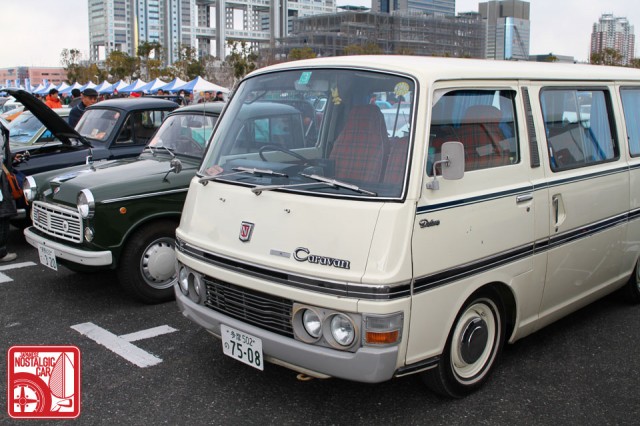 Ultimately, if you need to super-size your carrying capacity, there's always the Nissan Caravan, which appears to be the mutant love child between a Celica and a bus. Awesome.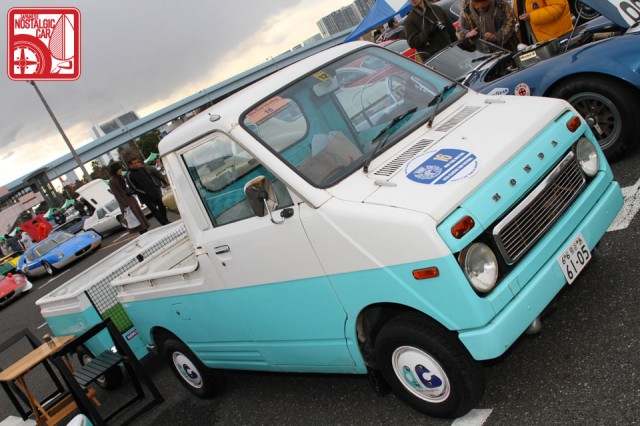 And if one-box vans aren't big enough, there's always the wide open bed of a pickup. This is a pickup version of the Honda StepVan, which did indeed come from the factory in this configuration, although the two-tone paint, bizarre wheels and custom trailer did not.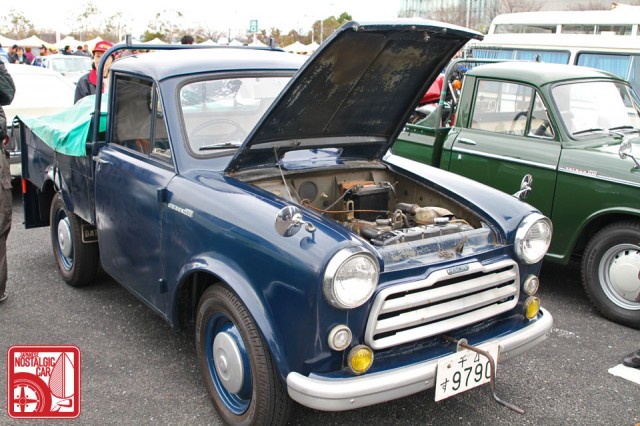 Hand crank Datsun 220.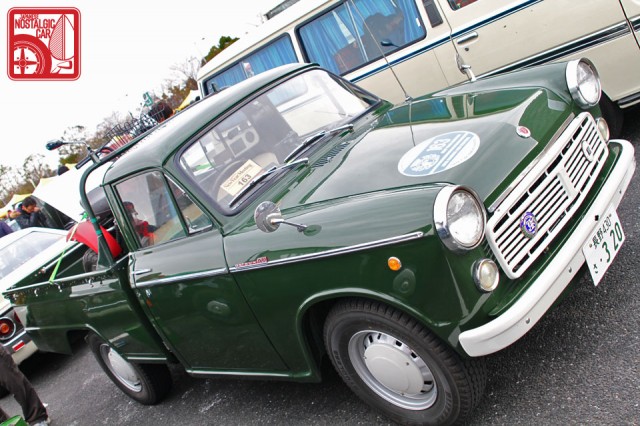 And 320, in tip top shape for a workhorse.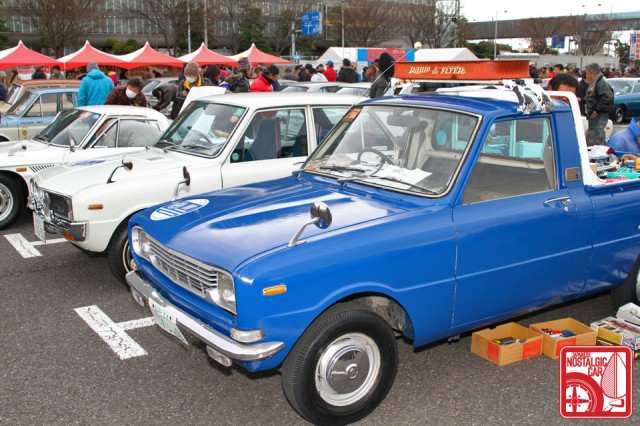 Like with the Datsuns above, chopping it in half and adding a bed was a Japanese pastime as common as dipping sushi in shoyu. The Mazdafarians did it with the Familia, among others, but the resulting Mazda Familia Pickup is a rare one indeed.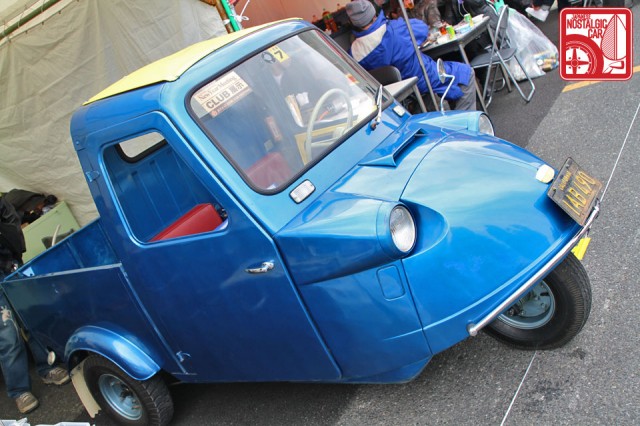 We're pretty sure this electric blue is not a stock color for the Daihatsu Midget, but three-wheeled pickups are rad nonetheless.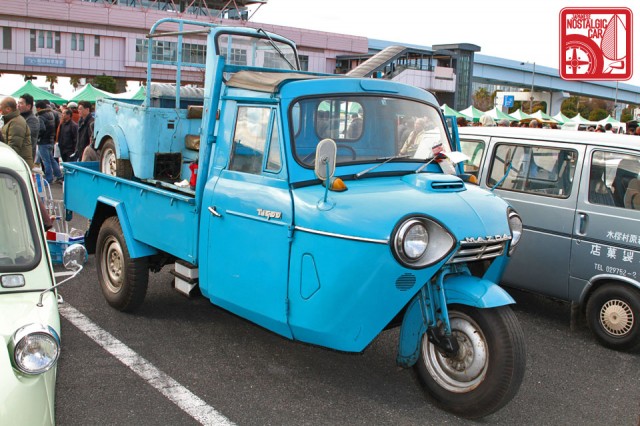 And the monstrous Mazda T1500.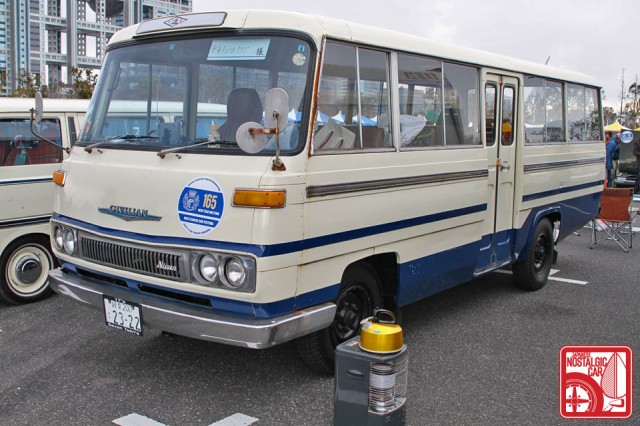 Are there any fans of Japanese nostalgic buses out there? If so, here are a couple of Nissan Civilians.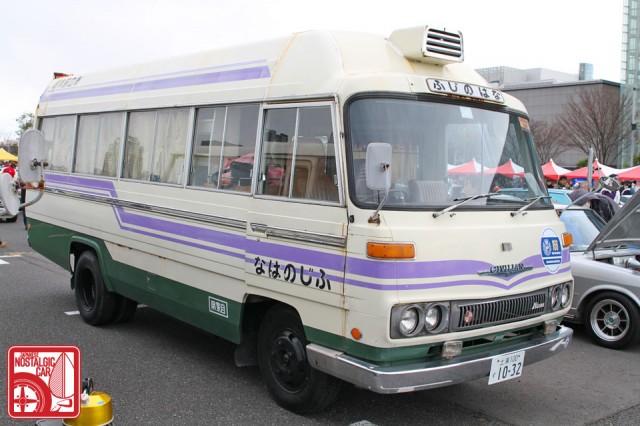 This one looks like it's been converted to a camper, complete with air conditioning. The perfect mobile love hotel.
View additional photos in the gallery below, and if you missed it check out our coverage of the 2011 New Year Meeting Parts 01, 02, 03, 04, 05 and 06. And there's still more to come!
[Photos by Jason Kusagaya]