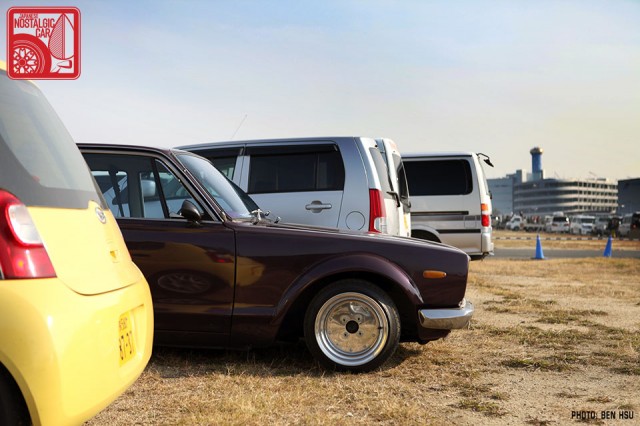 Among the items on our Japan bucket list was checking out a real swap meet. Turns out, automotive-themed ones are not terribly common there, but we were fortunate enough to have Osaka's Naniwa Swap Meet coincide with our stay.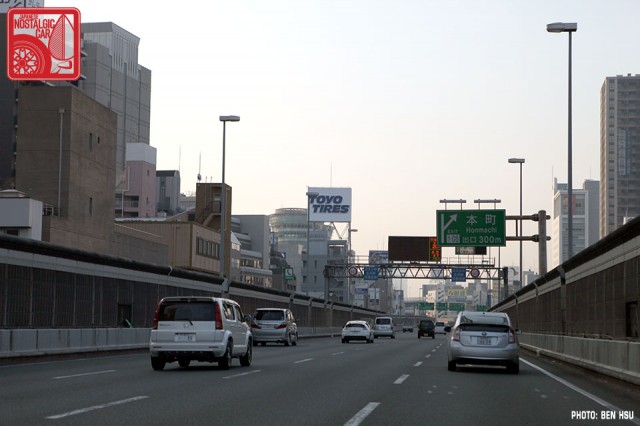 Though you can get to the Naniwa Swap Meet by bus from Osaka station, we met up with our friend Masa-san and went by car instead. But first, a small detour around Osaka's famous Kanjo Loop, site of infamous street battles. As a side note, Toyo Tires' headquarters is here and they make their presence known through advertising.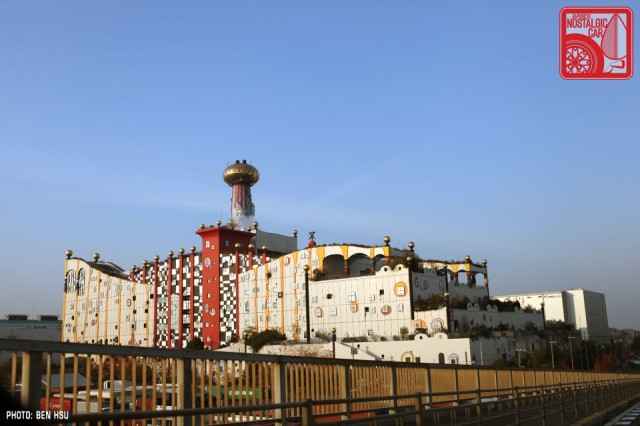 As we left the Kanjo Loop toward Osaka Bay, we passed a colorful, amusement park-like complex. It may look like fun times contained within, but it's actually Osaka's waste incineration plant.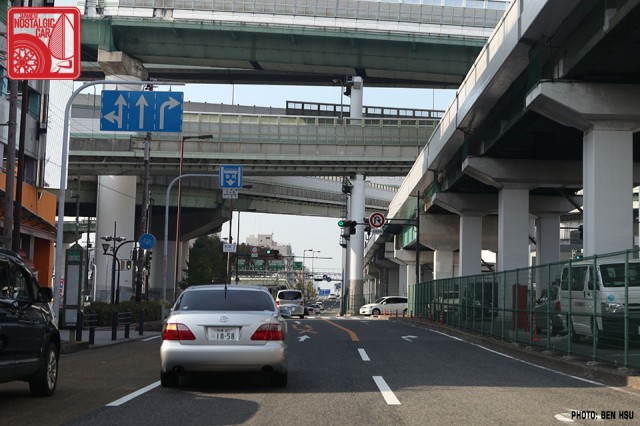 We snapped this photo simply because we love Toyota Crowns both old and new, but Masa-san was quick to point out that this was actually an unmarked police cruiser. Sure enough, two uniformed keisatsu were looking back at us as we passed by.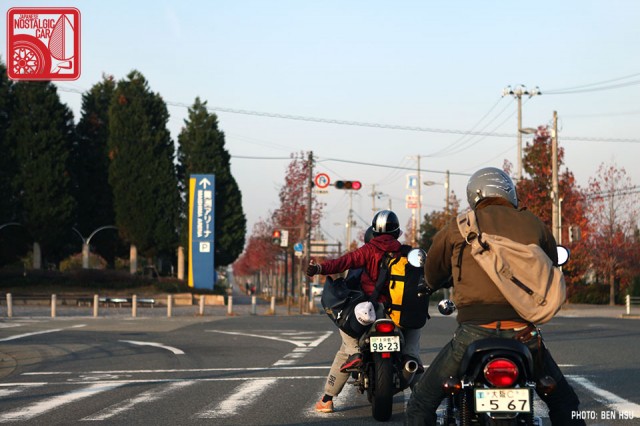 We knew we were getting close when we encountered boso-revving bikers. The swap meet is held on Maishima Sports Island, which is exactly what it sounds like — a bunch of gymnasiums and aquatic centers on a plot of reclaimed land in Osaka Bay (you get used to a very literal usage of English after spending some time in Japan).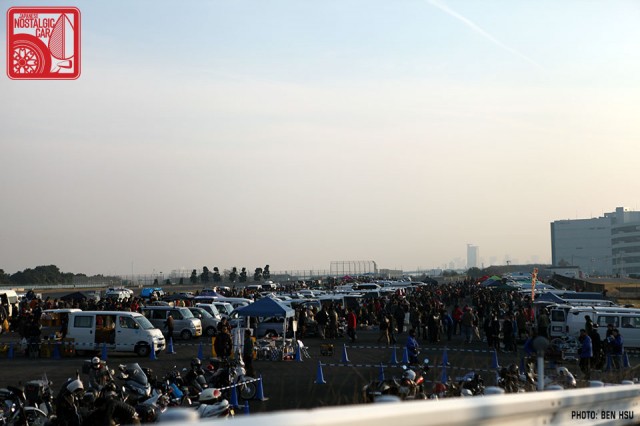 Naniwa is the ancient name for the area that would eventually become Osaka. Somehow though, Naniwa Swap Meet has a more nostalgic ring to it than "Osaka Swap Meet." It happens only four times a year, so we were very lucky.
Entrance costs only ¥300 (about $3 USD) for admission and ¥800 for parking. Parts for bikes and scooters outnumbered bits for cars, but we saw more than one scooter we wanted to take home for ourselves.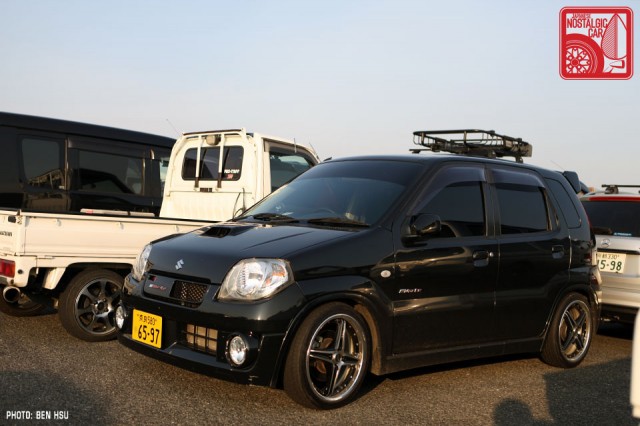 Interesting cars dotted the meet area as well. Meet the appropriately named Suzuki Kei. Get it? Because it's a kei car, har har. But it isn't just any Kei, this is turbocharged Works version, which comes with an LSD, 5-speed manual and four-wheel disc brakes.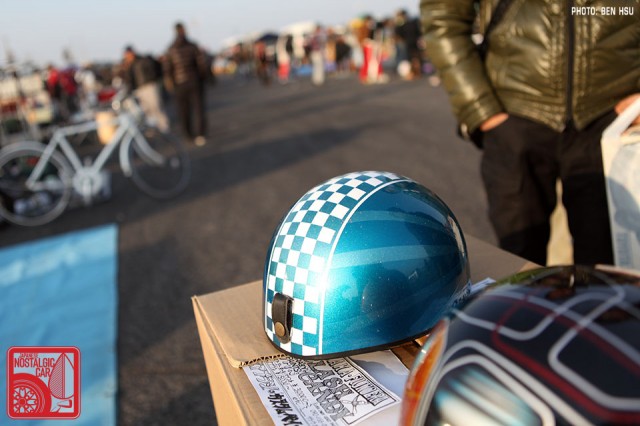 We came across a bitchin' candy blue helmet with checkerboard and banzai flag motif. Regrettably, we did not buy it.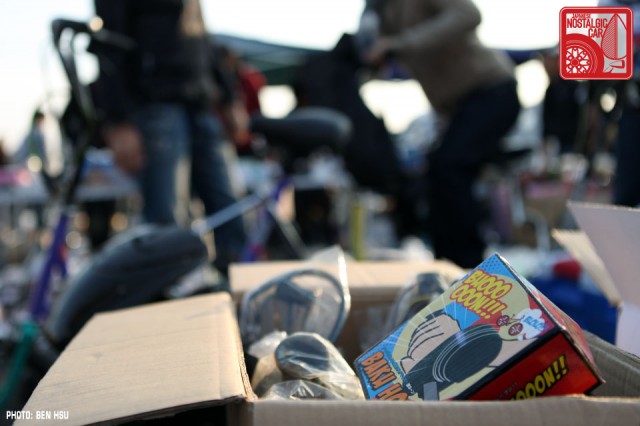 Nor did we purchase something called the Baku Horn, named after the dream-devouring spirits of Japanese folklore.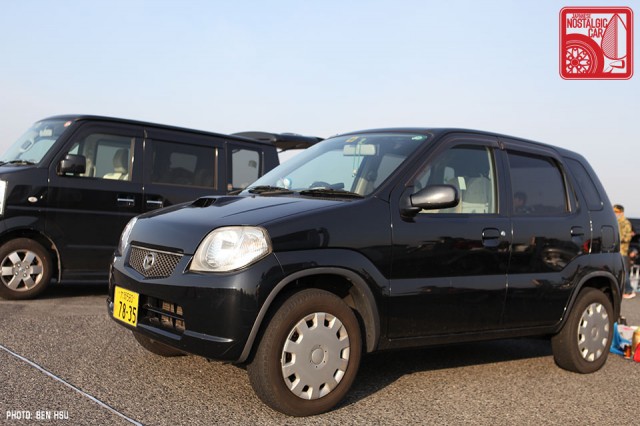 This hardly looks like the same car as the Suzuki Kei, but it is. Originally designed as a quasi-SUV, the rebadged version from Hiroshima is called the Mazda Laputa. Clearly it was not meant for export to Spanish-speaking countries.
Merchants hawked a variety of nostalgic toys as well. Kaiju or scooter, take your pick.
Another seller had a lifetime's supply of AE86 oil filters.
Lights, steering wheels, fender mirrors, and more. Truckloads of old Japanese parts, just there for the taking if you have the wherewithal to bring it back.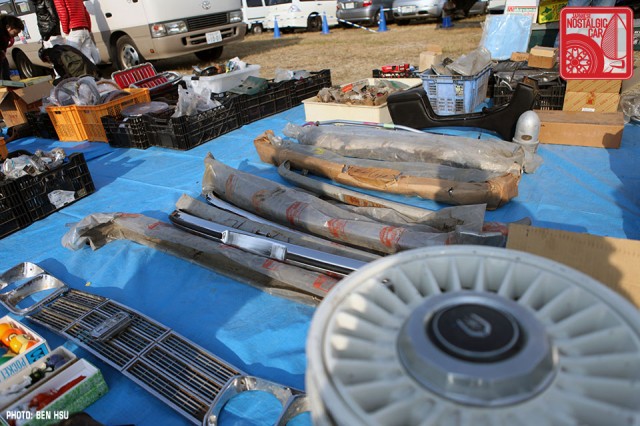 We desperately wanted to buy a set of MX41 Mark II wheel covers for ¥4000 ($40 USD), but alas they were too cumbersome to carry. The same seller was asking just $150 for a Celica Liftback smiley bumper.
Wow. Much parts. Humans buy many things. Metal pieces. Very strange. Wow.
We first took notice of the 50cc Yamaha Passol when Skorj snapped a photo of the coolest cat ever to ride a 50cc two-stroke during his visit to the Fuji Jamboree. The elegant design and sheer simplicity make us yearn for its 80s awesomeness.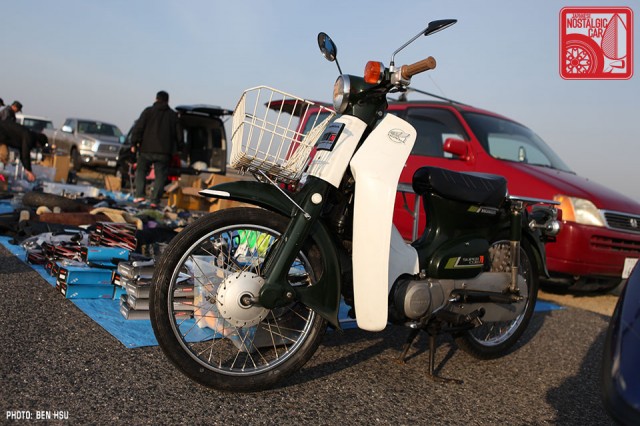 However, my personal true love on two wheels is still the Honda SuperCub. From postal delivery vehicles to beautifully restored showpieces at the Tokyo Motor Show, they are ubiquitous in Japan. I've always liked them but this trip made me fall in love with them even more. I think I might need one to weave around in Los Angeles traffic, basket and all.
We don't recall seeing Advan ARTs on anything other than a Mitsubishi Galant VR-4, and they're almost always in white.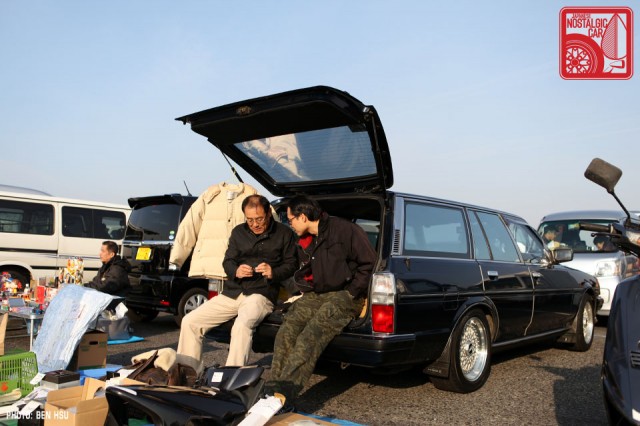 Is there any job the Mark II wagon cannot do? Add hauling all your spares to the swap meet and serving as your makeshift store's courtesy seating area to the list.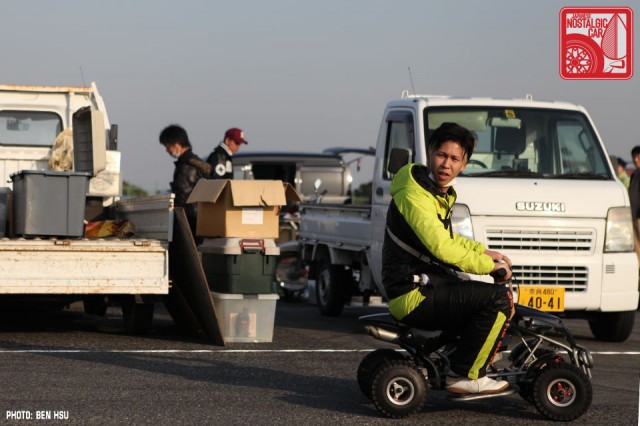 There are many ways to cover ground at the swap meet. We would have followed suit but we were afraid we'd miss something.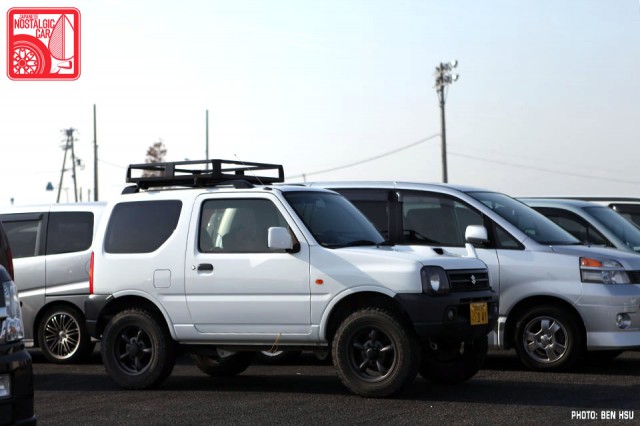 With our shopping done, it we made a point to stroll through the parking lot to ogle the cars we don't get in the US. Masa-san must have thought we were insane to be taking photos of, say, a third-generation Suzuki Jimny, but he indulged us patiently.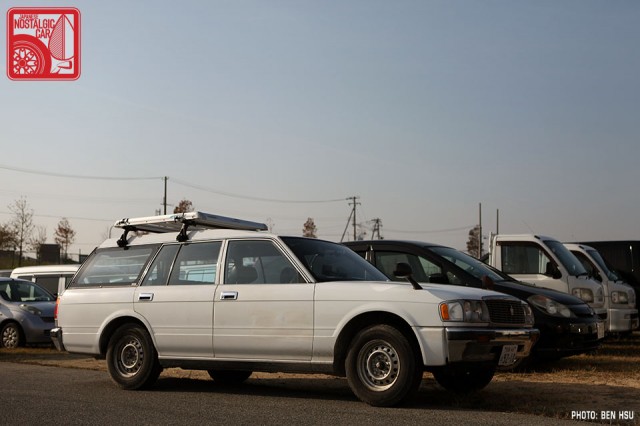 One of our favorites was a mid-80s Toyota Crown Van, complete with steelies, fender mirrors, round headlights and bars in the rear windows. Total commercial spec.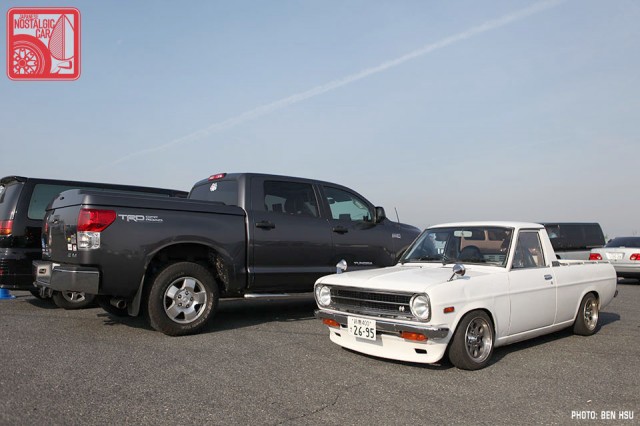 Someone actually went through the trouble of importing a USDM Toyota Tundra CrewMax, giving us the rare opportunity to snap it for size comparison beside a Sunny Truck. Needless to say, the sanitora is completely dwarfed by the supersized slab of Aichi — or San Antonio, rather — steel.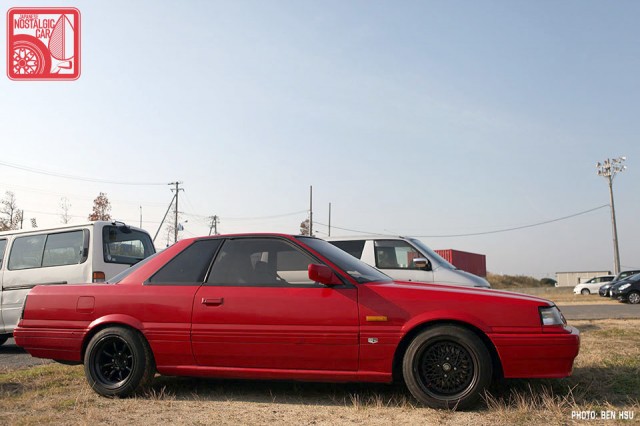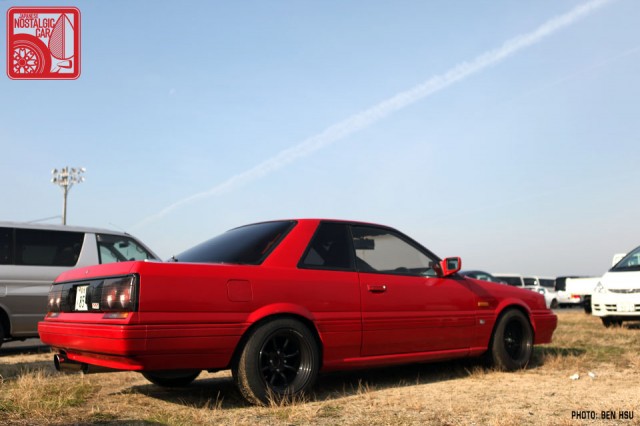 Kev's not keen on R31s, but there was a certain honesty to the 80s box-wedge parked by the entrance. Sure, the black Wats might be curb rashed, the body repainted, and the trim a lower-spec GT, but it wasn't trying to be anything other than a solid cruiser.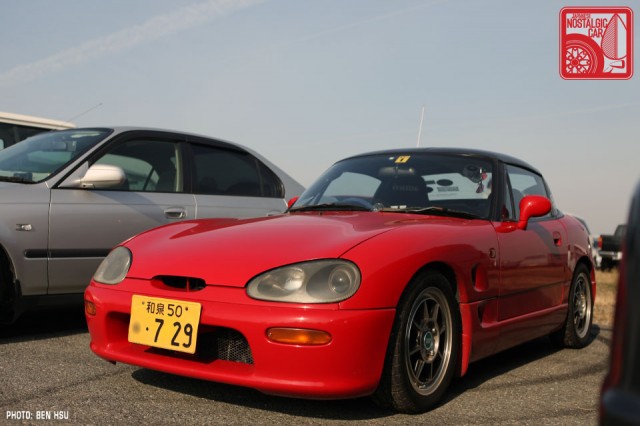 We were like kids in a candy store, jumping from one unattainable car to the next. Not yet nostalgic, but another car whose presence is sorely missed is the Suzuki Cappuccino. The Japanese market is completely lacking in nimble, FR kei roadsters these days, having replaced them all with one-boxes. The little sportster looks fast even when it's standing still, especially wearing a set of Hayashi Streets.
Goodness, do we love Zero Crown Athletes. Looking particularly sleek in black, it made us extremely angry that Toyota could not bring a rear-wheel-drive sedan the size of a Camry to the US. Badge it a Lexus, we don't care, just give it to us now!
Oh hello, don't mind me, I'm just a Mazda Porter Cab sitting here in the grass.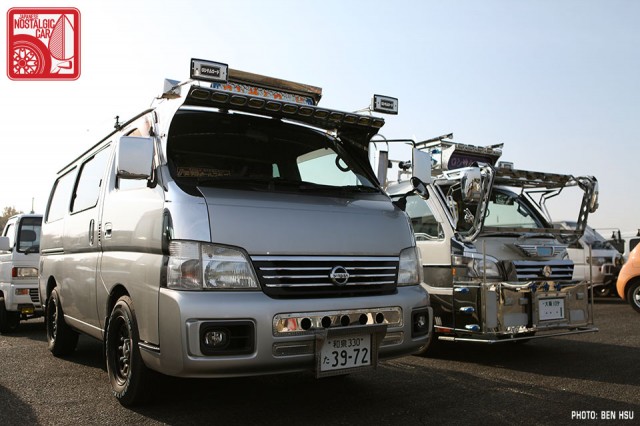 The most outlandish sights were a pair of dekotora vans, one a little further along in the transformation than its partner. This actually marks the first time we've seen the dekotora (dekoban?) treatment lavished on a regular passenger car, and we can't wait to try it on a mid-80s Toyota or Mitsubishi Van.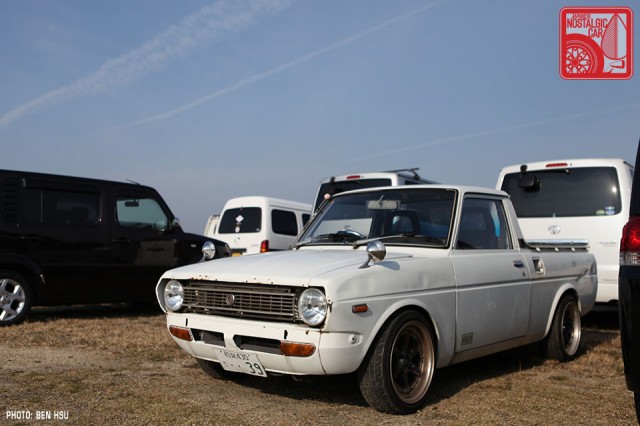 Amongst the vans, a Toyota Publica pickup, well worn over a lifetime of service.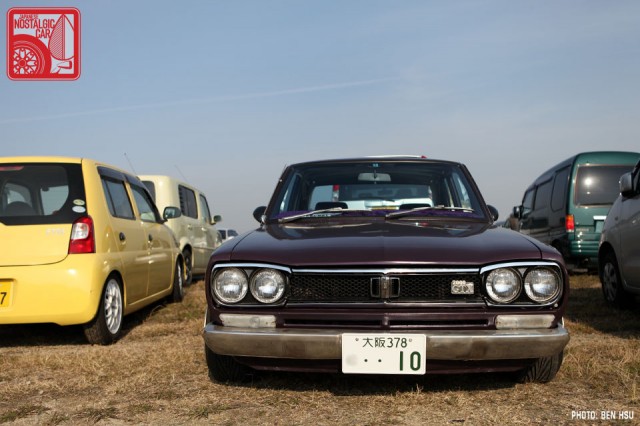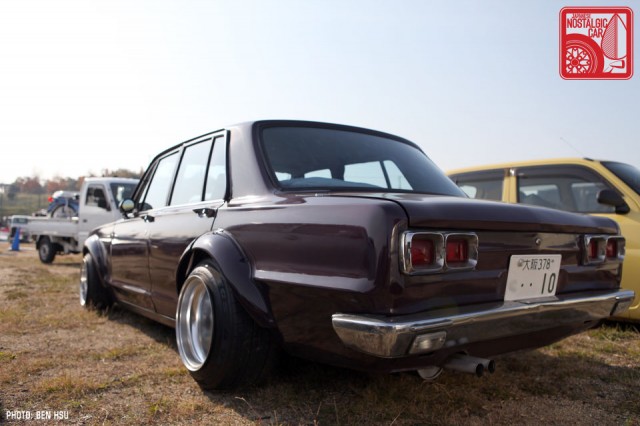 Just as we were about to leave, a badass mofo in a four-door hakosuka pulled into the lot. Headed straight onto the grassy area, the driver couldn't have cared less as his stiff suspension bounced around like jackhammers. He backed it in, proper Japanese style, like a boss. It's hard to look like anything other than a boss in a purple GC10.
At this point we were just taking photos of everything, much to our friend's chagrin. Last but not least, we snapped an S150 Crown Majesta, which is basically a more Crowny Crown — bigger and more luxurious and, as is the case with this particular example, available with a 1UZ V8.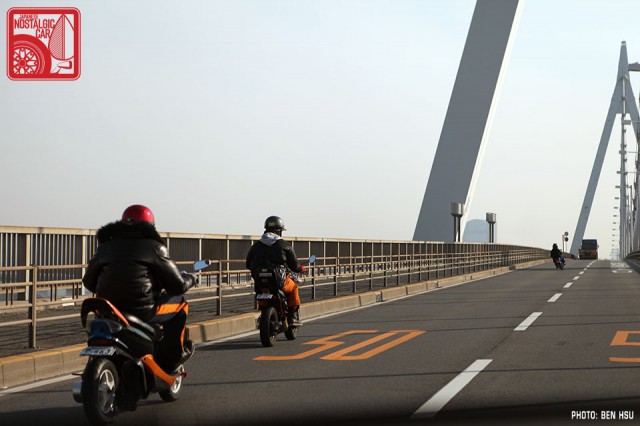 So there's one downside to going to a Japanese swap meet, and it's a big one: There's no way to bring home everything you want. It's absolute torture to see all the goods laid out in front of you knowing that you have to leave it all behind. That's why we resorted to wandering the parking lot.
As we approached the bridge leaving Maishima Sports Island, we came upon another group of motorcyclists. When the light turned green, the lead biker took off like a bat out of hell doing the insane bosozoku waggle. These guys don't know how good they have it.