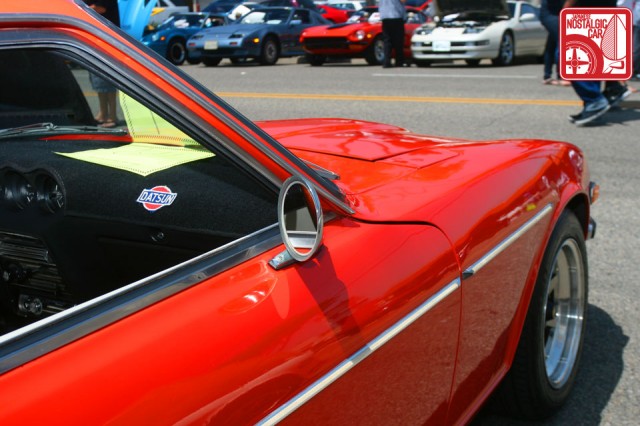 This year Motorsport Auto brought back the Z-car West Coast Nationals with a full scale show at their headquarters. The theme was "Back to the Streets," the street being a closed-off stretch of Collins Avenue in Orange, California, just like in days of old.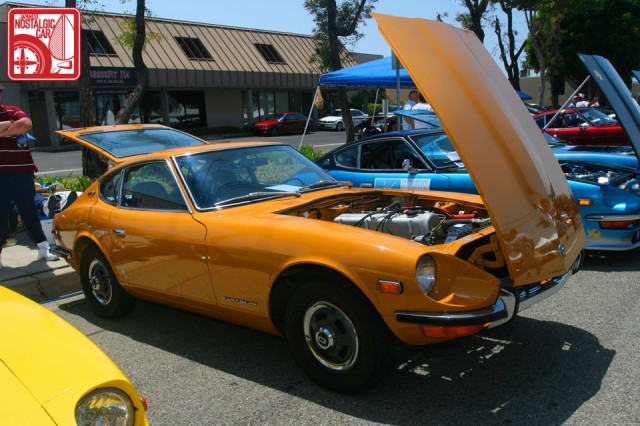 Years ago, before JNC even existed, I lived in San Francisco. I made the six-hour drive to Orange County in what is now JNC Project Z several times, just to attend this event. It was the chance to gaze upon cars like this all-original Datsun 240z in 920 Gold, complete with rare D hubcaps, that made the trek worthwhile.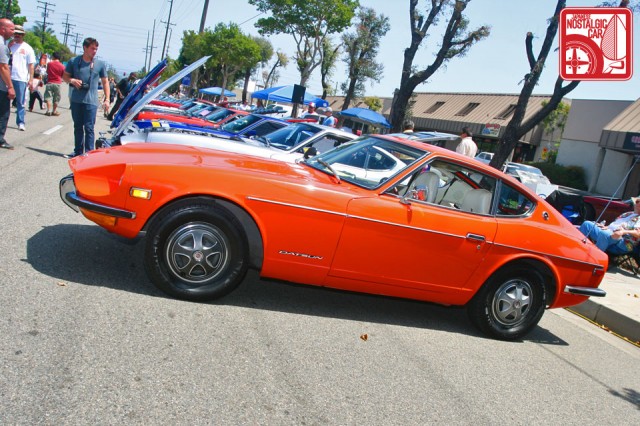 Although most of the cars at this gathering of Zs are modified (and we'll get to those in a minute), let us first pause to appreciate the bone stock. There's something special about an unmolested 240z with a spotless white vinyl interior.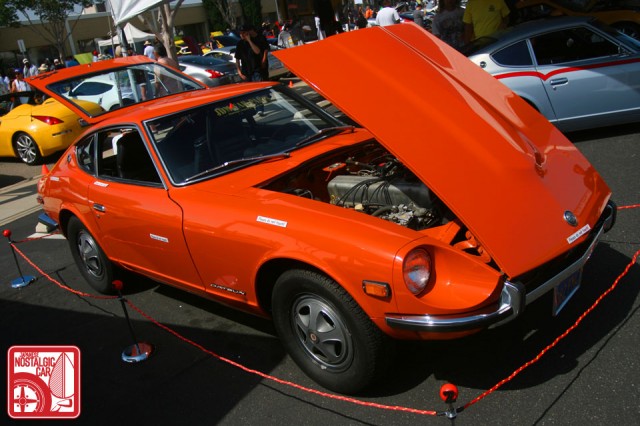 Though the idea of an slushbox in a Z is sacrilege to some, we don't mind automatics at all, especially when the car is a time capsule 1972 240z with 26,000 miles on the odometer. Jay Ataka bought this car from the original owner and it comes with full maintenance records, original paint over a dentless body, and even the original brake pads. The car has been refreshed, but only with Nissan OEM parts and it blows our collective minds.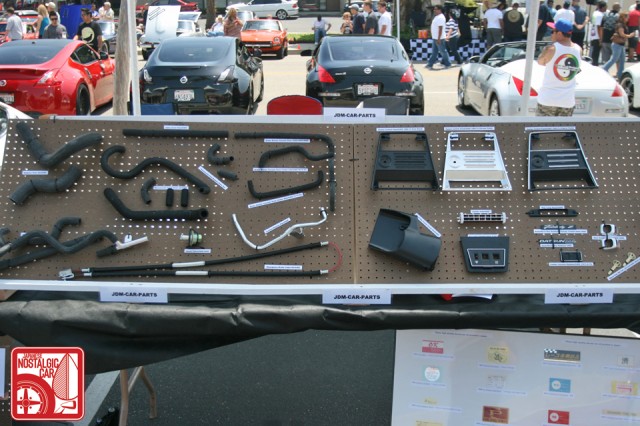 Not content on taking all the trophies for himself, Jay also imports rare S30 restoration parts from Japan to help others who want a concours-level restoration. If you need a rare hose, trim, sticker, or interior part, contact Jay at JDM Car Parts.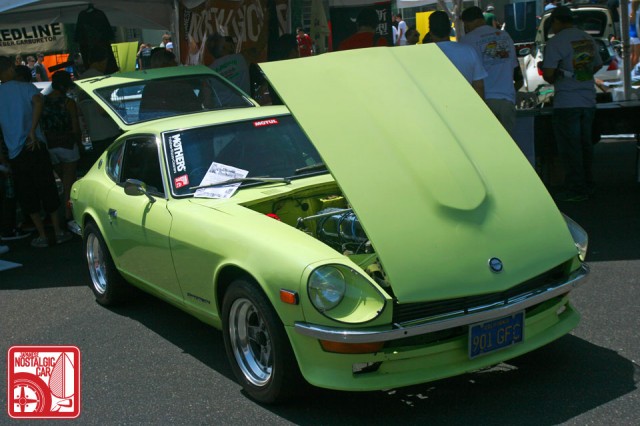 Although Project Z has attended this show many times, it didn't make it this year. We gave up our space to help with Victor Laury's sale of his beautiful 112 Yellow 240z. Who is Vic? Read the back story to find out.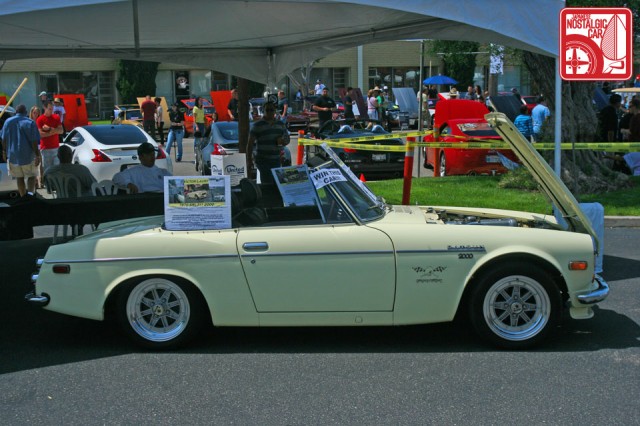 Nearby was Vic's gorgeous Fairlady Roadster on SSR MkIIIs as well. If you haven't yet, there's still time to donate $100 for a chance to win this his beautiful car and help with Vic's medical expenses. Click here for details.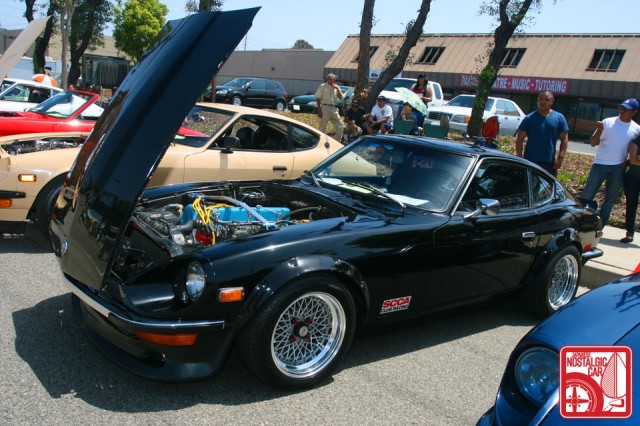 With a mean stance and staggered SSR meshies, Jonathan Ortiz's black 240z can be seen carving the canyons in Angeles Crest. His recently built 3.1 liter stroker with the larger-valved N42 head from a 280Z dynoed at 205 horsepower.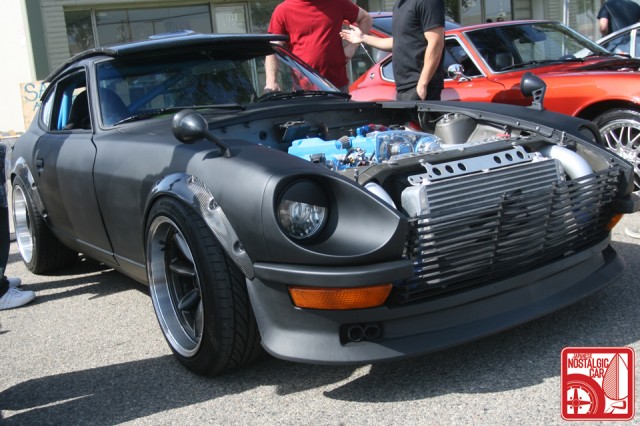 We've seen many pristine Zs, but this flat black monster with a custom grille looks like something out of The Road Warrior.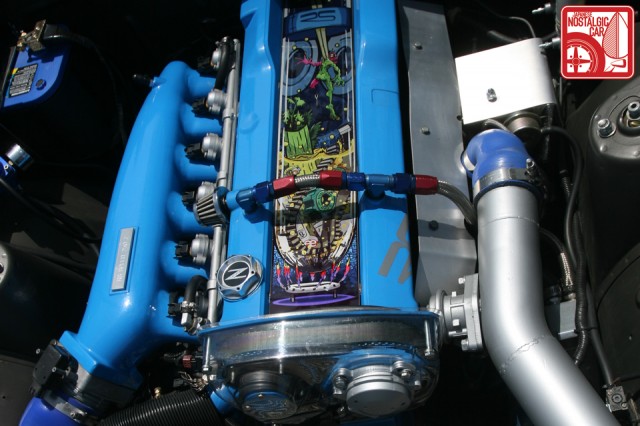 This car is all about the motor, a beautifully constructed and artfully decorated turbo RB.
On display at the Motul Oil booth was Jack Mardikian's 1971 with deeply sunken 15×10 Superlite wheels rocking a -18 offset. This Devil Z in white was built with rare parts like triple Solex 44 carbs and NISMO racing headers and oil pan.
A crew called Serious Datsun of San Diego came roaring in with six Zs identified by their awesome insignia, the L-series head gasket. There are more V8 swaps at MSA than you'd expect, so it was refreshing to see Nissan's old school straight six still revered in this day and age.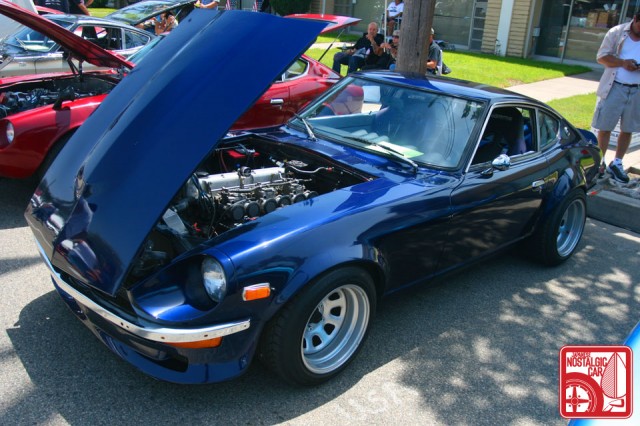 If this dark blue Z had flares of the bolt-on variety and Watanabes, it would appear ready to tackle the Wangan. On the other hand, flares molded right into the body and Diamond Racing steelies give it the aura of an old school SCCA road racer.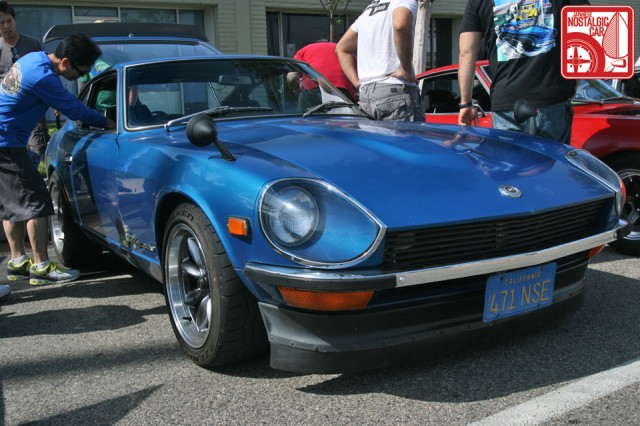 Another blue Z, this time with a nice surprise on the inside.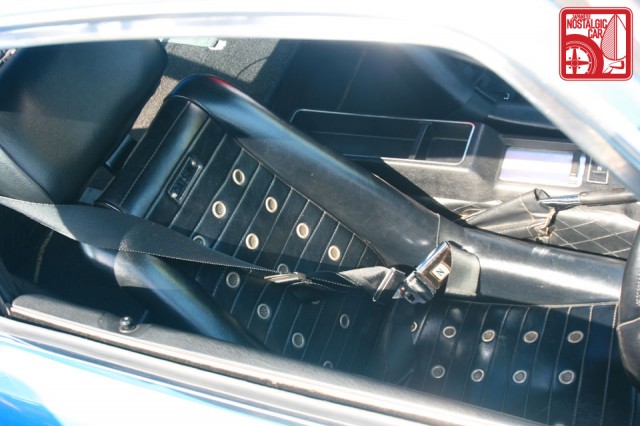 A RHD Fairlady Z with beautifully classic Kameari GT racing seats!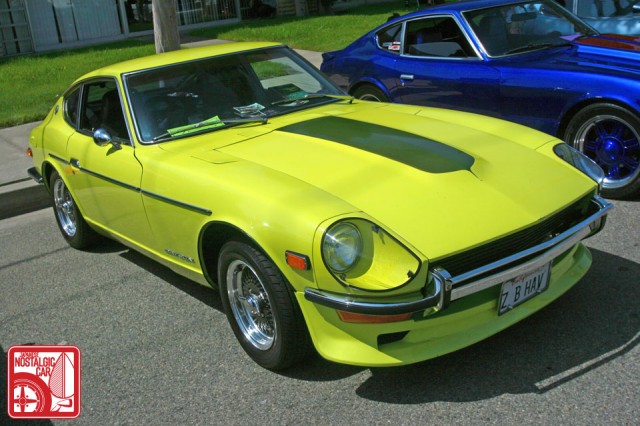 Garry King's 112 Yellow 1972 has all the period-correct US dealer add-ons, like AMCO over-rider bar, painted hood bulge accent, and plexi headlight covers. It looks and feels like a California Z straight out of the early 70s.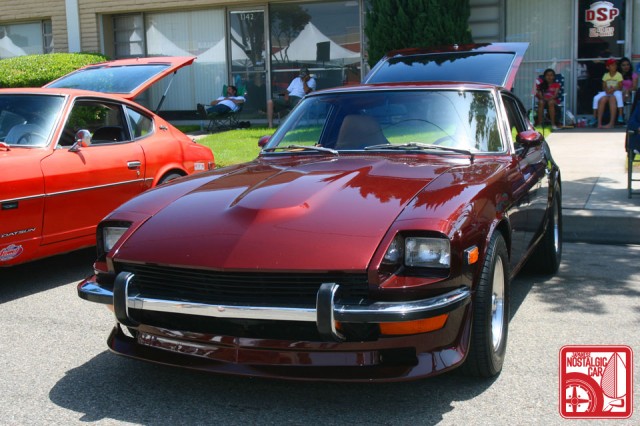 Some JNC readers may be too young to remember, but there was a time when modifications like Rolls Royce grilles on VW Beetles and faux-Lincoln spare tire trunk humps were all the rage. From that era comes this pseudo-luxury modification, square sealed-beam headlights. Maybe it's the deep brown-burgundy metallic paint, but somehow this works as a reminder of early 1980s street style.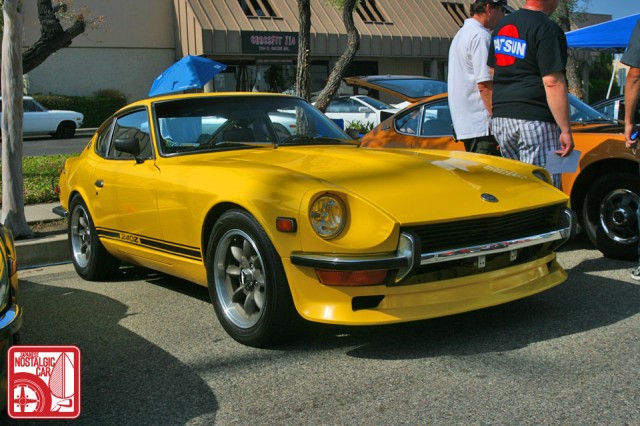 Sometimes it was the understated that stood out the most. This Z isn't trying to be a race car, JDM-spec or a flamboyant scissor-doored 350Z. It simply is what it is, a subtly modified, beautiful USDM 240Z.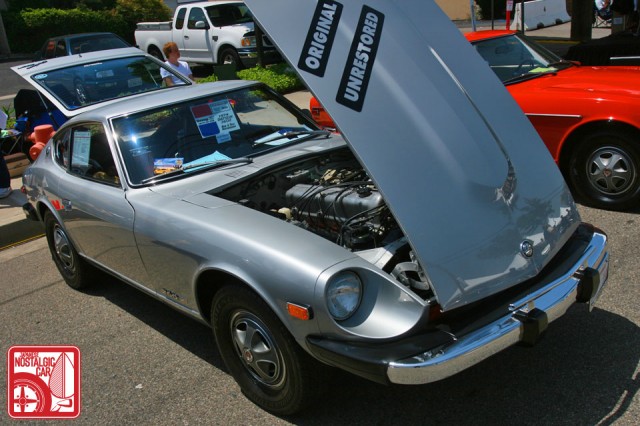 Bob and Teri Heckendorf's unrestored 1974 260Z is probably the most original one left on the planet. The one-year-only 2.6 liter was mired in emissions law carburetion problems, prompting almost all owners to upgrade to the Bosch fuel injection systems that came on the 280Z.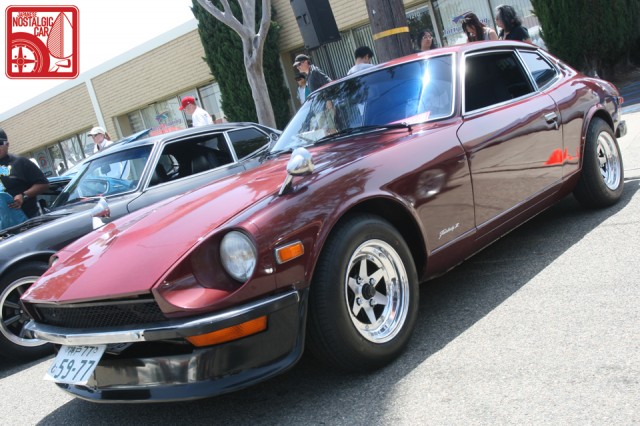 2+2's do not get the respect they deserve, but with JDM grille, fender mirrors and air dam, Josh Kreatcharoenporn's gets our thumbs up.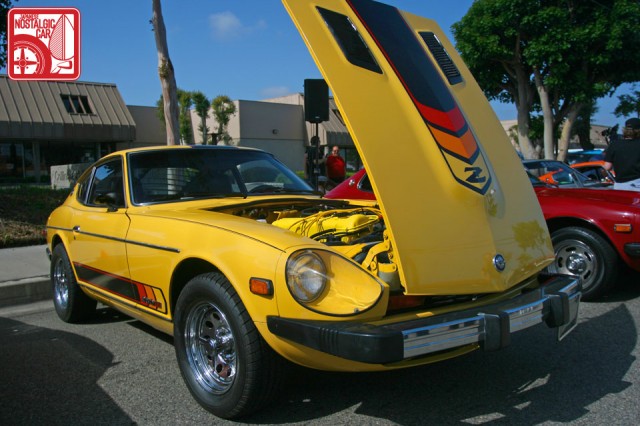 And now for a series of special edition Z-cars, starting with a 1977 Zap Z, a 280Z finished in 411 Sunburst Yellow with rear louvers and 70s-tastic decal package on the power bulge and above the rocker panels.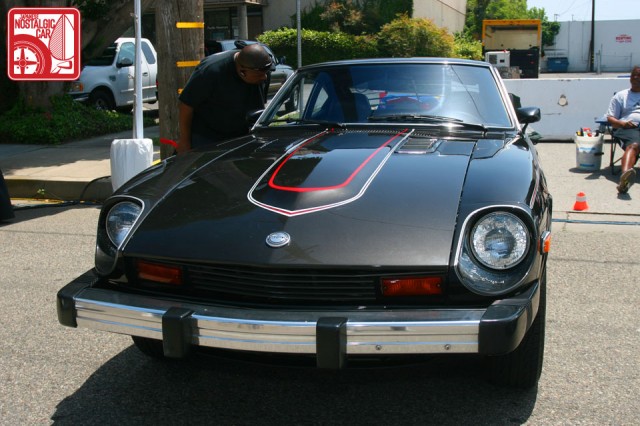 The following year, Nissan offered the 1978 Black Pearl 280Z, an appearance package with a bespoke color, the gorgeous 638 Black Pearl Metallic. The package included red and silver pinstripes along the hood, sides, deck lid and headlights, a louvered sunshade, and racing mirrors.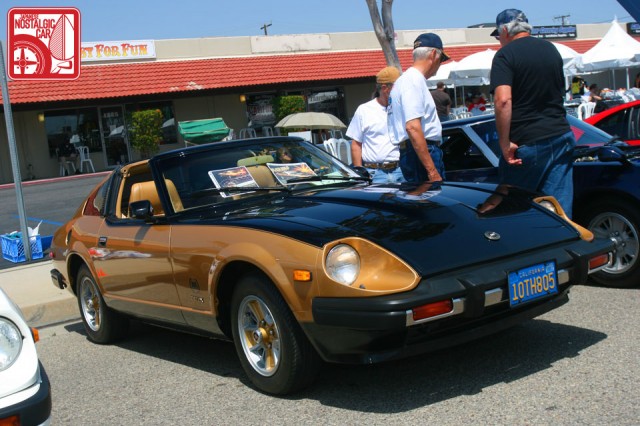 The Black Pearl was the first black Z, but not the last. By now everybody knows the 1980 Black Gold 280ZXs, built to celebrate the 10 year anniversary of the Z-car in the US. Only 2,500 were produced, each with a serial numbered dash plaque.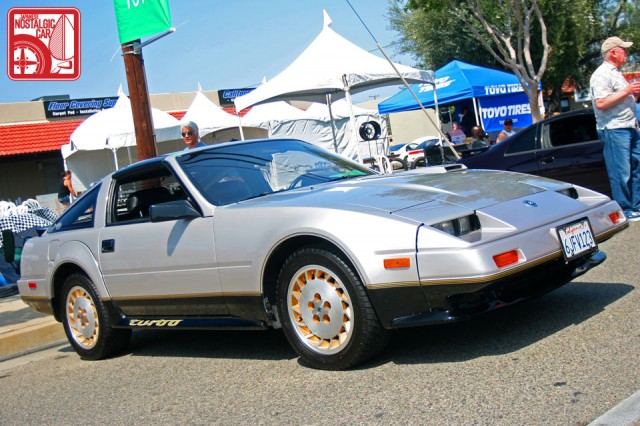 A few years and one generation later, Nissan offered the 50th Anniversary Edition 300ZX Turbo to commemorate a half century since the company's founding in 1934. The silver and black two-tone is a dead giveaway.
Numbers of S130s were fewer than in previous shows, but this 1981 T-topped Turbo 280zx with snowflake wheels and searing copper paint certainly caught our eye.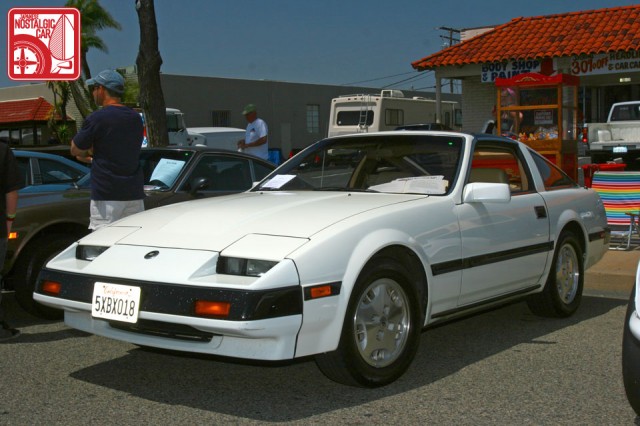 A bone stock 1984 300ZX was offered for sale at just under $9,000. It's a naturally aspirated version, but it'd be like driving one off the lot with Thriller blasting from the cassette deck.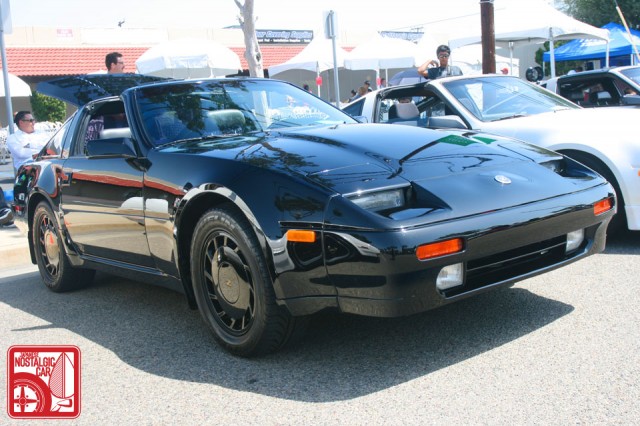 Post-facelift Z31s have now crossed the 25-year "nostalgic" threshold, believe it or not. There was an all-white Shiro Special 300ZX, but this dipped-in-crude-oil black one could be a "Kuro Kustom."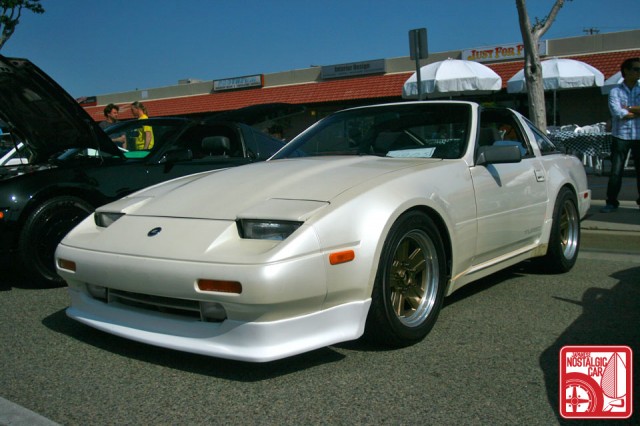 Proof that Starion wheels go well with anything.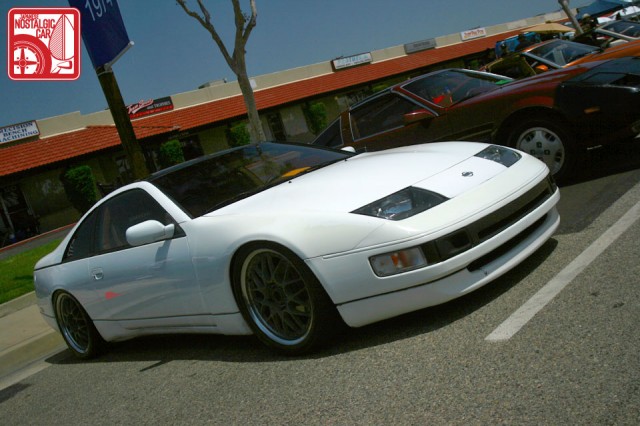 No, it's not nostalgic quite yet, but the Z32 is one of Ben's all-time favorite designs and this is a pretty tasteful example. When compared with the kouki Z31 above, the styling doesn't seem to take such a distant evolutionary leap.
As with many shows, sometimes the parking area can yield some of the nicest finds. Nelson Barrios' L28-powered 1973 240Z exudes JDM cool with fender mirrors, bolt-on flares and obligatory black Wats.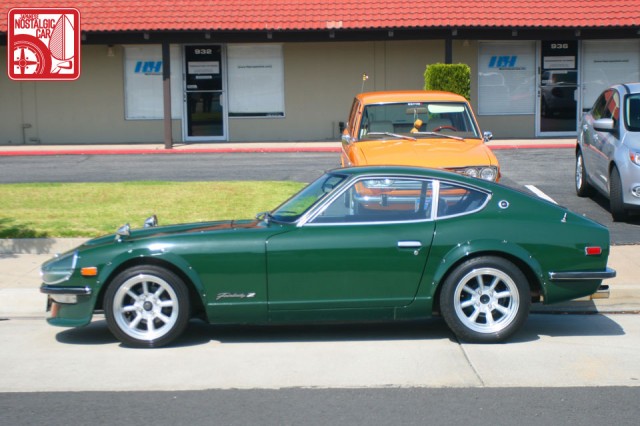 Nearby was another JDM-style gem, a 1971 swathed in somewhat uncommon 907 Dark Green and riding on silver 16″ RS-Watanabes.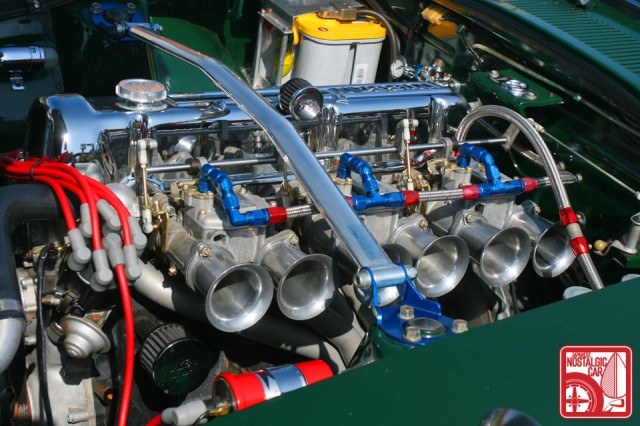 We asked owner Scott Kunisaki to pop the hood, revealing a 3.2 liter Rebello Racing motor built to the edge of sanity with triple Mikuni 44 carburetors. It needs nothing else.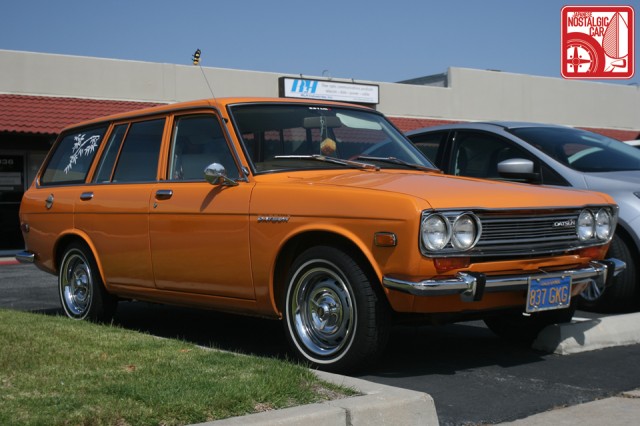 Lastly, we spotted this Hawaiian style Datsun 510 wagon, humbly crashing the Z party. Of course, this car show is the grand finale of a fun-filled weekend of Z-car immersion. I don't have to drive over 400 miles in a 40 year old car to attend this gathering any more, but seeing Zs built with passion and dedication still thrills me all the same.
Photos by Yee Chan.