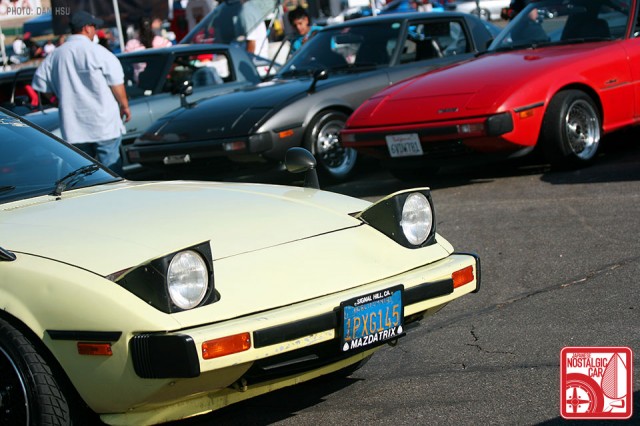 As the name implies, SevenStock was originally a gathering for Mazda's iconic sports car, the RX-7. Over the years it's evolved to include all rotaries, and this year they teamed up with MazFest to throw one giant celebration of all cars flying under the zoom-zoom banner.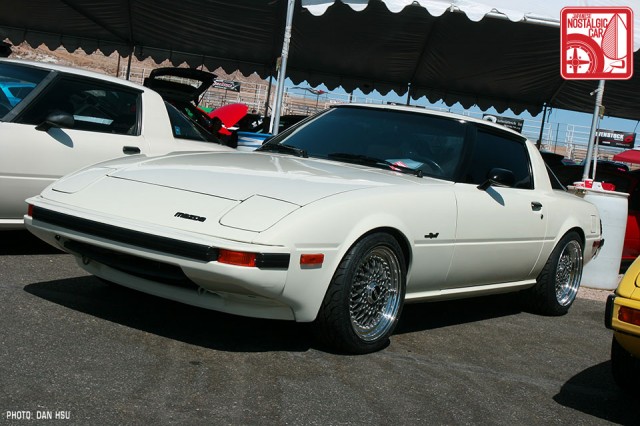 In the same way that there are enough Zedheads to sustain Z-only Nissan gatherings all over the country, there are enough RX-7 aficionados for their own shows. That's why we're devoting an entire episode of our MazFest/SevenStock coverage to the magnificent Sevens.
The event took place this year at Willow Springs International Raceway. The emphasis of Mazda has always been on racing, and there was no shortage of ear-shattering rotaries brapping their way into the paddocks when the gates opened, but we were equally pleased to see some clean, stock examples as well.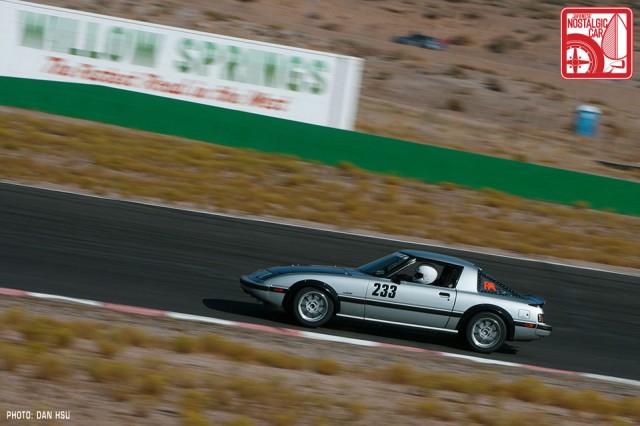 The MazFest and SevenStock combo offered a unique atmosphere, where attendees could browse row of some gorgeous Mazdas while watching others roar up the Willow Springs circuit hills.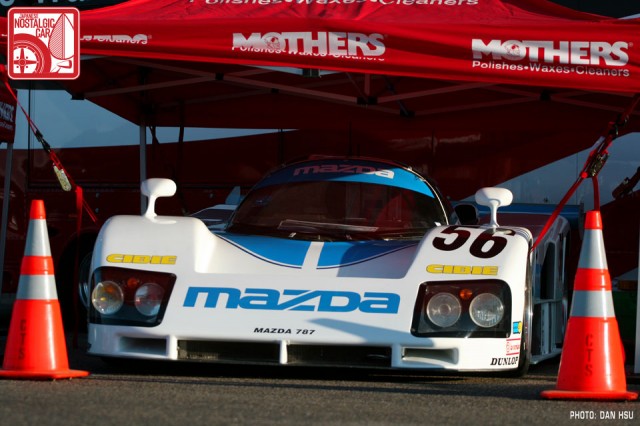 Early on the vicious Mazda 787, sister car to the LeMans winning 787B, kept cool under a tent at the Mazda/Mothers Car Care trailer. Rumor was that we'd be offered the uber-rare treat of seeing it run on the track later in the day.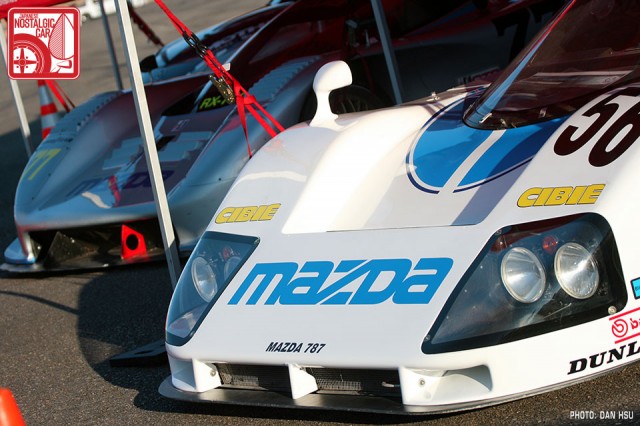 It was rare enough a chance just to see the Le Mans warhorse up close, but to see it in action too? Dreams can come true. It was also hinted that if we were really good little boys and girls its IMSA Prototype cousin, the RX-792P, would hit the tarmac too.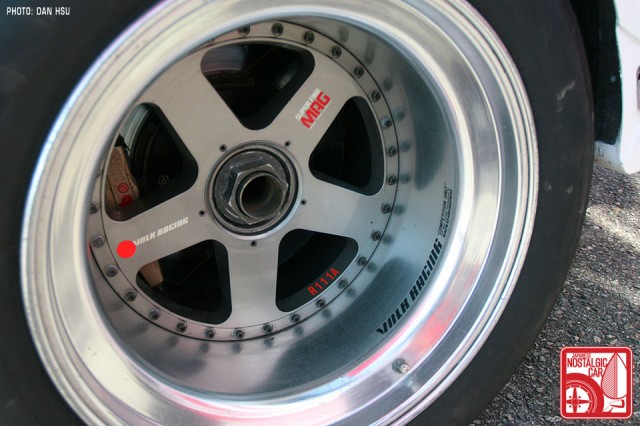 Behold the 787's Volk Racing Super Fine Mags. Note that the center piece is finished in silver rather than the 787B's gold.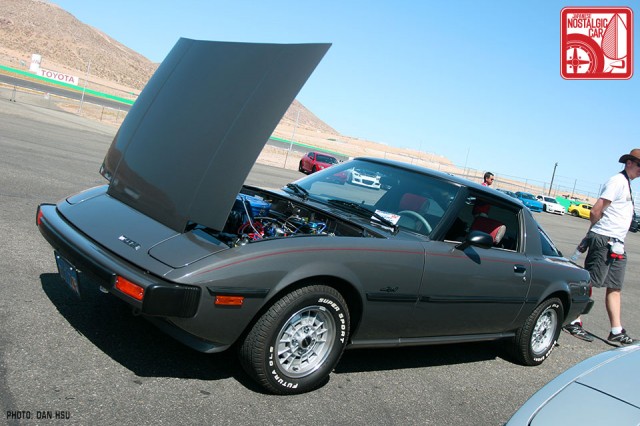 As we waited for the endurance racers to hit the track we browsed some of slick RX-7s on display. Glen Powell is the original owner of his 1980 GS, which appears to be a stock SA22 on the outside, 13-inch waffle wheels and all.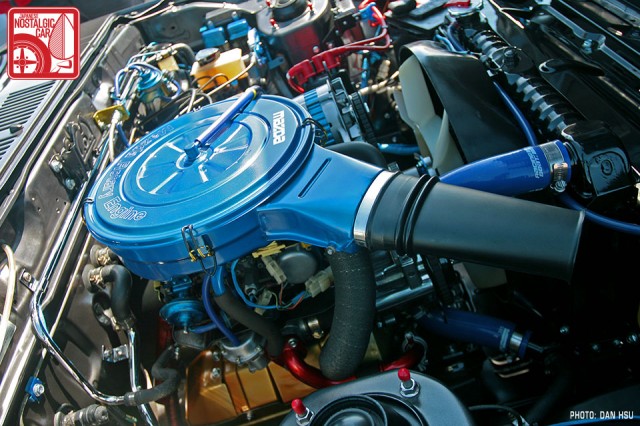 Under the hood, however, it was far from stock. Every detail had been worked over, and the result was a stunning work of art, still rockin' the original 12A with a fully restored (and functioning!) CA emissions system.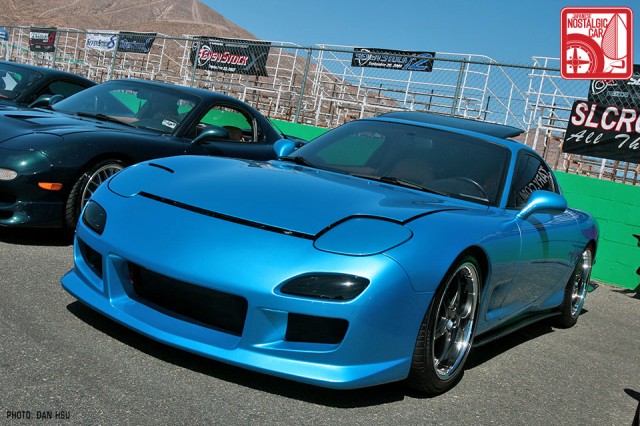 On the other side of the RX-7 timeline was a similarly detailed and eye-popping FD in Mazda's trademark zoom-zoom blue.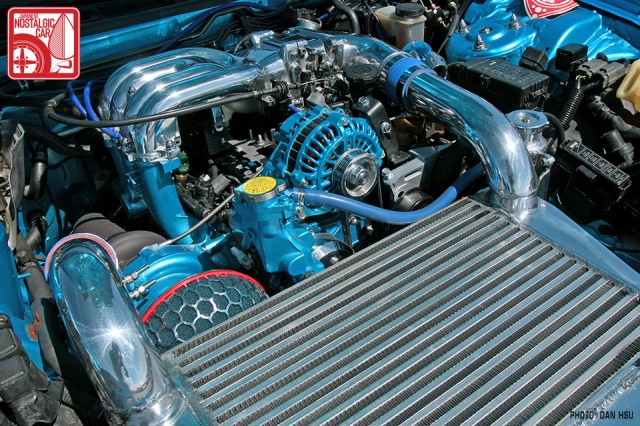 It's engine bay was superbly detailed, blinding under the 100 degree sun, and was occupied nearly entirely by a horizontal mount intercooler. I guess that's the kind of craziness that can be accomplished when your motor is as compact as a Wankel.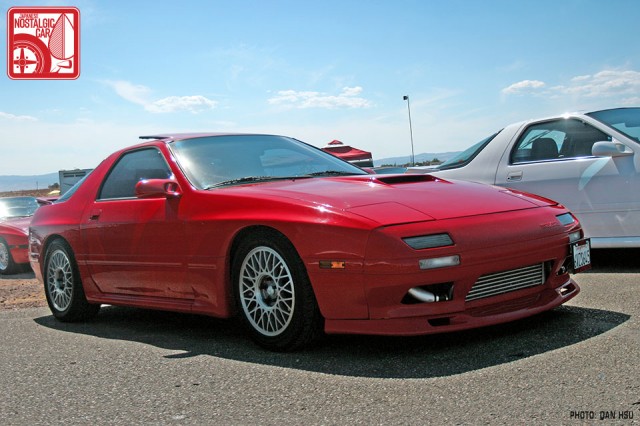 The FC breached the 25-year Nostalgic Threshold in 2011, but at last year's SevenStock (and even two weeks ago at JCCS), FC owners seemed to go for the wildly modified look. This time around it was great to see clean examples, even if the intercooler and associated plumbing revealed a not-quite-stock drivetrain.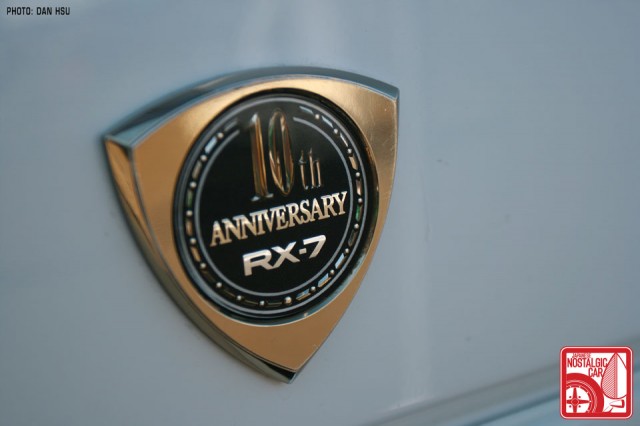 In 1988 Mazda built 1,500 Crystal White FC Turbo II 10th Anniversary models to celebrate a decade of the RX-7. This special badge could certainly be a strong contender for best emblem, and we were pleased to see two 10th AE RX-7s at the show.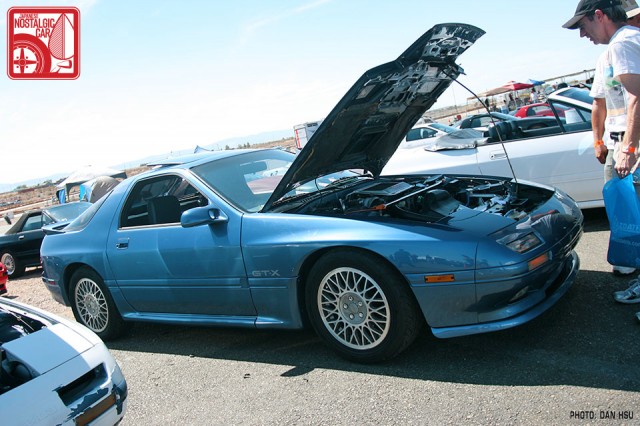 A great proportion of FCs fall into the drift rat category, so it was reassuring to see a growing number of collector-grade examples. A couple of years ago we started noticing more mostly-stock AE86s at JCCS and Toyotafest. Perhaps the FC is reaching that tipping point.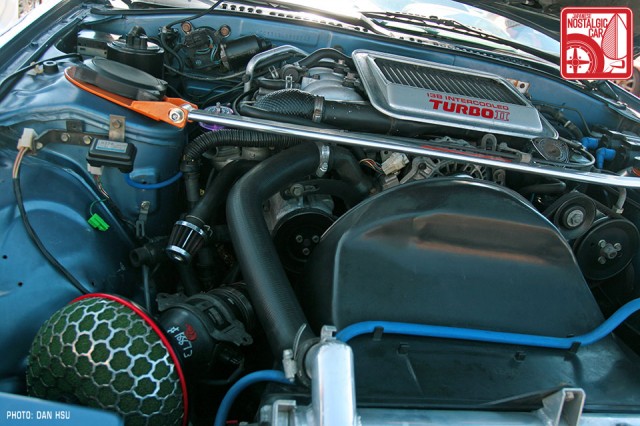 Aside from a few easily reversible bolt-ons like the air cleaner and strut bar, the engine bay of this blue Turbo II was amazingly unmolested.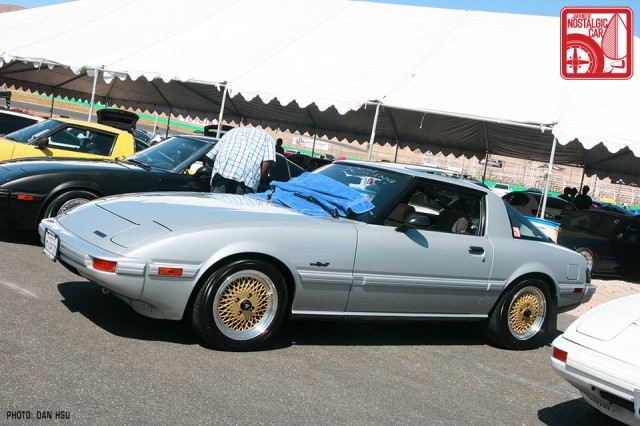 This year we got to see some cars that don't usually make the trek to SoCal for SevenStock or JCCS. This GSL-SE on Enkei Classic Series 92s is powered by a street 6 port built by a shop located way out in the Mojave Desert called Krazzy RPM Racing.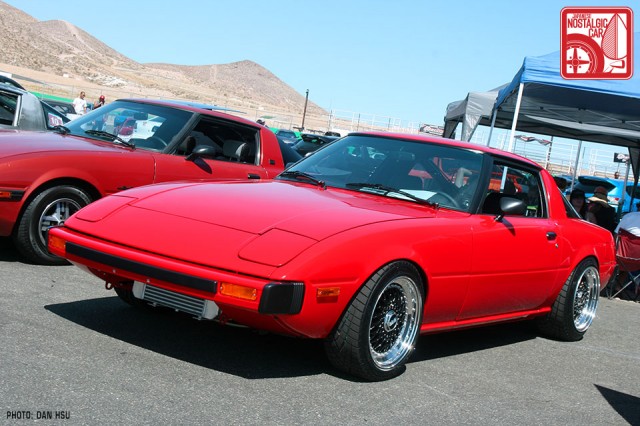 Tino Krualphan's 1979 RX-7 was at JCCS two weeks ago though, and walked away with the Best RX-7 award. It's easy to see why — the car underwent a down-to-the-shell rebuild with over 800 hours put in. Every bolt was turned, from the completely powder-coated GSL-SE suspension to the restored BBS 3-piece wheels. Loads of NOS parts and upgraded performance bits were added during reassembly and the color-sanded paint simply gleams.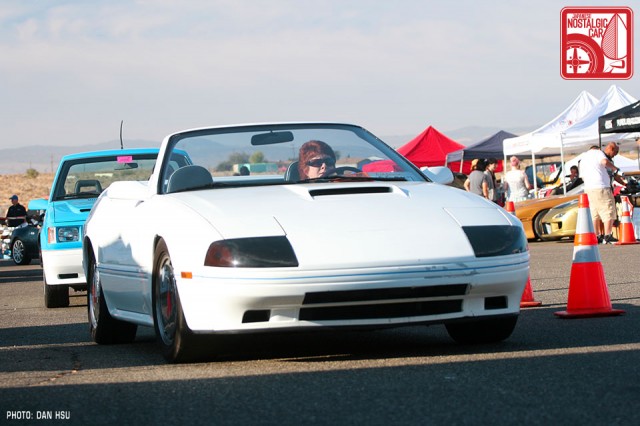 Allan Rodgers brought one of his California Roadsters, a design by the famous rotary tuners at Racing Beat hailing back to 1986, before Mazda officially sold a droptop RX-7 in the us.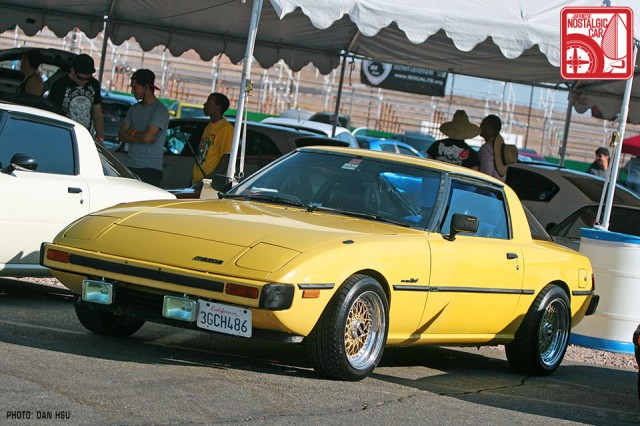 If you look closely, you'll notice this bright yellow Savanna RX-7 is a RHD model. At JCCS, you'd see owners putting fender mirrors on cars that didn't come with them. Here, curiously, the owner has chosen to plug up the fender mirror mounts and use door units instead.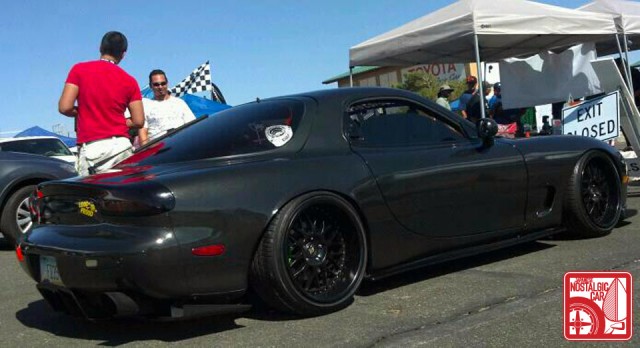 Apropos of nothing, this black beauty was quite possibly the most evil looking FD we've ever seen.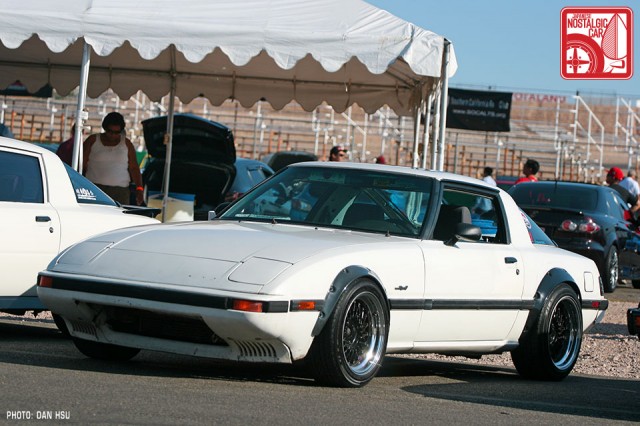 Amazingly the simple addition of bolt-on over-fenders and some proper Nihon wheels can make a wholly USDM car look ever slightly more Japanese.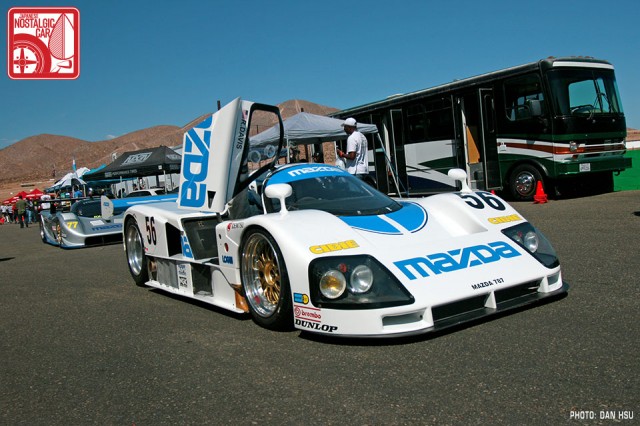 Finally it was time to release the kraken! Just seeing these cars moving, even if they're just rolling through the paddocks, was spine-tingling.
The entire hillside reverberated when the two four-rotor R26B motors roared to life. We weren't far from the San Andreas faultline, and were surprised when they didn't cause a minor earthquake.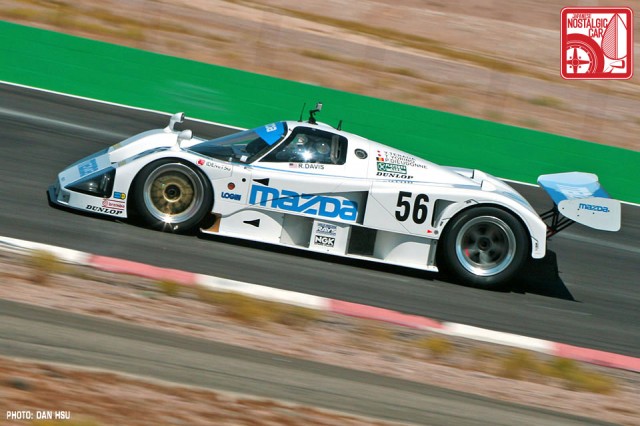 It was a glorious sight to behold the 787 in its natural environment. These were only demonstration laps, so the drivers weren't going all out but it was stirring nonetheless. Based on that small taste, we can only imagine the excitement one would have felt watching the 787B win Le Mans in 1991.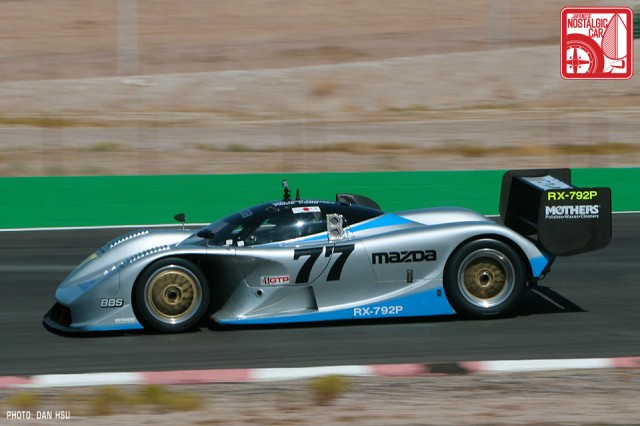 The four-rotor became ineligible for Le Mans the following year, so Mazda brought it to the US to power the RX-792P in IMSA. It never quite had the success to beat Toyota's GTP racers, but it sure does look gorgeous gliding across the asphalt.
Best of all, Mazda allowed other Mazda drivers to share the track with these amazing machines, an inestimable honor and one they'll not likely soon forget.
There was one other Mazda race car we wish we had seen in action, and that's this insane monster of an RX-7 doorslammer. Alas, Willow Springs did not have a drag strip. See photos of the motor in the gallery below.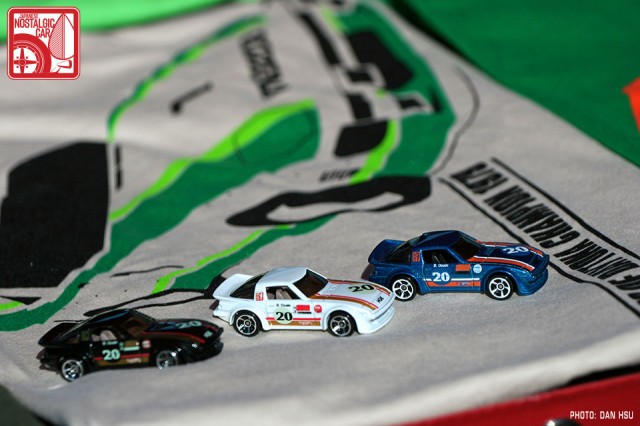 We debuted our new JNC "Daytona" shirt there, and before we go we couldn't help but give you a look at all of our RX-7 themed products, together in one photo.
For more photos from MazFest/SevenStock, see the gallery below, and in case you missed it check out the Early RX and pistoned Mazdas in Part 01.