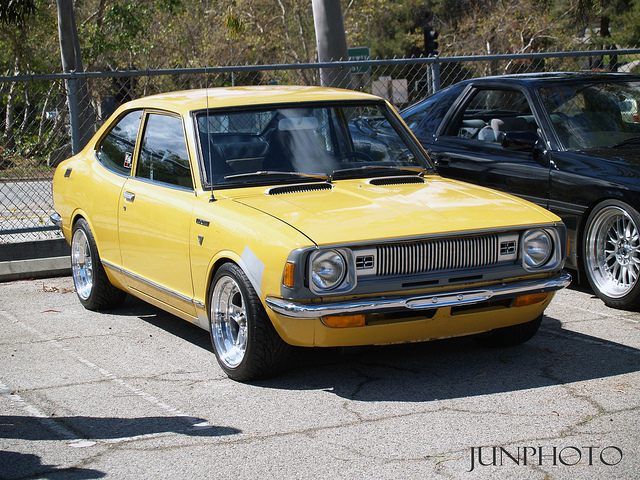 Laugh all you want at our super-strict smog tests, but at the end of the day SoCal has at least one redeeming trait — enough nostalgics to hold a regular swap meet. Here's what you missed from the recent Eagle Rock Datsun-Nippon Swap Meet. 
This event started out as a 510 swap meet on the now-defunct DatsunBluebird.com. It expanded to include all Datsuns, then to all vintage Japanese marques. This 510 exemplifies the period, home-wrenched racer that would've prowled SoCal's highways back in the pre-JDM day. Libres were practically a commandment, and those old school Datsun Competition Parts decals hint at something sinister under the hood.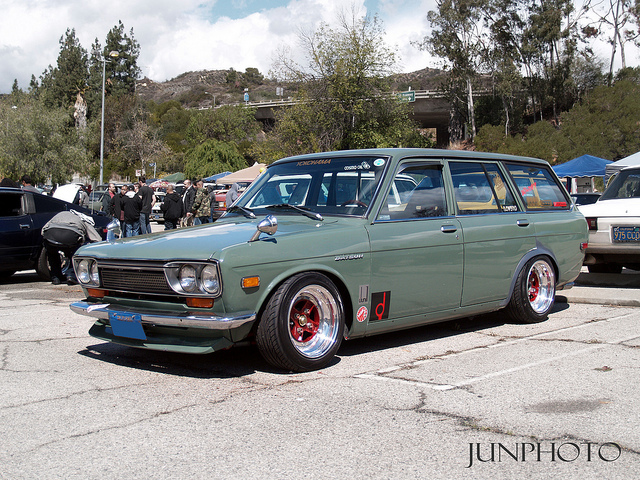 This 510 goon, on the other hand, is definitely post-JDM shakotan craze, replete with fender mirrors, deep-barreled SSR MkIIs, a Bluebird grille and Okamoto decals. It also happens to be the steed of our intrepid photographer Jun Imai.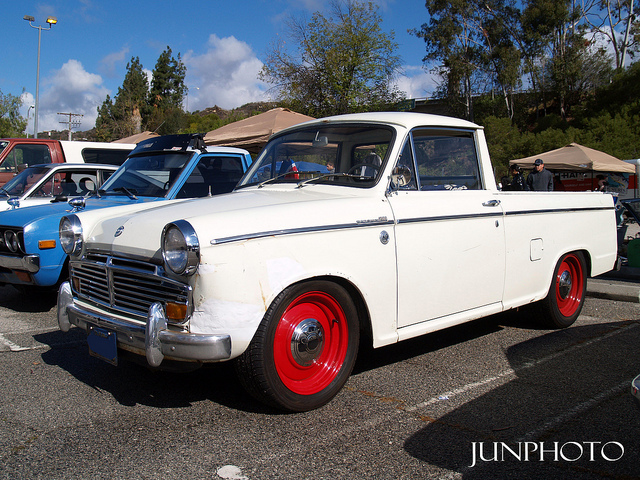 Despite flying Japan's national colors, this rare unibody Datsun NL320 truck is reminiscent of old SoCal Speed Shop hot rods thanks to its red-painted steelies.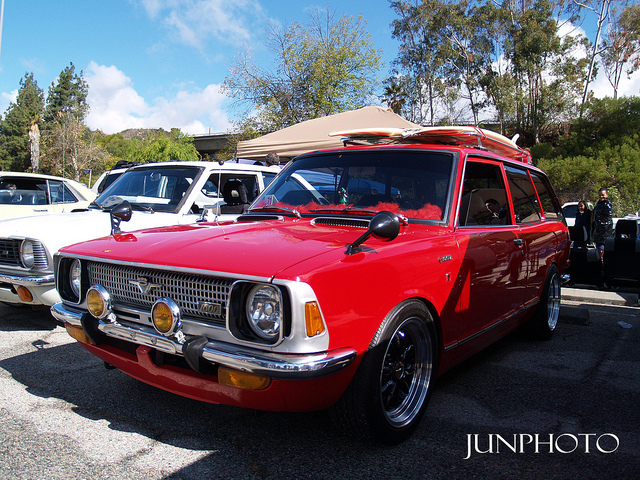 Of course, no SoCal wagon would be complete without a couple of surfboards. A TE28 Corolla would easily be the envy of any hipster surf dude at Huntington or Venice Beach.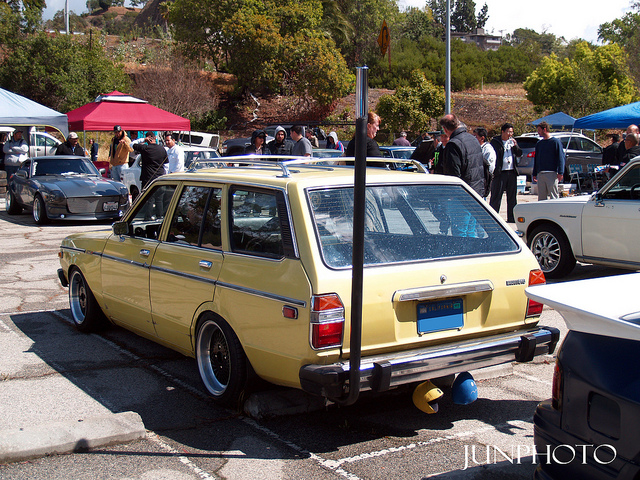 Yesterday's rendered yellow B310 "California" may appeal to USDM Jammers, but because the grass is always greener on the other side, we want zokusha takeyari, dammit!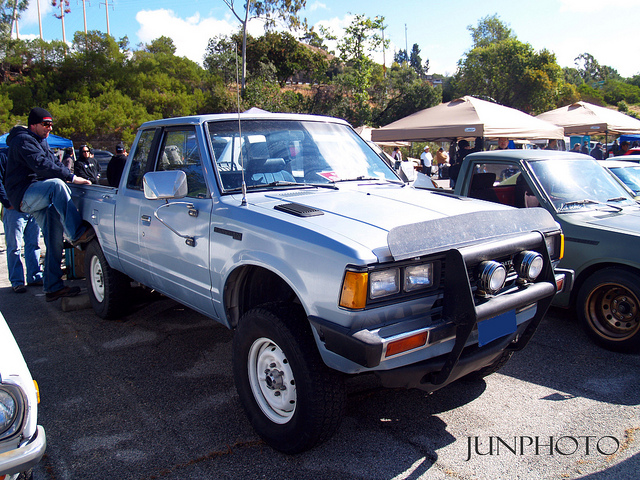 The swap meet isn't just a good place to find an old carb, you can unearth entire vehicles for sale as well. This sharp-looking 720 King Cab 4×4 reminds us of this former Kidney Car, but in a much more 80s period shade of blue.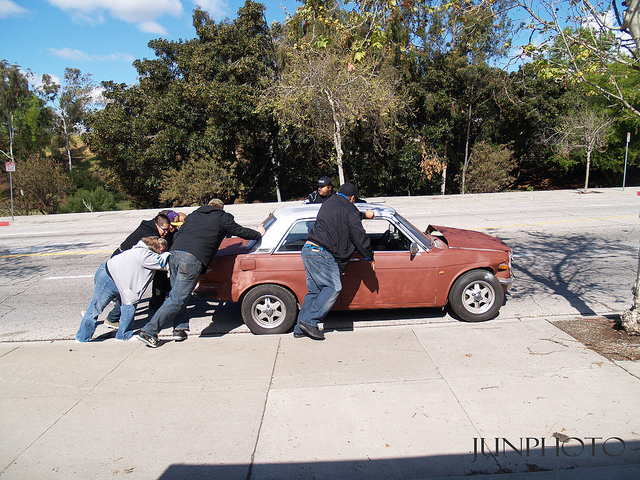 Sadly, there's always gotta be That One Guy. This 510 owner lead-footed himself into the wall of the on ramp that borders the swap meet area.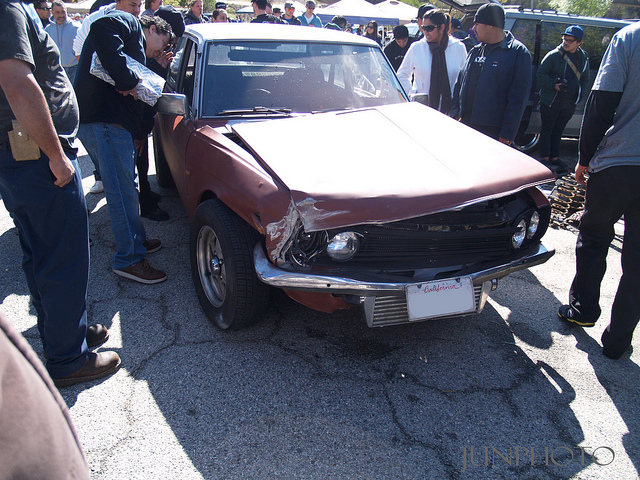 Luckily, nobody was hurt. The same could not be said of the 510. But hey, at least there were plenty of parts near by!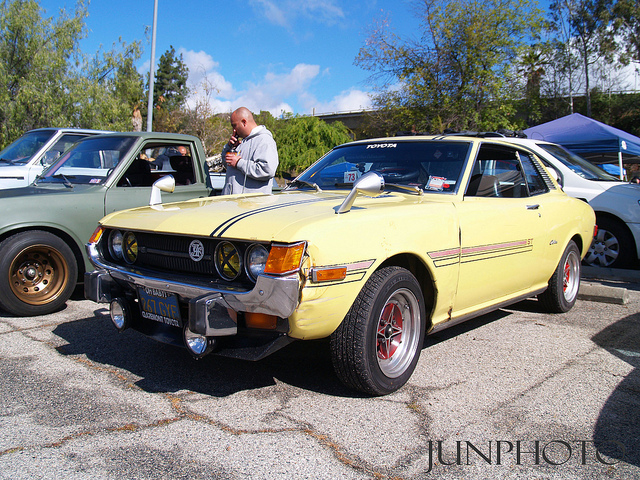 This Celica has seen better days, but the tire choice is pretty interesting. It's hard to imagine anyone putting blocky-sidewall rubber on a set of step-lipped Techno Phantoms these days, but if they were mounted pre-JDM craze, that would mean said Phantoms were floating around SoCal for quite a while.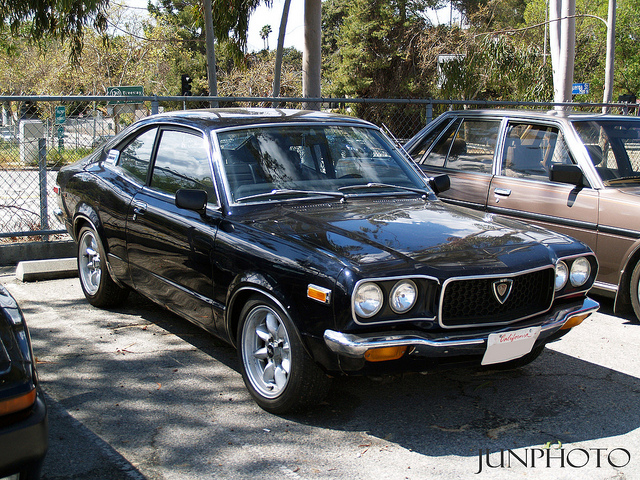 Rarity, thy name is clean, stock-looking Mazda RX-3. In black no less.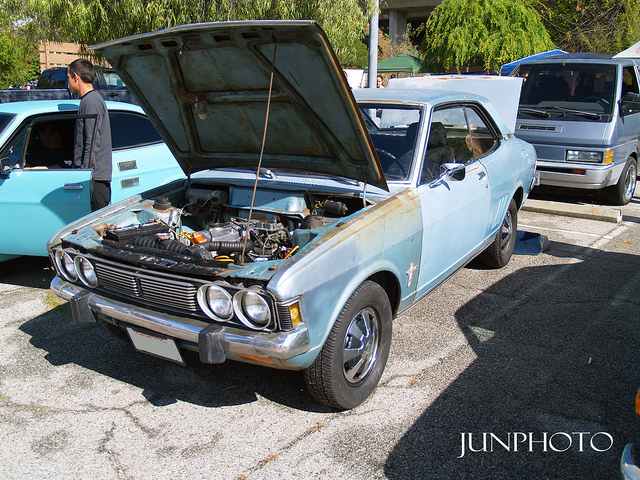 Another great thing about informal gatherings is that cars which would never set foot into JCCS might just show up! That is a rare and extremely patina'ed Dodge Colt/Mitsubishi Galant surrounded by at B110 Datsun 1200 and a recalled Nissan Vanette!
Photos courtesy JunPhoto.