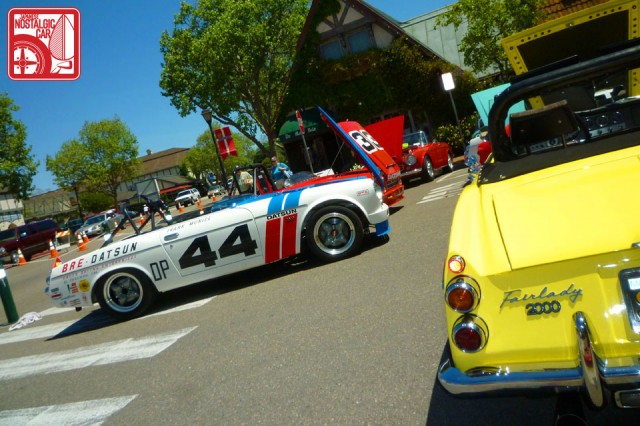 Dragging a non-car nut spouse to a car show is a hairy proposition, usually resulting in paying back a day spent gawking at old metal with some proper romance. That's why we recommend killing two birds with one stone by dragging your spouse to the Datsun Roadster Classic in romantic Solvang, California.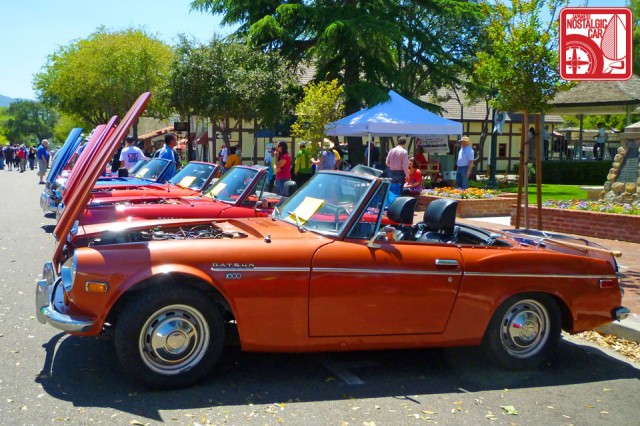 Each April this quaint Danish style town is swarmed with a battalion of Fairlady Roadsters. The show takes place right in the main square of downtown Solvang, making it easy to alternate between perusing a row of beautiful Nissan droptops, popping into one of the numerous Scandinavian bakeries for a delicious pastry, and basking in southern California's wine country sun.
Solvang two hours up the coast from Los Angeles, and thus attracts cars from as far away as Washington state, where one can enjoy the car's topless state for about three weeks out of the year. Eric Straw's beautiful resto-mod roadster hails from Oregon.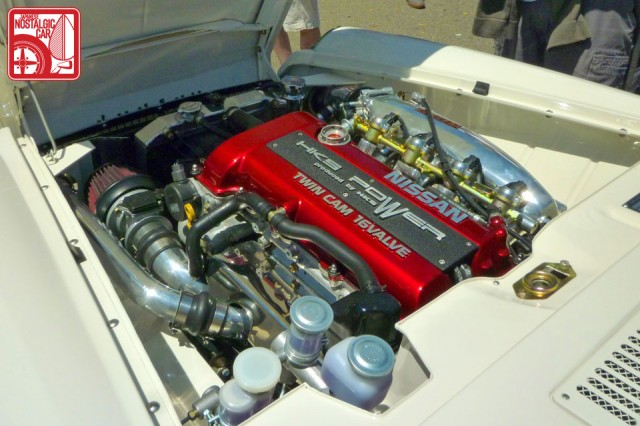 It must have been a blast to haul ass over northern California's mountains with a built SR20DET propelling it like a cannonball. Props for valve cover-upholstery color symmetry.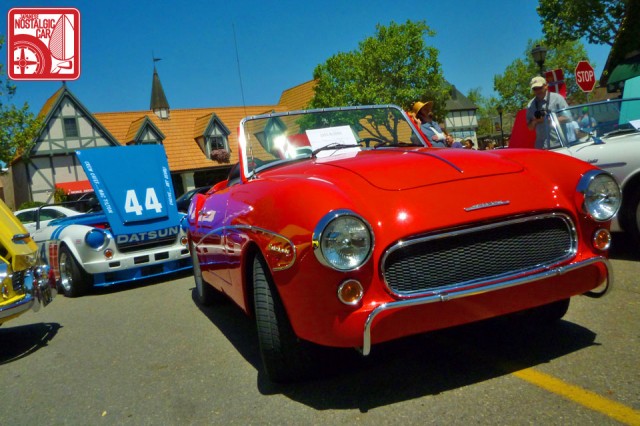 At the other end of the spectrum we found this ancestral 1960 SPL212, likely one of the first Nissan passenger cars to be imported to the United States. Behind it lurks the 1969 BRE race car driven to D-production class championship by Frank Monise.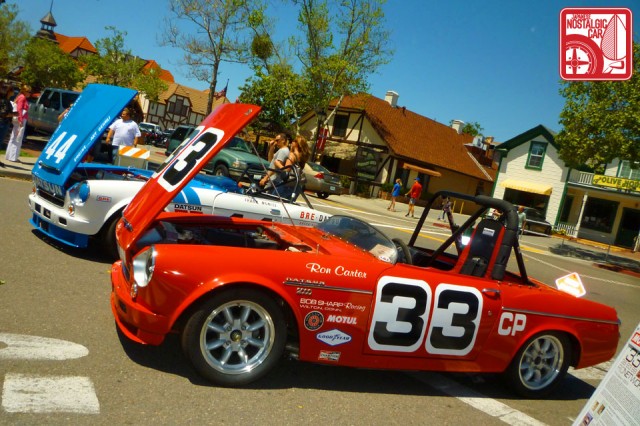 Perhaps race-ready Japanese roadsters in vintage American livery are not the most logical pairing with Danish houses. Then again, neither are old-timey windmills and aebleskiver with SoCal.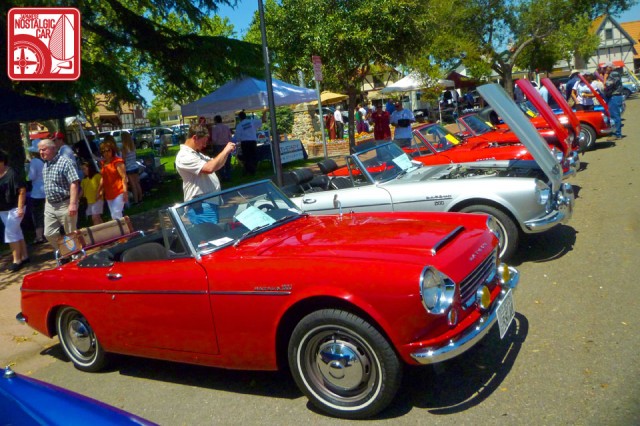 There's a statue of Hans Christian Andersen in the adjacent park, and had the automobile been invented in his day the whimsical Fairlady is exactly the type of motorcar one of Andersen's fairy tale characters would have driven, especially with a luggage rack on the trunk. Quaint!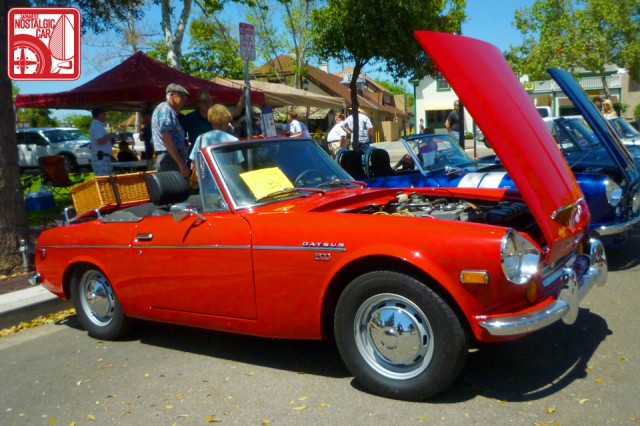 Roadster maniacs are split among high- and low-windshield cabals. This is a Sports 1600, same as the previous car, but with a government-mandated windscreen and a rear view mirror mounted at its top, instead of on the dash.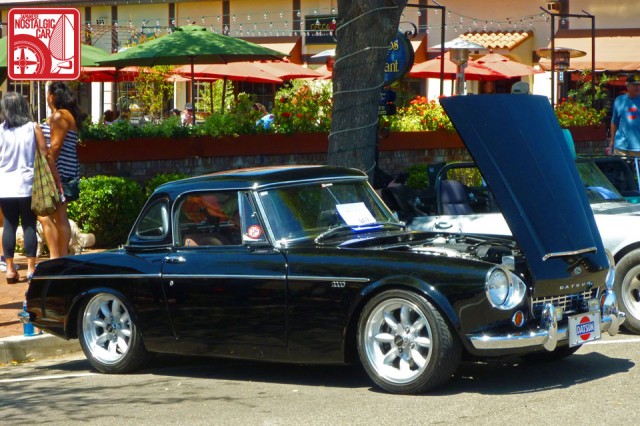 The low-windshield Sports 2000 is even more desirable, combining what traditionalists believe is a sleeker look with 400 more cubic centimeters of displacement. Two things about this Panasport-shod black beauty caught our eyes — the well-crafted Paris hardtop, and the "No MG" sticker on the vent window.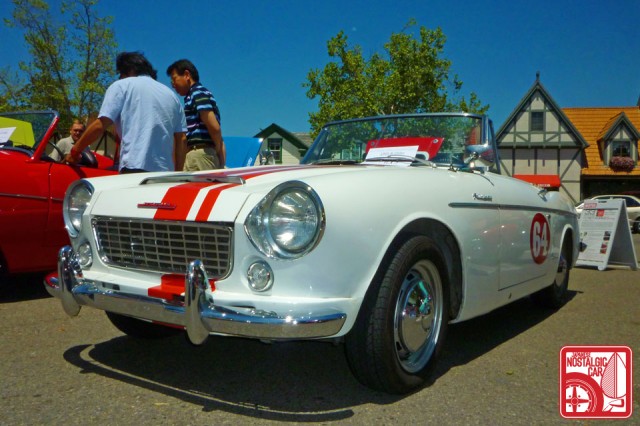 Even rarer, however, is the 1964 Datsun Sports 1500, the earliest of the SP310 chassis. We don't normally condone racing stripes, but red-on-white scheme and offset asymmetry of reminds us of liveries from 1960s Japan.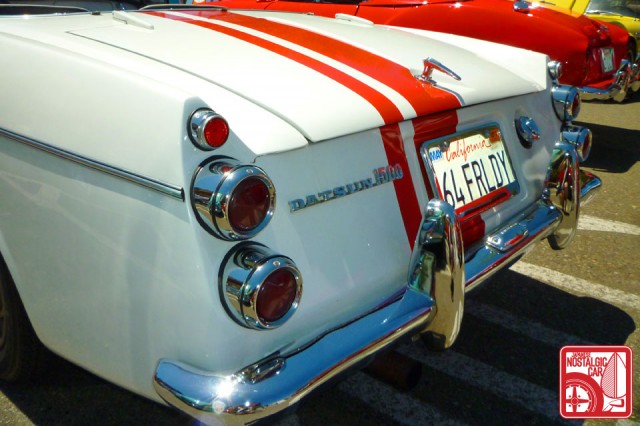 The '64s also had a unique chrome trunk handle that protruded from the deck lid. Perhaps not as elegant as the separate handle and lock integrated into the trunk on later years, but tiny jewels of chrome are always a good thing.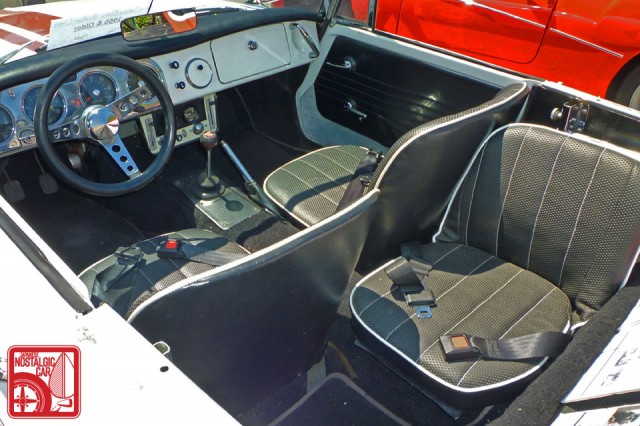 However, its most important and notable feature was its quirkier-than-Zooey-Deschanel side-facing rear seat. Downright charming!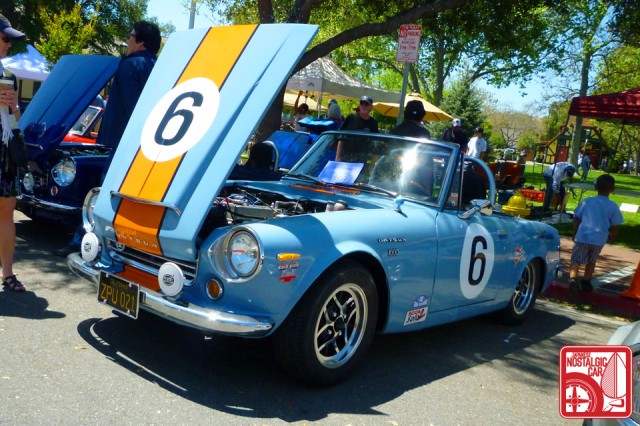 If your livery tastes lean towards the European, there's always Gulf Oil.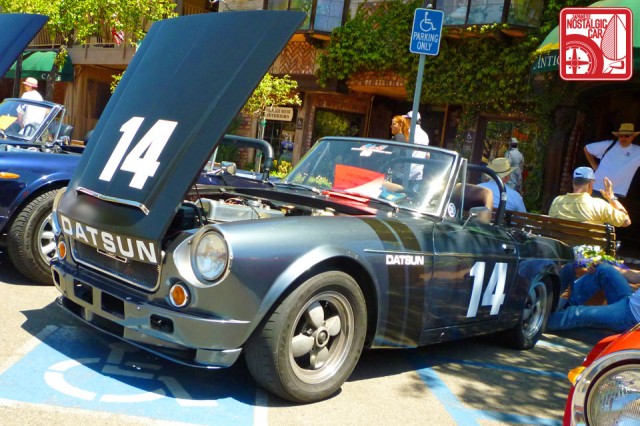 For American livery, BRE stripes (correctly paired with American Racing Libres) are practically a must.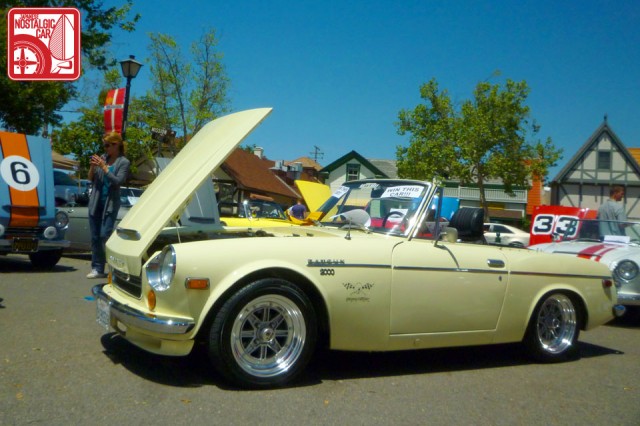 Fundraising for one of the Datsun community's dearest members, Vic Laury, continued. There's still a chance to own this amazing roadster if you haven't already entered.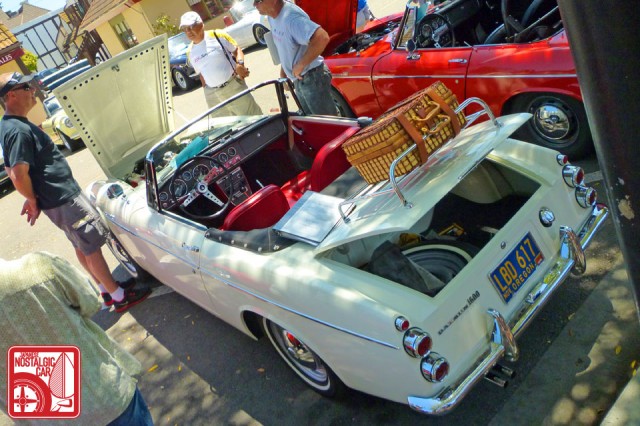 We fell in love with Peter Benham's impeccable 1600, the product of a two-year restoration. Everything was documented in the binder on the tonneau, and even the spare tire was original. Side note: white paint over a red interior is among the most timeless color combos ever conceived.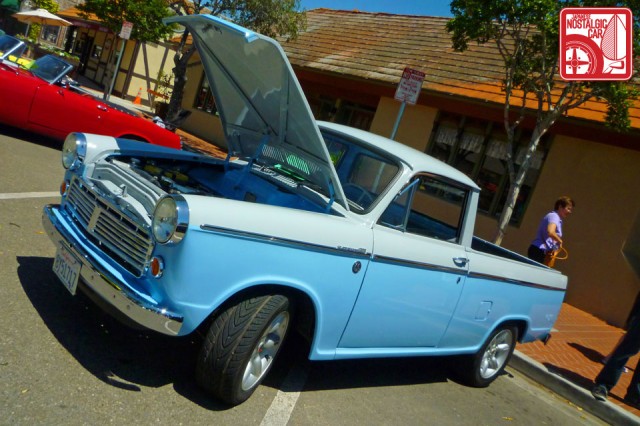 This was the 25th year of Datsun Roadster meets in Solvang. And although the word "Roadster" is right there in the name, the organizers actually welcome any vintage Japanese car. An uncommon unibody Datsun NL320 truck made an appearance.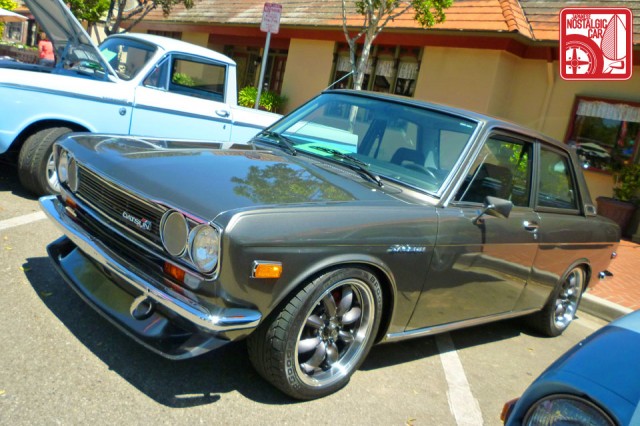 We saw a few non-roadsters, but no non-Nissans. In fact, at least one fast-looking 510 is mandatory at any gathering of Datsuns.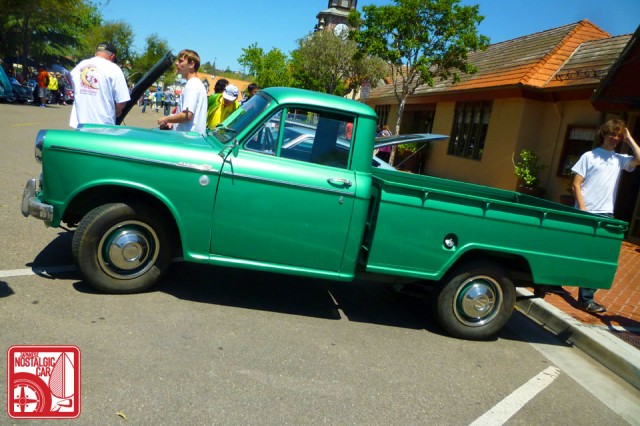 We found the The NL320's separate bed counterpart, an N320, a few cars down near the edge of the show area. Its resplendent shade of green looked to be either original or very old, but we really want it to be the former. And with that, the car-themed portion of our weekend getaway concluded and it was time to take in some non-automotive sights at the behest of our better half.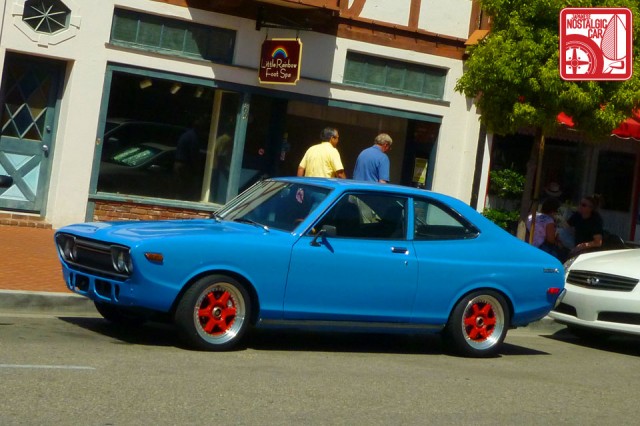 But as we were pulled towards Ingeborg's Chocolate Shop, we spotted a Datsun 710. Hey, the show might be over but no one said we couldn't look at cars parked on the street!