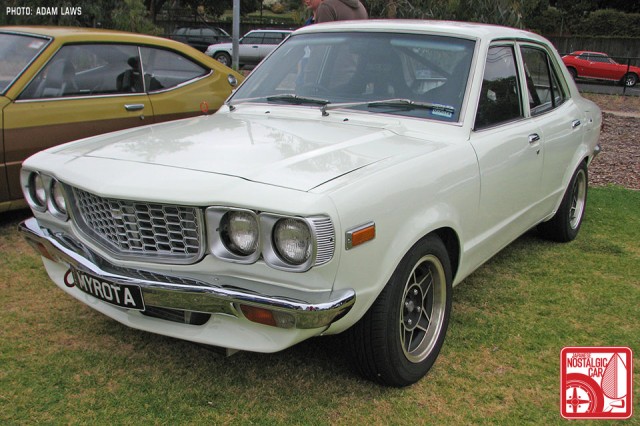 Part 04 of Adam Laws' Classic Japan 2012 coverage from Melbourne, Australia covers a whole bunch of J-tin that is rarely spotted in the USA. —Dan
In Australia the Mazda range in the 70s included both the RX-3 and its pedestrian little brother, the 4-cylinder 808 (called the Grand Familia in Japan I believe). Sold in sedan, wagon and coupe versions, many of them gave up their life as to become an RX-3 clone, and being no expert, I can't tell if this is the genuine article – an RX-3 sedan – or an 808 that has been converted with all the good bits.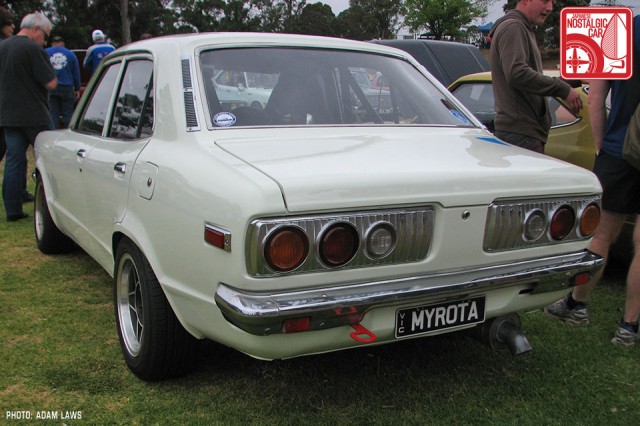 Regardless of that, this one is set up for track day duties and would be quite a circuit warrior. Two racing buckets, a roll cage, tow hooks and that traditional for rotaries down turned exhaust complete what would be a very swift package!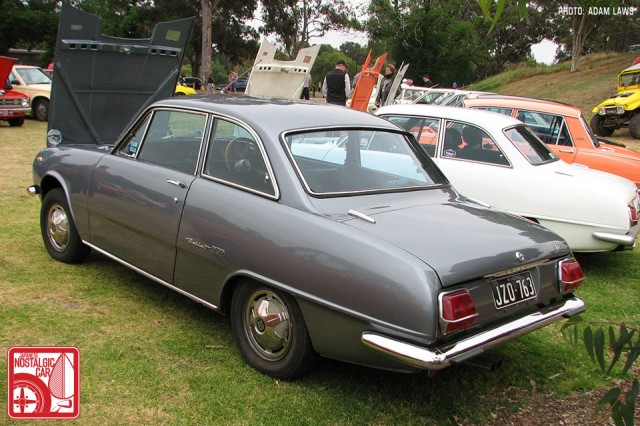 I am not sure if it is the case in the USA, but here in Australia, when you mention Isuzu to people, their first thought will be modern day utes (pick-ups) and small trucks, not these gorgeous Belletts from the late 60s and early 70s. This charcoal two door is a GT and looks to be highly original.
Another Bellett GT, this one lightly modified. Crisp white paint, some fatter rubber and a lowering job make it look the business!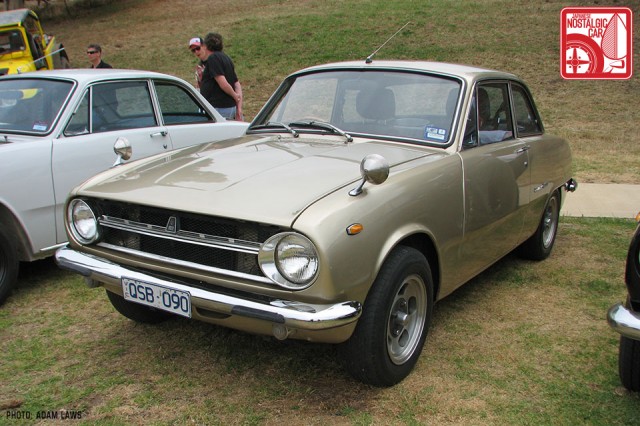 Classic Japan has enjoyed great support from the Bellett Club, each year they turn up with a great variety of cars and there is always at least half a dozen of them. This platinum coloured one shows another owner's take on the Bellet GT, this one with period correct (for Australia anyways) kidney slot mags.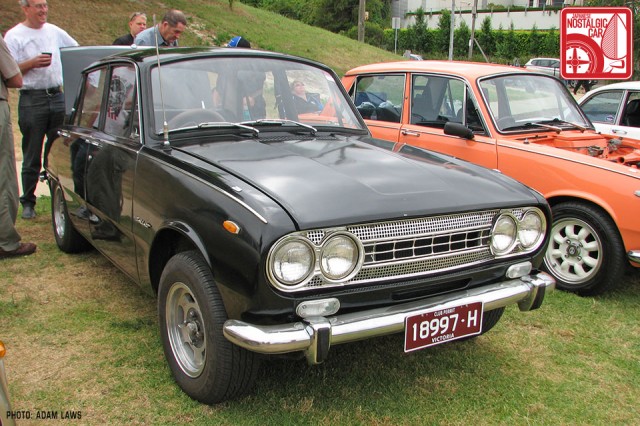 This black beauty is an Isuzu Bellett Sedan, again rocking a set of kidney slot mags. You will spot some of the Bellett Club members in the background clearly enjoying themselves, and this really is what our show is all about. People from all walks of life coming together and celebrating gorgeous old J-tin.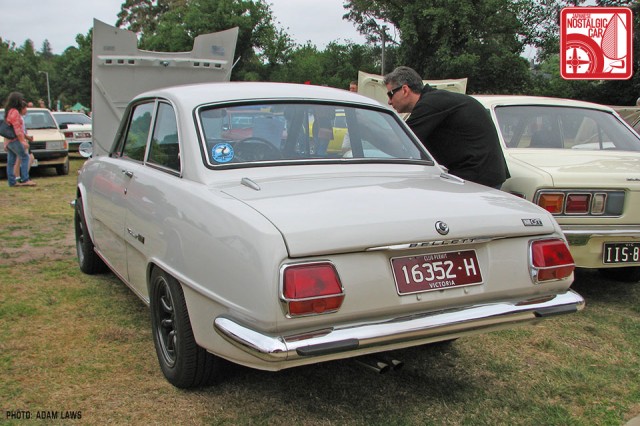 Another rear shot of a very sexy Bellett GT coupe, this one looking like it has been transported straight out of Japan on its black Wats. If you are keen to see more of these gorgeous machines, head over to the Bellet forum.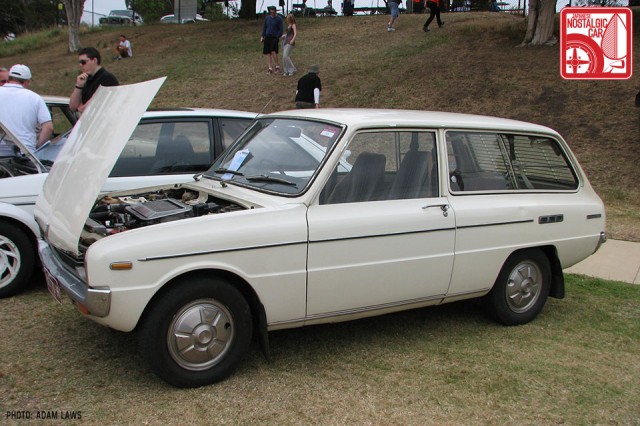 A Mazda Familia wagon, this time a true sleeper. Stock bodywork and paint, original hubcaps, and a Series 4 RX-7 intercooled 13B poking out of the engine bay! The mudflaps, venetian blind in the rear window and the ugly brown seat covers would mean you never looked twice at this crazy 'goon, until it blew you away at the next set of traffic lights.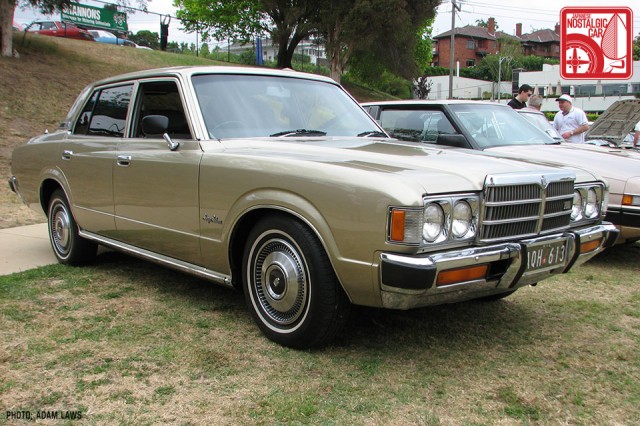 A Toyota Crown MS85 in this condition is a regal thing indeed. This is one of those cars I mentioned that is a dime a dozen down under. I don't imagine a lot of them were sold new, as they would have been very expensive compared to the Aussie locals, but now something in this condition might sell for $3000, and one in less pristine condition would struggle to reach $1000.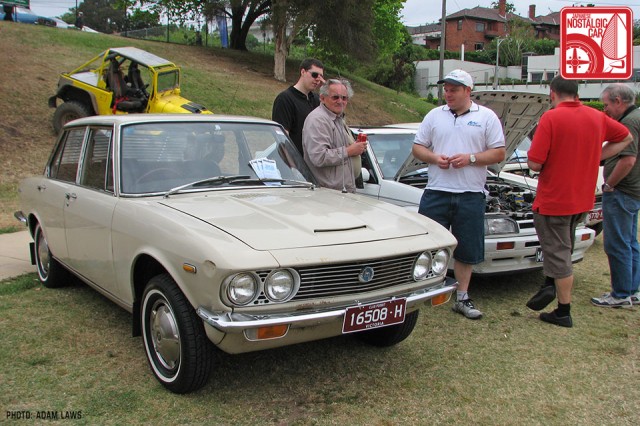 How pretty is this little Mazda 1500? They were called the Luce in Japan, but the really interesting thing about these gorgeous little sedans is that they were designed by legendary car designer Giorgetto Giugiaro when he was working for Bertone studios. No wonder they had such style and grace!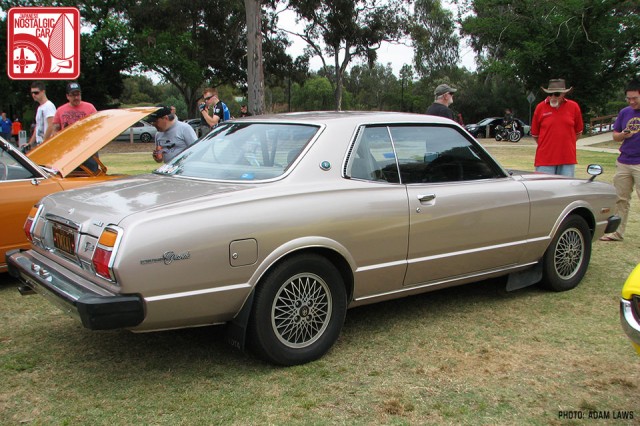 Rare in Australia as well as the USA! I think officially this would have been called a Toyota Mark II MX41, in the Grande specification. To most Australians it is a two door Toyota Cressida, though Mark II fans will think that's sacrilege. They were never officially sold here, so the few that do live in Australia are imports. The owner of this particular car showed great dedication to attending our show, both years he has done a round trip of around 2,000 miles to be part of the event!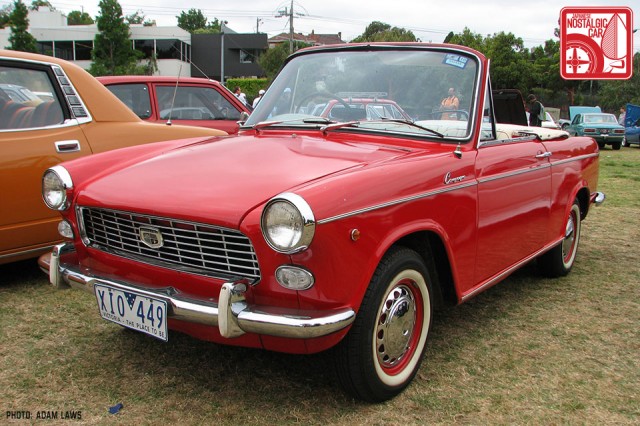 Another rarity for both down under and the USA, a diminutive Daihatsu Compagno Spider. It was a work of art on so many levels. This car was surrounded by people all day, so it was definitely a fan favourite. Owner Anthony has a thread on the JNC forum.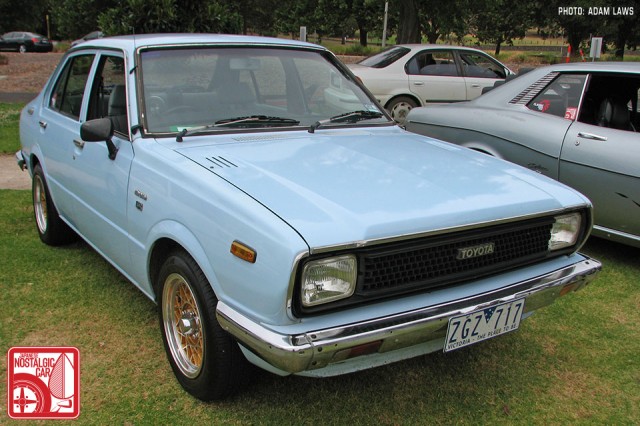 This very neat Toyota Corolla KE55 sedan is an 1980-81 model, based on the square headlight grille and the long end chrome bumpers. It looks very neat on its gold hotwire wheels. These were built in Australia by AMI-Toyota and even though the rest of the world had moved on to the E70 chassis, we were still getting these due to investment costs made for manufacturing. This facelift with the square headlights was an attempt to extend the longevity of the basic chassis design.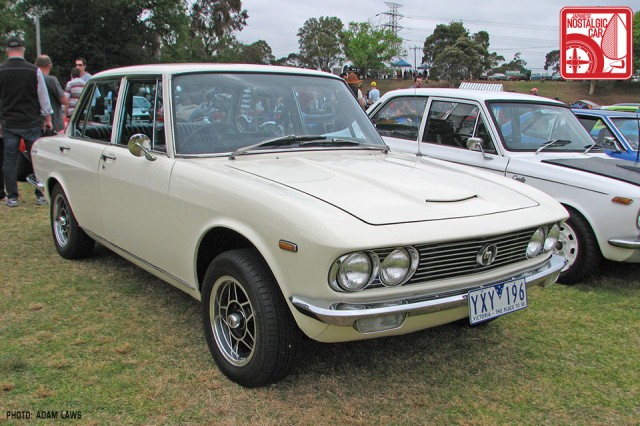 Another stylish Mazda 1500. Aside from the Performance Challenger wheels, it is so tidy it could have been driven straight off the showroom floor.
Now this much chrome would ordinarily scream American cruiser to me. But this time, it's a Prince Gloria Super 6. If there was an award for the most or shiniest chrome at the show, this beauty would have romped it in on both fronts.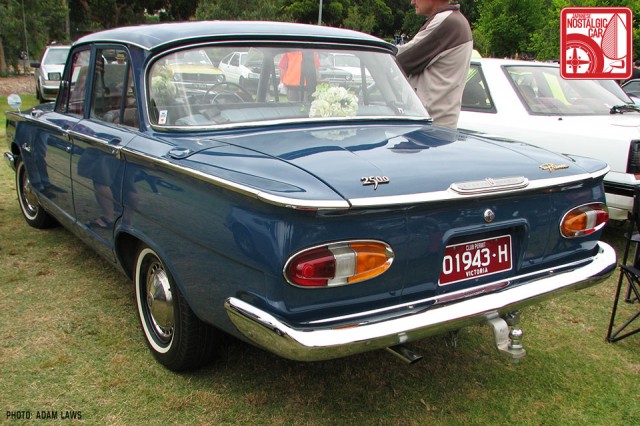 A rear shot of the Prince Gloria, showing that it isn't just the chrome that is immaculate. The whole car was presented beautifully and the owner clearly has spent many hours polishing and detailing it to have it look just so.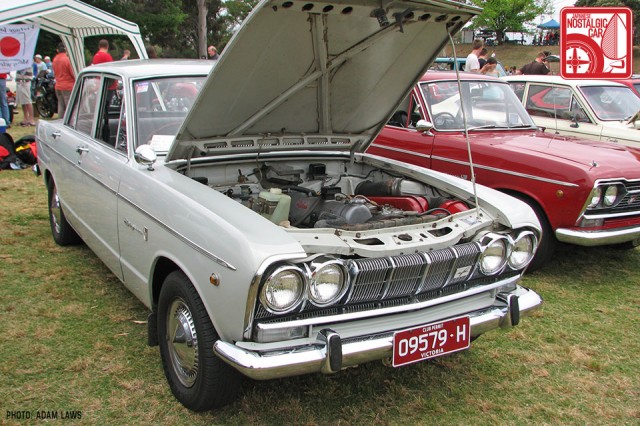 Along with the Belletts, we had quite a contingent of Prince Skylines attend this year's Classic Japan. This white one was a beauty, and in very good shape. I love the bullet mirrors on the front fenders, as well as that huge aircleaner that is feeding the big 6-cylinder engine.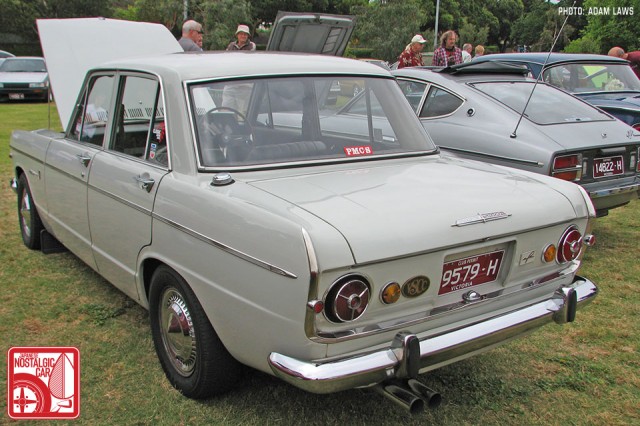 Twin tailpipes and those iconic round taillights. The PMCS sticker on the back window is a nice touch paying homage to the marque's early racing history.
Another Prince Skyline, this time in red. Does that mean it goes faster?! I love those tail lights!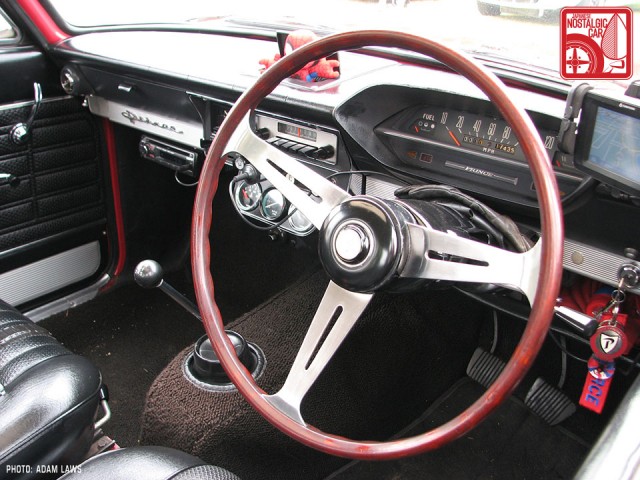 The red one was very neat inside too. I love the big wooden steering wheel, the old chrome faced radio and the auxillary gauges housed under the dash.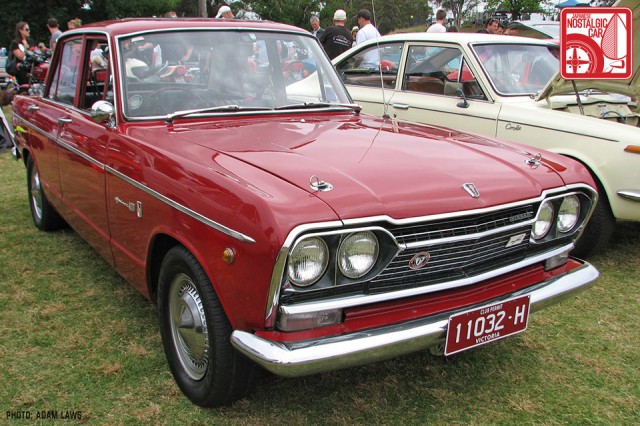 The front is just as good as the rear and inside, making it a great all round car. Who would have thought such an unassuming car could have such success in motorsport.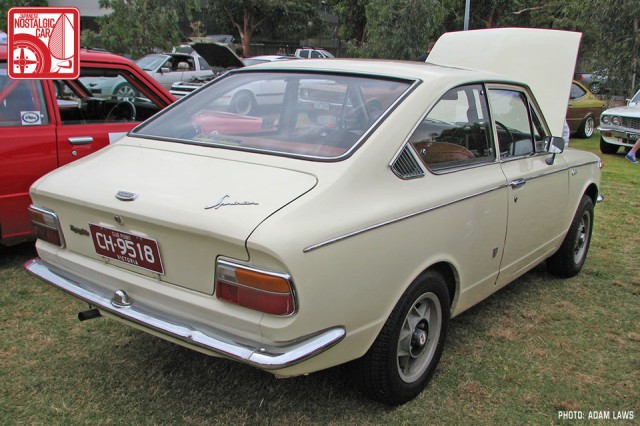 The Toyota Sprinter KE15, sportier cousin to the KE10 Corolla, was sold here in small numbers and in various configurations. The Rooke family that owns this one has all manner of old Corollas, from nice street cars like this one through to rally specials. This KE15 sports a two speed auto Toyoglide, so she's pretty highly strung on the freeway!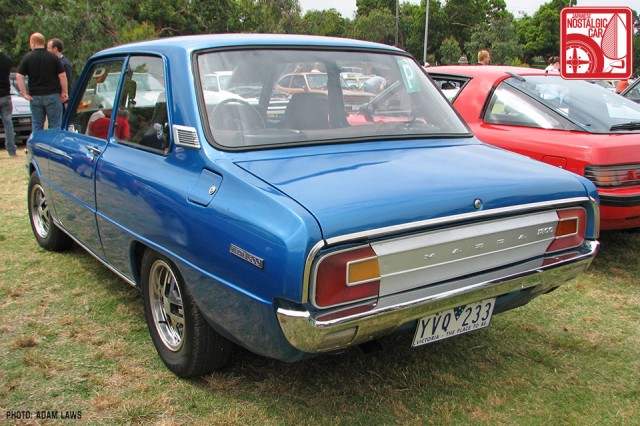 We don't see many Mazda 1300s on the road any more, especially the pretty little coupe version seen here. I do wonder why Familia was deemed as a bad name for a car in Australia, and the local Mazda execs deemed "1300" as a far superior name? These were often filled with a fire breathing rotary engine in the 80s and this one looks good on early RX-7 rims.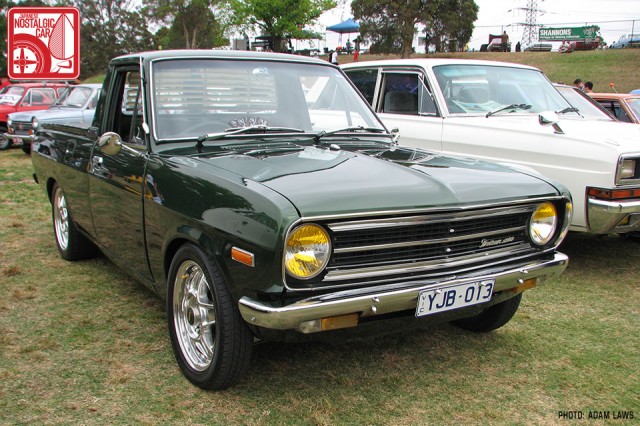 Another cult Japanese car in Australia is the Datsun 1200 (B120 Sunny) ute. Guys and girls who would otherwise have no interest in 4-cylinder cars love these little things, and the prices commanded on the second hand market reflect this popularity. This dark green beast has a bit of a drag racing theme going on, with the skinny front runners and fat rears showing how many options you can get with Simmons B45 wheels. What you can't see in this pic is the crazy gold painted boso inspired tail pipes sticking out the rear reaching to the top of the tailgate.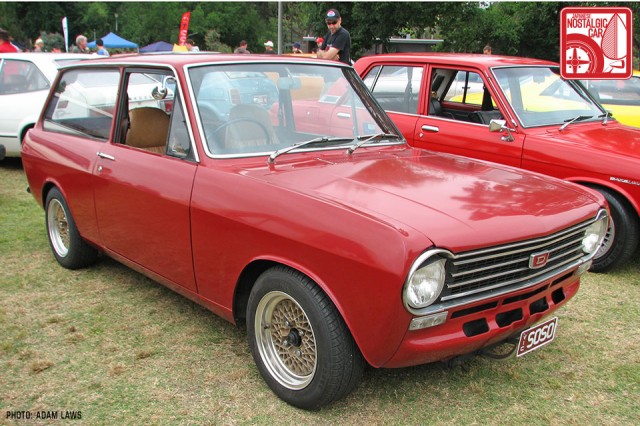 Before Classic Japan I had never seen a wagon version of the Datsun 1000 (B10 Sunny), and being a long roof fan, I loved this red machine. The owner has put his own spin on it and it looks a treat, the peep mirror, mesh rims and headlight eyelids give it a look all its own.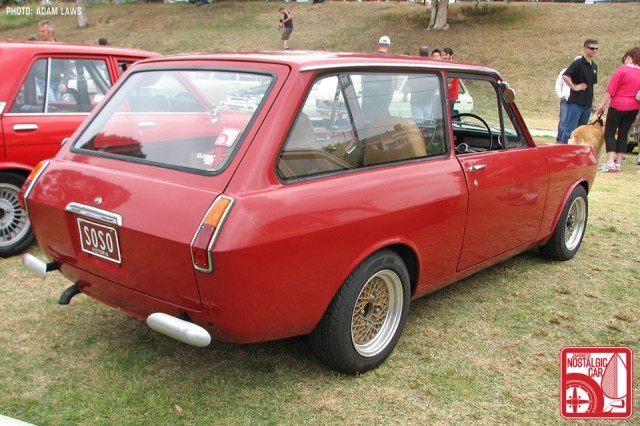 The rear of the Datto 1000 wagon is just as good. Bumperettes, and a couple of good stickers in the back window – the CJ2012 logo and a JNC sticker too! Inside the rear cabin was a lovely piece of stained timber, and a Mighty Atom/Astro Boy figurine standing proud. Tezuka represent!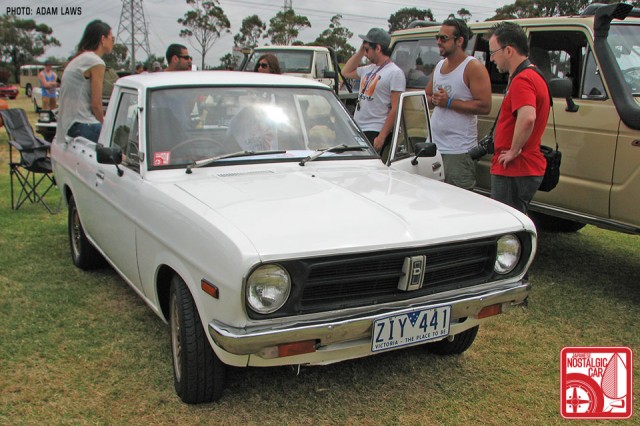 Another Datsun 1200 (Sunny) ute and this one's pretty stock. Despite being a small thing, it provides plenty of room in the tray for friends to hang out and have a chat.
The next (and last) Classic Japan update will feature some of the JNC staff favourites from the show. In the mean time, if you want to know more about the show, or keep up to date with TCCAV, why not head to our facebook pages here or here.
Adam is a committee member of the Toyota Classic Car Club of Australia (Victoria), which organizes the Classic Japan Car & Bike Show. If you'd like to join the club, please contact him here.