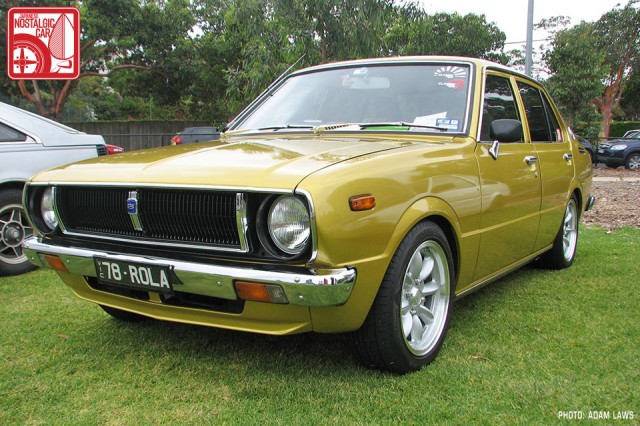 In Part 03, Adam Laws takes a look at the modified nostalgic cars from the 2012 Classic Japan show of Melbourne, Australia. —Dan
Part 03 of our Classic Japan 2012 coverage features a whole range of modified classics, those special beasts whose owners have put their own spin on what their J-tin should look and go like. Sometimes this modification requires quite a lot of commitment, as our government and police are not great fans of modified cars and will happily put an old car off the road if they think it's modified beyond their deemed limits of appropriateness.
This gorgeous KE30 Corolla, belonging to TCCAV's Club Secretary Matthew Guastella, started life as a mustard yellow grandma-spec sedan. Over the years it has evolved into the gorgeous gold specimen you see here. What you can't see is the 7K engine running twin Dellorto carbs, the W56 5-speed Townace gearbox, the R31 Skyline disc brake rear end, along with a whole lot of subtle mods besides.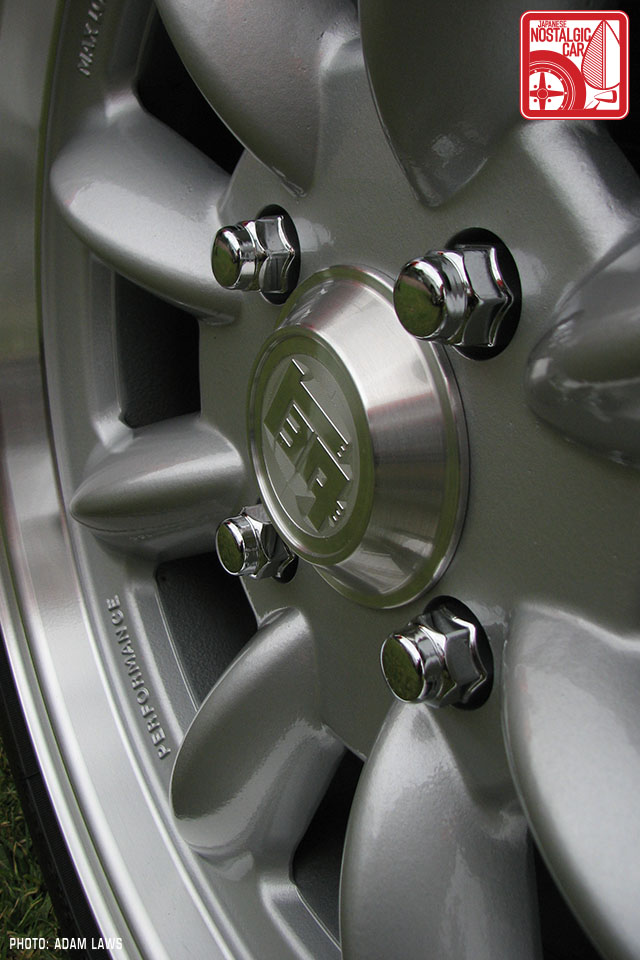 The subtlety extends to these fantastic machined centre caps sitting inside the Aussie Performance Superlite wheels. The caps were designed and machined specifically for Matt's Corolla and the old school "Toyoda" logo is a great touch.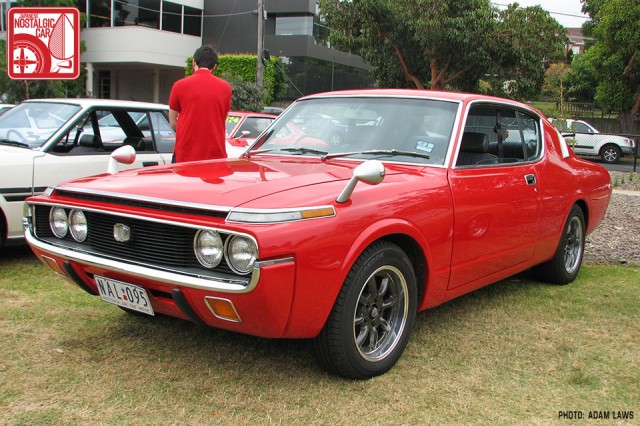 A Toyota MS75 Crown Hardtop is a rare beast on Australian roads, as they were never officially sold here. However there are probably a dozen we know of in the country, and this was one of two to turn up at our show. Sitting a little lower over Superlite (or similar) rims and sporting what I suspect are after market fender mirrors, this one was quite a crowd puller all day.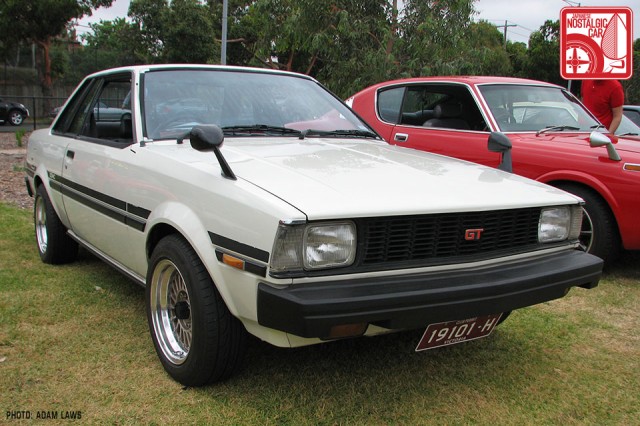 Another hardtop that we rarely see in Australia is the Toyota TE71 Corolla GT, so it was awesome to have this one turn up in the hands of Paul Stahlberg. Registered on a "Club Permit" just days before the show (our historic rego scheme here in Victoria, which is cheap and a little more flexible on modified cars), this great example sits nicely on its period correct Rays Volk Racing Fin wheels. It runs a twin Solex carby powered 2TG twin-cam 1600cc engine and stops on vented AE86 front brakes.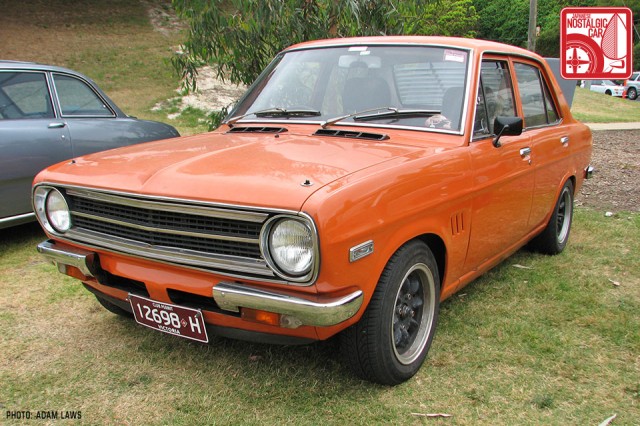 Sold as the Datsun 1200 here in Australia, you probably know this orange sedan better as a B110 series Datsun/Nissan Sunny. Very popular in the club racing scene, these have been modified in all manner of ways here in Australia and this one is no different. The modified front bumper, gills in the front fenders and a lowered stance over another version of Superlite wheels, combined with the bonnet (hood) pins, suggest this one does double duty as a weekend cruiser and occasional track day special.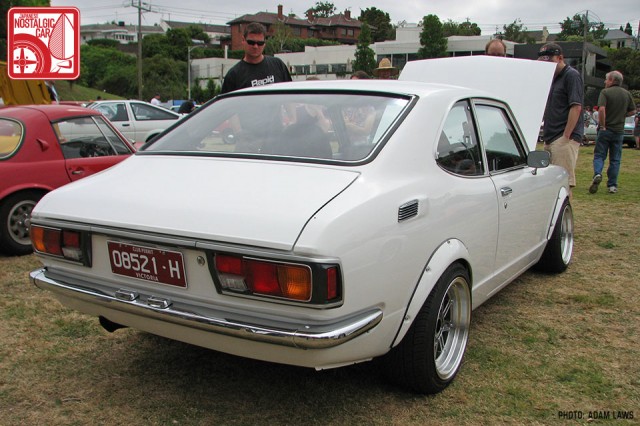 This immaculate white Toyota Corolla KE25 was another star of the show. Great low stance thanks to numerous T3 suspension components in addition to a 4AGE engine conversion complete with HUGE turbo installation, fender flares and those massive Konig B-Bomb wheels complete a beautifully detailed package. By all reports it goes even better than it looks!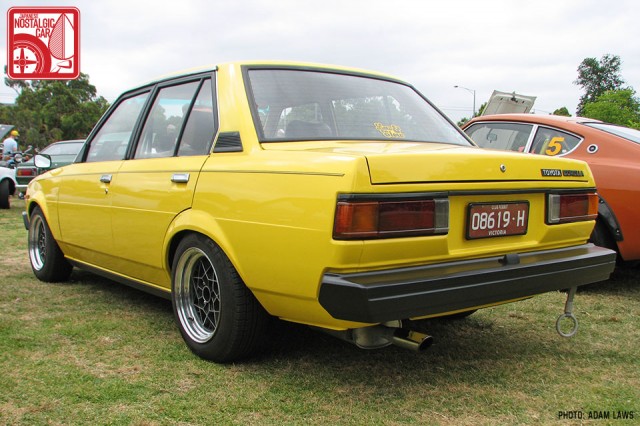 This yellow Toyota Corolla KE70 was neat as a pin and stood out in its factory yellow paint job. A little lowering, a set of awesome wheels (and I have no idea what they are!) and a JDM spec twin headlight flat front end arrangement makes a great little car. The tsurikawa ring finishes her off nicely.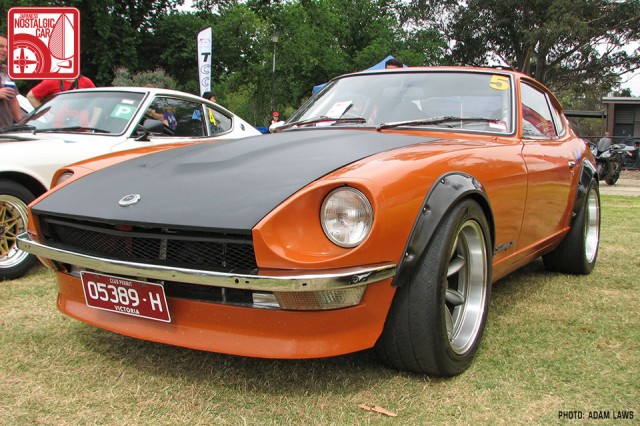 Now Ben leads me to believe that old Datsun Zeds are dime a dozen over in the USA, but here in Australia they are rare as hen's teeth and this one is amazing. Huge wheels on semi-slick competition tyres, big flares, front air dam and rear wing, roll cage and competition numbers on the windscreen suggest this orange Z is one mean mother. Do want!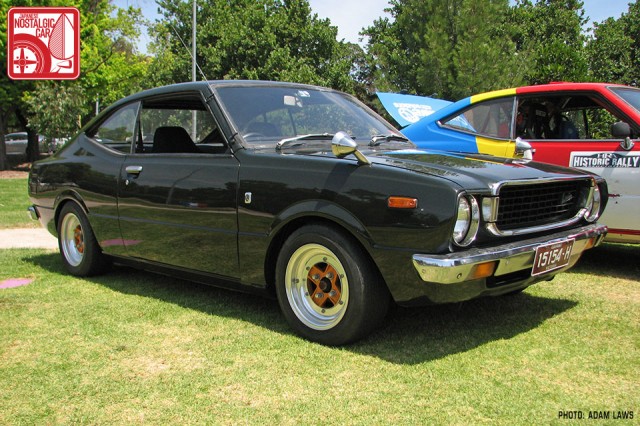 This is a personal favourite of mine, and isn't just rare in Australia, but is rare world wide — the Toyota Corolla Levin TE37 in all its JNC goodness. Factory dark green paint, fender mirrors, twin carby 2TG, nice period wheels and a little lower makes for a fantastic package. The owner has the best of both worlds, as he also rallys a KE35 Corolla coupe through the forests, running a converted 2TG and T50 5-speed. Lucky man!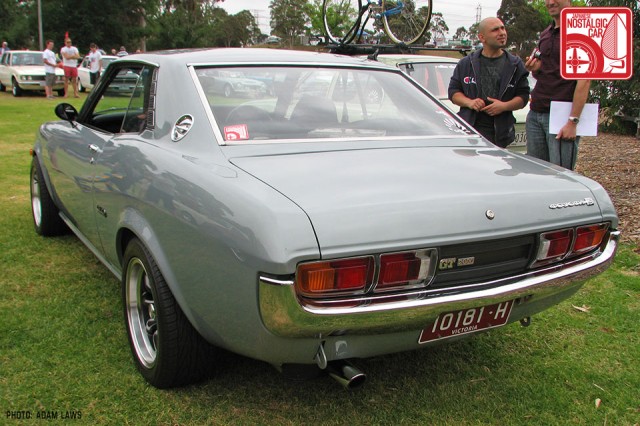 I have to declare personal interest here, as this gorgeous Toyota Celica RA23 is mine! Ben picked the photos that he wanted to feature though, so the fact that he chose it pleases me no end. She started life as a faded stock LT 18RC-powered auto, but after much blood sweat and tears now is running closer to GT spec, with a twin Solex fed 18RG, W50 5-speed transmission, RT132 Corona twin piston front brakes and various suspension upgrades. Capping it off is that gorgeous silver paint job and the clichéd, but oh so sexy, Konig Rewinds in charcoal.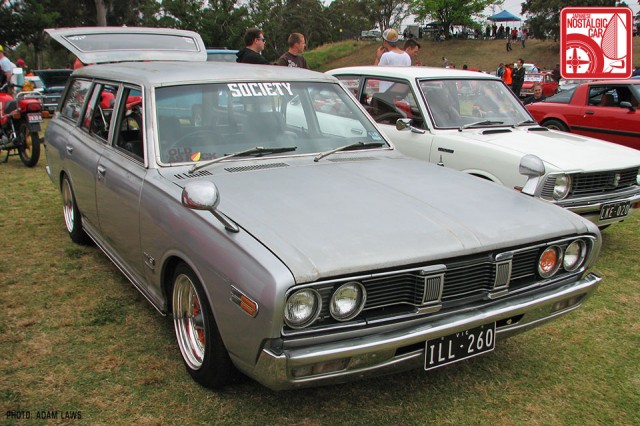 This Datsun 260C wagon has a cult following here in Melbourne, its owner Heath van der Waerden being a regular at nearly every JDM-oriented car meet going on in the city. He usually turns up with all 8 seats filled with mates – 3 across the front, 3 in the middle, and two in the rear! It's been a labour of love and evolved from an $800 tired stocker, to this amazing  JDM goon. There are so many cool things about this car that I could go on and on — the power side window in the rear, the fold down rear dicky seat, but really it's the stance, and those rare orange painted 5 stud star sharks that make this 230 series awesome!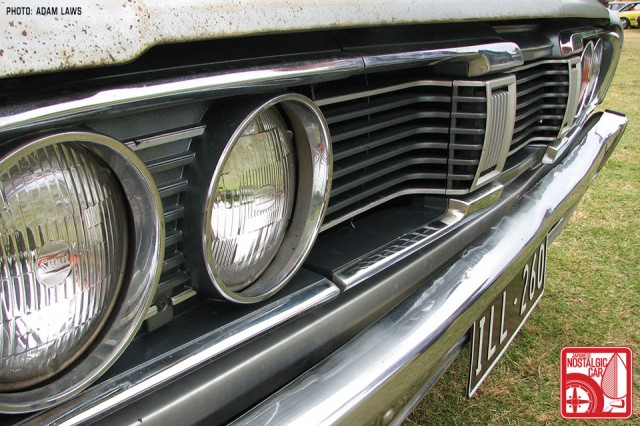 One of the things that I love about Heath's 260 is its patina. The roof is faded, one side is more shiny than the other, and the bonnet is not perfect. But you know what, it makes the car. It has lived a long life and looks all the more awesome for not having been repainted and restored to an inch of its life.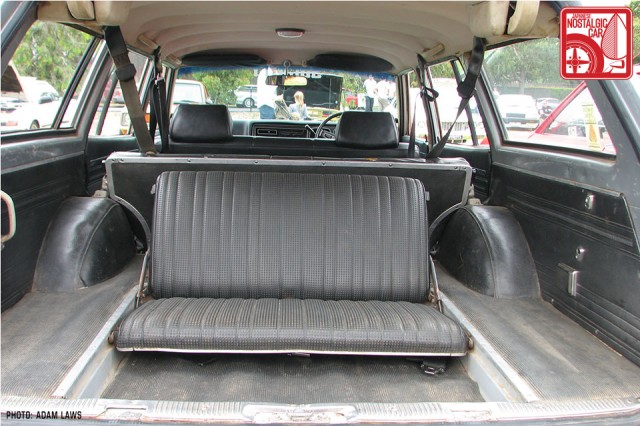 Here is that dicky seat I mentioned that is usually full of Heath's mates, and aren't the rear seat passengers looked after. Ash tray and electric window switches. What more could a passenger want back in the 70's?!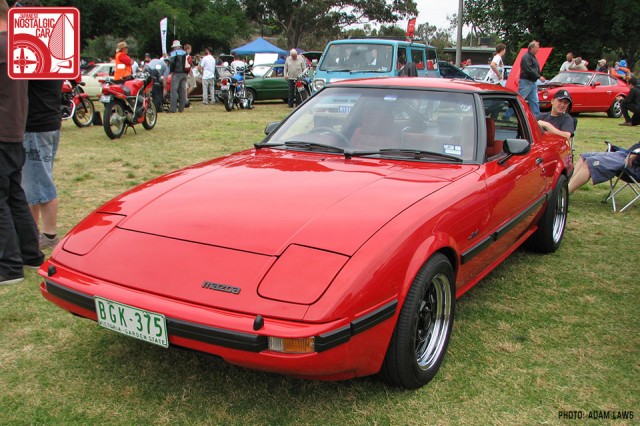 Another immaculate first generation Mazda RX7. This one has been lowered just a little and sits on another classic Aussie rim, the 3-piece Simmons B45. Any performance car worth its salt in the 80's and 90's ran Simmons down here, as you could buy them in just about any size and offset you wanted.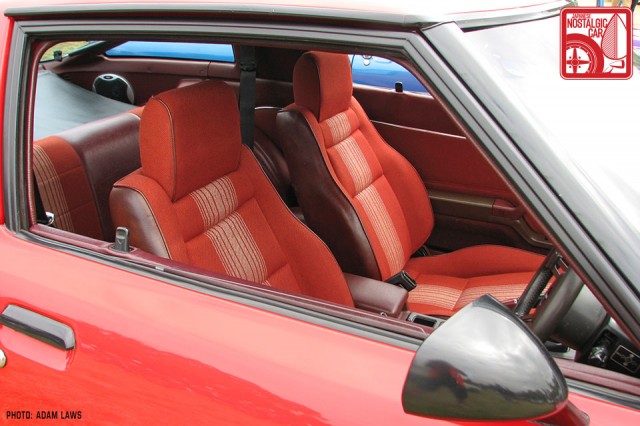 It's great to see the owner has chosen to leave well enough alone inside the RX7, the interior is immaculate, with just a nice steering wheel complementing a great all round package.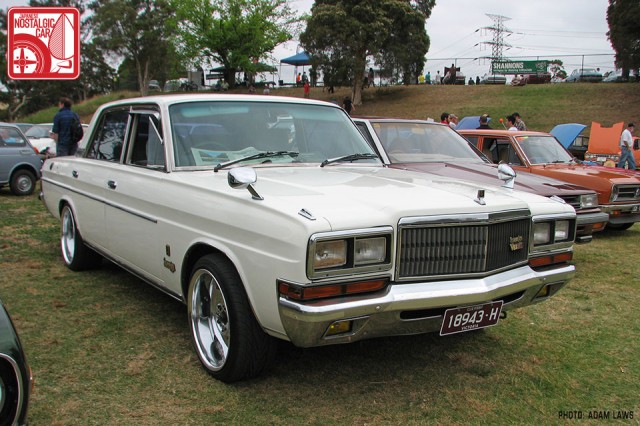 VIP style isn't something you see much of down here, so to see it done to something as uncommon in Australia as the Nissan President is uber rare! Everything to do with this car is massive. Huge rims. Huge dish. Huge engine! The chrome rain guards over the driver's window are a nice touch too.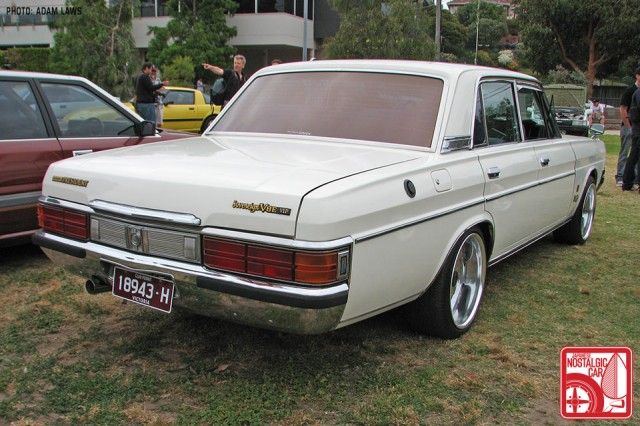 Did I mention everything is massive? Check out that ass! Wikipedia tells me the Sovereign series came out in 1985 and went through to 1990. So I guess that makes this one a late-ish one.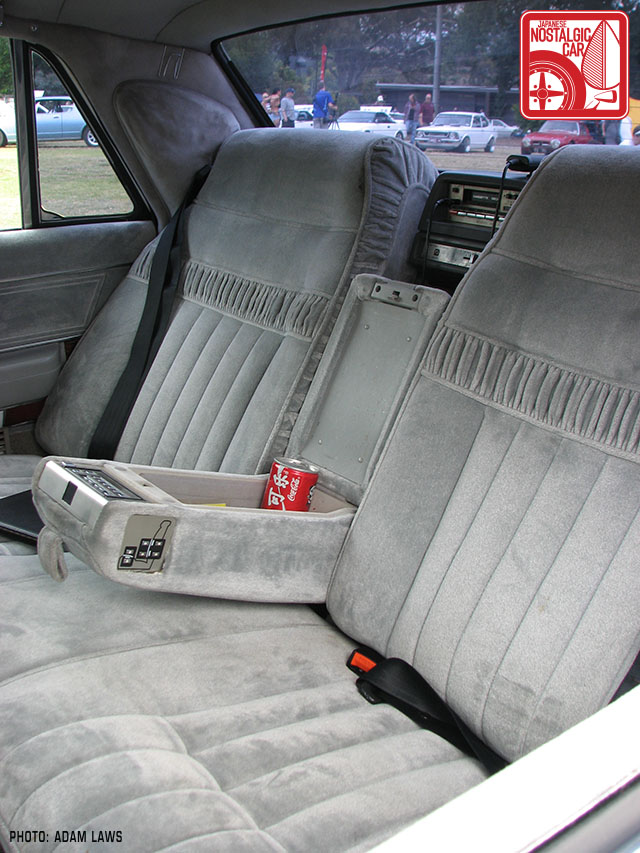 The interior was just as spectacular as the outside on the President. Check out the guide to the seat movement on the arm rest, and that JDM coke can is a nice touch. I am guessing that is a Karoke stereo set up top between the two rear seats? Awesome!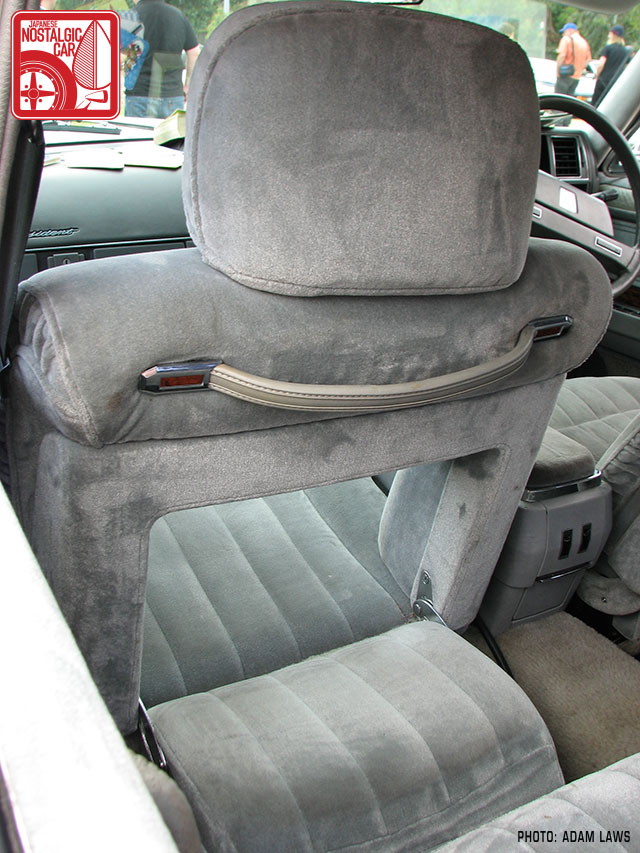 I particularly love this feature of the President, the front seat has a fold out backrest that allows the rear seat passenger to put his legs through so he can get comfortable when he wants a nap. Having worked for a Japanese company a decade or so back, I can assure you that any Japanese businessman worth his salt loved taking an afternoon nap, so I am sure this feature was well loved.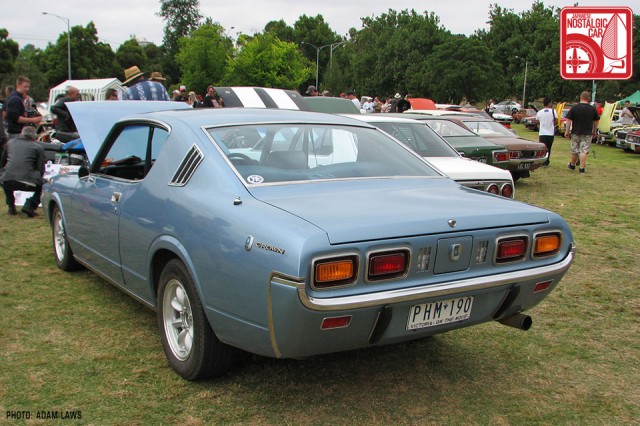 The other Toyota Crown MS75 hardtop on show, also running a set of Superlite or similar style wheels. Unfortunately I don't know much more about it.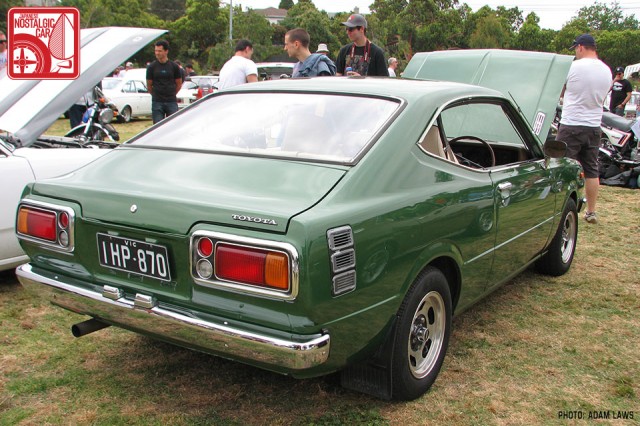 This little green KE35 Corolla was very neat. Running old school "kidney" mags and still its original number plate from the 70s, it looks very much like it would have back in its heyday. Not too many back then, if any, would have been rocking a 2TG conversion like this one does now though. How shiny is that rear bumper?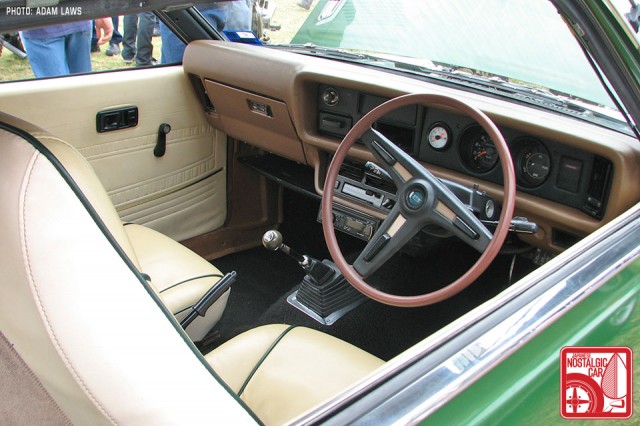 Neatness on the KE35 extends to the inside. Brown dashboard, white door trims and seats. The 70s sure gave you more options for colour combinations than the greys and blacks of most of today's cars.
The Mazda Savanna RX-3, a legendary JDM car if ever there was one. This example intrigues me as it has various parts on it that suggest it was not an Aussie delivered car. There's the JDM-spec rego label in the corner of the front windscreen, the fender mirrors and what I suspect are original Watanabes. Not many cars run those out here as they are extraordinarily expensive.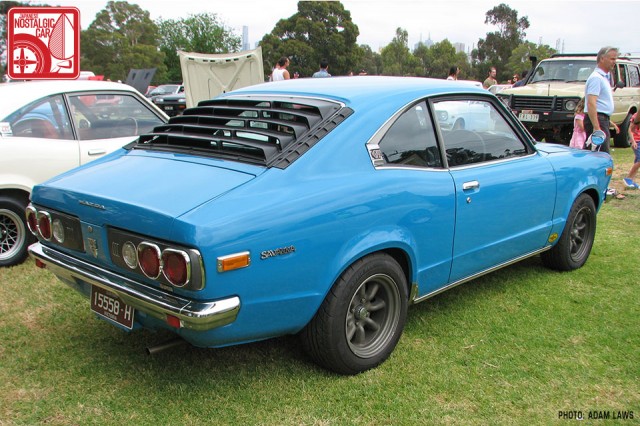 The intrigue continues, as the tail light configuration is almost certainly not Aussie spec; I am sure ours had amber indicators lenses on each corner, but I am not an expert so could be wrong. The sun louvre on the back window is pretty damned Australian though, they were massively popular in the 80s to keep the sun off that fragile vinyl interior. If any one knows the story behind this one I would be interested to hear it.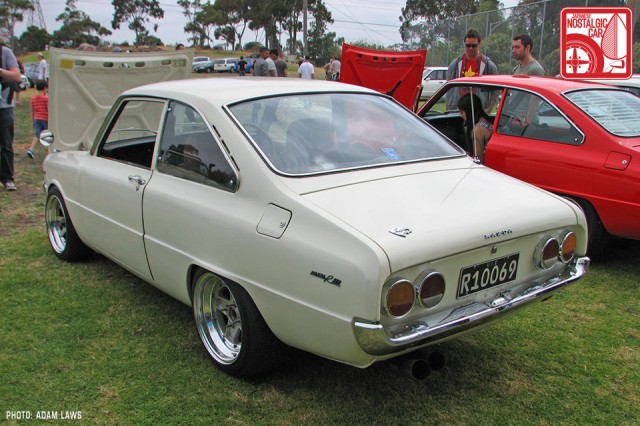 Another representative of the seven-strong Mazda R100 contingent. I have done a bad job of cataloguing engine bays for this group, so I can't say for sure what it was running. But given that those long wheel studs on the rear are a requirement to go drag racing here in Australia, I am tipping the engine bay is full of something very fast! Great stance and wheel fitment make this Mazda a standout.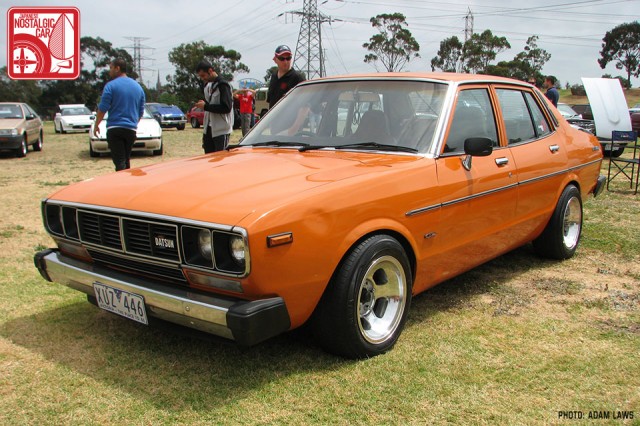 How tough does this Datsun 200B look sitting hunkered down on its deep dish polished kidney mags? The rest of the world called it an 810 series Bluebird, but they were also made here in Australia and were the most popular 4 cylinder sedan for quite some time apparently. There was a running joke that the 200B was a 180B (P610 Bluebird) only with 20 more mistakes! I think they gained most popularity from the modifiers and racers who wanted to stuff the 2.0L L20 engine from the 200B into the earlier P510s and P610s.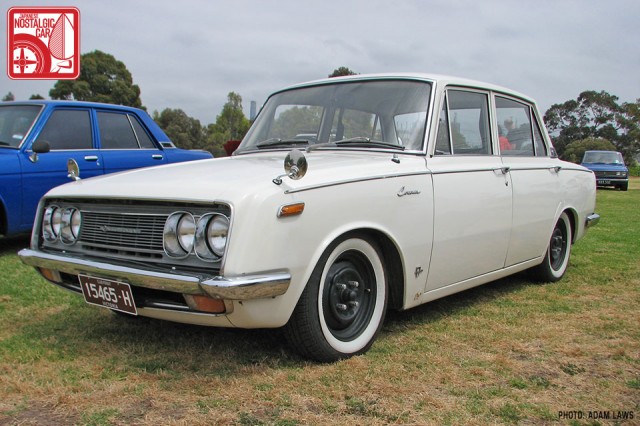 Until 6 months ago, this RT40 Corona was a one-little-old-lady-owned classic stocker. When it came up for sale through the Toyota Club, owner Justin McCabe was quick to pounce and has since set about adding his own style to it. Fender mirrors, a quick lowering job and those fat white walls make it a very neat Sunday cruiser.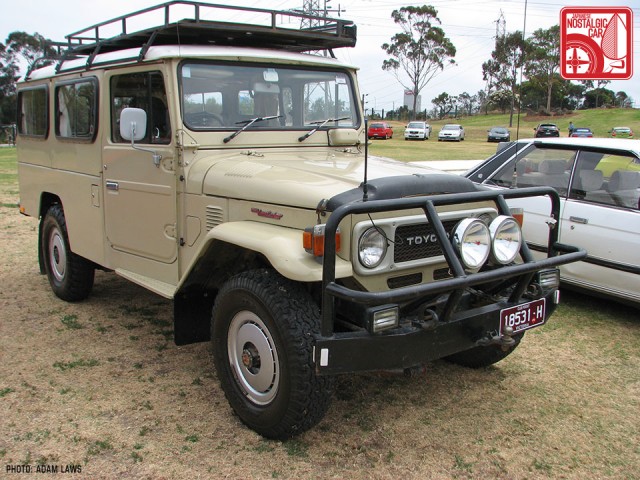 Bullbars, antennae, spotlights and full length roof racks suggest this Land Cruiser Troop Carrier (Troopy) means business! Something you won't see every day on most Land Cruisers though is the full size plastic wheel covers.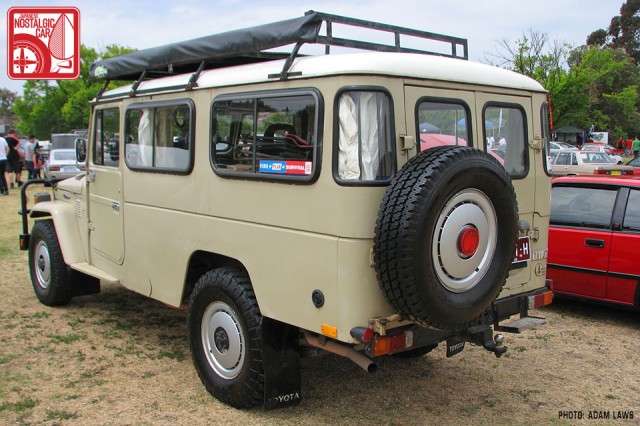 This Troopy is very tidy and looks ready to head out to the outback as soon as its done at the show.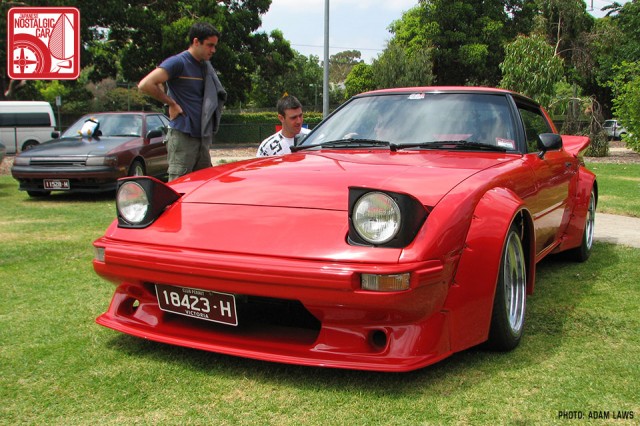 One of the stars of the show was this completely over the top red Mazda RX-7. The body kit looks to me like it was inspired by the Bathurst Group C racers of the early 80s, complete with huge fender flares, huge front air dam and huge rear wing, something similar to the IMSA cars in the USA. It was mega low and mega wide, had an engine bay full of horsepower and sounded angry when it left the show. I love the pop up lights too!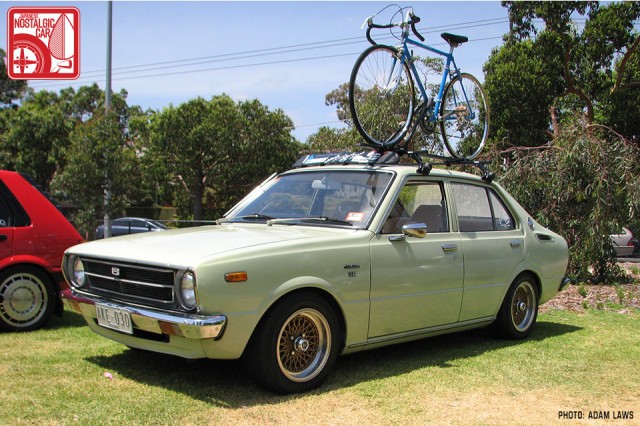 Classic Japan organiser Andy Chambers can only be described as a Toyota and Corolla fanatic and, as it turns out, a bike fanatic too. This is his partner Sonya's little KE30 Corolla and it looks sensational lowered on mesh rims. The bike on the roof rack just happens to be a classic Toyoda too!
So here ends Part 03 of our Classic Japan coverage. Next edition will feature some rarities that you poor souls in the USA don't get to see very often, if ever.
Adam is a committee member of the Toyota Classic Car Club of Australia (Victoria), which organizes the Classic Japan Car & Bike Show. If you'd like to join the club, please contact him here.