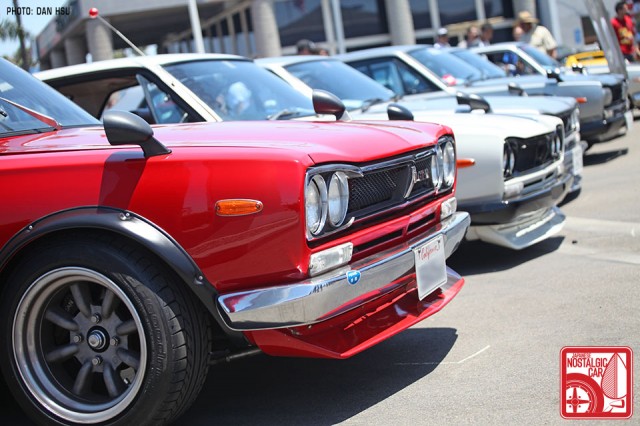 It may surprise you to learn that SoCal, epicenter of car culture that it is, lacks a dedicated all-Nissan show. Oh sure, there's plenty of club shindigs, marque-specific events, and informal meets, but nothing on the order of a Toyotafest for the hard core Nissan or Datsun fanatic. That is, until the Nissan Jam.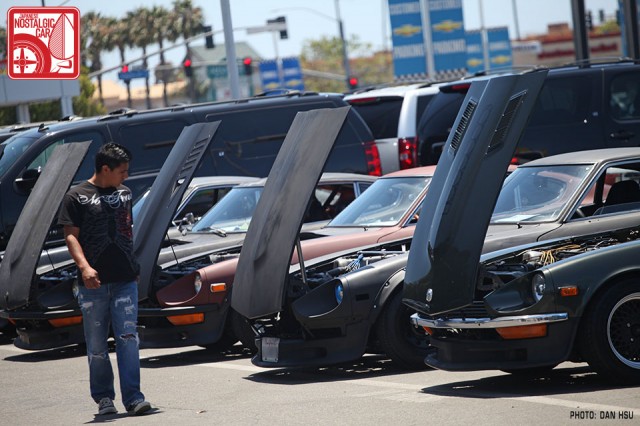 I love Toyotas, but I can say with certainty that Datsun enthusiasm in SoCal is much stronger than that of old-school Toyotas. Thanks in large part to the BRE legend, there are simply more 510s and Zs around, waiting to be restored, than Celicas and Corollas.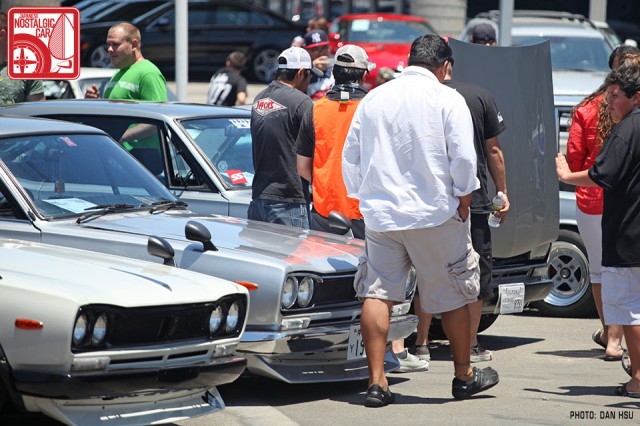 Full disclosure: JNC was one of organizing parties of Nissan Jam. The event was the brain child of Koji and Terry Yamaguchi, founders of the premiere nostalgic car show in the US, the renowned JCCS. The Yamaguchis are also important figures behind the annual All-Toyotafest, another event we love dearly. So when they asked JNC to team up for their next big thing, how could we say no?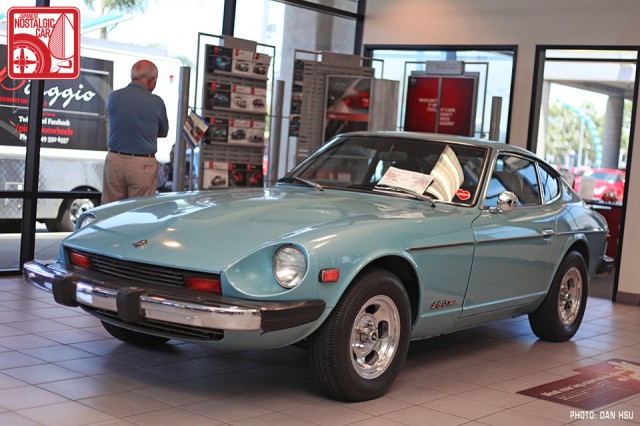 Connell Nissan of Costa Mesa generously donated their premises for the show. The owners are big time Nissan nuts, as evidenced by Sales Manager Elise Ranauro's 280Z. This car has been seen by the same service advisor at Connell since it was sold here in 1976.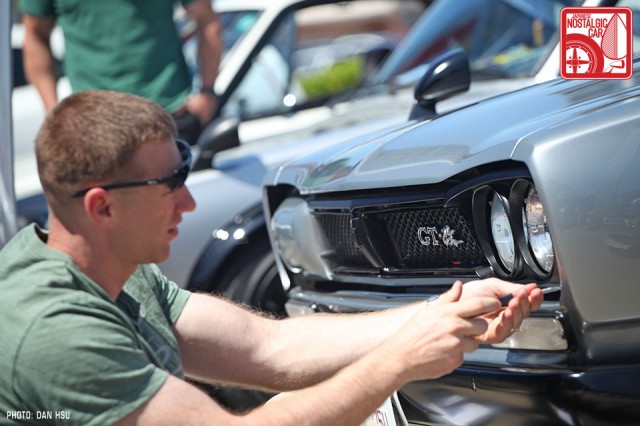 The Jam took place on Father's Day, and the house was packed. Two days before the show we were contacted by NISMO's social media team, who were eager to document all the cars at the show for a contest. Last minute detailing was a must!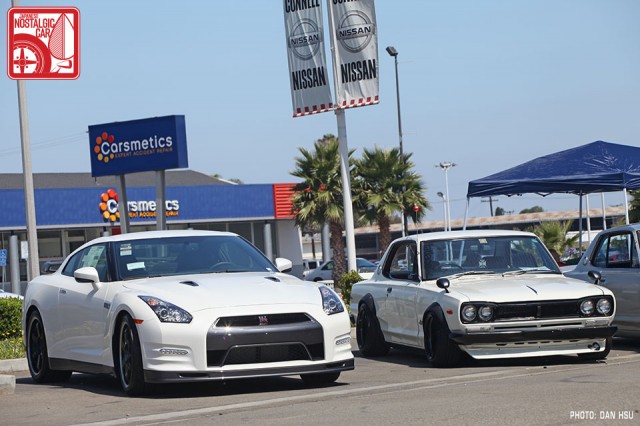 We were thrilled to be able to gather such a diverse set of Nissan and Datsun cars for this event. It's not every day we get to see an R35 GT-R next to its great-great-great-(and so on) grandaddy.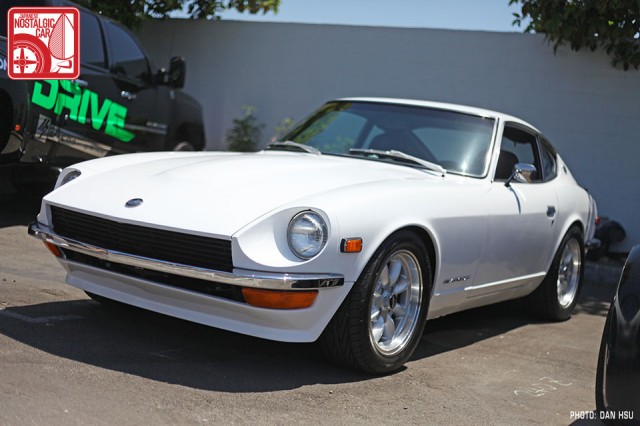 We weren't able to capture the next three cars together, but three generations of white Z-cars would have made a great photo. Alton Takeyasu's 1972 Datsun 240Z came fresh from the paint shop looking as clean and white as a arctic snow. 16×7 Panasports and an overall vision of minimalism won him a best of the S30 Zs.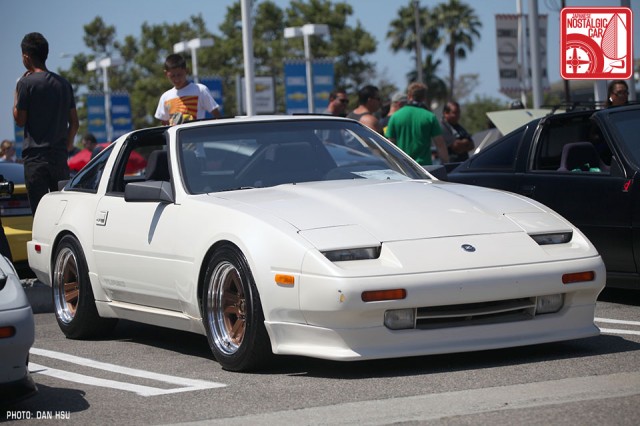 Jose Gutierrez's 1988 Shiro Special Z31 is number 562 out of 1,002. It has a built VG30ET sits on a set of rare staggered Mitsubishi Starion wheels, 8 inches wide on front and 9 inches on the rear.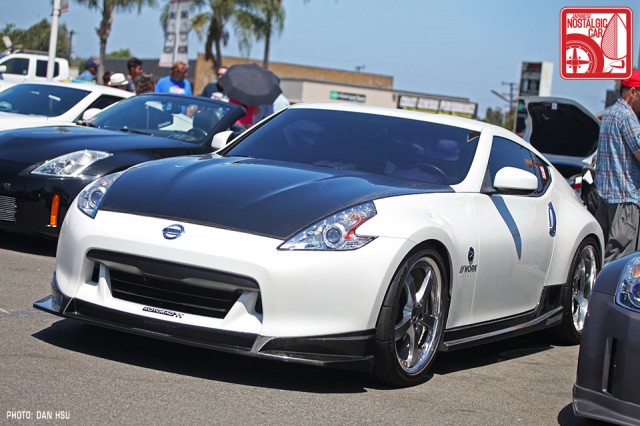 Jason Kusagaya's 370Z was a demo car for Japan's famous tuning house MINE'S Motorsports. It's packed to the gills with rare JDM parts, including a one-off set of custom Work Equip E05s.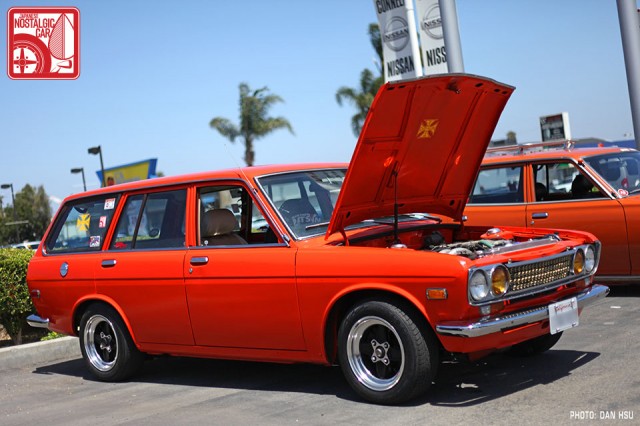 Nelson Irwin's 510 wagon proves you don't have to go all out to have some fun with a dime. You can find a KA24DE swap all day from 240SX drifter wannabes and 280ZX front suspensions are growing on trees at SoCal junkyards. Slap on a set of Hayashi Command 800s and you're good to go.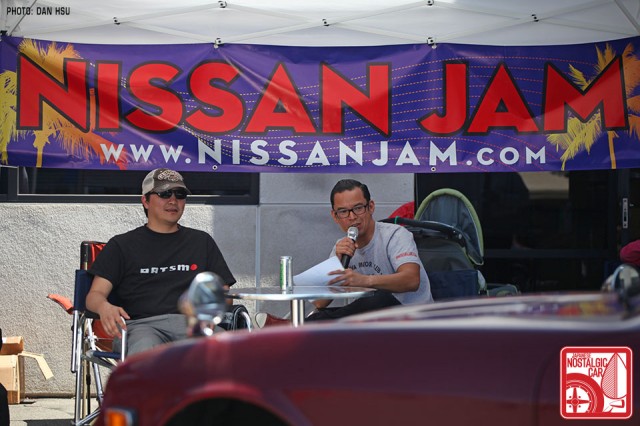 Throughout the show, a few lucky owners were interviewed by Master of Ceremonies Alain Montiel. Their cars were driven to the main stage, where Alain, sporting a JNC Showa Motor Club shirt, chatted with them about their rides. Here's Josh Kreat, aka Datsmo, talking about his 1977 280Z.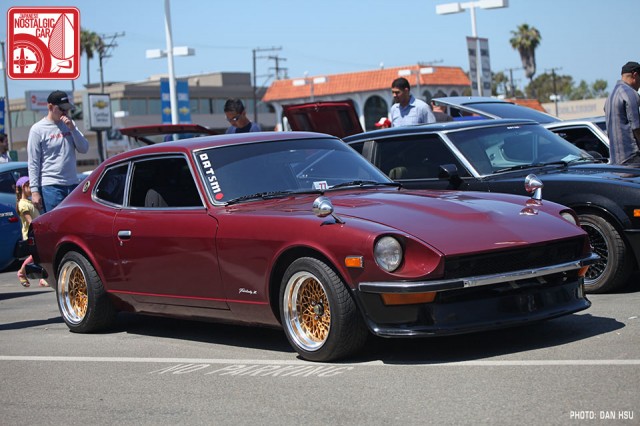 From its designated spot, you can see that Josh's Z is actually a 2+2, and no doubt the best looking four-seater S30 we've encountered.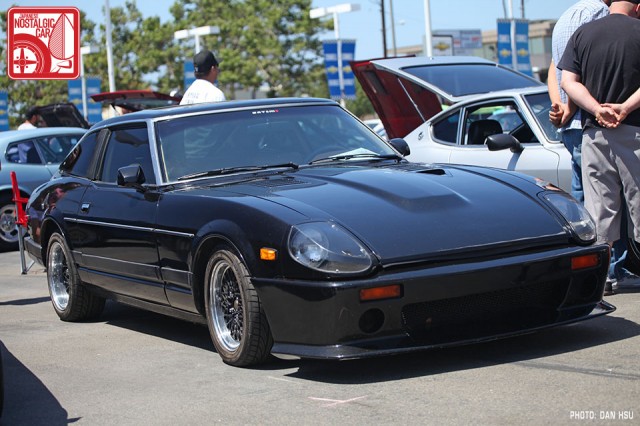 Love for 2+2 Zs apparently runs deep in the Kreat blood, because Josh's dad Sam is the proud owner of this 1982 280ZX 2+2. Did we mention Nissan Jam took place on Father's Day? At first we were worried it would dampen spectator turnout. Instead, the house was packed and it was the perfect occasion for dads and kids to bond over a shared love of cars.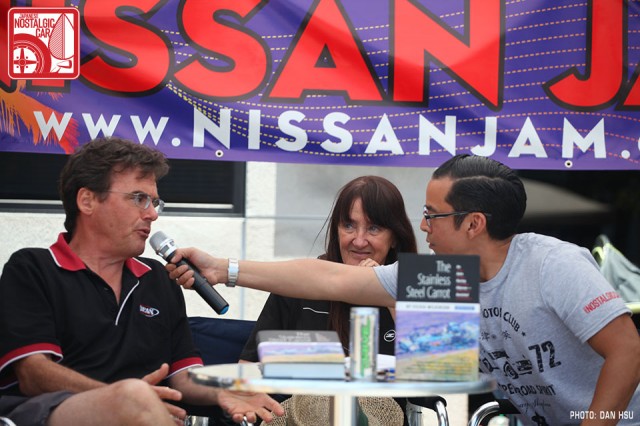 Alain interviewed PR man Dean Case and author Sylvia Wilkinson about The Stainless Steel Carrot, the riveting story of BRE Datsun driver John Morton's racing career, and the animal rescue charities the profits go to. For more information on the book, see our review.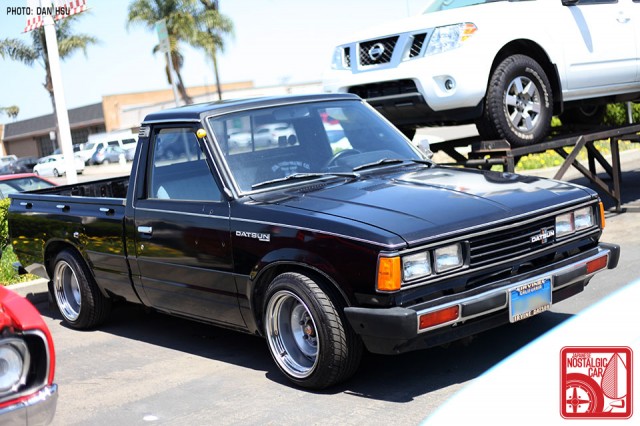 Alain is a former radio DJ and a well-known fixture within SoCal's Datsun pickup community. His own ride is a 1980 Datsun 720 pickup, which he purchased from the original owner only a month ago. It's got 195,000 miles on the one and only drivetrain it's ever had and shows no signs of quitting.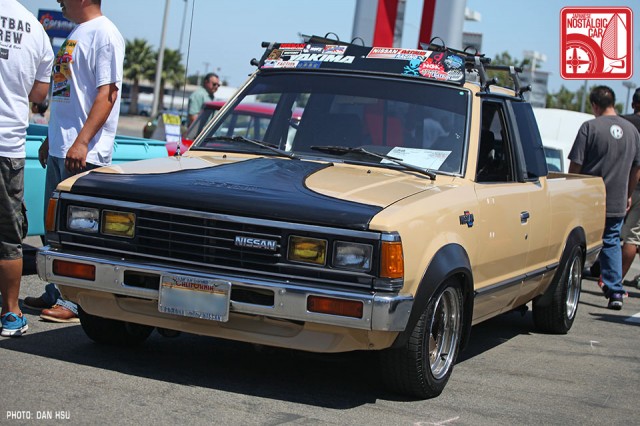 Jeff Drew's 1985 720 King Cab is another little high-mileage hustler, clocking in at 185,000 miles. Jeff daily drives his truck, so that number will probably be closing in on Alain's pretty soon.
Sitting in a 300ZX we found Smokescreen, one of the pre-Bay Datsun 280ZX Transformers. He was one of the coolest characters, especially since he wore the actual Electramotive Racing 280ZX livery from back in the day (though the real racing number would have been 83, not 38).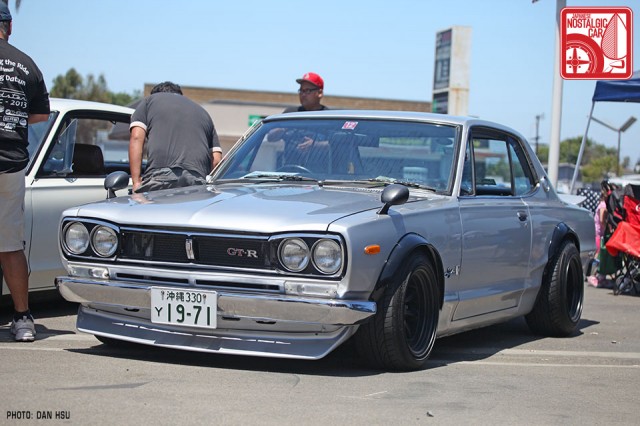 There were a half dozen hakosuka Skylines and an R33 at the show, but in the end Paul Bischoff's 1971 hakosuka walked away with both the Best Skyline and the Stillen Motorsports Choice Award, chosen by the Stillen staff. It was a combination of a glorious paint job and period correct mods all around, from the flares to the equalizer-equipped aftermarket stereo. Oh, and his RB25 with individual throttle bodies didn't hurt either.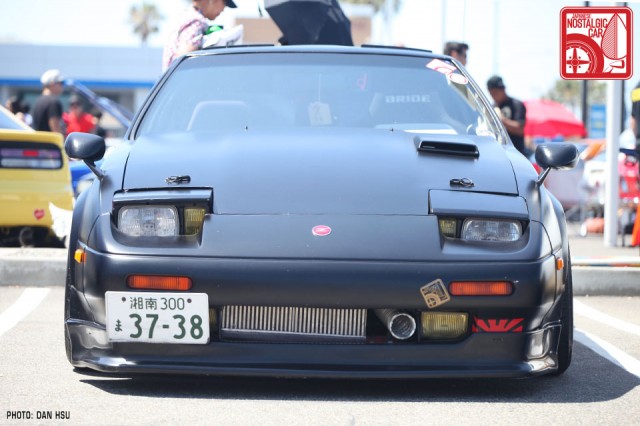 We spotted this hot rod Z31 recently at the Motorsport Auto Z-Car show. It's sad, but in SoCal we see more of the wedge-shaped 300ZXs in junkyards than anywhere else. We're always glad to see these Turbo Era expressway missiles receiving more love.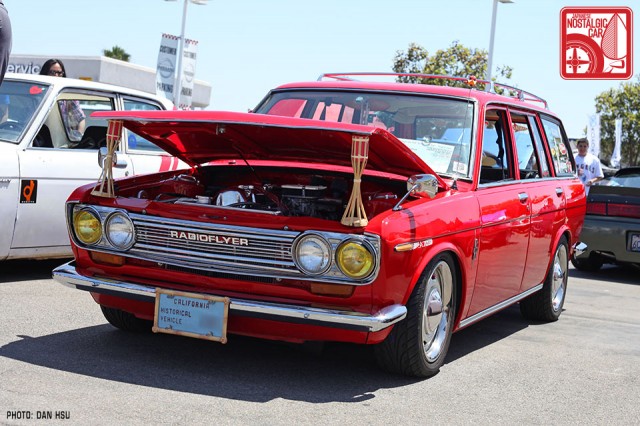 John Williams' 1971 Datsun 510 wagon is a perennial favorite in the SoCal scene. It's oozing with California hot rod flavor, and if it were to ever make an appearance at the Mooneyes  Hot Rod & Custom Show it'd probably clean up on trophies.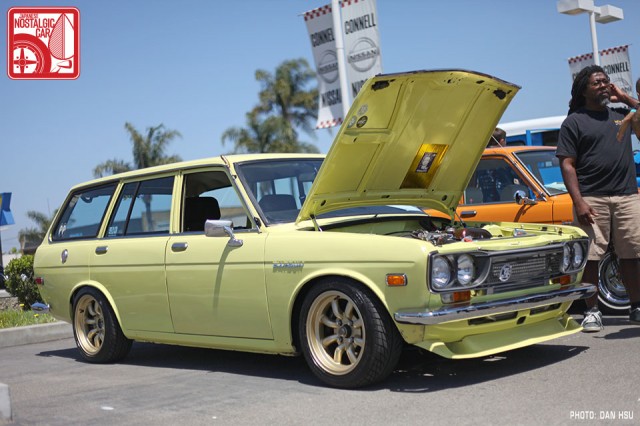 John Huckins won Best 510 thanks to his insane wagon build. Sure it's got your standard built SR20DET and T3 coilovers, but the real work can be seen out back. There John installed a Ford 8.8-inch four-link rear end with 3.73 gears and QA1 coilovers. Cosmetically it wasn't perfect, but the mechanics of the build wowed the judges to give it the win.
Michael Grassi's Datsun 280ZX is a dead stock showroom-fresh example that handily won the Best of ZX-Class award. The cabin is upholstered with a seldom-seen burgundy leather and suede combo, and Michael even has the rare optional factory fog lights.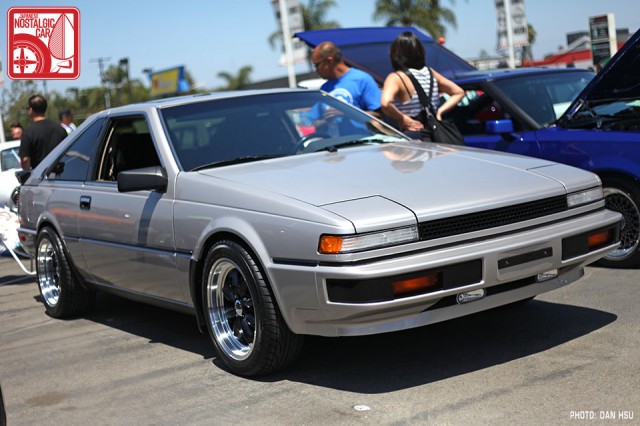 Jaymie Gonzaga of San Diego is the original owner of his Datsun 200SX since September 1986. Along the way he's rebuilt its engine, transmission and suspension and he just finished a paint and body restoration last year. It's one of the few original S12s we've seen and we love the fact that someone was so passionate about preserving it.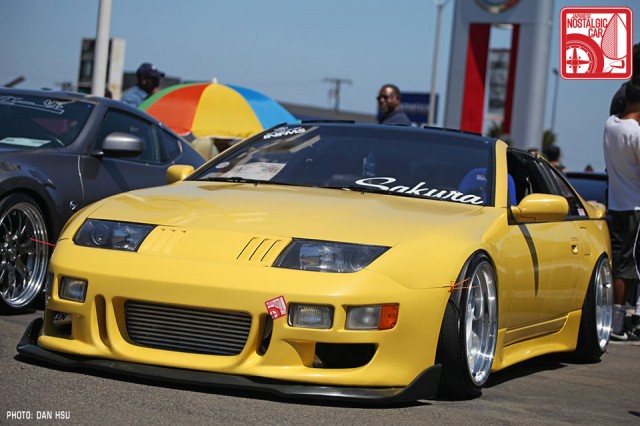 At first we were thought, a Z32 with a JNC sticker? But Charles Bonilla's 1990 300ZX Twin Turbo is only two years from nostalgic status. It's even wearing a Stillen aero nose straight from the 90s tuning era.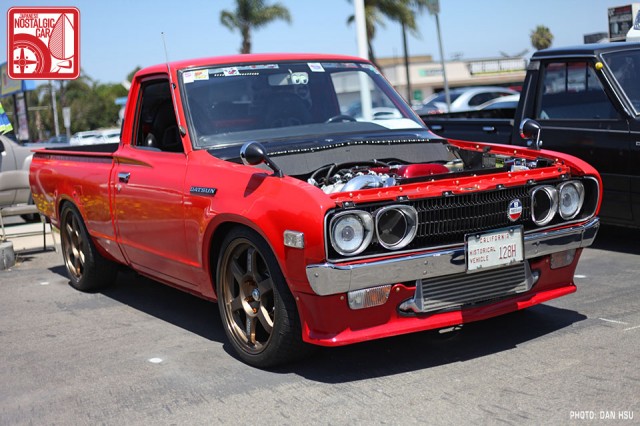 Lawrence Keller, whom you may remember from Toyotafest for his gorgeous 1974 Corona Hardtop, owns this heavily modified Datsun 620 too, lucky man that he is. It definitely has the whole neo-JDM tuning thing down, with 18-inch Rays TE37X wheels and a swapped SR20DET and accompanying 5-speed.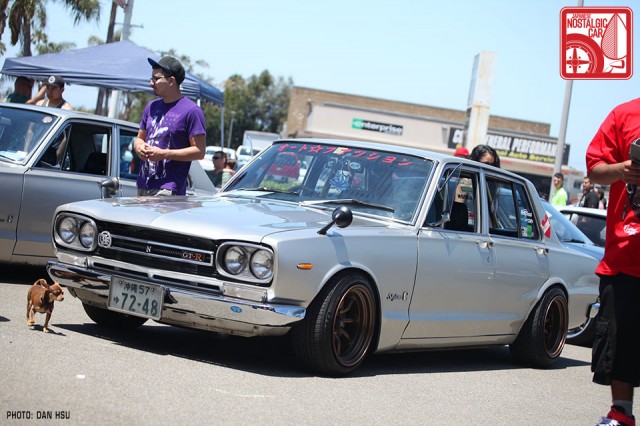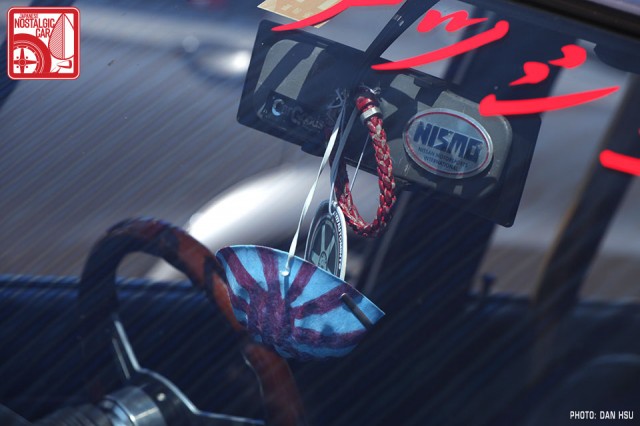 Mikey Castillo's four-door hakosuka is one of SoCal's most famous hakos. The RB20DET-powered sleeper sedan is usually stickered up but we dig the sleek, clean look too. The theme is 70s Japanese street fighter, and he's definitely got look down with black Wats and period SEV Marchal headlights.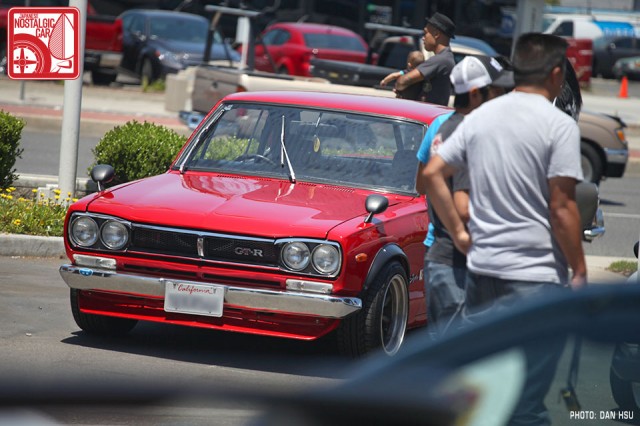 JNC has been a long-time vendor for JCCS and Toyotafest, but we had no idea just how much work goes on behind the scenes. Everything from t-shirt design to registration to legal disclaimers to assembling volunteers had to be accounted for. It was like juggling 14 flaming bowling balls at once, so next time you see the Yamaguchis, a "Domo arigato!" is definitely in order.
That concludes Part 01 of JNC's Nissan Jam coverage. In the next installment we'll take a look at some of the rare gems that turned up. Stay tuned.