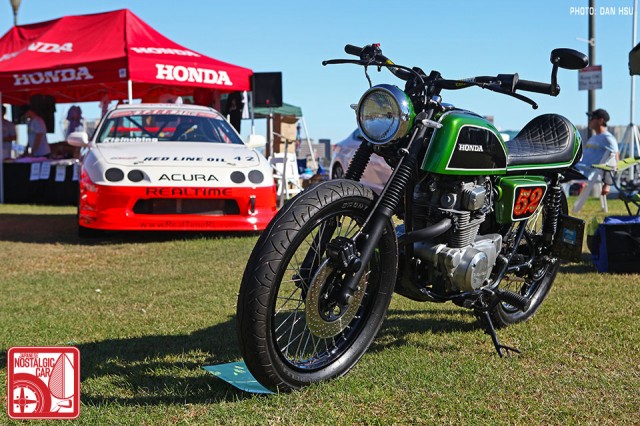 There's no replacement for displacement? Bzzzt, that is incorrect! The answer is weight, or lack thereof. This year's JCCS had plenty of small wonders (including motorcycles) that warrant attention. They might not roar when you goose the throttle, but they're still more fun than a barrel of monkeys.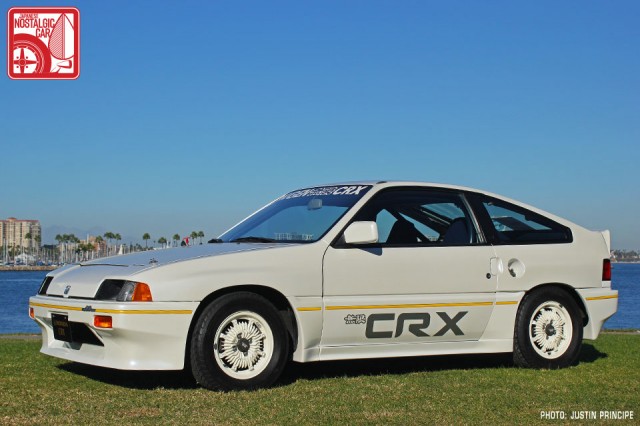 This was the first year Honda USA officially sponsored the event. We applaud them for finally showing some love to JNCers and acknowledging their storied heritage at a major show like JCCS. They brought several cars from their heritage collection, including a fully restored 1971 Honda N600 and a 1984 Mugen CRX prototype, built as a showcase for Honda's in-house tuner.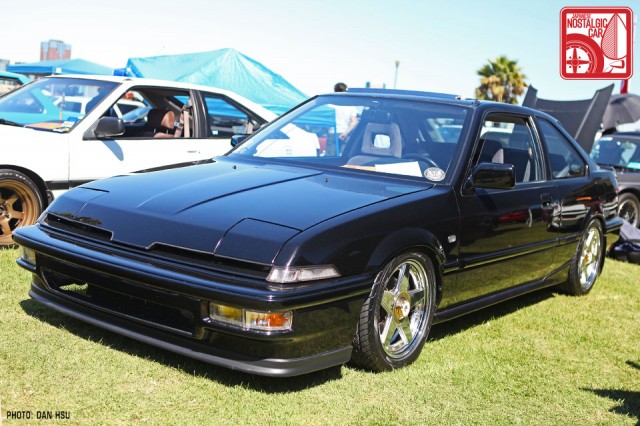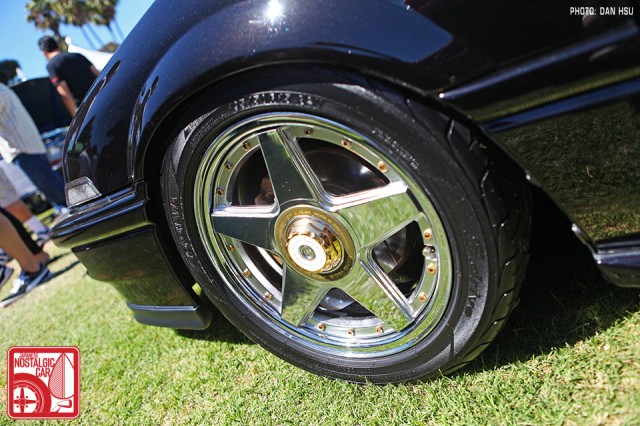 Ernie Uy owns what is probably the most famous, not to mention the cleanest, first-gen Integra in the country. At previous shows he's rolled in on some rare Bel Biv Devoe-era wheels and this time it's no different. SSR Bang Vec IIs in full effect!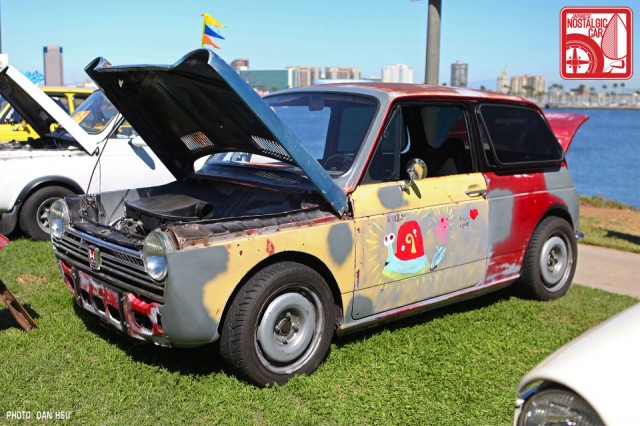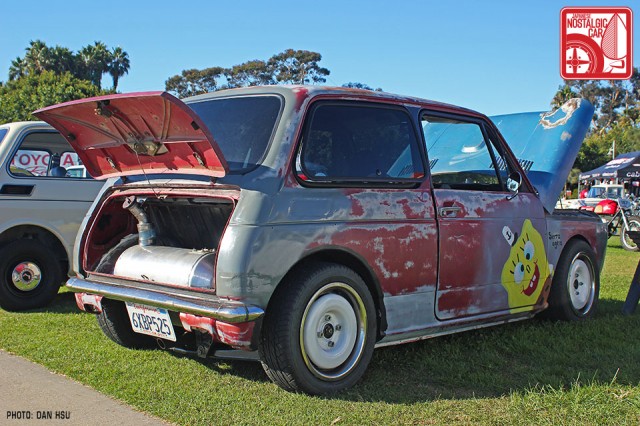 We loved this 1972 Honda N600, which has been converted to FR layout with an engine from a VFR800 Interceptor motorcycle. The new mill triples horsepower to 115, yet the whole shebang still weighs less than 1,500 pounds. The owner let his kids draw Spongebob all over it for now, but he plans to give it a proper paint job in the near future. See his build thread here.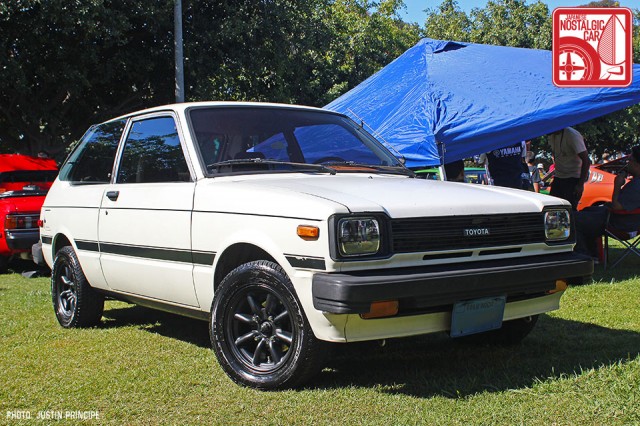 Toyota's economy hatchback, on the other hand, came rear-wheel-drive from the factory. Alex Leyva's KP61 Starlet on classic black Wats made for a clean, no-nonsense driver.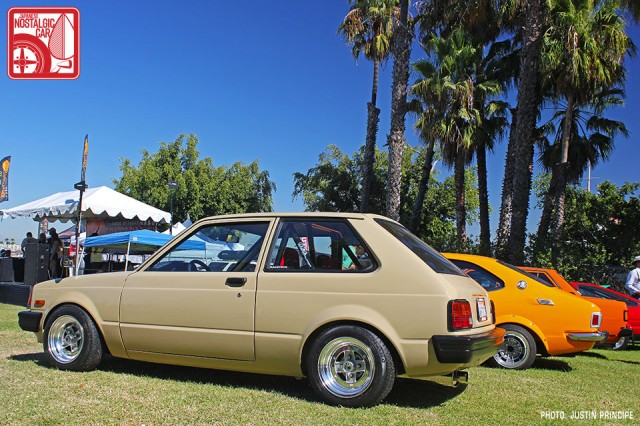 Some call Toyotas beige. But when your beigemobile is a caged RWD hatchback on SSR MkIIs it's anything but boring!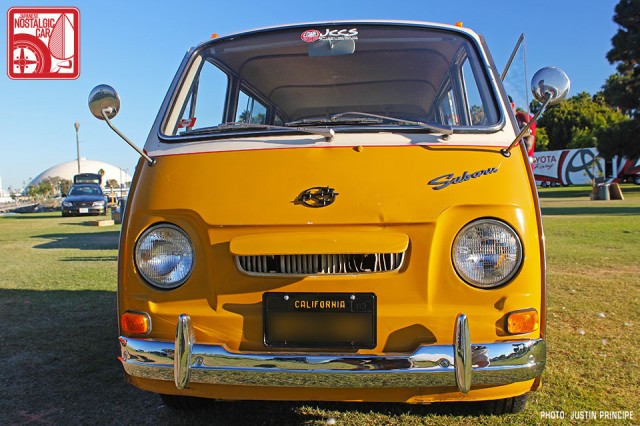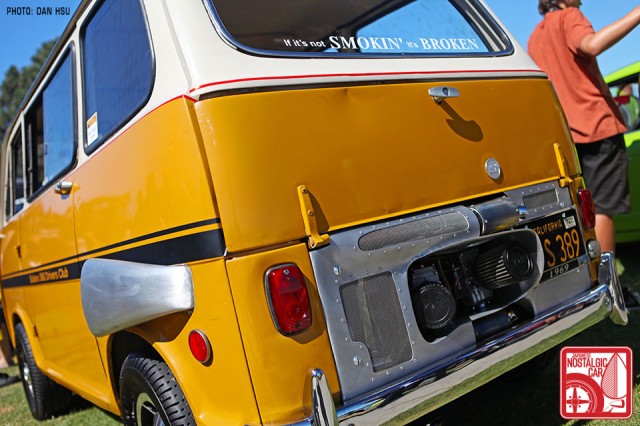 We gave the JNC award to Garm Beall last year for his black plate Subaru 360. He was back this year in a black plate 1969 Subaru Sambar with +1.5mm pistons and dual Mikunis. The kei van was also wearing what appeared to be 10-inch Hayashi Streets, the smallest we've ever seen. Top speed? 65 mph!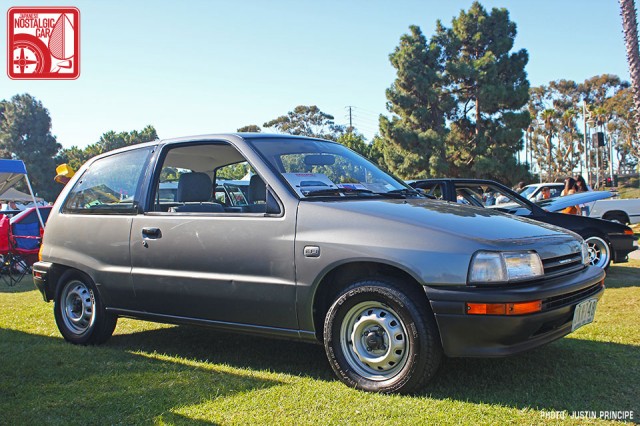 Ryan Bacon displayed the lone Daihatsu entry, a 1988 Charade with a 1.0-liter 3-cylinder. That makes two no-longer-in-the-US Japanese automotive marques represented at this year's show. It's too bad Daihatsu didn't sell more of these before pulling out in 1992, because a 42 mpg car might sell pretty well today.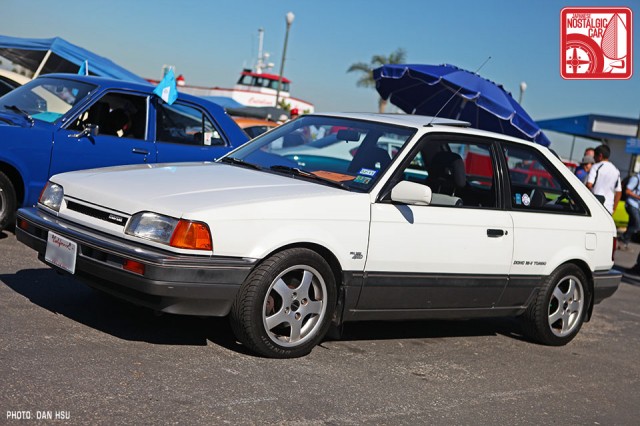 We were happy to see another Mazda 323 GTX preserved. Only 1,244 were sold in the US, and most of these turbo AWD hatches have been rallied to death. Lucky owner Tom Esquivel has two!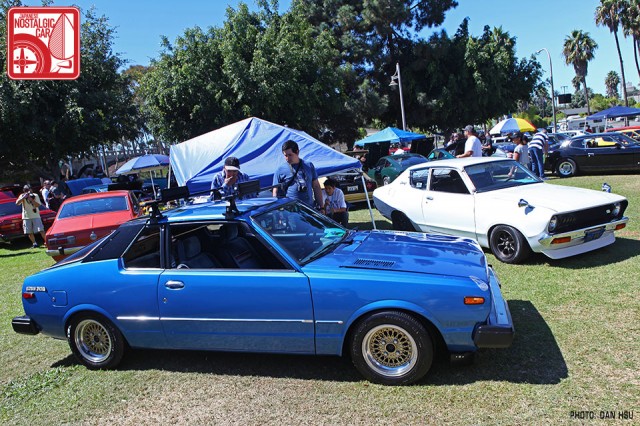 It was also a pleasure to see some old friends from Nissan Jam, Erica Pastenes' 1979 Datsun 310 and Enrique Elias's 1978 B210. Before then, we thought all those first-gen N10 Pulsars sold in the US had been eaten by the crusher.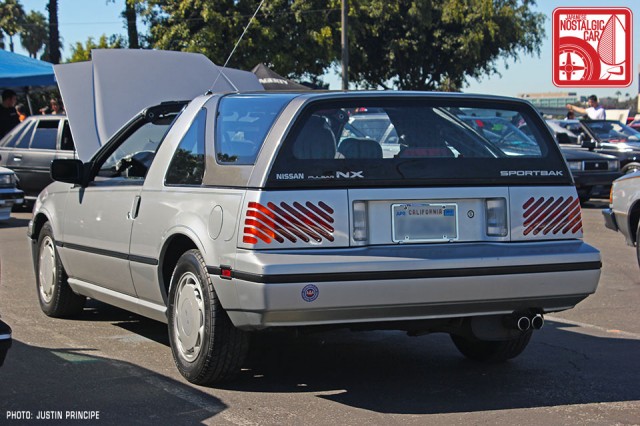 Speaking of Pulsars, we were thrilled to find this exquisitely 80s Pulsar NX. Sold as the EXA in Japan and actually based on a Sentra platform, it was as close as Nissan got to building a real-life Transformer. The entire "Sportbak" wagon canopy was modular and could be removed and swapped with a notchback and conventional trunk. And if that wasn't enough 80s excess for you, it screamed new wave with factory diagonal slat taillights.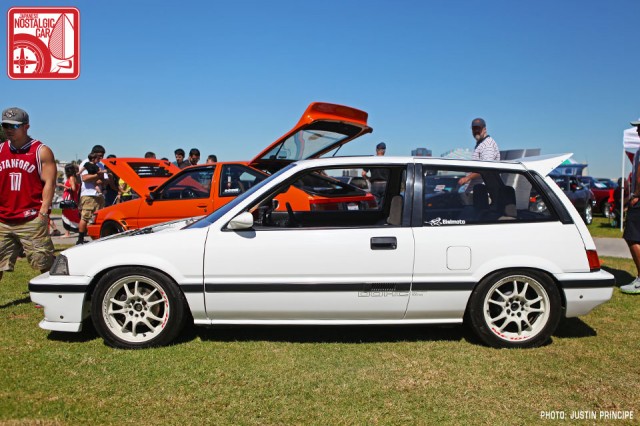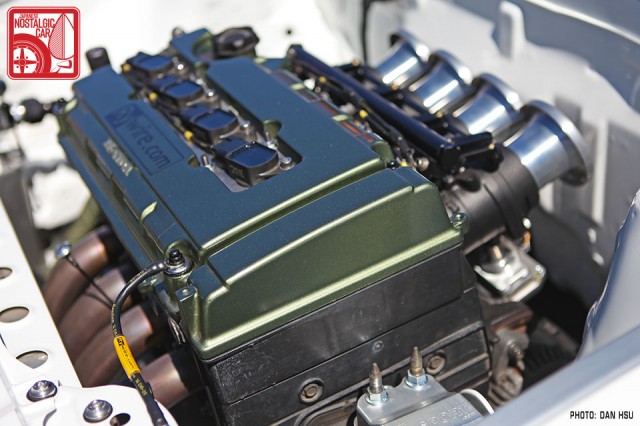 You might know Ryan Basseri as the founder of Rywire, known for harness tucking kits that make your engines look like there's no copper at all. Having a naked motor is all the rage with Honda hipsters these days, apparently.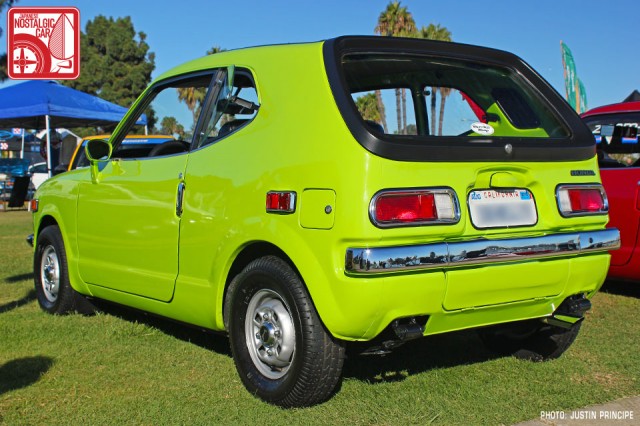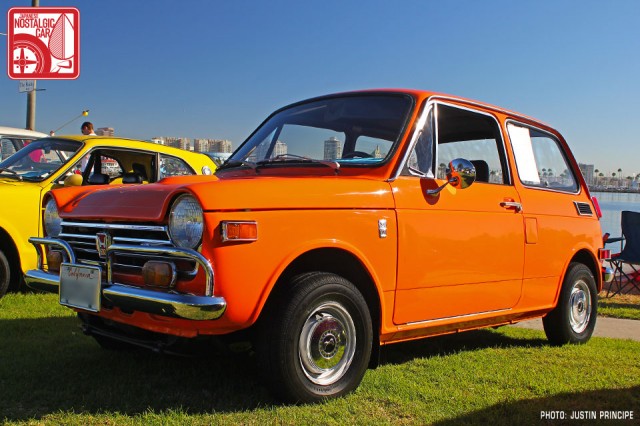 Hondas were well represented this year with a colorful army of kei-sized Z- and N-series cars. We say kei-sized because their motors, enlarged to 600cc for the US market, would have been too large for the 360cc limit in Japan. Either way, they were smaller engines than those of most motorcycles on display.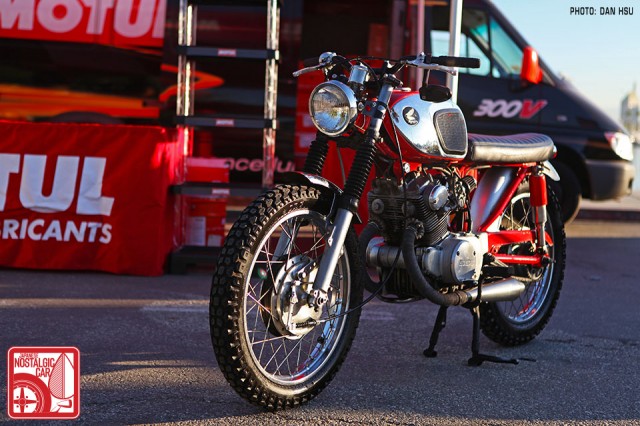 This is the third year two-wheelers have been part of the JCCS festivities. Bikes have always been a huge part of Japanese motoring culture, and classic ones like the custom Honda CB160 at the Motul booth were every bit as stunning as the cars.
Marcus Kashinsky's cafe racer 1964 Honda CB160 shows just how gorgeous a simple machine can be. There's just something about a black and chrome bike that haunts our souls. The engine has been swapped with a 175cc "sloper" from a later Honda bike.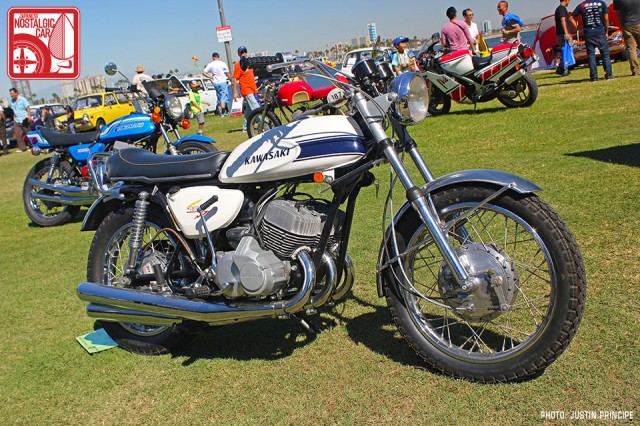 Yoshi Kosaka's 1968 Kawasaki H1-Mach III is beautifully done stock restoration. The 500cc road bike was built to one-up Honda's popular CB450 of the era. Yoshi is the owner of Garage Company, an Inglewood, California-based custom motorcycle builder.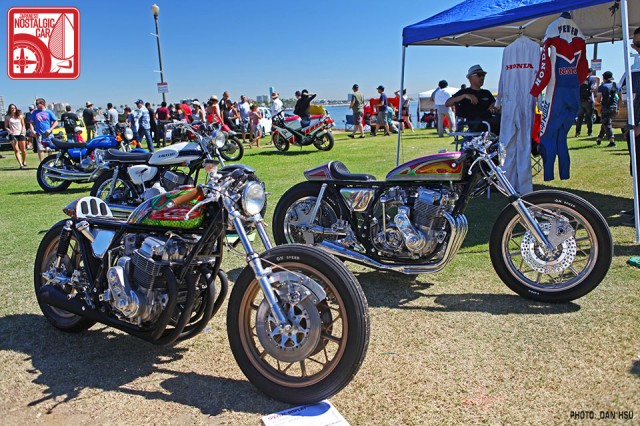 Yoshi had graduated from dental technician school in Japan (a six-year program about as intensive as medical school) and made great money, but decided to use it all to buy bikes and bike parts when he couldn't bear to see them getting crushed. He came to the US in the early 80s and established Garage Company. These 70s-style Honda CB750s are a few more of their custom builds.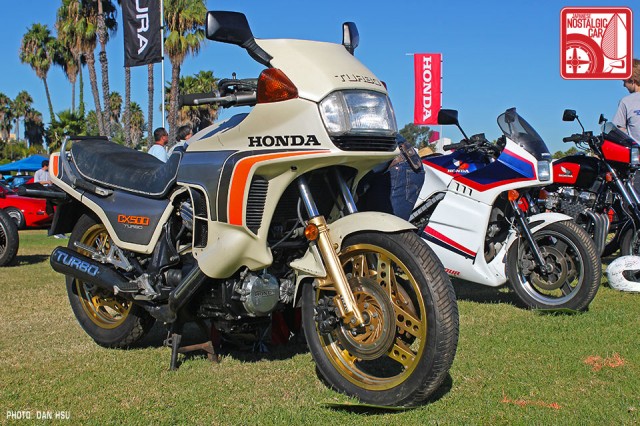 Like Japanese cars of the 80s, motorcycles of a similar era were getting more angular while drivetrains were experimenting with turbocharging. The 1982 Honda CX500 Turbo was the first production turbo motorcycle and had the word "turbo" emblazoned across it at in five places. It is estimated only 2,000 of the original 5,400 survived. This one belongs to Jim Cuyle and his son Luke.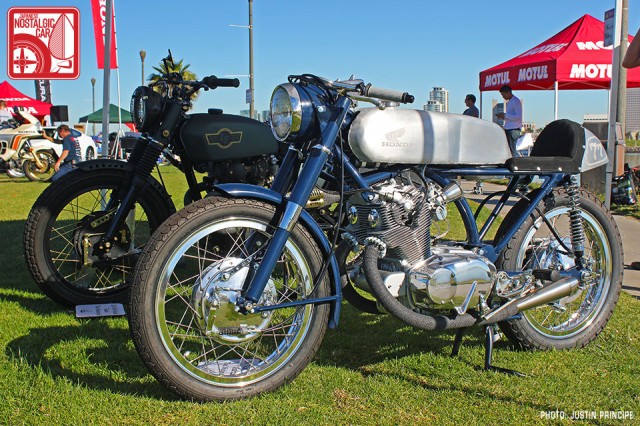 Jay Lossa of Lossa Engineering brought this period correct race replica 1967 Honda CB 77. It sports a 305cc engine and a one-off aluminum fuel tank made by hand.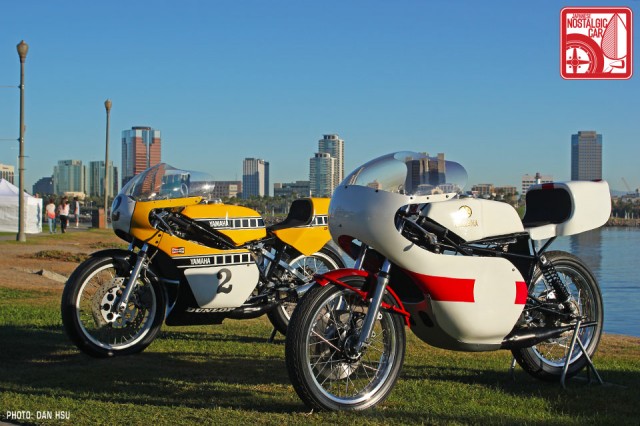 Steven Turner's pair of stunning Yamaha TZ250 race bikes stunned showgoers throughout the day. We absolutely love the livery on their bubble fairings, one in classic Japanese race colors and the other in Yamaha's old school color scheme. You can see where some of the inspiration for bosozoku bikes comes from.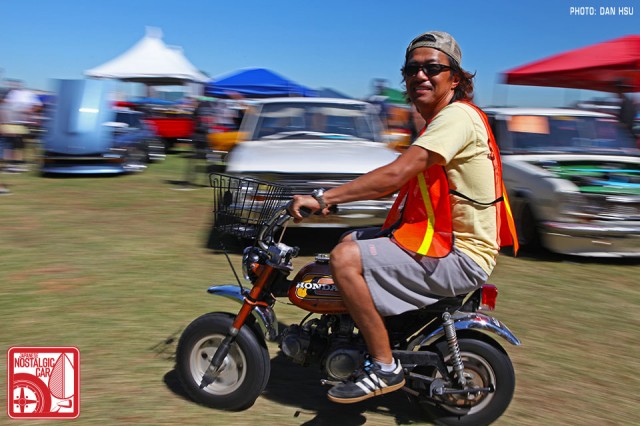 And last but not least, say hello to JCCS co-founder and organizer Koji Yamaguchi. He was criss-crossing the show all day on his Honda Z50 making sure everything went off without a hitch.
We have much more coverage of the 2013 JCCS coming up, but in case you missed it here's Part 01 — Debuts and Historic Cars, Part 02 — Diversity of Marques, Part 03 – Mad Tuning Style, and Part 04 – Rolling Stock.