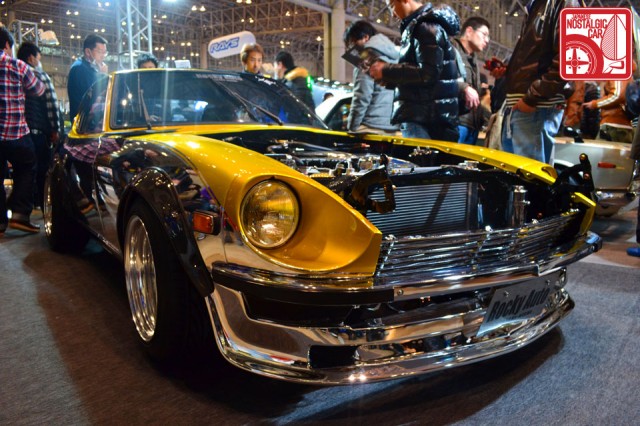 Every year more and more vintage Japanese steel forges its way into the Tokyo Auto Salon. But as Japan's equivalent of the SEMA show, the theme favors "custom" over "classic".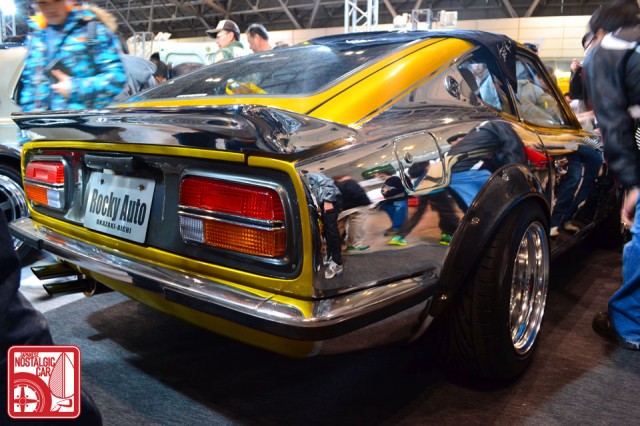 Rocky Auto, well-known for stuffing modern powerplants into vintage Nissans, showed off their latest S30 Fairlady Z. But in order to outdo hot pink Toyota Aristos one must go off the color spectrum altogether with a two-tone yellow and chrome finish.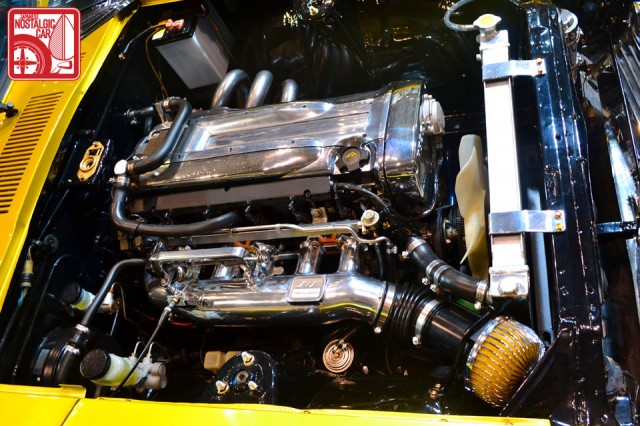 The theme continues under-hood, where a polished, naturally aspirated RB26 provides the go-juice. Period correct it ain't.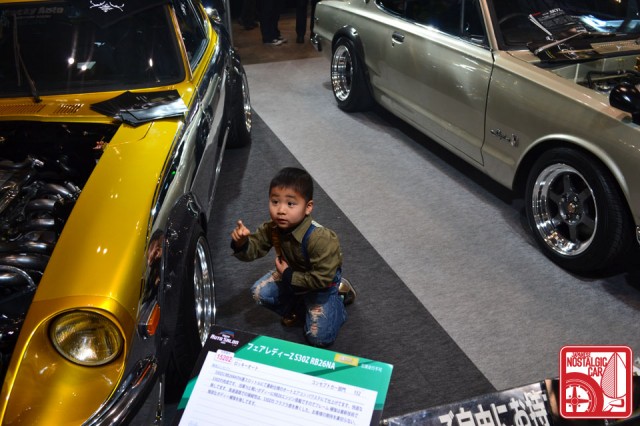 Like us, this guy has something to say about that.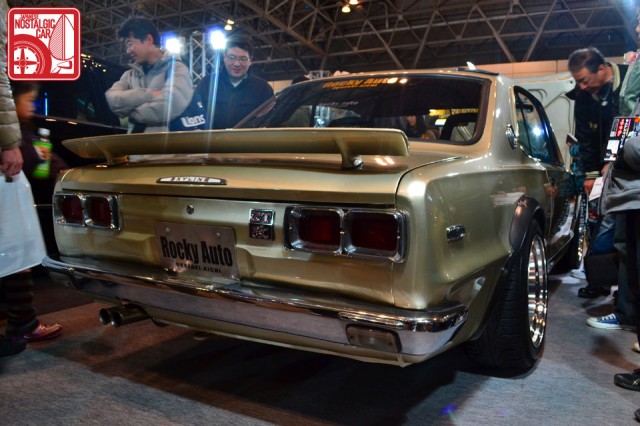 Purists can breathe into a paper bag and take a look at the hakosuka beside it, a standard-issue C10 Skyline GT-R clone. That is, until you walk around to the front and see…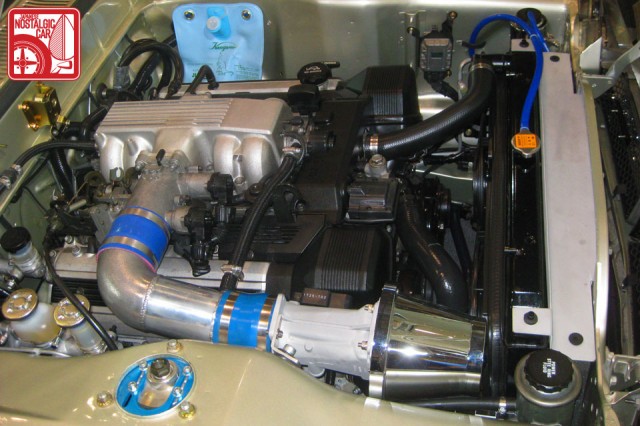 … a Lexus 1UZ V8 where a Nissan straight-six should be! That sound you hear is the collective cry of Datsun devotees screaming bloody murder.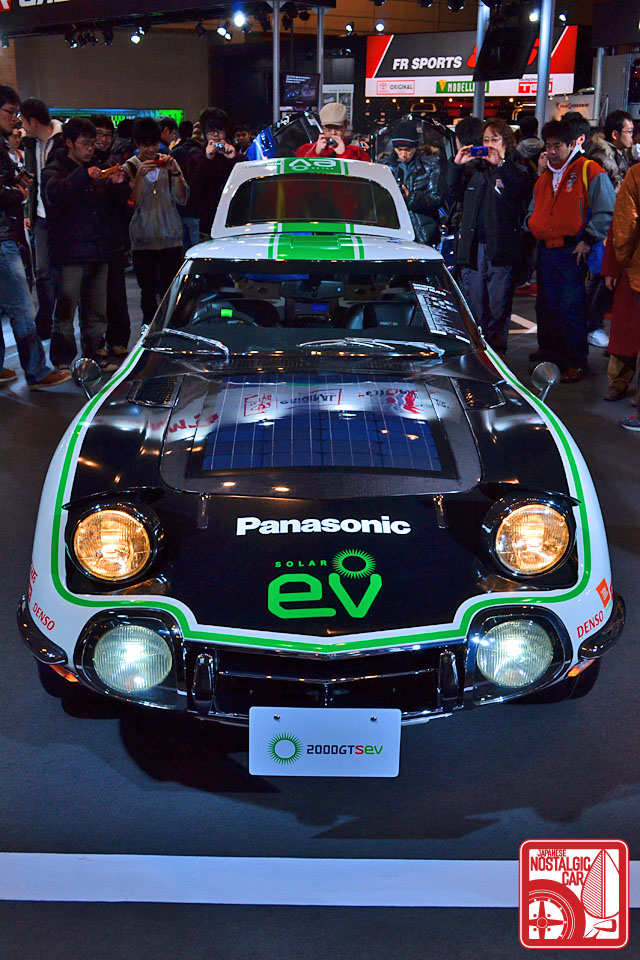 Not so fast, Toyotaku. Before you indulge in the schadenfreude of your Nissan-lovin' counterparts, swallow the bitter pill of a classic Toyota 2000GT modified to run on a 120kW (161 hp) electric motor fed by a solar panel grafted onto the once-shapely hood.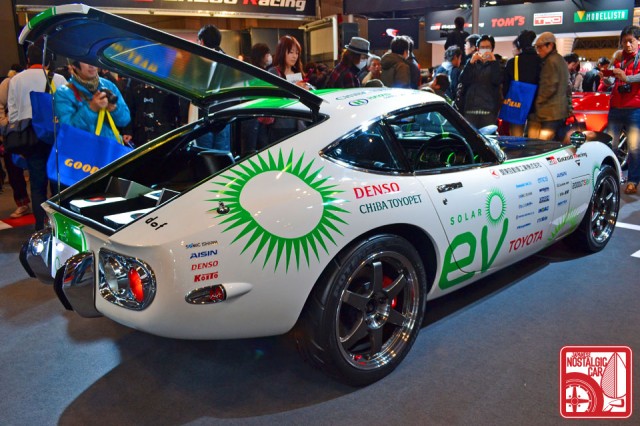 Built by a team called the Crazy Car Project, which consists of Toyota, Denso, Aisin, Koito and Panasonic engineers, the goal was to build a solar electric vehicle capable of 200 kph (124 mph). To maintain the feel of the original 2000GT the interior was kept largely in tact (minus the rosewood ornamentation) with gauges now displaying things like battery life, and the sound of the 3M twin-cam piped in via speaker.
If it makes you feel any better the perpetrators involved claim that the donor car, contributed by Chiba Toyopet, was a non-op with a shabby body in bad need of a resto. At least they succeeded in making the world's most beautiful electric car.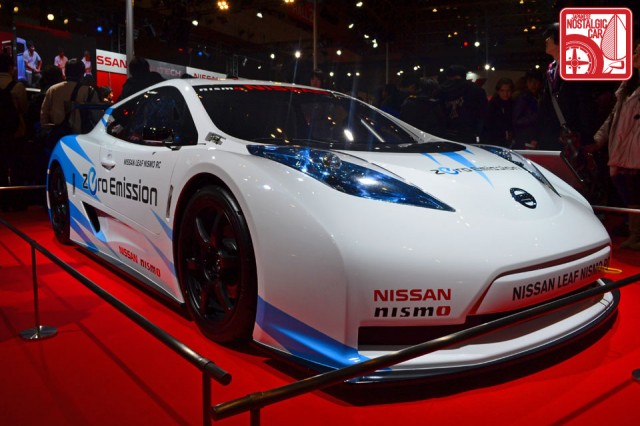 Perhaps the 2000GT SEV could go head-to-head with the NISMO Leaf RC, a 107-horse EV race car based on pacman frog Nissan's electric car.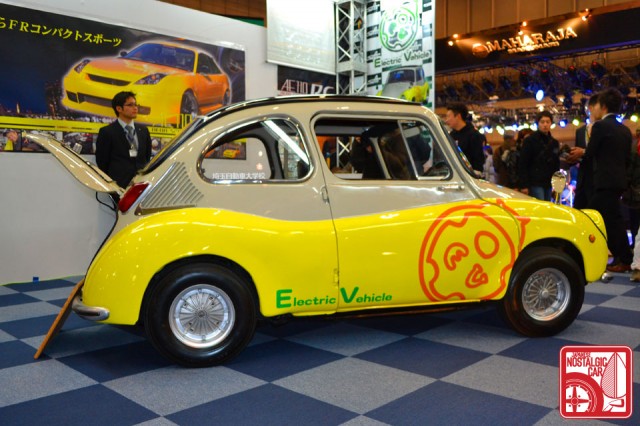 Elsewhere, an "electric ladybug" crawled the show floor. Long-time JNC readers know that the nickname for the Subaru 360 is the tentoumushi, or ladybug. This seems like a far more logical choice as an EV, but it didn't get nearly as much press coverage as the 2000GT.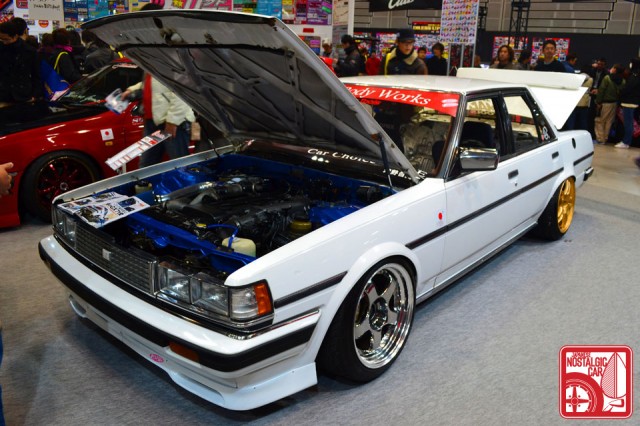 At the other end of the spectrum was Car Choice Jade's JXZ71 Toyota Mark II, whose sole purpose appears to be burning petrol with a passion. Its mismatched wheel sets are as much a result of drift style as its R32 Skyline GT-R front brakes.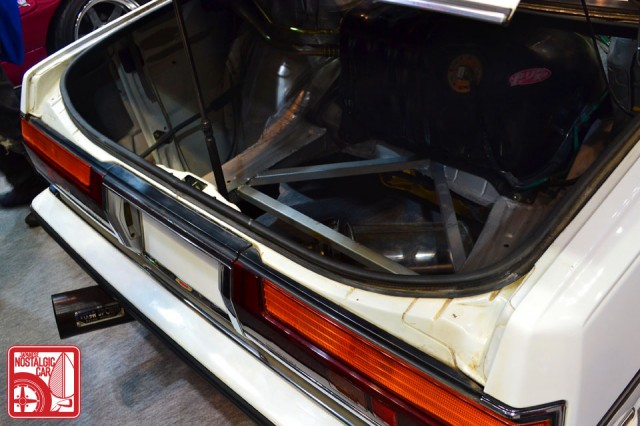 The 1JZ feeds 280PS through a stout R154 tranny, and one peek in the boot shows that this Cressida means business.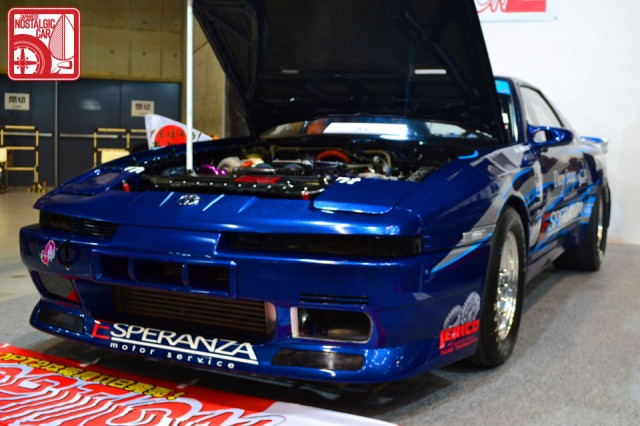 The A70 Supra is the X70 Mark II's brother from another mother, shown at the Option Auto booth and set up old school zero-yon blasts.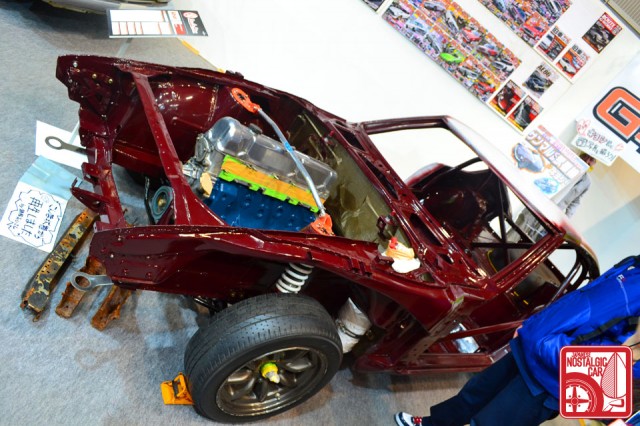 G-Works magazine was in the process of building this S30, which when finished will put out 350PS via an S15 Silvia transmission to an R200 LSD. Even as a shell it looked resplendent in Grand Prix Maroon.
They also had a four-door box that looked almost bone-stock on black steelies, except for a slight drop. But knowing G-Works, there's probably something utterly demonic lurking under the bonnet.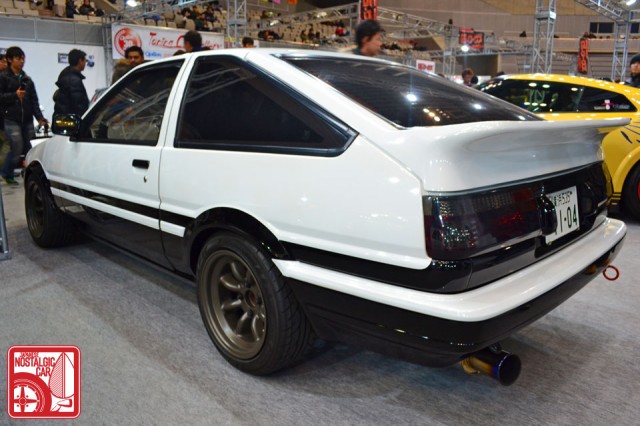 It simply would not be a gathering of JDM machines without at least one panda-schemed tofu delivery special.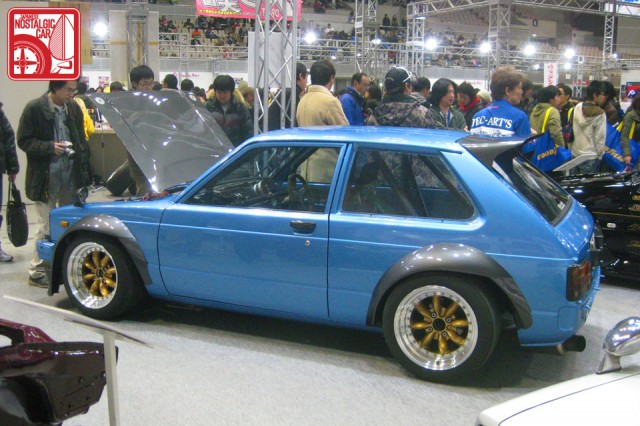 A pleasant surprise came in the form of the HCR Yamamoto KP61 Toyota Starlet.
Not much info was given by the builders, but the 2T-G was increased to 2035cc for 280PS. Its massive flares cover fat barrels hiding FC RX-7 calipers in the front and an AE86 rear end.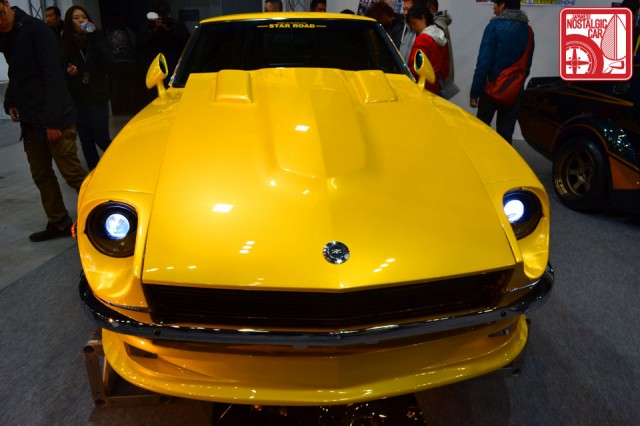 Star Road has cranked out some truly brilliant Nissans in the past, and the craftsmanship on this Fairlady Z was second to none.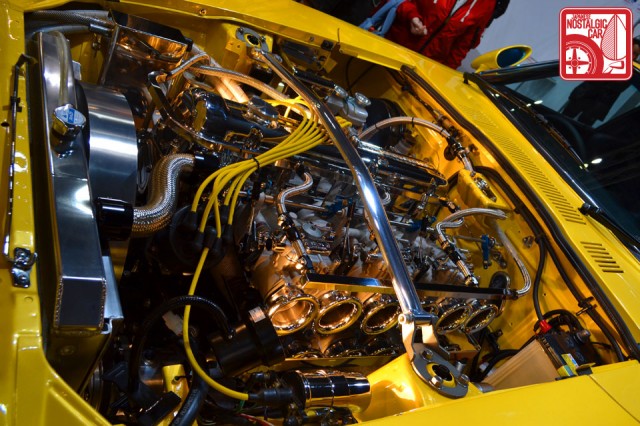 Under the pearl yellow paint was an old school motor, albeit stroked to 3.2 liters.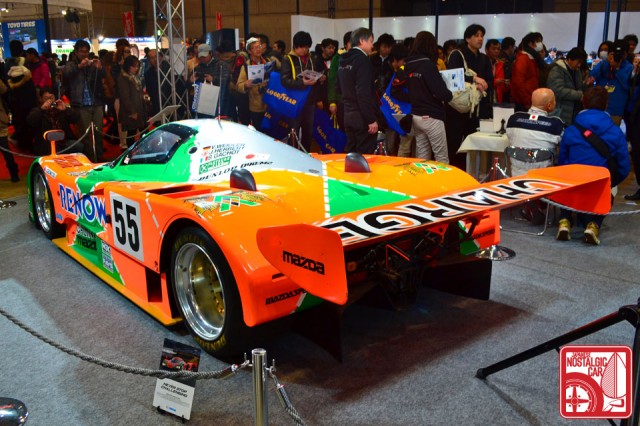 Over at the Mazda booth, a 787B Le Mans replica was displayed proudly in honor of the 20th annivresary of its win at Sarthe Circuit. And who's that chrome-domed gent with the huge line waiting to see him?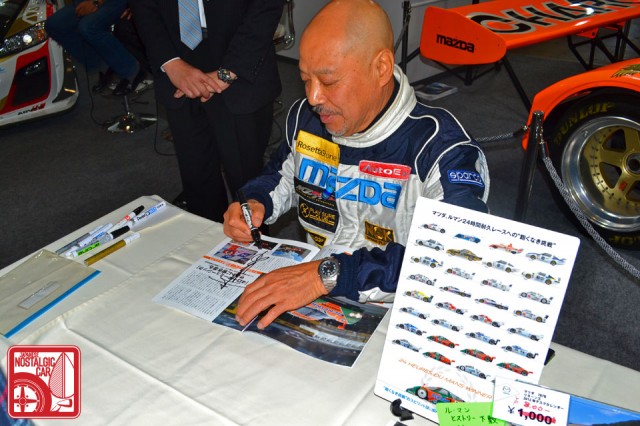 None other than legendary Mazda pilot Yojiro Terada, signing autographs!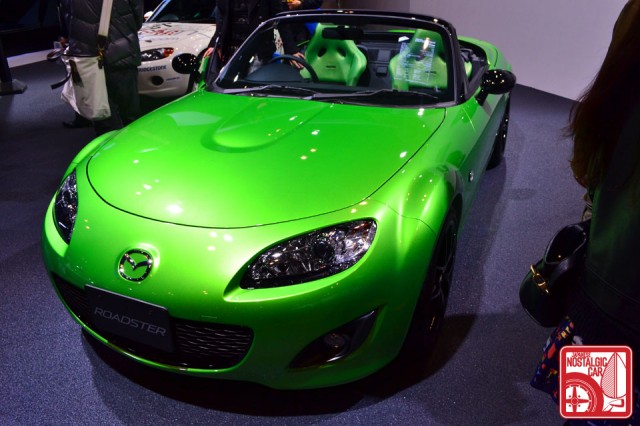 The boys from Hiroshima also showed off its limited edition Black Tuned MX-5, which, oddly, is not available in black at all but a bright, bright green (or white or red).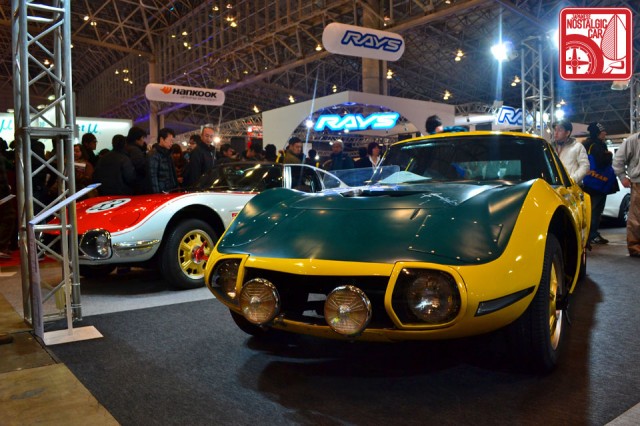 Stare at these 2000GTs long enough and you might notice something's not quite right. That's because these aren't 2000GTs at all, but NA MX-5s modified to look like the OG Japanese supercar. They even share some famous liveries, including those of the Scooter Patrick SCCA racer and the record-breaking yellow/green speed trial car.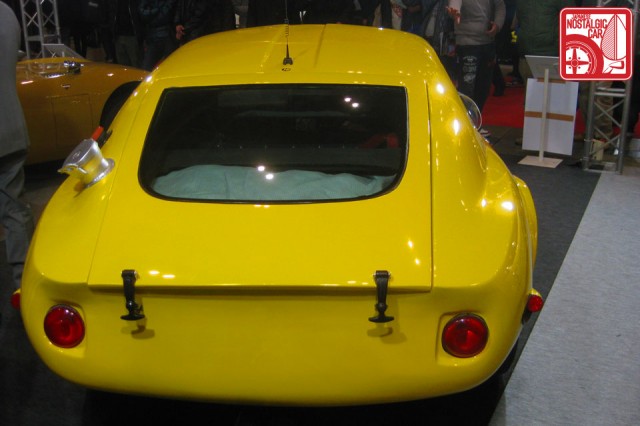 Even the rear taillight and boot strap treatment is accurate, although something about the fuel filler seems amiss…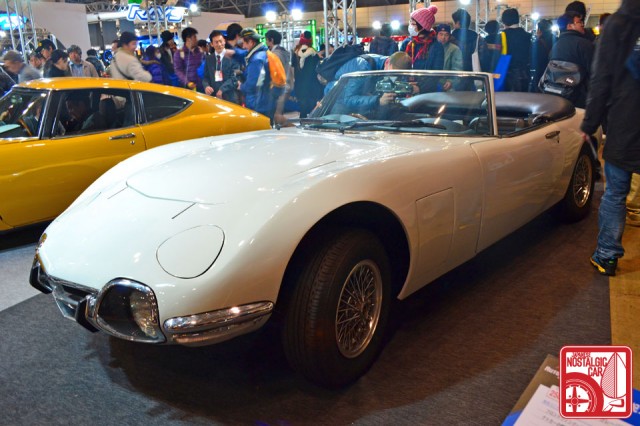 With the first-gen Miata as a basis, a convertible You Only Live Twice model was inevitable.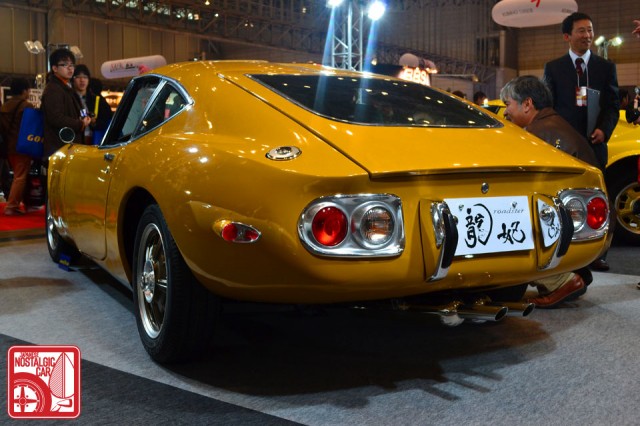 Gold was the rarest 2000GT color, and since all the other iconic liveries were copied, why stop with the stock-bodied cars? The causal observer would certainly be hard-pressed to tell the difference from this angle though.
The cabin was a different story, with none of the original's elegance.
The main focus of the Auto Salon, however, is new machinery. There was no shortage of the current top dog tuner, the R35 GT-R.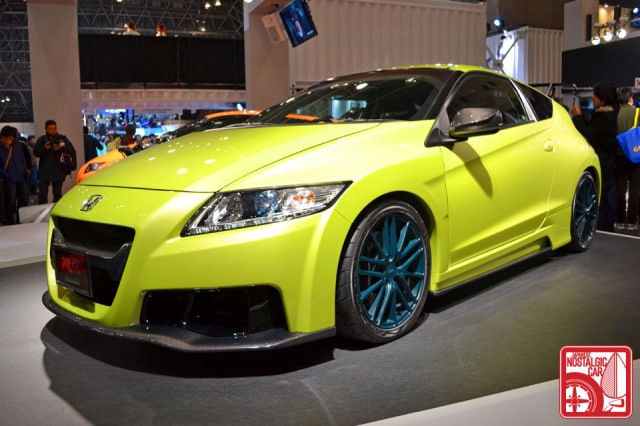 The Honda CR-Z was another popular platform, but the most extreme examples were the Mugen RR Concepts shown at Honda's own booth.
179PS has been squeezed from the hybrid motors of these neo-CRXs, but curiously no details were given about miles per gallon.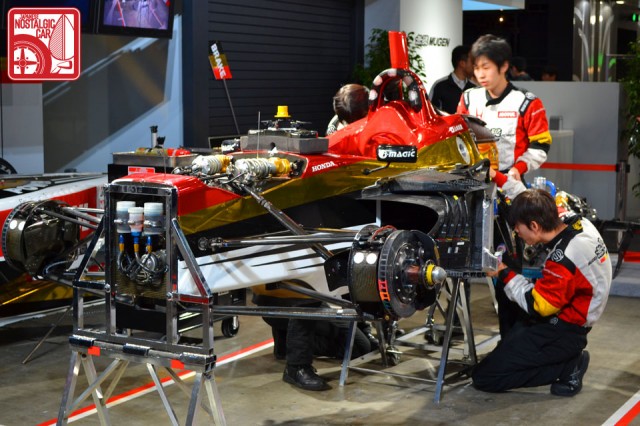 Mugen techs constructed an open-wheel racer as the crowd looked on.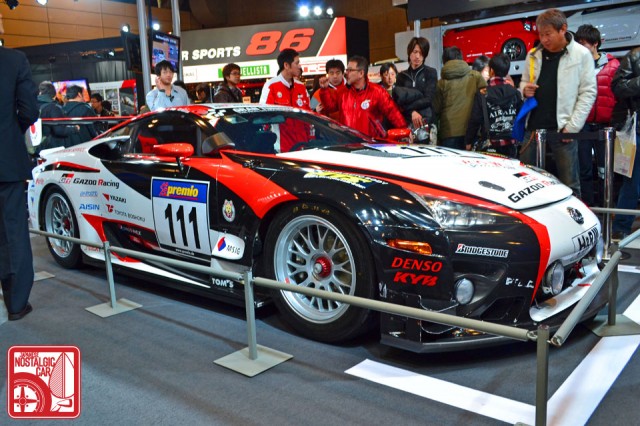 Akio Toyoda's Nürburgring 24 hours Lexus LFA was displayed proudly at the Toyota booth. Hopefully we won't see Mazda Atenzas being converted to look like these in 40 years' time.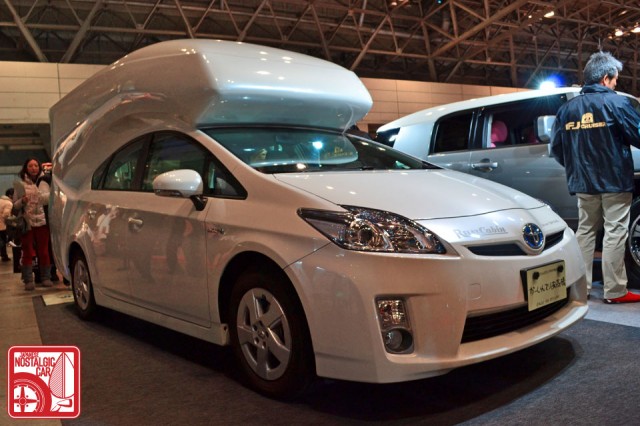 Toyota also showcased this Prius camper, which immediately reminded us of the Plymouth Arrow Tepee.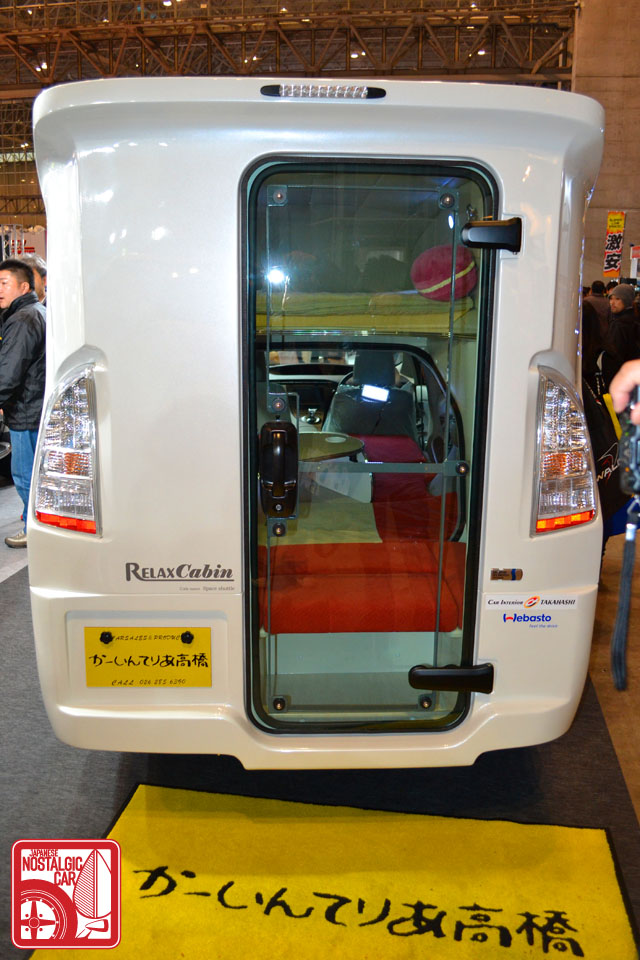 Hope there's a curtain behind the door of that RelaxCabin, or this Prius won't be a-rockin'.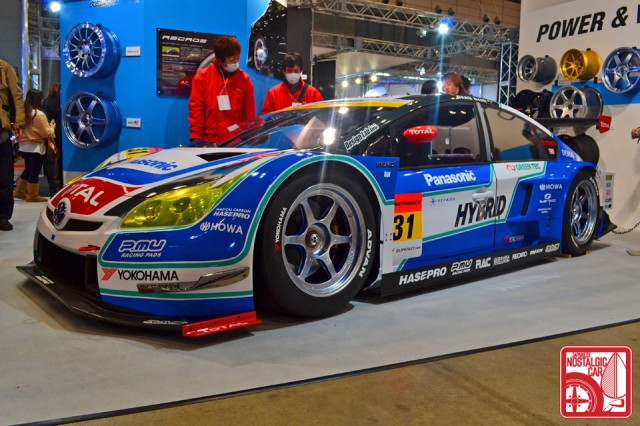 It's a toss-up between the camper and this Super GT racer for world's coolest Prius.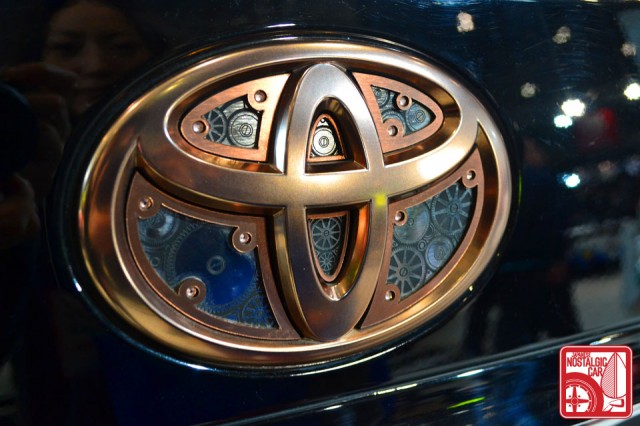 A steampunk Toyota logo.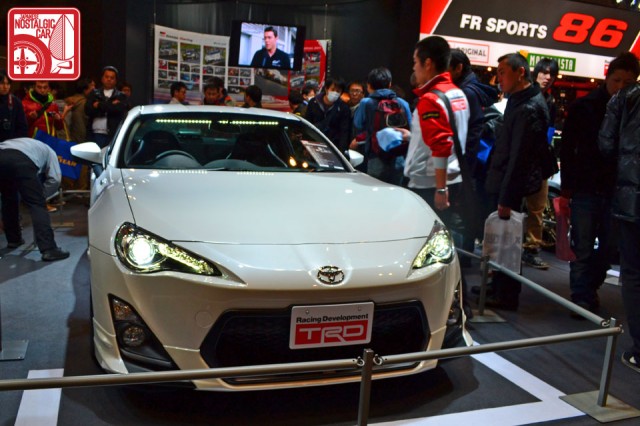 Of course, one of the most popular cars at the tuner extravaganza was the newly-launched Toyota 86. The official TRD version will have optional 18-inch wheels, a bespoke aero kit, a brake upgrade kit, exhaust, and suspension goodies.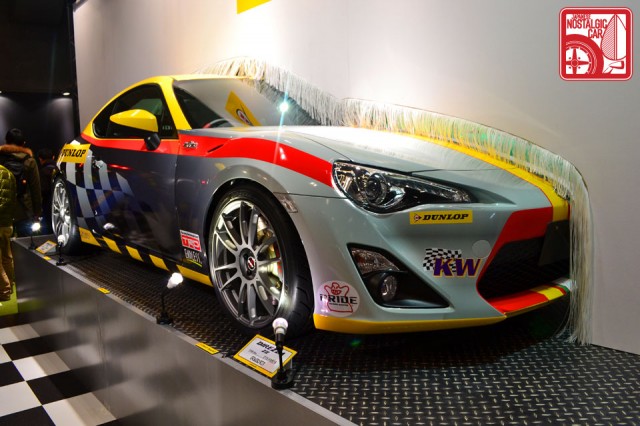 With the 86 being the reincarnation of the car that nearly single-handedly kicked off the professional drifting scene, it was only natural that tire companies jump on board. One of the most talked about examples was the Two-Face 86, decked out with Dunlop Tire livery on one side…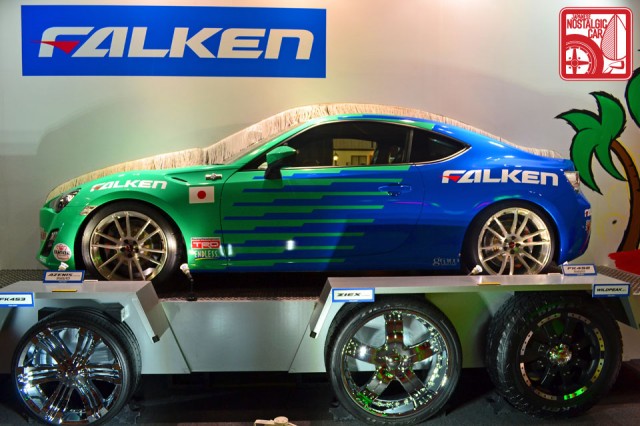 … and Falken Tire livery on the other. Identity crisis? No, actually Dunlop Japan and Falken are both owned by Sumitomo.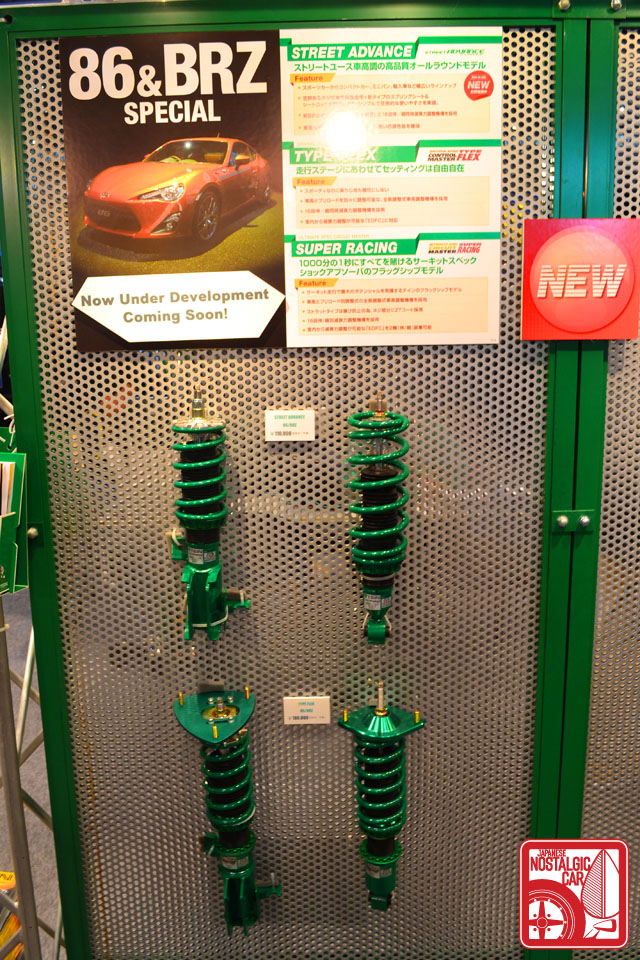 You couldn't swing a dead cat without hitting an aftermarket 86 part.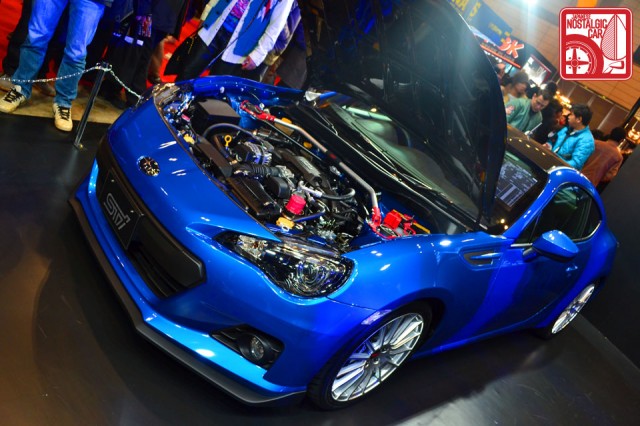 Naturally Fuji Heavy had their own version, the Subaru BRZ on display, fitted to the gills with STI-branded parts.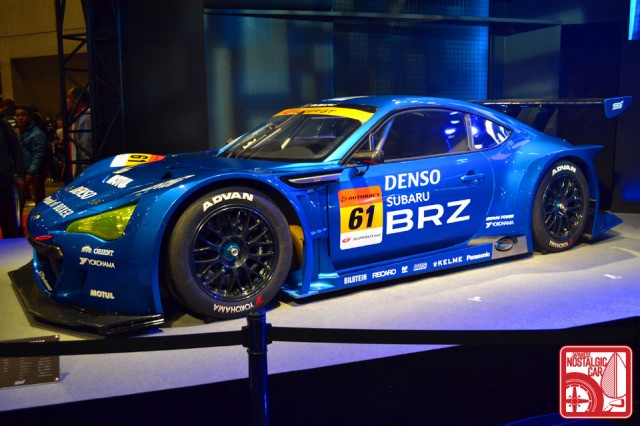 We saw the Super GT BRZ at the Tokyo Motor Show, but it just looks so good we couldn't resist snapping another pic.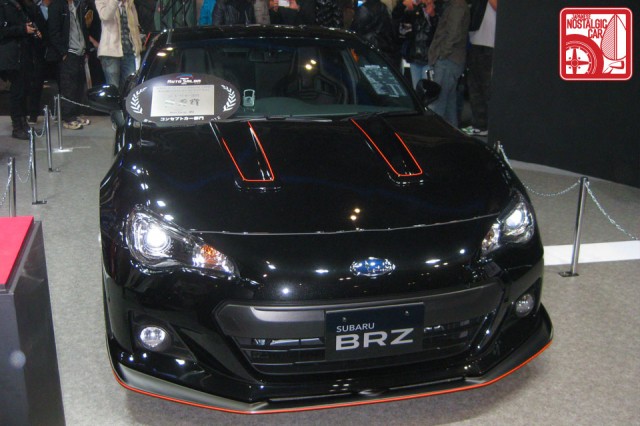 Subaru tuner Prova rolled out a BRZ that it called the Black Edition. It seems that Toyota missed a chance to create a Black Limited 86, no?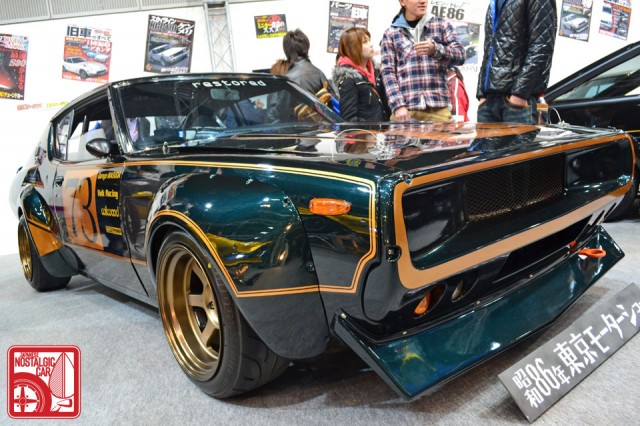 Restored showed off a steroid-injected version of the green/gold kenmeri Skyline shown at the 1972 Tokyo Motor Show. Naturally, the 2012 edition would have gold Volk TE37Vs instead of gold Wats.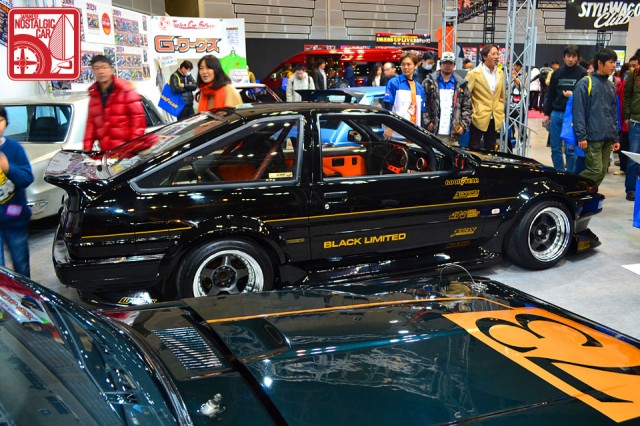 Next to the C110 sat a fully decked out Black Limited AE86 by Tec-Arts. With a claimed 349PS cranked from its 7AG (4A-GE head on a 7A-FE block).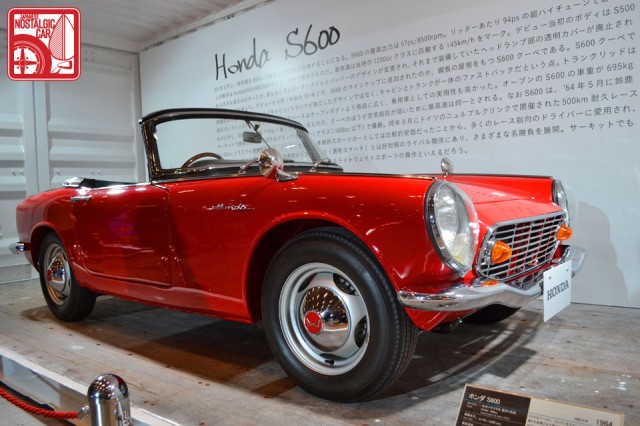 Last but not least, Honda showed an S600, probably the most unmodified car in all of Makuarhi Messe. It looked totally out of place but then again, also incredibly dignified. See more photos in the gallery below.
Photos by Han Park, Rena Park