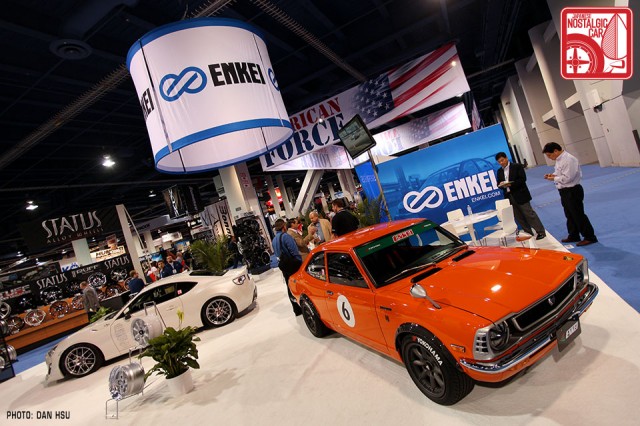 It should surprise no one that this year's SEMA show revolved around a single car, the Scion FR-S. The neo-hachiroku has injected new life into the "sport compact" aftermarket, and this week you couldn't swing a dead cat inside Las Vegas Convention Center without hitting one.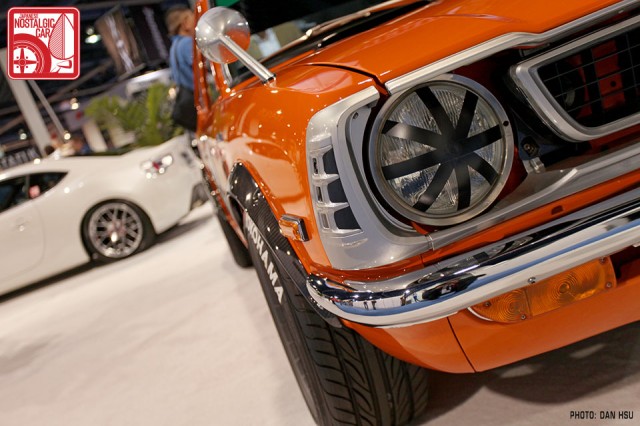 Though Scions abounded, Enkei Wheels once again had the hands-down coolest display, pairing Jason Kusagaya's FR-S with Patrick Ng's 1974 mango. With all the hype about the FR-S being the revival of the AE86, let's not forget that it was the TE27 Corolla Levin that started it all.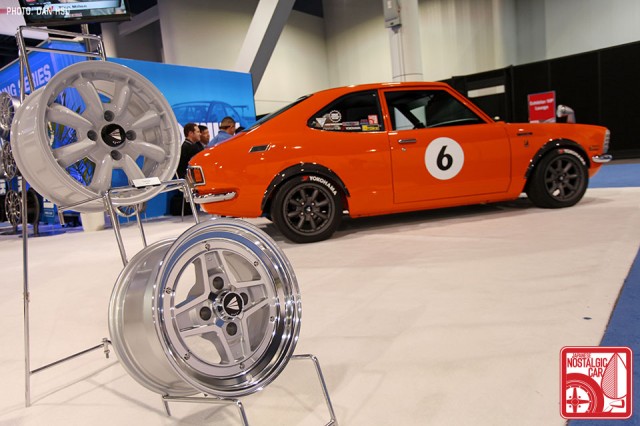 The Corolla was wearing Enkei's latest Classics Series wheels, a set of 15×8 Compe 8s. The throwback rim debuted at JCCS, but this time the TE27 was decked out in old school Enkei livery designed by JNC's very own Ricky Silverio.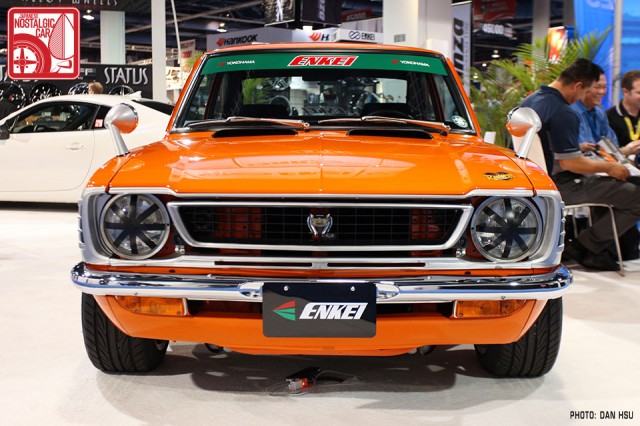 Every detail was inspired by Enkei's racing colors from the 1979-82 era, from the dark-green-and-red Graphtech windshield banner to the old school "E" logo on the center cap of every wheel in the Classic Series.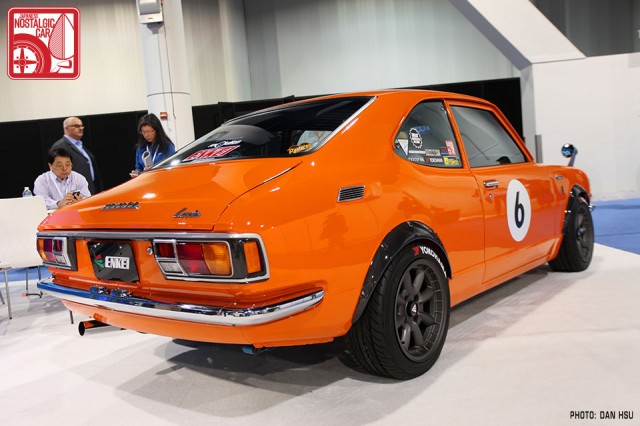 Ricky drew on his memories from attending the Tokyo Auto Salon in the early 80s, when tire companies would put a very thin sticker on their sidewalls. Such decals have since fallen out of fashion, but sure enough Yokohama still had a set to accomodate 195/50-15 S-Drives. The flares may look like 80-style blacked out over-fenders, but they're actually   carbon fiber units from Restored.
Japan's Eneos Oil had one of the crazier Scions on display, a blacked out widebody that appeared to be inspired by Super GT racers.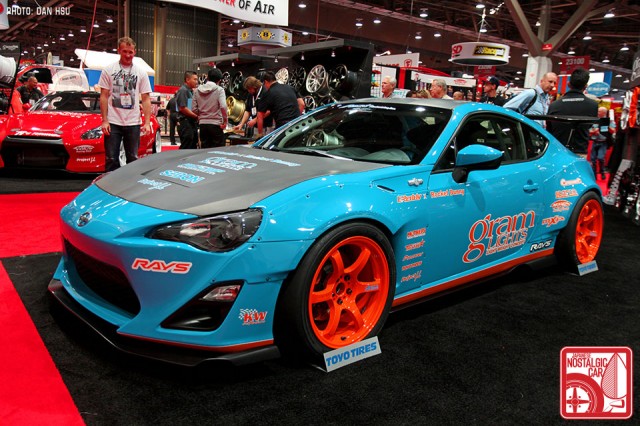 Rays Wheels displayed an eye-catching GReddy-tuned FR-S with Rocket Bunny widebody kit and TE37 wheels.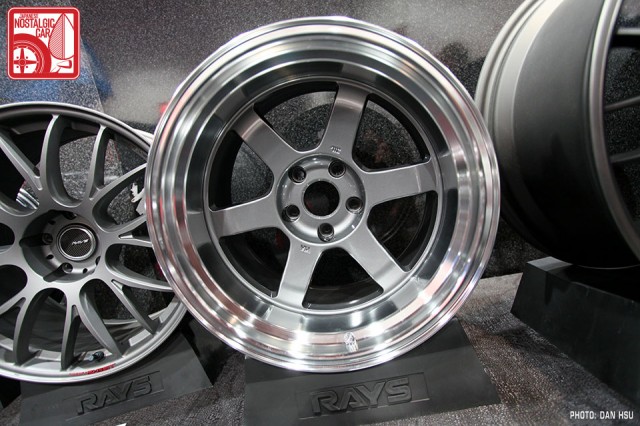 Earlier this year at the Tokyo Auto Salon Rays debuted new 17-inch TE37Vs in widths ranging from 7.5J to 10.5J (in half-inch increments). The good news is these are now available for order in the US!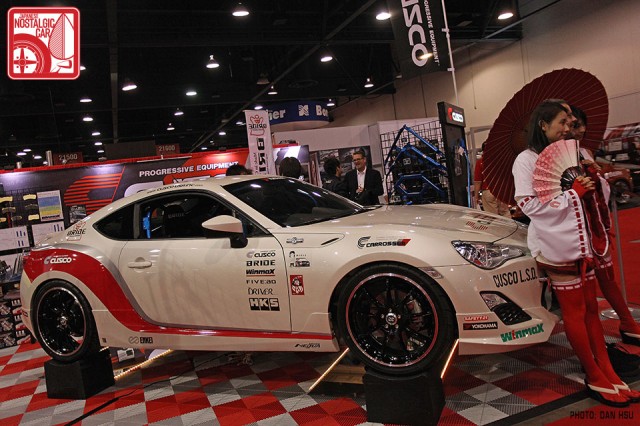 Cusco has full suspensions available for the FR-S/BRZ. Umbrella girls not included.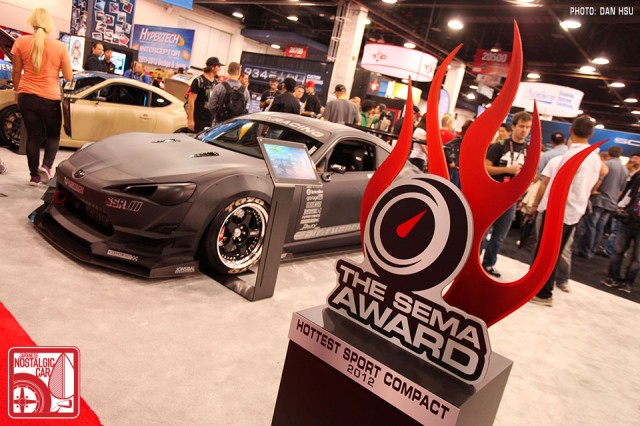 Scion's own booth came out strong with a half dozen FR-Ss modified in every style from mild to wild. They showed no iQs, xBs or tCs. It was all FR-S, baby! In fact, that FR-S walked away with SEMA's Hottest Sport Compact award this year but let's face it, there really wasn't much competition. This is Daniel Song's bonkers "FR-S GT."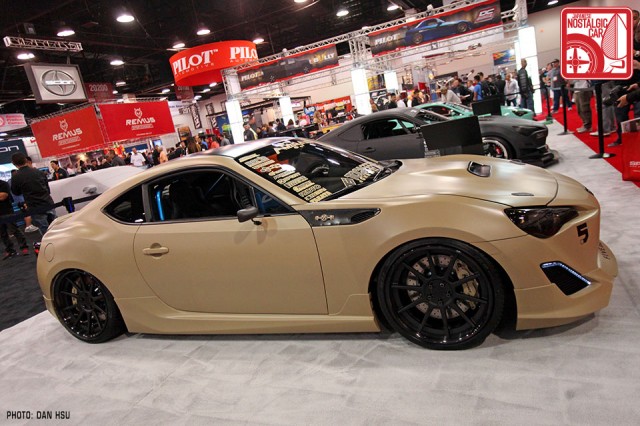 If we had to pick a favorite it would have to be John Toca's flat tan "Carbon Stealth" with its slew of Cusco suspension parts and a Five Axis Design aero kit. Both Daniel and John's cars were supercharged and part of Scion's eighth Tuner Challenge, which gave each lucky builder $15,000 for their dream FR-S concoction.
Winners were given what might be the coolest trophy we've ever seen. Who needs a big golden chalice when you can have real boxing pistons just like the 86 logo on your car's fender?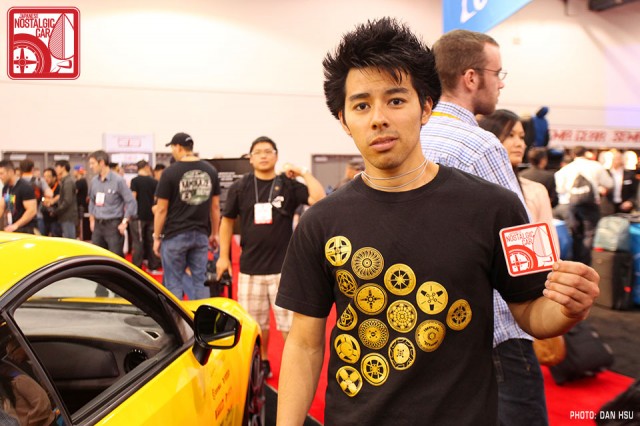 While at the Scion booth we saw JNC fan Miguel Aramas in the Vintage Barrels II shirt! Rules are, anyone we see wearing one of our shirts gets a free decal.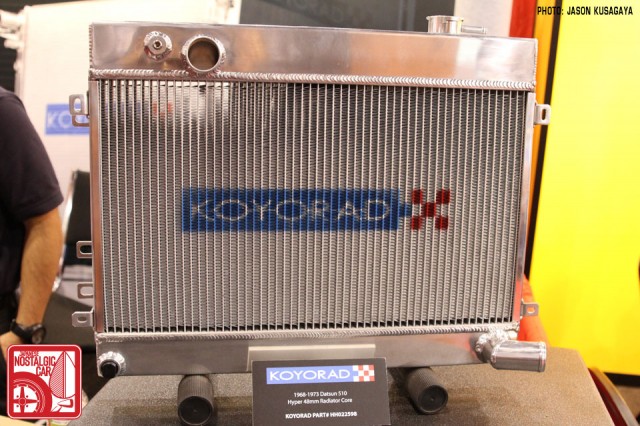 Koyorad was there with something that might be of interest to Datsun owners, a new aluminum radiator for the 510 Bluebird. This is the same one found on Jun Imai's shakotan wagon. Koyorad's Scott Oshiro tells us that a radiator fitting first-gen Celicas is in development as well. It's great to see more parts being made for us old schoolers.
Yes, we know that the RTR Mustang by Mothers Car Care is a Ford, but it does possess a certain JDM flair. Black bolt-on flares and HRE 501s make us suspect the Blue Oval may be turning Japanese.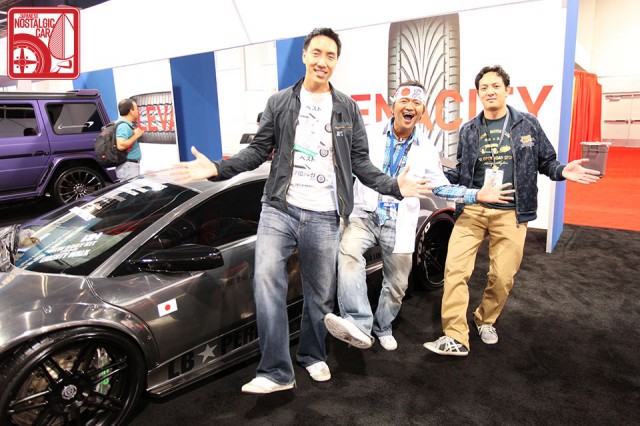 Anyone even tangentially involved with the auto industry, anywhere in the world, comes to SEMA. Guess who we were most pleased to see? Liberty Walk shacho Wataru Kato!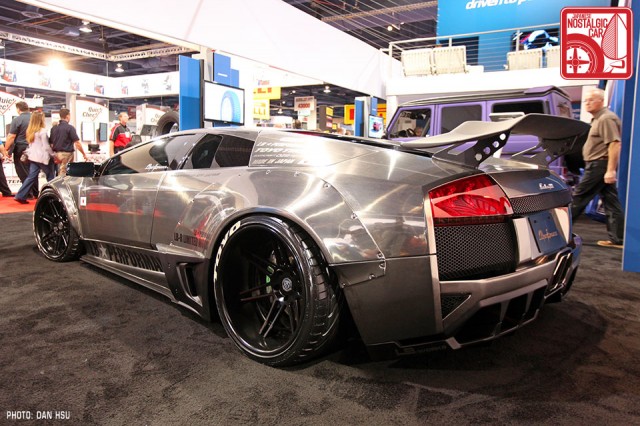 Sadly, he did not bring one of his gorgeous zokusha creations, but this berserk Lamborghini came pretty darn close. With its bolt-on fender flares it's got a certain shakotan flair, no?
In past years, automakers like Subaru, Honda and Mazda would bring out some of their family heirlooms to display at SEMA. This year, however, Subaru declined to have a booth at all, seemingly a missed opportunity to ride the BRZ wave. This random Impreza was the only quasi-old school Subie to make a showing, and Honda was too busy pimping the new Accord to talk about heritage.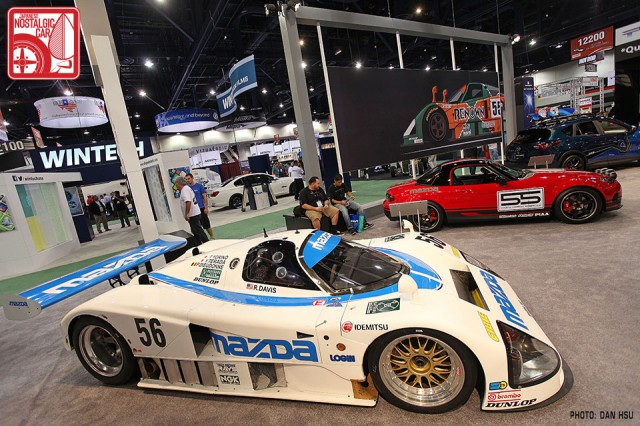 It was up to Mazda to fight the good fight, and they did not disappoint. The 787 Le Mans racer that recently ran the hills of Willow Springs at SevenStock was proudly on display.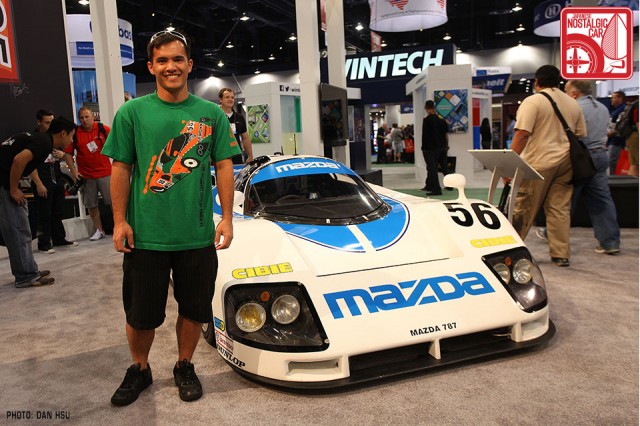 As Dan was snapping a few photos, who should come along but a JNC fan from Hawaii wearing our Le Mans shirt! This was not planned, we promise.
Mazda was hard at work promoting their universally lauded CX-5, but take a look at the booth decorations. It was glorious 787B artistry all around! We want a set of these tapestries for our living room now.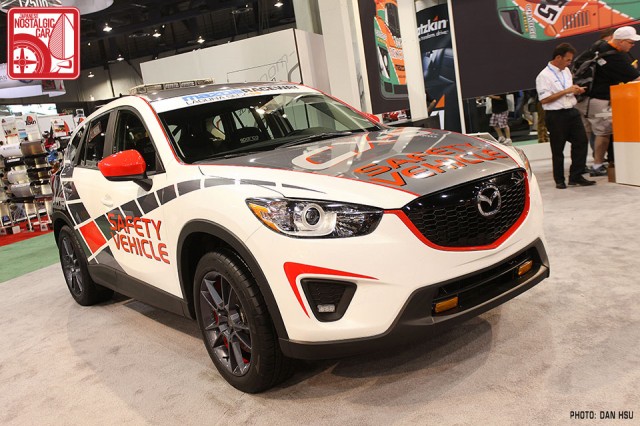 The coolest of the CX-5s was undoubtedly the safety car that will be employed at Mazda Raceway Laguna Seca once SEMA is over. We can attest that it's probably one of the best handling SUVs out there, so it's only fitting that it keep pace at the Corkscrew.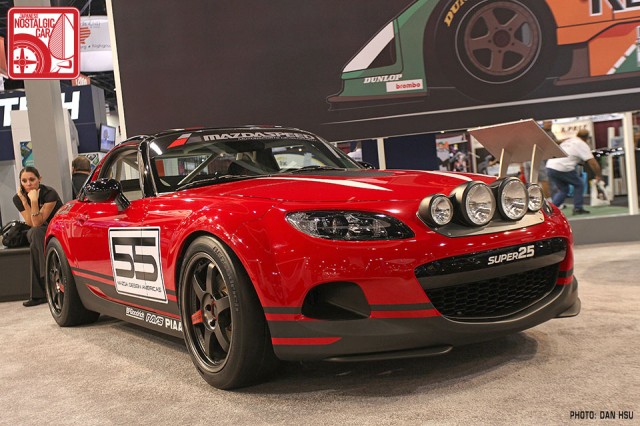 Last year Mazda showed the MX-5 Super20 to commemorate 20 years of the Miata. This is the MX-5 Super25, built for endurance racing in mind and wearing a slick set of forged 17×9 Volk TE37s. The number 55 is, of course, a tribute to the Le Mans-winning 1991 787B.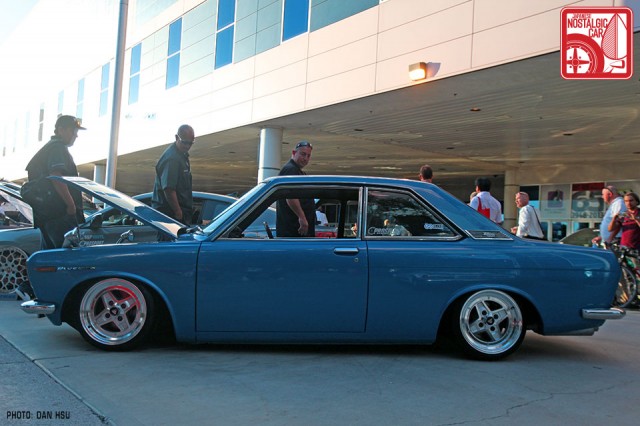 Last but not least, we were thrilled to see Chris Houts' 510 Bluebird Coupe reppin' nostalgics near the entrance to the South Hall. The Texan had an SR20 power and was sitting pretty on a set of Enkei Apache IIs.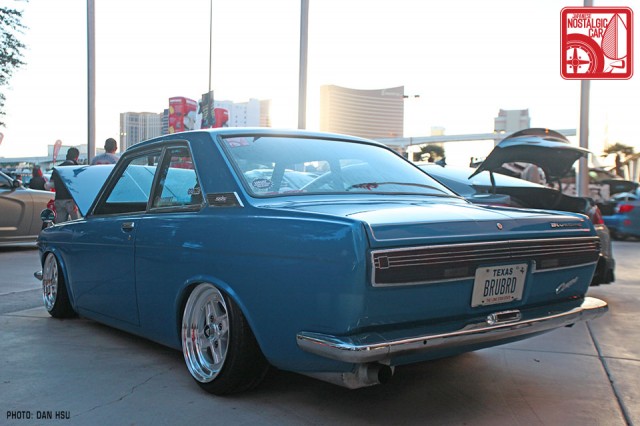 The owner was rocking an O.G. out-of-print JNC decal on the back window.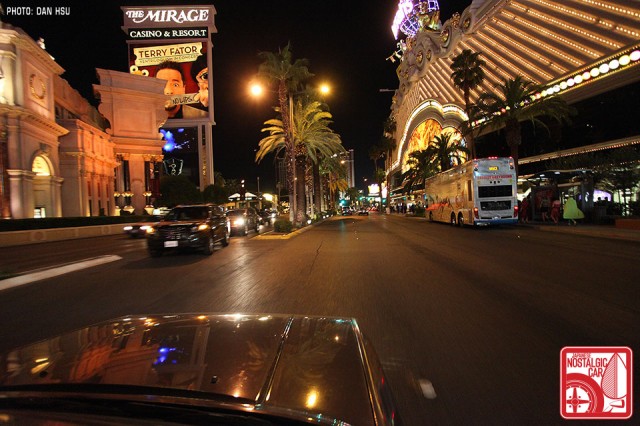 As much fun as it is to catch up with friends and check out latest trends in the auto industry, there is only so much SEMA and Las Vegas that we can take. After two days of madness we hopped in the ol' JNC wagon and headed home.
For more photos of the wild and wonderful sights of SEMA, check out the gallery below.