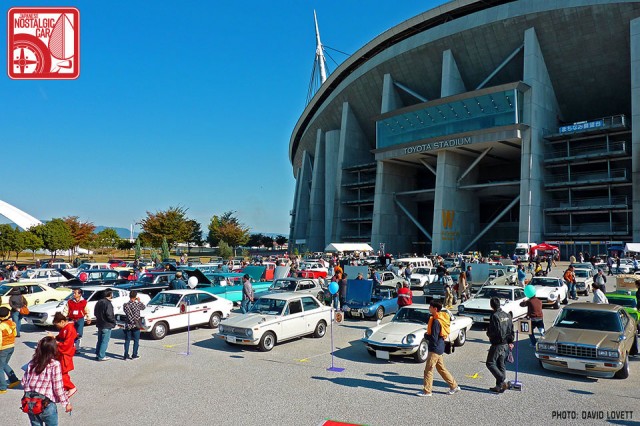 The latest dispatch from guest writer David Lovett of Classic Car Nagoya covers the annual Nagoya Classic Car Meeting held by the shop. Here's his first-hand account. —Ben 
Every year in November Classic Car Nagoya rents out the Toyota Stadium parking lot for a day to hold a large event. This year was no different and I was there from before the sun came up until after it went down. We had over 100 cars entered into the show, over 1,100 cars moved through the parking lot, and over 5,000 people attended.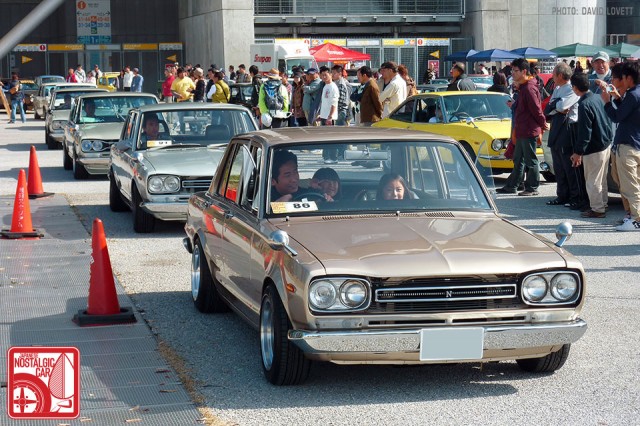 One of the absolute best parts of the event is the parade. All owners of cars in the show roll up to the stage, say a little something interesting about their ride, and then drive around the stadium. This gives everyone a chance to see and hear these beautiful works of art in motion.
One thing that you can always count on is having hakosuka and S30 Z clubs at the show. These guys are always great fun to talk to, and aside from some liberal revving of their engines, are always well behaved.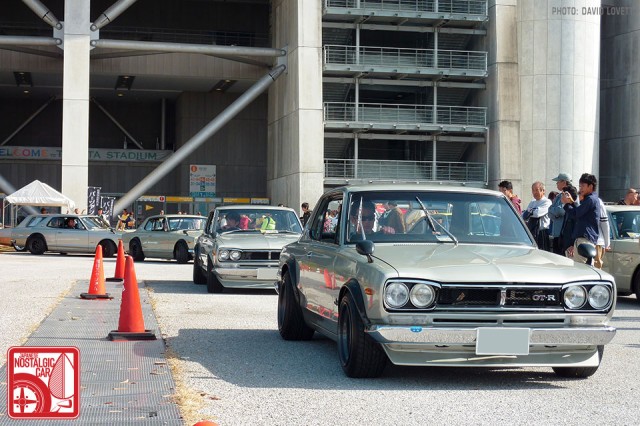 There's also a large number of hakosukas that show up which aren't part of any club, and these guys are usually sporting a more factory appearance. The ones that always get me weak in the knees are the S20-powered GT-Rs. We had around five of these monsters show up to the show this time.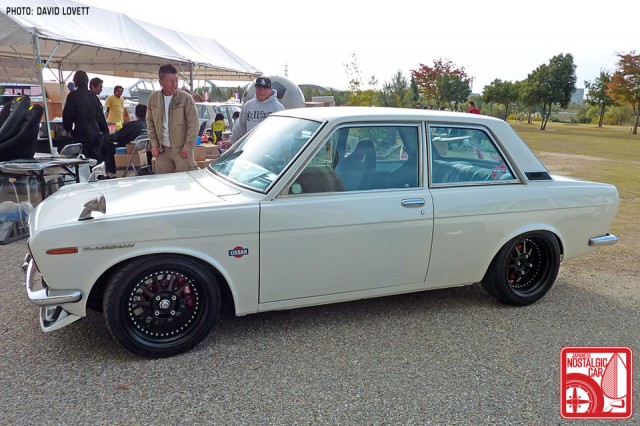 There was also a 510 club in attendance this year and their cars were particularly mouth watering. The owner of this 510 Bluebird shows up at every event and always has one of the best 510s on display. What makes this 510 so special isn't just how clean it is, but rather what propels it down the road — a full on S2000 F20C engine!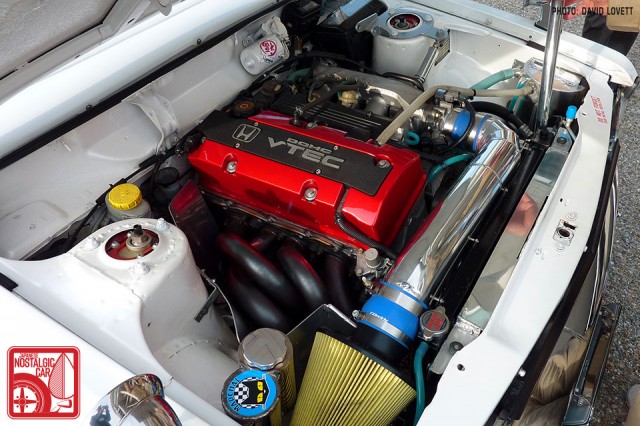 When I first saw this car a few years back, it still had not-insane brake rotors. Talking to the owner at the time, he said that it was a terrifying car to drive because it would pick up speed very quickly but he couldn't scrub any of it off. He's since remedied that problem with this set of mental rotors and calipers and says it has absolutely no problem stopping now!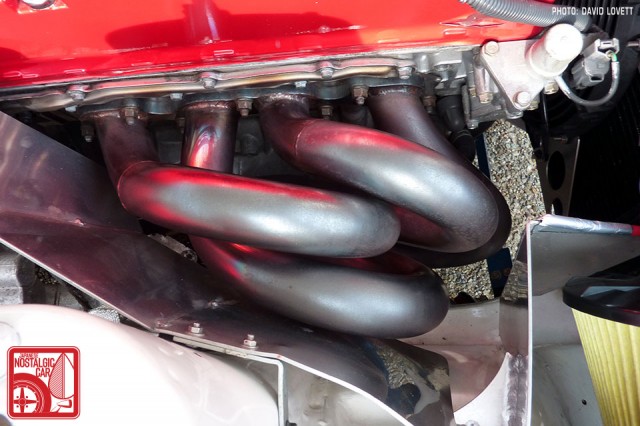 The motor just barely squeezes into the engine bay and was definitely not an easy swap. The exhaust extractors are a one-off piece designed and built by an ex-Honda engineer, so there's no doubt that they actually make power as well as expertly twist around the engine bay to make room.
This car is actually headed to the states sometime next year on an all expenses paid trip by none other than Speedhunters. Apparently I'm not the only who found this car to be awesome.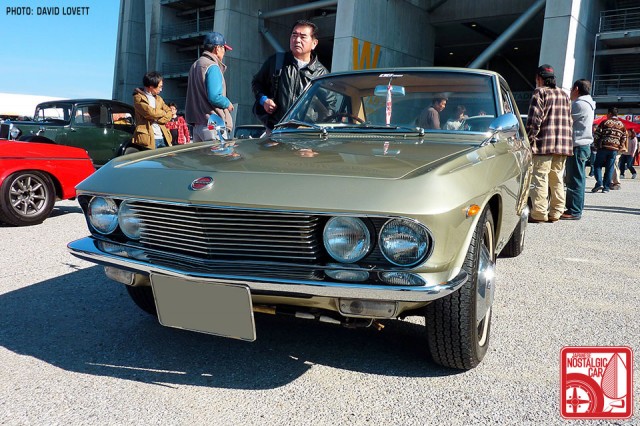 Without a doubt, one of my favorite cars of the show was this beautiful 1965 Nissan Silvia. Unfortunately I never got a chance to corner the nice lady who drives this beautiful piece of history, but it's one of those few cars that speaks for itself.
Being hand-made and one of only 550 produced makes it one of the rarest cars at the show. Because it's based on the SP311 Fairlady roadster it has a genuinely diminutive stature, but without knowing the history it'd be impossible to tell, since everything has an amazingly bespoke feel to it.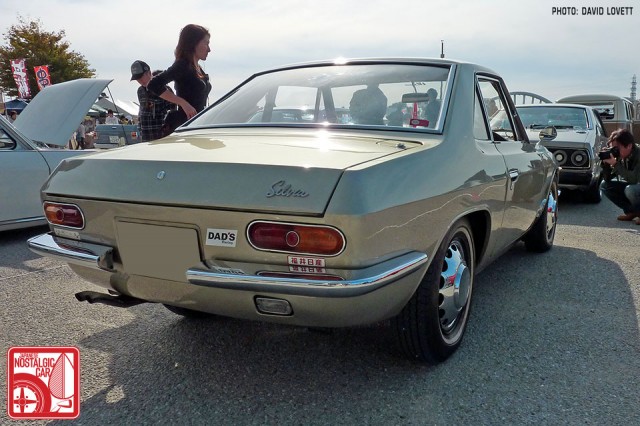 In pictures this car looks perfect, but seeing it in person you realize some of its weird quirks. The cabin is a bit too tall for the body and looks a little ungainly. The color is also surprisingly subdued. It's one of those cars that doesn't stand out but as soon as you notice it, you can't take your eyes off it.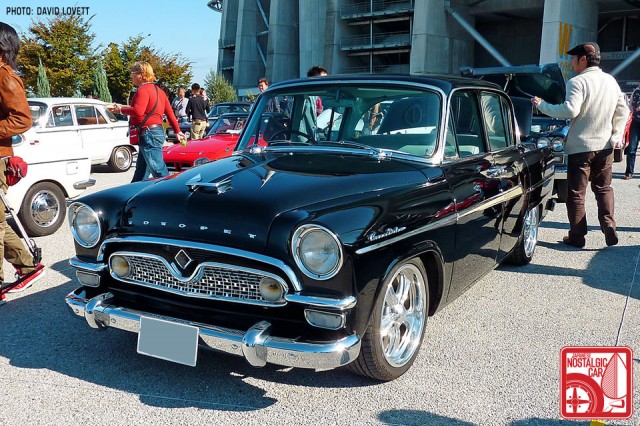 The owner of this resto-mod 1962 Toyopet Crown is actually a customer of Classic Car Nagoya and I've had the pleasure of chatting with the owner a few times about it. The first thing you'll notice is that it has been modified. Most notably, the wheels are custom one-offs made specifically for fitment on the S30 Crown. The brakes have been converted to discs all around, lifted from a modern Toyota.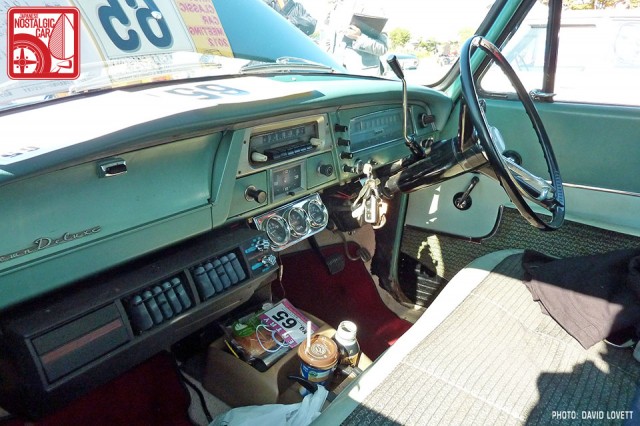 Digging deeper, you find that electric power steering from a modern Toyota has been fitted to the factory column and recirculating ball steering system. The powertrain is a modern day 3S mated to an automatic transmission. Talking to the owner, you quickly realize why these modifications have been made. His right hand is unusable, so the auto gearbox and power steering make it possible for him to drive his beloved Crown.
The owner restored many bits of the original car as well, modify only parts that directly affected driving. Accessories like this all-original Denso air conditioner with built-in refrigerator were painstakingly restored to working condition.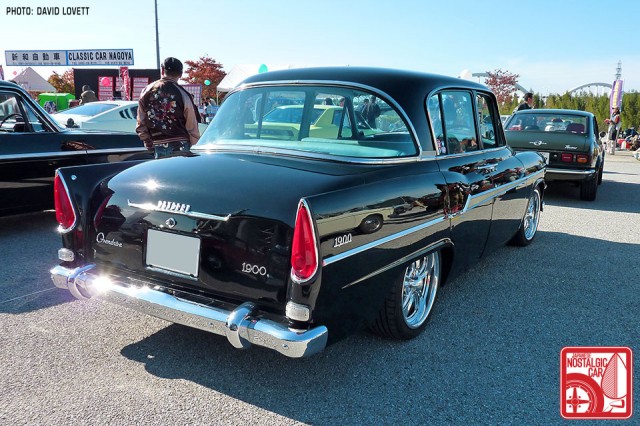 The gentleman who owns this Crown is without a doubt one of the nicest individuals I have ever had the pleasure of meeting and, amazingly, this is his daily driver!
Daihatsu Midgets are rare cars in general. I've only seen a handful of these little three-wheeled machines around, and have only ever seen one being driven on the street. This is my first time seeing one of the very earliest examples.
Later Midgets had two seats and a normal steering wheel. This one has a foot brake on the right, a twist throttle, the shift lever between your legs and motorcycle handlebars. It looks like an absolute riot to drive and it truly lives up to its name — this thing is tiny.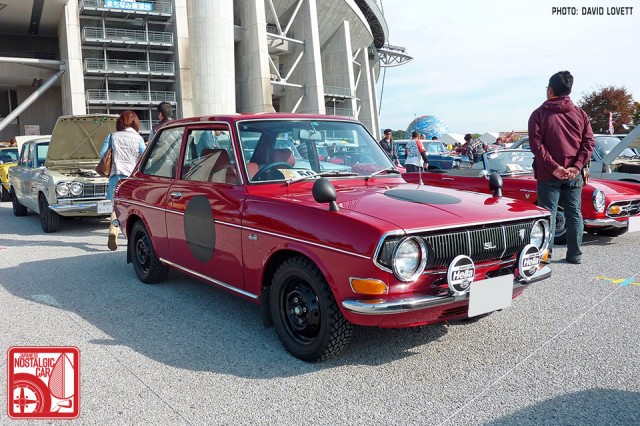 This little red 1971 Toyota Publica belongs to a Classic Car Nagoya customer as well. He purchased the car about a year ago and it was great to see it make the show. The Publica is a little shorter than the E10 Corolla but is powered by the same 3K engine, making them kind of a mini muscle car.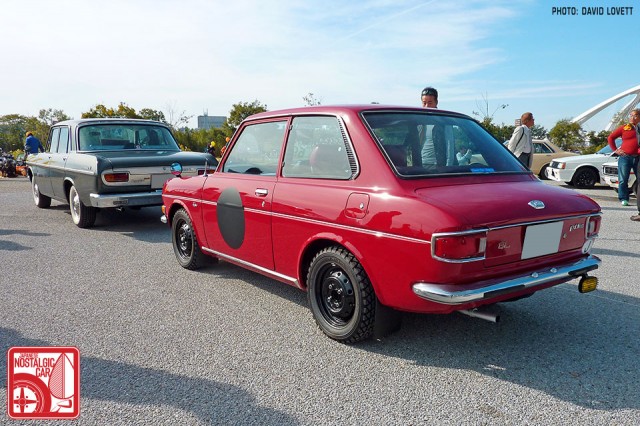 After buying it, the owner asked for us for a rally-look modification, so giant headlights were fitted along with big knobby tires. A few other bits and bobs here and there were changed and I think it really adds to the look and feel of the car.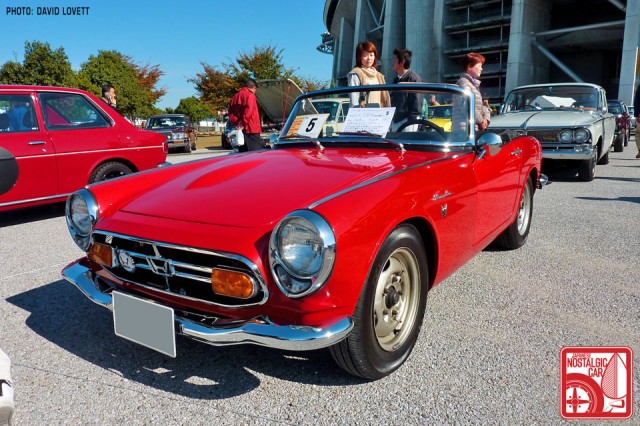 Red is generally not my favorite color for a car, but this little 1968 Honda S800 completely stole my heart. The S800 is in and of itself a gorgeous car, but this one comes with a special story attached to it. When the owner was a kid, he absolutely fell in love with a red S800 owned by his father and wanted it for as long as he could remember.
However, when his father passed away, his mother accidentally threw away all the paperwork to the car. Due to a quirk of Japanese law, if one loses the physical copy of a car's paperwork, it can no longer be registered. This meant that no matter what, the owner could never drive his father's S800. So he searched high and low and found another S800 in exactly the same color and condition as his father's and purchased that one. Now he drives it around, proudly preserving the memory of his late father.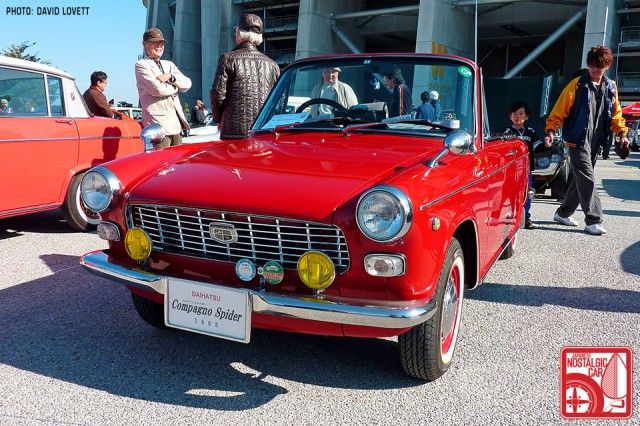 This is another one of those cars that's quite difficult to place at first sight, but keen-eyed readers will know that it's a rare 1965 Daihatsu Compagno Spider.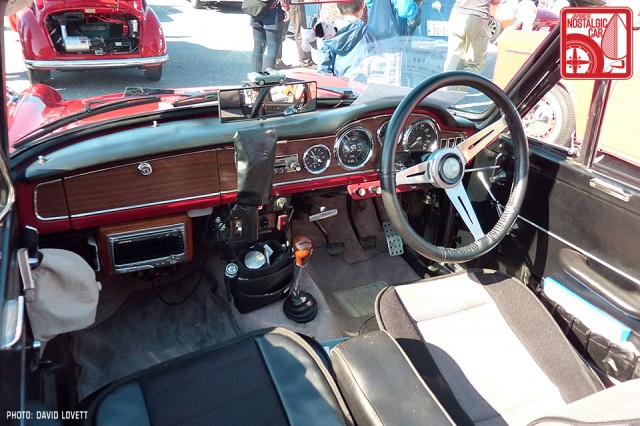 The Compagno was one of the last cars to be designed by Daihatsu before the company was acquired by Toyota in 1967. As a result, it's one of the few examples of a Daihatsu with no Toyota influence whatsoever.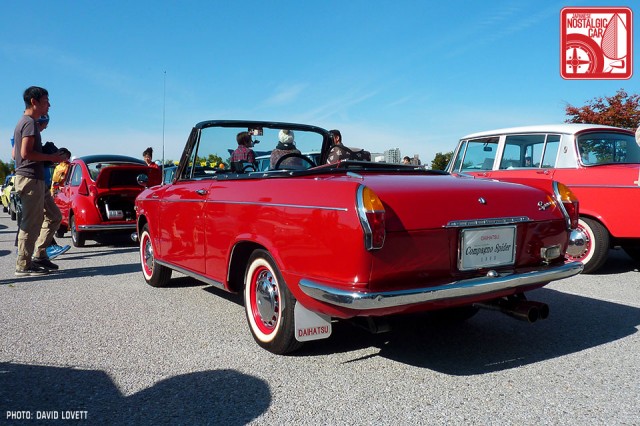 The current owner of this car bought it after it had been in storage for a staggering 30 years. He had some trouble getting the car sorted initially, but worked on it for about a year and the little Compagno runs like a top now.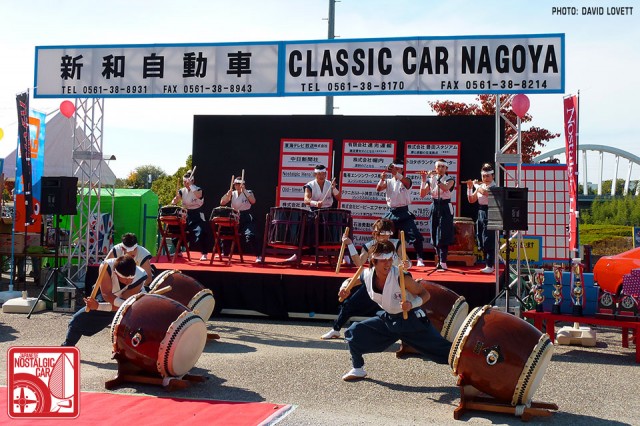 The event had plenty of non-car things to do as well. There's a flea market with items ranging from Tomica cars to refurbished parts to 40-year-old NOS pieces still in their factory boxes. Several entertainers come and take the main stage throughout the day too. There's an excellent duo that juggles fire, a gorgeous kimono-clad lady who makes balloon animals, and this traditional Japanese taiko drum team. This group was fantastic and the only downside to their performance was that it wasn't long enough.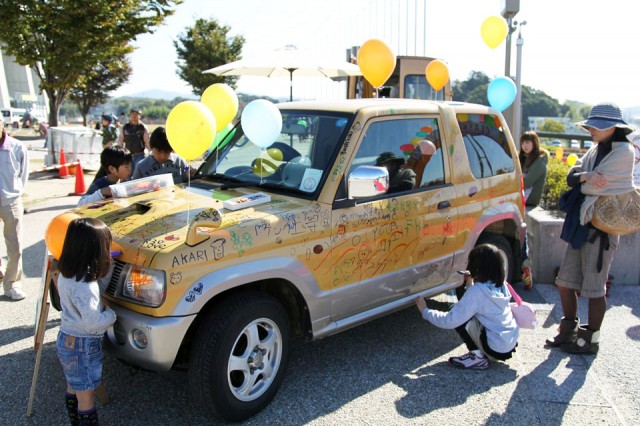 One of the most popular activities for the children is this Mitsubishi Pajero Mini with a box of markers sitting on it. Kids go nuts climbing all over the poor car writing and drawing! The kei SUV had a rough time, but there's no doubt that it was a hit, and even the adults got in on drawing on it from time to time.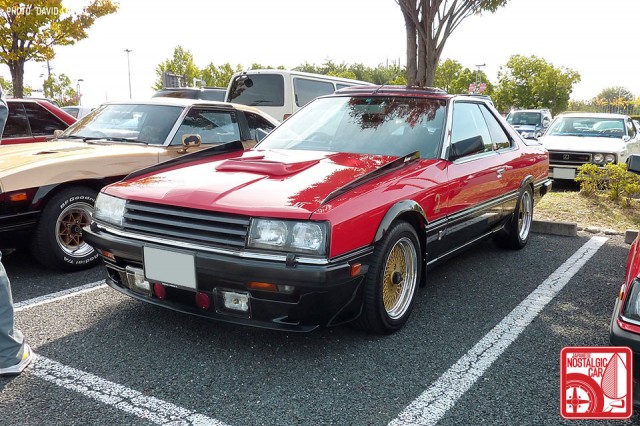 Of course, such an event wouldn't be complete without taking a walk through the parking lot. With over 1,100 parking tickets sold, you could spend the entire event down here and still get an amazing show.
What would a Japanese car event be without a little Seibu Keisatsu love? I'm more of an Abunai Deka Nissan Leopard kind of guy, but this R30 Nissan Skyline is such a nicely crafted replica that it's hard not to notice.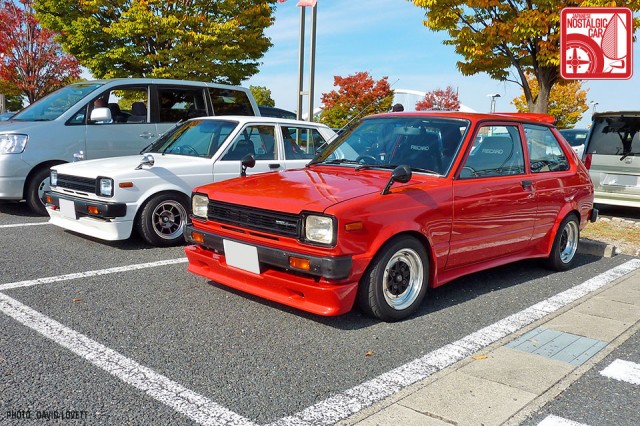 This pair of Toyota Starlets pulled up just as I was heading down to check out the parking lot and I'm glad they did. They were both very clean and very mean. Excellent example of how cool 1980s Toyotas can be!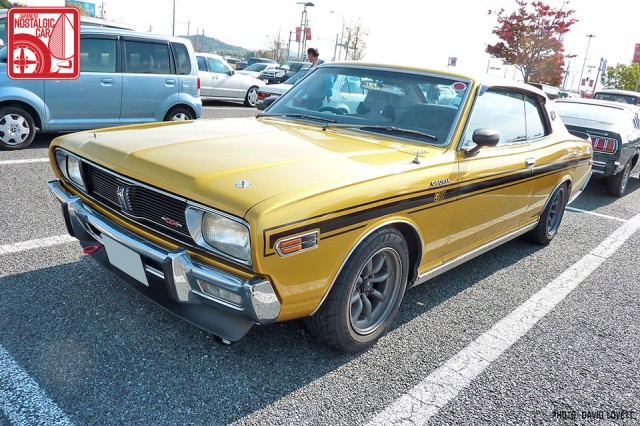 This 230 Nissan Gloria had an groovy 1970s feel going on.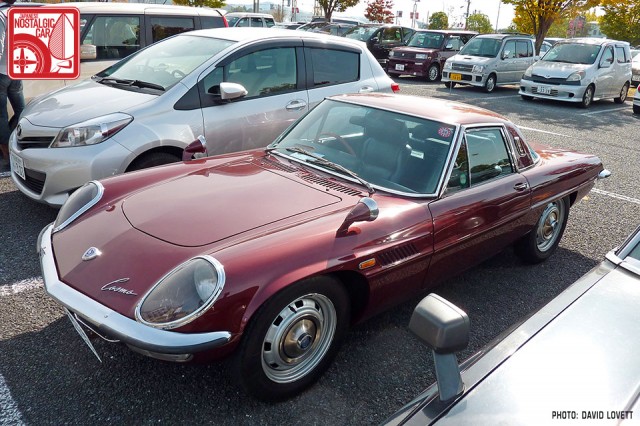 This car should have been in the show. The Mazda Cosmo Sport is officially my favorite Japanese classic (yes, even more so than the Z432, which I would sell my firstborn to have). To see one that was driven to the show is awesome enough, but even more so to see one in deep maroon instead of the ever-present white.
That's it for my coverage. Thanks for reading and I hope to be back soon with more stories from Aichi. In the meantime, enjoy more photos of in the gallery below.