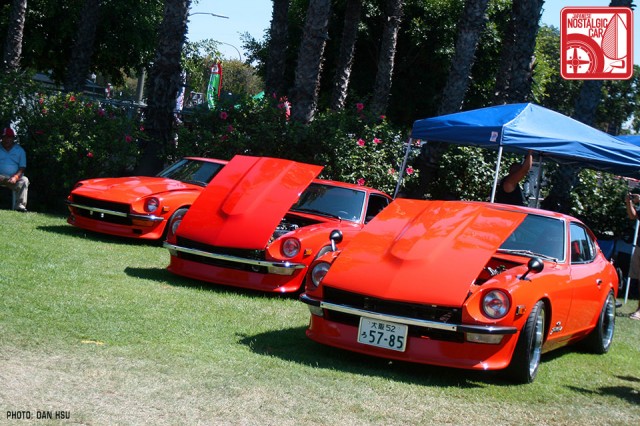 You want Zs? You got Zs. We begin Part 05 of our 2012 JCCS coverage with the seminal Japanese sports car, the one that forever changed perceptions of what it meant to be "J-tin" and swept America by storm. Here in the Cruise Nisei corral are the matching Datsun 240Zs of Kelvin Hiraishi, Tod Kaneko, and Raymond Lui, proving once and for all that yes, there are indeed three separate bright orange Zs in SoCal, not one insane owner that rotates wheels and engines.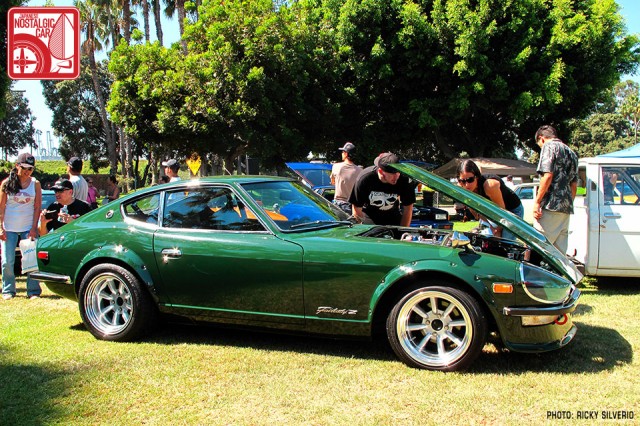 Beside them stood Scott Kunisaki's awesome green machine with a work-of-art 3.2 liter Rebello motor and the full JDM treatment — Fairlady badges, Wats, and fender mirrors — so technically not a period nisei car, but badass all the same, and winner of the best 240Z award!
On the other side of the Queen Mary lawn was the PCH Midnight crew, a bunch of Zedheads that prowl souther California's closest approximation of the Japan's Bayshore roads — the Pacific Coast Highway.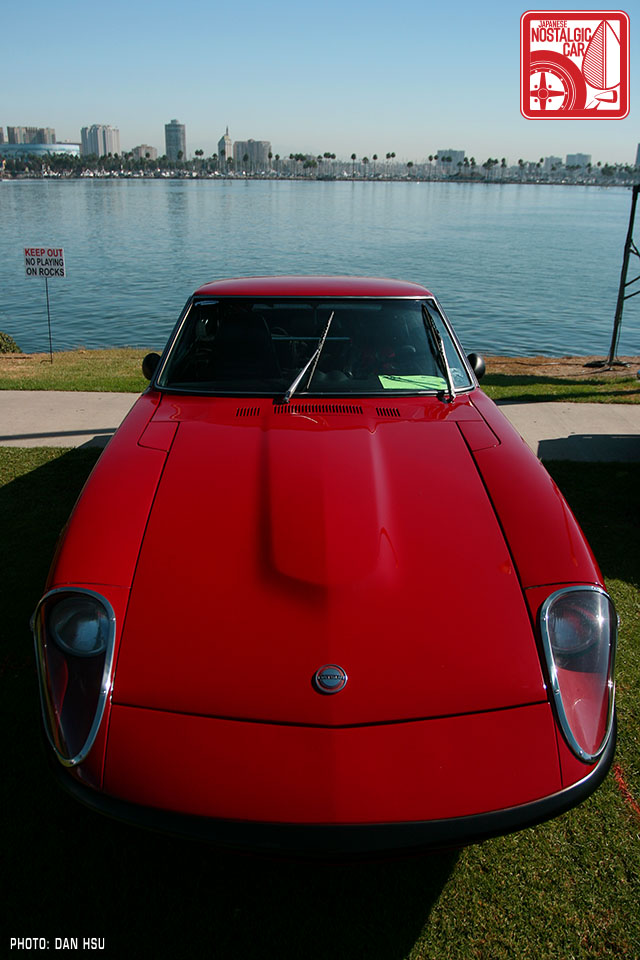 The impressive prow of Masa Kotani's crimson G-nose shows just why the Z is such a lusted-after machine. With the waters of Long Beach behind it it could easily be mistake for a docked speedboat.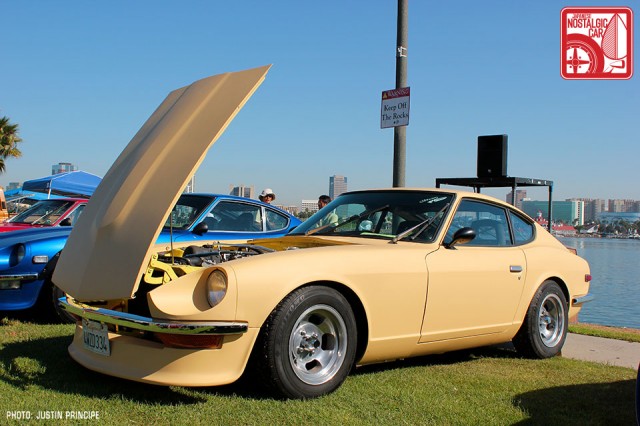 Miki Matsuoka's 1971 240Z is an interesting mix of styles, and exactly the type of car you might expect to see at the Mooneyes Street Car Nationals — a dose of Americana in the form of slot mags with balloon tires. In fact, there was a light yellow 510 there that would be the perfect companion to this Z.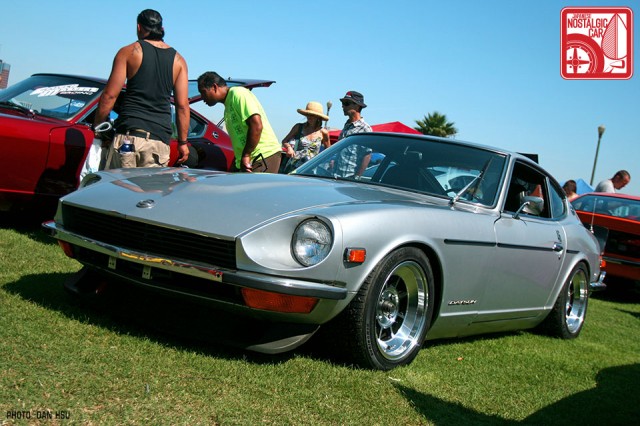 Lukas Cook drove his 1972 240Z to the event all the way from Chicago! That must have been an epic journey in a car this low, and as we all know any 40-year-old machine is subject to its share of gremlins, so mucho props from the JNC team!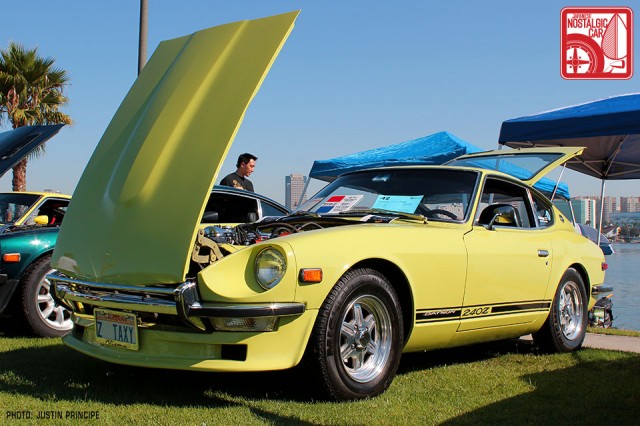 It always warms our hearts to see original owner cars, and Tom Clark's 1972 240Z is a fine example of a car that's been well-preserved for 40 years under thanks to a devoted caretaker.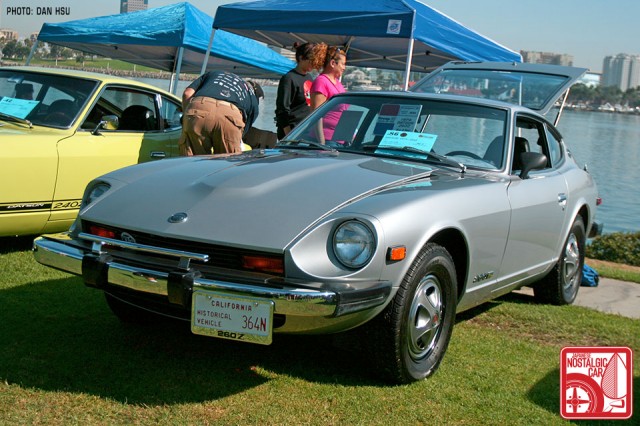 Robert Heckendorf's 1974 260Z is another one of those well-preserved time capsules. The 260Z was built for only three months thanks to a wonky induction system, so there were less than 7,000 made. Robert's might be the only example left in such pristine condition.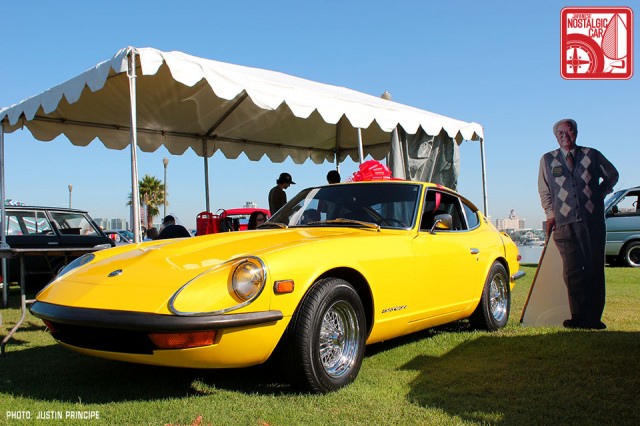 Probably the most important Z-Car of them all, the famed yellow G-nose Z owned by Mr K himself. As we mentioned, this year's JCCS happened to fall on the same day as former Nissan USA president Yutaka Katayama's 103rd birthday. A large banner with all the showgoers' signatures and well wishes was signed and delivered to him Tokyo. Happy birthday, Mr. K!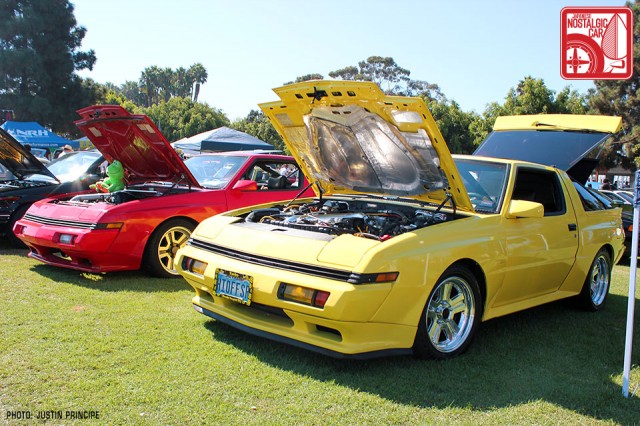 The Z was the final word when it came to Japanese sports cars of the 70s, but what about the 80s? Turns out Nihon was churning out incredible sports cars by the shipload. Even traditionally stodgy Mitsubishi was getting into the game, with the incredible Starion/Conquest model. Did we not tell you the Triple Diamond Syndicate had its strongest JCCS presence yet this year?
During the 80s Toyota threw many hats into the sports car ring, but perhaps the most groundbreaking was the affordable mid-engined MR2. Toumao Moua's AW11 certain evokes that 80s style with Work VS-XX wheels filling out ZG flares.
Honda's foray came in the form of the legendary CRX, whose incredible handling and tune-ability resulted in its own demise. Nowadays stock CRXs are so unbelievably rare in unmolested form these days that owners like Lawrence Joe deserve a medal of honor for preserving his charming '84.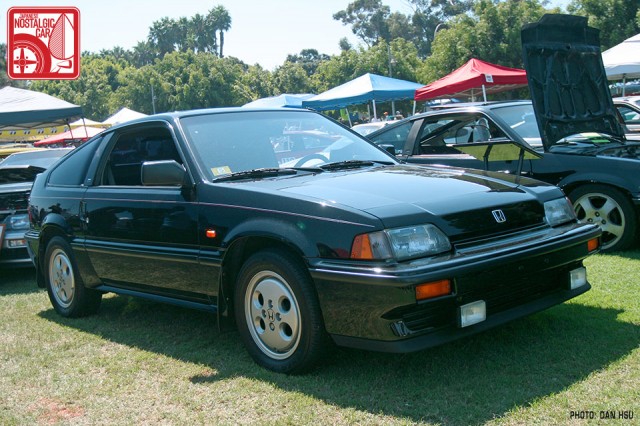 Once again, Christopher Hoffman won best CRX, which is likely the least modified 1987 Si in the country. May we remind you that this is an Si that has miraculously escaped "tuning" for a quarter century.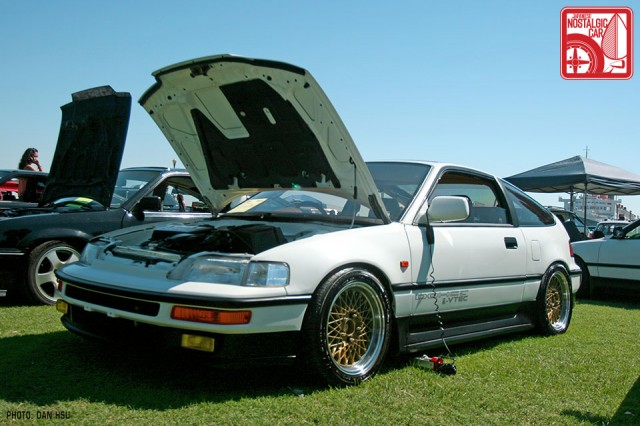 We first saw Jamie Galvez's 1990 CR-X Exclusive at Nisei Week, where we were impressed with the cleanliness of its K20 swap.
Since then, we've learned that the Exclusive was a rare JDM model of which only 350 were made. It's not clear whether Jamie's car is an original Exclusive or simply has that interior, but it's a stunning built either way.
Before we delve too much further into modernity let's rewind to the pre-Z days, the 1960s, and Chris Breyer's always-stunning 1966 1600 Fairlady roadster. Chris is president of the SoCal Roadster Owners Club, and his car is emblematic of his dedication to southern California's Datsun scene.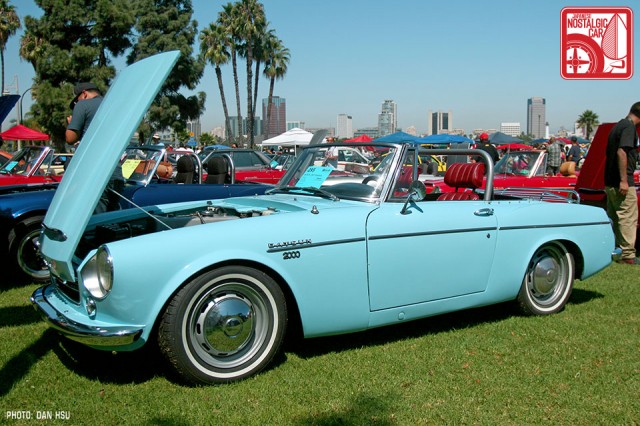 Sora (sky) Blue is probably our favorite Datsun roadster color, and Rob Fuller's restored 1967 low-windshield 2000 is a beauty.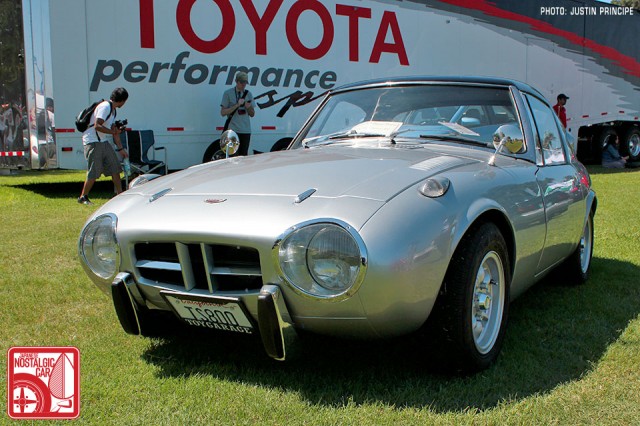 Meanwhile over in Aichi, Toyota was cooking up cars like the Sports 800. You might remember Joji Luz's car from Toyota USA's Scion FR-S ad campaigns detailing the history of the neo-hachiroku. Here it is displayed before Toyota's gargantuan motorsports trailer.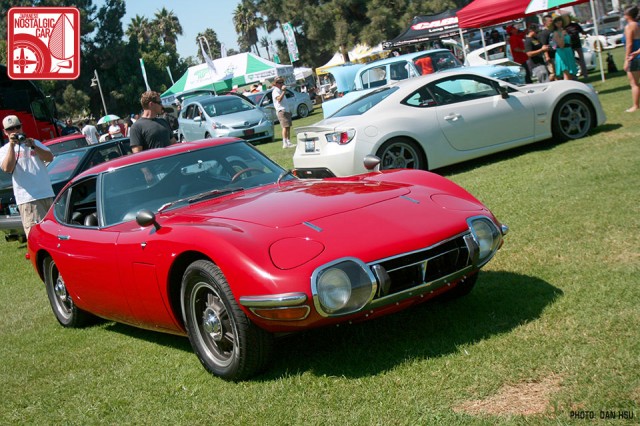 Nearby Toyota had its own red 2000GT on display beside a Scion FR-S. You can clearly see FR-S's Nozaki Arc styling cue taken from the 2000GT's C-pillar. In our opinion, every Lexus should have some version of this design.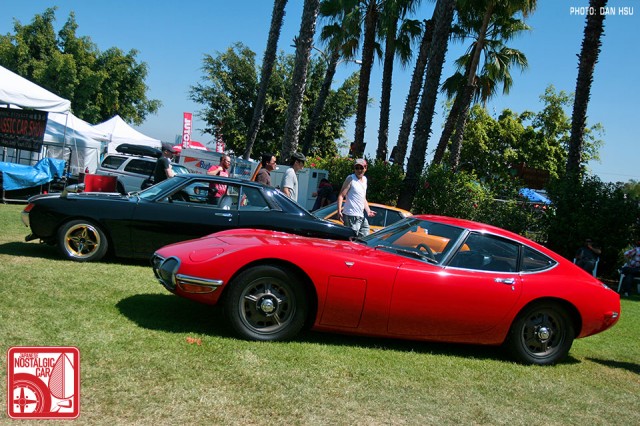 JCCS is probably one of the only places in America where you can see not one but two red 2000GT supercars within spitting distance of each other. The Nozaki Arc is more visible from this angle, and is simply one stunning element on a achingly gorgeous machine.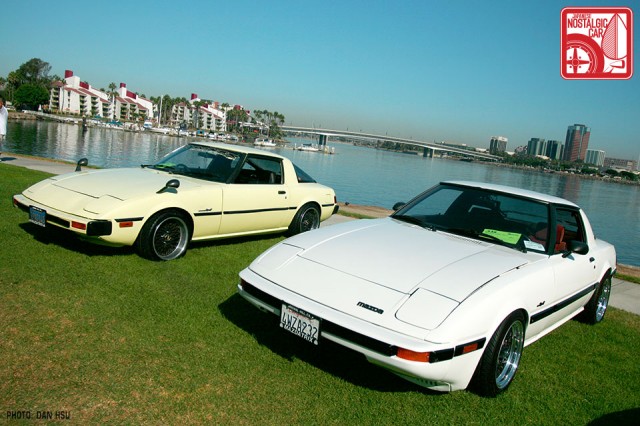 Before we conclude we have to visit some members of the Rotary Club. After all, the Mazda RX-7 is second only to the 240Z when it comes to Japanese sports cars. Here you can see the difference between early SA cars. distinguished by steel bumpers, and the FB cars with urethane nose.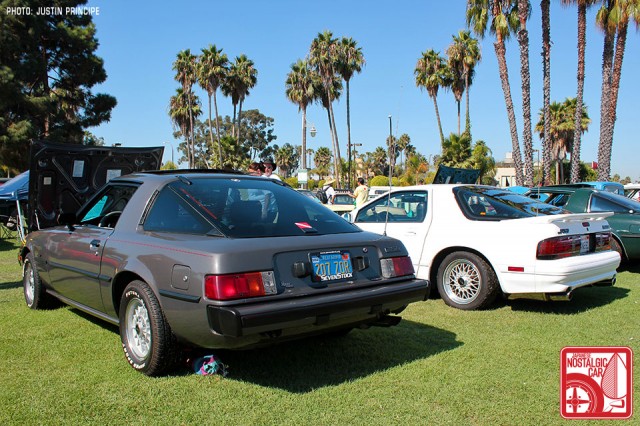 2012 was also the first year the FC RX-7s have qualified for JCCS entry. That made for some great opportunities to see family portraits spanning multiple generations like Glen Powell's 1980 GS and Sarah Bantay's 1990 FC.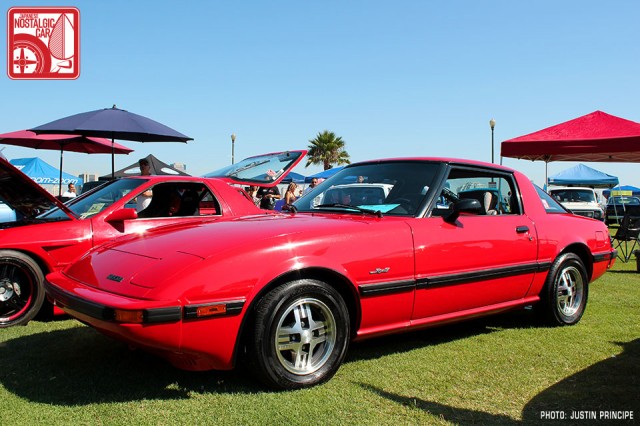 The rotary engine lends itself so easily to big power that it's hard to find stock RX-7s. Though may wildly modified examples come do to JCCS, we are starting to see more stock and restored examples of this legendary sports car.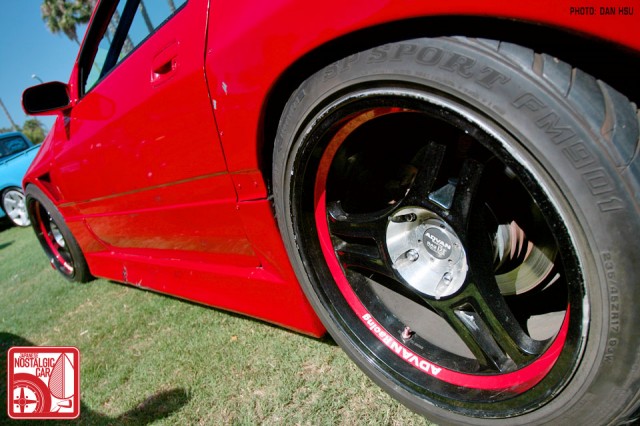 It may be some time before completely stock FCs will show up large numbers, but for now we have Wangan burners on Advan SA3Rs!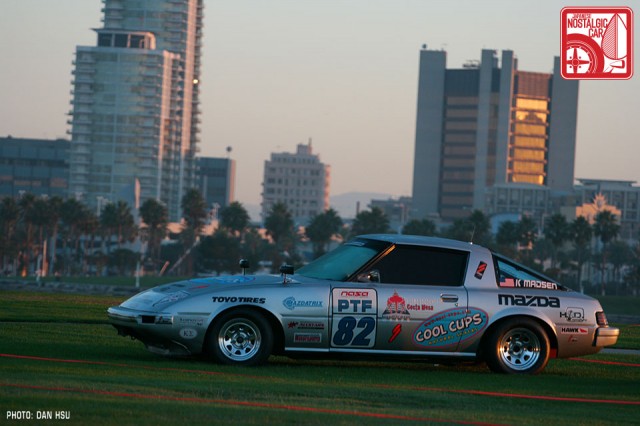 We'll conclude with a beautiful shot of Kevin Madsen's rotary at dawn to whet your appetite for this weekend's SevenStock/MazFest, where Wankels-a-plenty will be screaming at Willow Springs Raceway. Be there!
We have more JCCS coverage coming up, but for more photos now check out the gallery below as well as Part 01, 02, 03, and 04.