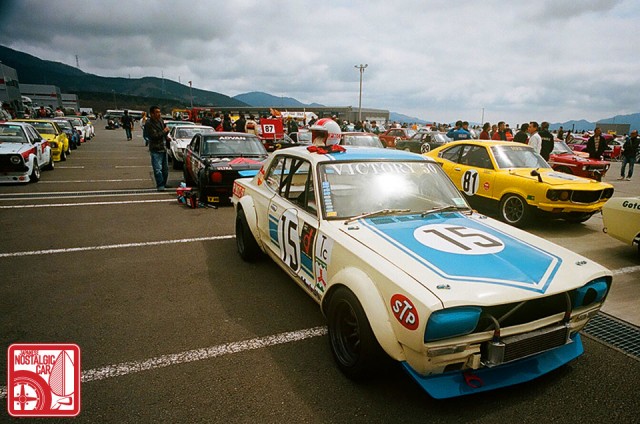 If the sight of a Skyline and Savanna in nostalgic warpaint doesn't stir your soul, we'll go ahead and notify your next of kin. Add to that a sprinkling of Starlet, Sunny, and a snazzy Japanese-colors retro racing helmet perched just so, as if placed by a set decorator for Rush, and you've got to pinch yourself to make sure it's real. Ouch, it is, and it's the 2012 Fuji Jamboree.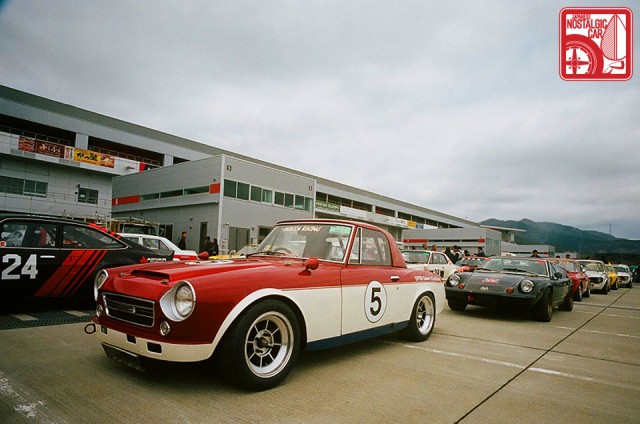 The event is put on by the Japanese Classic Car Association each year, the same folks responsible for the New Year Meeting. Except, whereas the Meeting gathers old cars in a parking lot, the much more festive sounding Jamboree throws them onto the track for some spirited old school racing.
What kind of machinery lets loose at such a shindig? Let's see, a TS-Cup B310 Sunny in Advan livery, a Fairlady roadster in old Datsun racing colors, and well geez, at this point the Lotus Europa might as well be Japanese because we've seen more of them there than anywhere else.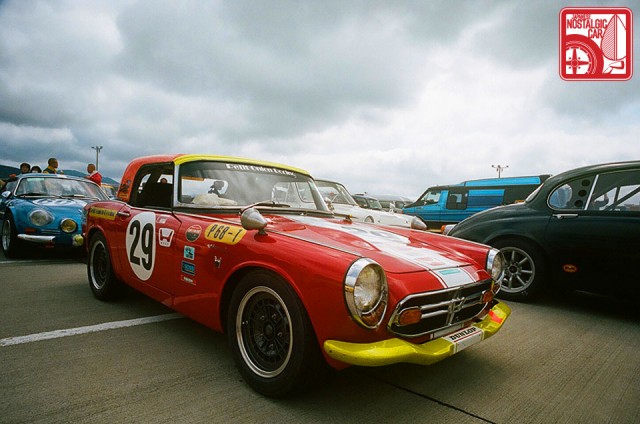 The diversity at these meets is astounding. Where in the world can you see a Japanese Honda S800 lined up beside a French Alpine A110, British Jaguar Saloon (on black Wats, no less!), and American Chevy conversion van? Granted, the shag-wagon did not go for a spin on the tarmac, but still.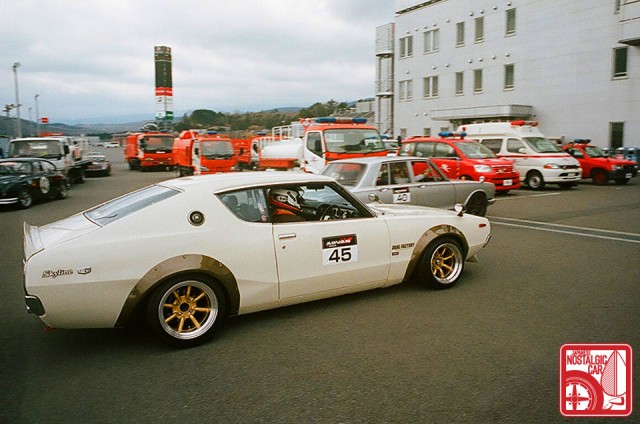 Then again, this is Japan, and there's nothing like seeing a pair of proper Skylines — a four-door GC10 and a perfectly flared kenmeri cruising the premises. Fuji Speedway is owned by Toyota, so naturally all the support vehicles are from the extended family that includes Lexus IS-F safety cars, Hino trucks, and Toyota Noah fire crew vans. Note the little fender-mirrored Hilux at the end, just ready and eager to help — adorable.
Elsewhere in the staging area a German BMW 2002 braces itself for battle against a rare-even-in-Japan Isuzu Bellett coupe. But you know what's even cooler than chance Axis Power pairings?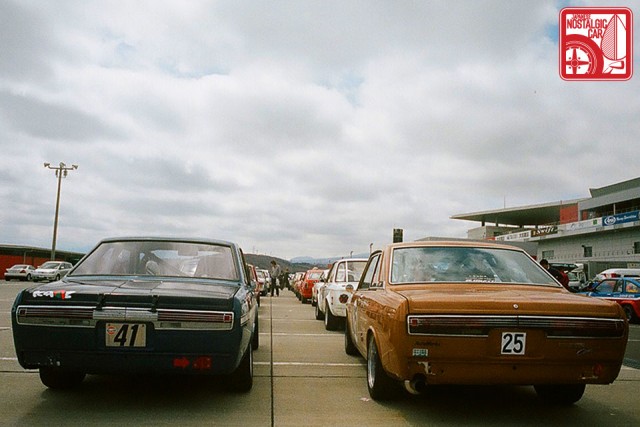 Race teams. No, we don't mean this pair of 510 Bluebird coupes. We're talking about just the dark green KAAZ-sponsored one on the left, which shares the same livery as the Isuzu in the previous photo. We at JNC are all for inter-marque love, and this proves that Nissan and Isuzu can get along.
Interesting match-ups can be found anywhere. A bone stock "box sky" sedan, complete with hubcaps and wind visors stands in stark conrast to its formidable Watted-out racing sibling.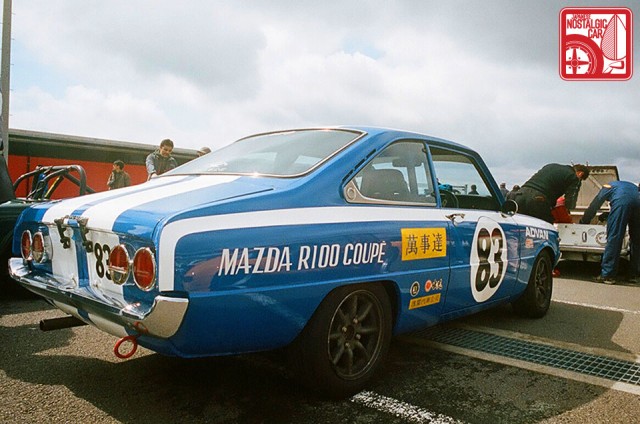 The JDM name of this car was the Mazda Familia Rotary Coupe, so why does it have R100, the export market name, on its rear haunches? In the late 60s Mazda took its baby rotary to Belgium and West Germany for competition at Spa-Francorchamps and the Nüburgring running brutal enduros to test the Wankel's mettle, and this is a tribute to that livery.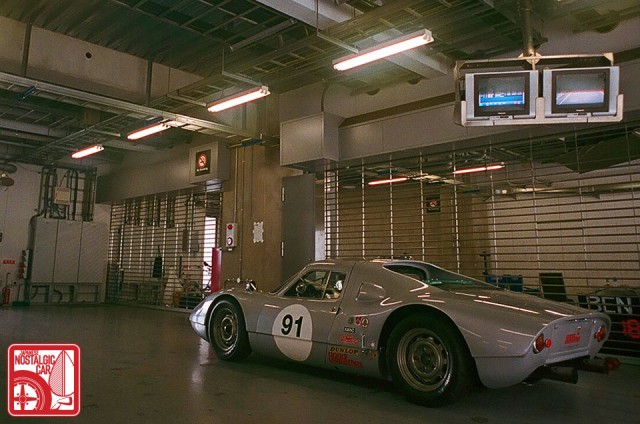 Trolling the paddocks we found a silver Porsche 904 that looks rearing to charge even when standing still. At the 1964 Japan Grand Prix a purpose built racer like this went up against a platoon of S54 Prince Skylines. Clearly family sedans were no match and the 904 beat them easily. Except there was that one Skyline…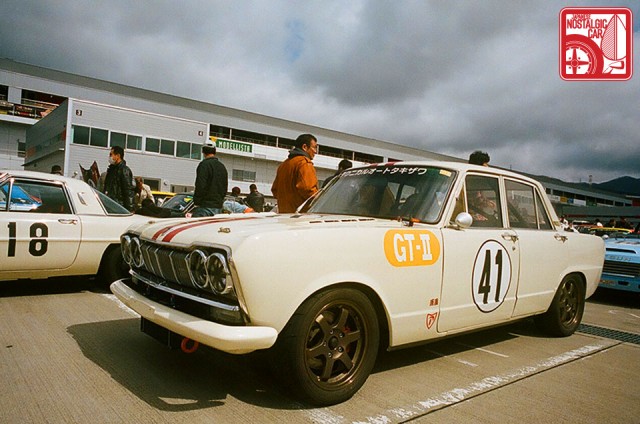 The Prince who became king. One of the Grand Prix Skylines, looking very much like this one in the same twin red stripes on off-white livery, broke from the pack and wriggled past the Porsche. For a brief stretch it led the race, lifting the crowd to its feet in awe of how a home-grown saloon from Japan's nascent industry could overtake an established race machine from abroad. That event was the beginning of the Skyline legend.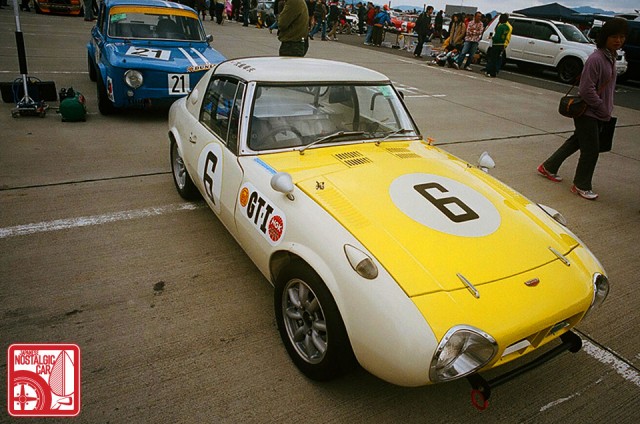 We don't know of any races where the bullet-shaped Toyota Sports 800 would have contended against a Gordini, but at Fuji anything is possible. Japan takes its car culture seriously so there's no shortage of obscure niche cars here.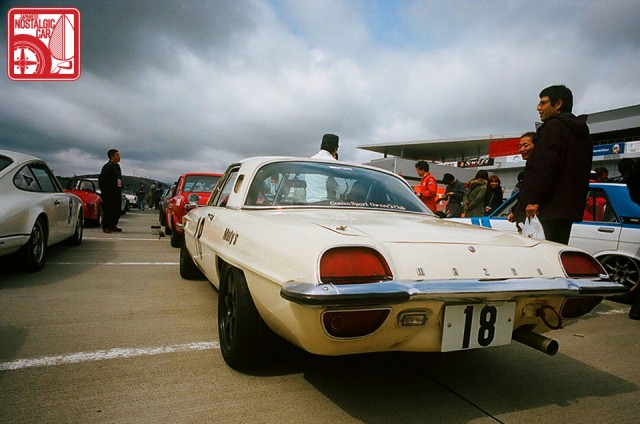 Springtime weather in the foothills of Mt Fuji often turns turbulent, but the typical Japanese car otaku laughs in the face of rain. Suddenly cloud formations complement perfectly the jet-like Mazda Cosmo Sport, poised and ready for takeoff.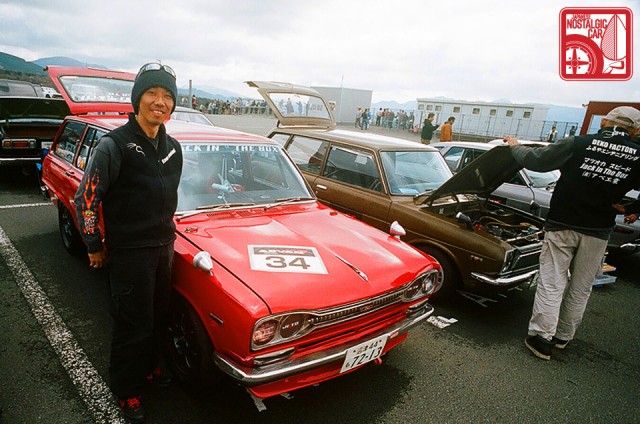 You meet all sorts of interesting characters at events like this. While most Skyline owners are content to campaign a two-door or at minimum a sedan, this guy tracks a hakosuka wagon. This automatically makes him our favorite person at the Jamboree, just edging out his friend next door with the Publica wagon.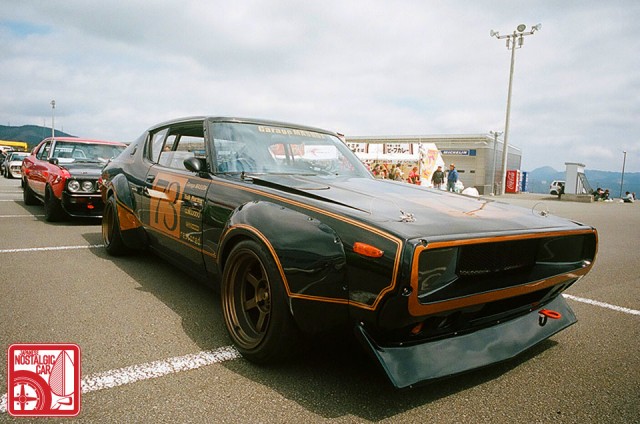 It's hard to say which one of these Nissans wins a contest of intimidation, the green and gold C110 inspired by the 1972 Tokyo Motor Show concept or the Japanese buddy cop show C130 butaketsu Laurel coupe behind it.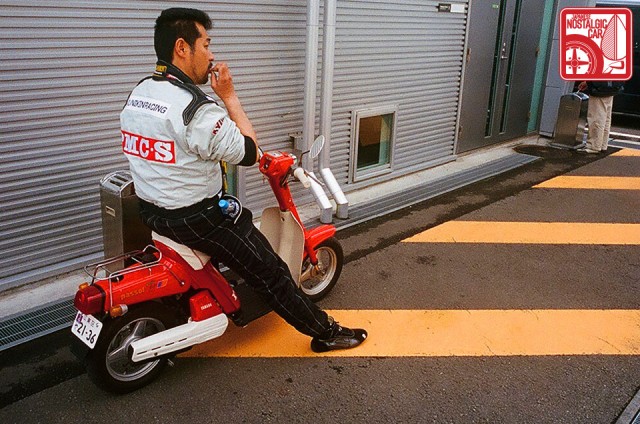 For tooling around the paddocks there's nothing cooler than a late 70s Yamaha Passol. Oh wait, there is — riding a Passol while wearing a Prince Motor Club Sports jacket.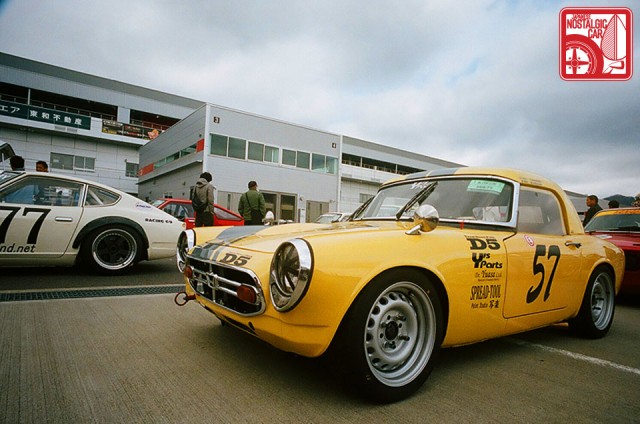 This is one of the meanest looking Honda S800s we've ever laid our jaded eyes upon. Those massive widened steelies make the car, which absolutely screams at its 10,000 rpm redline down Fuji's long straight.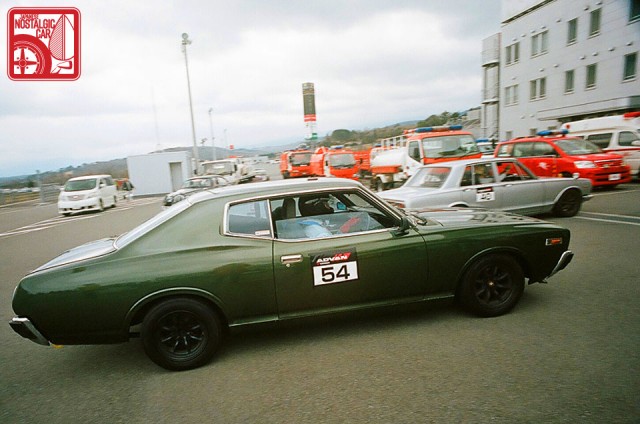 We can't tell if this 330 is a Cedric or Gloria because all the trim and badging has been removed for a killer look we call 70s Crime Spree Getaway Vehicle. Naturally, black Wats are mandatory for a ride like this.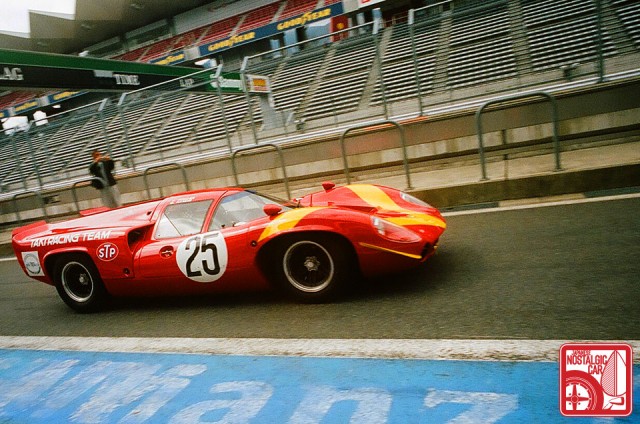 Exiting the paddocks we saw the Taki Racing Team's Lola T70 Mk3 roar down the pit lane on its way to the grid.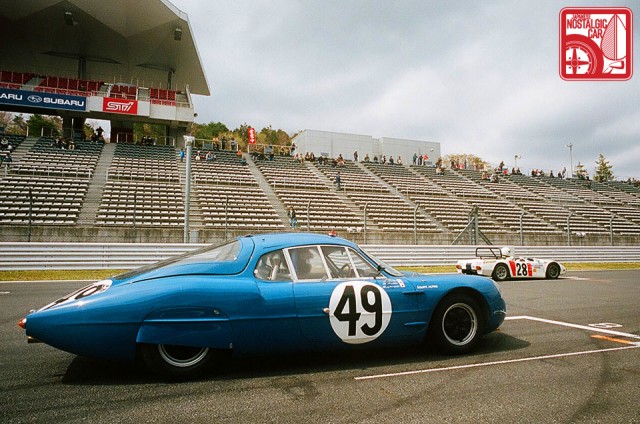 The Lola took its spot on behind a drop-dead gorgeous Alpine M63 Prototype and a very rare Macransa Tojiro-III race car, one of the few wholly Japan-built racers of the 1960s (more on this car later).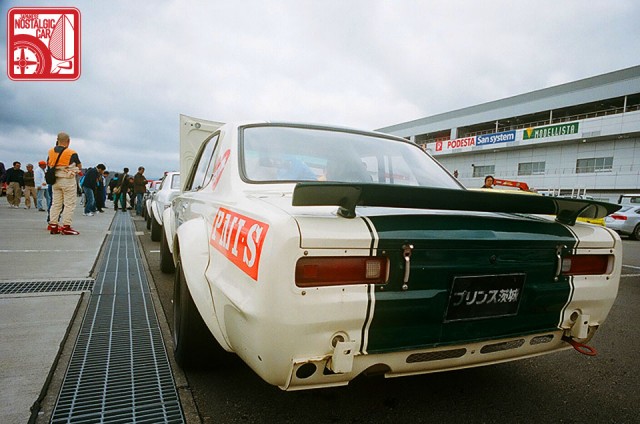 There aren't many places in the world like Fuji Speedway. Unbeknownst to many, it was originally going to be a NASCAR-style oval, which is why the initial layout had a high-banked half circle leading into a long straight. Midway through construction it was decided that it would be a road race circuit instead and the wiggly parts were built.
Nihon steel of days gone by once stormed this ground in duels for the honor and glory of their clans, hard-fought battles giving rise to the marques we love today. Like most vintage racing events the Jamboree is rather less competitive than those olden contests, but even so in such reenactments you can hear the spirit of the ancients echoing from the mountains. Stay tuned for more Fuji Jamboree coverage in Part 02.
Photos by Skorj. You can see more of his work at Filmwasters.