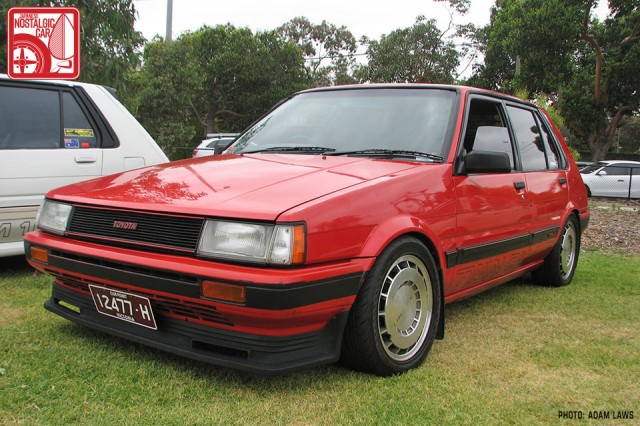 In Part 02, Adam Laws continues his coverage of Classic Japan 2012 from Melbourne, Down Under. —Dan
Our second installment of Classic Japan coverage from Australia is focused on some quintessential 80's classics. Bring on the boxes!
1986 saw the dawning of a new era in Australian motoring circles with the introduction of unleaded petrol, along with various new emissions targets for new cars. This meant manufacturers could no longer get away with selling carby-fed smog makers, and instead fuel injection quickly became the norm. This in turn meant that hot engines, like the venerable 4AGE, were finally a viable option.
Mick McGrath's shiny red Toyota Corolla AE82 is well known in AE82 owners' circles given he runs the popular fan site ae82.net. In other markets the AE82 was sold as a two door hatch called the FX-GT or FX-16 with the 4AGE, but here in Australia they were a 5 door and one of the first true hot hatches our market had seen. Mick's example is particularly clean, and is finished by a matching set of period correct and now very rare ROH Casino rims. The same rims appeared on Toyota Australia's Corolla entries at our most famous road race, the Bathurst 1000.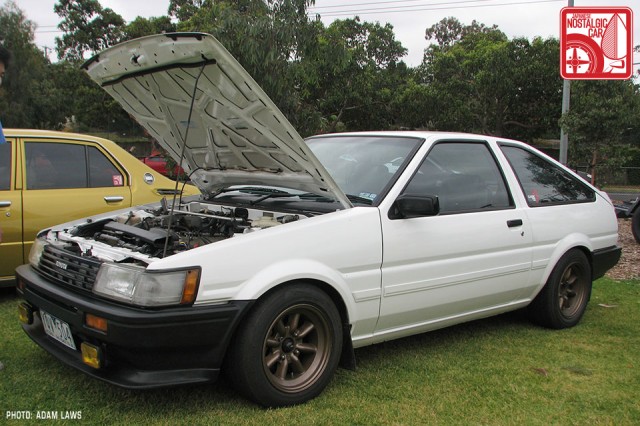 There are not too many better examples of the Toyota Sprinter AE86 than this one, and it has 80s written all over it. 4AGE conversion, complete with hard-to-get original airbox, bronze Watanabes, yellow foglights and front lip make it a very attractive package. What you can't see is the handwork of  local suspension specialist Shockworks who specialise in putting together tailored coilover shocks for Toyotas, Nissans and other local models.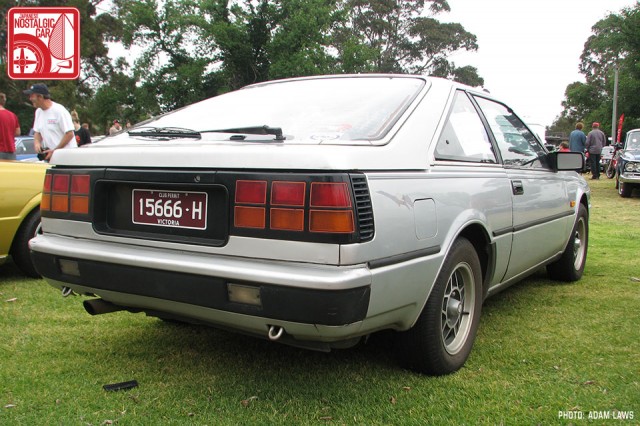 The Nissan Gazelle, as it was sold here, was a pretty uninspiring machine in stock Aussie delivered form. CA20E engine "power", live axle with drum brakes on the rear and tiny front brakes meant they really were bought on looks more than performance. A "hairdresser's car" is what my Dad would call them. In Japan, where they were S12 Silvias and had much more performance-oriented with a whole bunch of different mechanicals, I imagine they were far more popular. Still, to see one unmolested and so clean is a rare thing in Australia, so all power to the owner for maintaining the breed.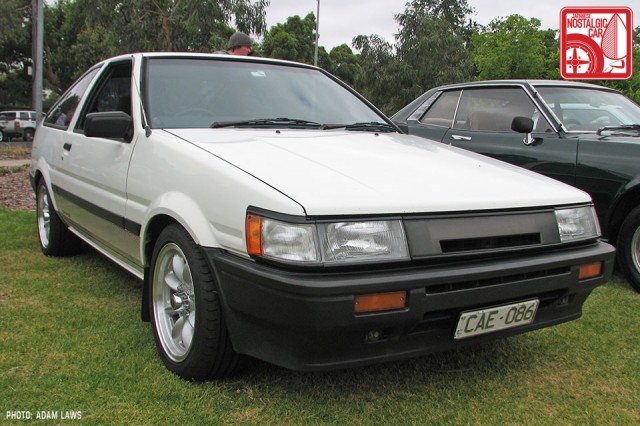 Another AE86 Sprinter, another interpretation of the theme, this time with a more Australian example of 80s mods. Performance Wheels in South Australia created their own Minilite/Watanabe style wheel, called the Superlite, that has been around in various forms for decades, and can be seen fitted on this very clean Sprinter. 80s pinstriping, an import grille, and this would have been something pretty special back in the mid 80s, and now too!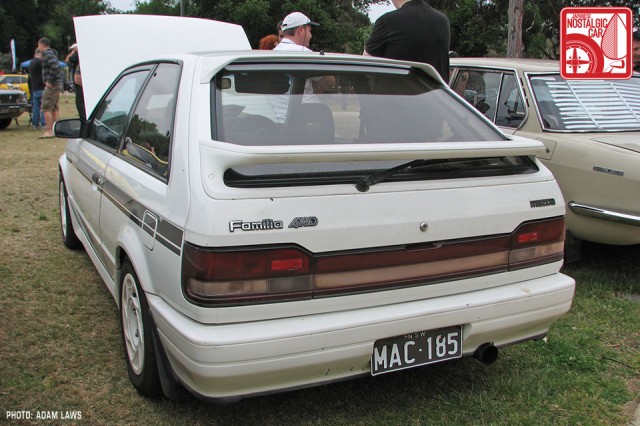 A Mazda Familia 4WD is a very rare car in Australia, as they were never officially imported. They have made their way into the country as grey imports and mostly can be found in the forests of various rally championships. In fact, in 1988 one of these running as a 323 (our version of the Familia body shape) won the Australian Rally Championship at the hands of Murray Coote, a now legendary suspension tuner in Queensland. So this car is very rare, though it had a sister car, when Ford and Mazda were in bed together, called the Ford Laser TX3 4WD Turbo. The Laser was massively popular among enthusiasts and one of the first cars that gave Australians a taste of what an affordable 4 cylinder turbocharged car with all wheel drive could do.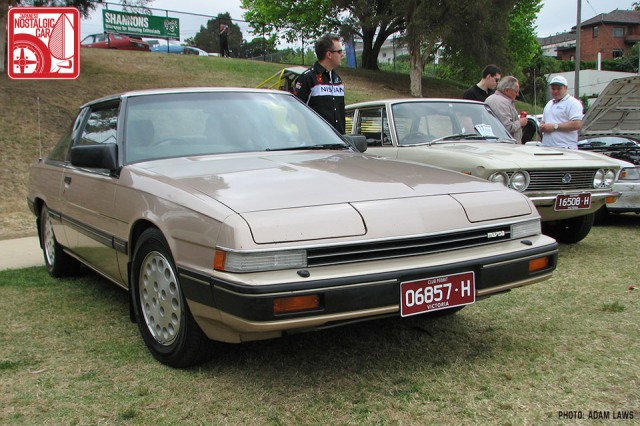 The Mazda 929 Coupe shown here is a perfect example of what we Australians (and maybe you guys too?) call a sleeper. On the outside it looks like an immaculate example of a mid 80s 929/Cosmo wedge complete with pop-up headlights (oh, pop lights were the height of cool in the 80s!). But under the bonnet lies a Toyota 1UZ V8 conversion that looks completely factory. The number plate used to read "DIFRNT" before it moved on to Club Historic registration, and owner Rob Day is certainly right about that, it is very different!
Nissan Skylines, though quintessentially Japanese, were also built right here in Australia, thanks to some pretty savage import laws. No doubt this maroon R31 wagon started off life as a rep-mobile or something similar, and came equipped with a naturally aspirated 3.0L RB30 6-cylinder engine. It's great to see an owner putting their own spin on something that would have been so mundane 25 years ago — whitewalls, upmarket Ti-spec wheels, an import grille and headlight treatment, and no doubt rare Nissan branded driving lights finish the package. There could be no bigger 80s box than a Skyline wagon!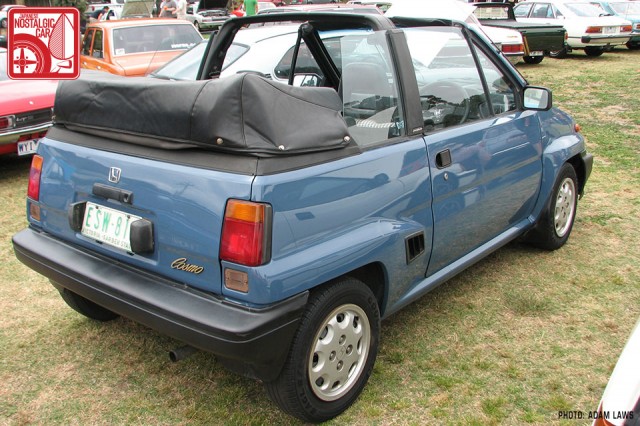 Now I would call this a Honda City Cabriolet, so I am not sure what the Cosmo badge on the back is all about, but perhaps someone more Honda oriented could help me out here! Who was the madman that decided it would be a good idea to chop the roof off a perfectly normal compact? Give the man a prize, it's awesome! This is another immaculate vehicle from the ranks of the Honda Car Club and I loved the still-perfect black and white houndstooth trim. I can't imagine there are too many of these left in any form, so it was very cool to have it at our show.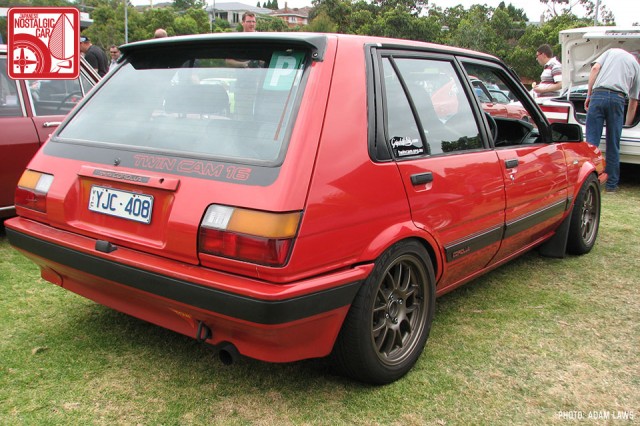 Another AE82 Toyota Corolla "Twin-Cam" as they were called out here. This one proves the amazing versatility of these hot hatches. Owner Justin uses it as his every day hack to get to uni and back, turns up to various show and shines in it, and also hammers her unmercilessly at track days all around the state, posting times that make us older blokes shake our heads in wonderment. Running a bigport 4AGE and MRP coilover suspension from New Zealand, this is one seriously fast Corolla that is definitely something more than the sum of its parts.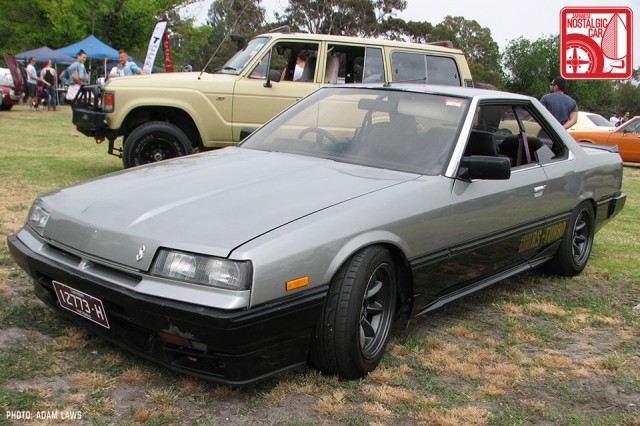 Iron Mask! A fabulous example of a Nissan Skyline RS-Turbo. Super low, big wheels and tyres and pillarless coupe looks made this Skyline a stand out at Classic Japan. These were not sold in Australia, so a committed enthusiast has jumped through all manner of import hoops to get it here, and I salute who ever it was!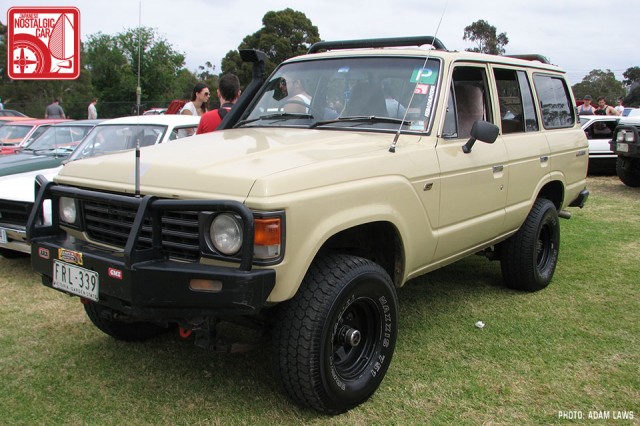 I won't confess to being a Land Cruiser "anorak" so I can't nominate which model this Land Cruiser is. Suffice to say that Australians love their Cruisers, and you will find them all over the country, in the cities and the Outback, and really are one of the workhorses of our nation. A lift kit and bull bars suggests this one really means business, and is no "Toorak Tractor" (I will let you guys google that to work out what the hell I am on about!).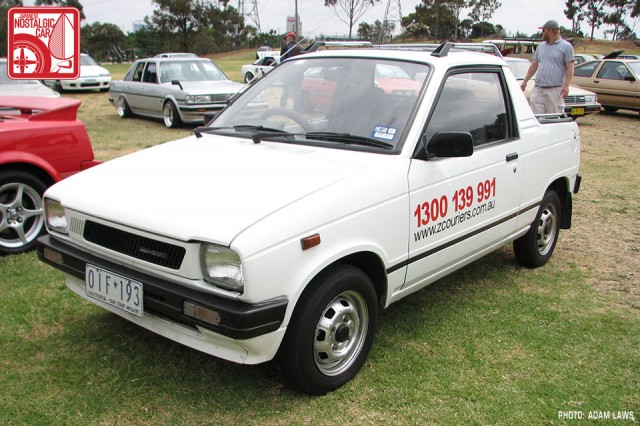 The Suzuki Mighty Boy! I have no idea what they were called in other markets, but they have a cult following here in Australia. They have "suffered" all manner of engine transplants over the years, from supercharged or turbocharged kei car engines to all manner of madness like LS1 V8s (YouTube that if you dare!). We Australians love a ute (pickup to you Yanks), even one that looks like an oversized roller skate and only has a tray big enough for one slab of beer. This one is remarkably original and clean, but wasn't the only one at the show. I am a bit disappointed the "Tofu Delivery" Mightboy left before I got a shot of it, complete with its panda paint job!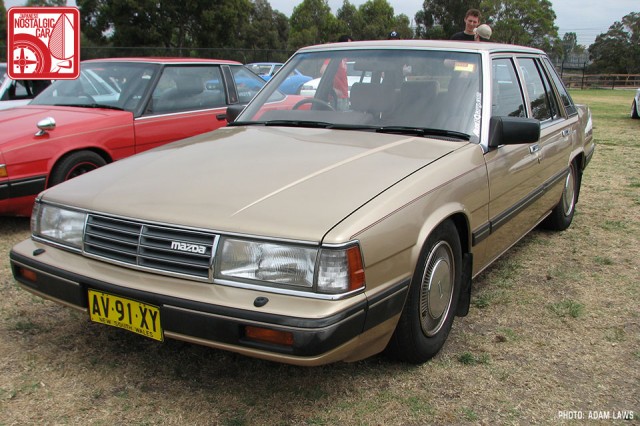 More 80s luxo goodness. The Mazda 929 sedan was sold as a luxury car here in Australia, but sadly never with the rotary power that it received in Japan. Still it's great to see one in such good condition and celebrating its stock luxury heritage.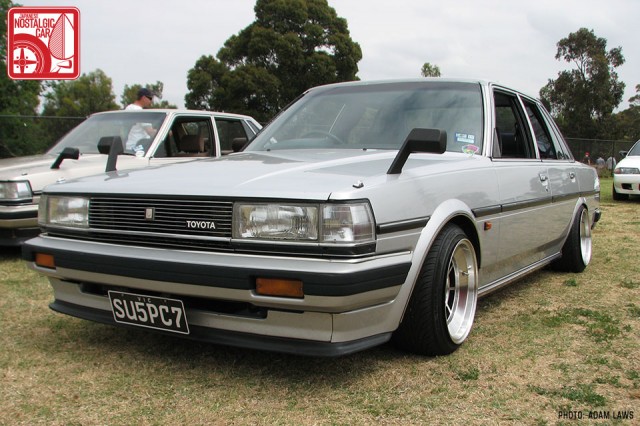 The Toyota Cressida MX73 would have been a a strong competitor against the 929, and I suspect probably sold in bigger numbers here in Australia. For many years they have been unloved, selling for just a few hundred dollars in recent times. However this one, and its partner in crime in gold, proves that with some judicious spending, a student on a budget can create himself a pretty awesome set of wheels. Indeed it was so low it got stuck on a lump in the entry road on the way in! The fender mirrors, VIP curtains, Rota wheels and boso style exhaust all complete a very cool package. Interestingly this car has been on the receiving end of some online hate thanks to its "fake" wheels, "ebay mirrors" and stance, but I don't understand it. Our show was all about celebrating cool cars, and this ticks all the boxes. So the student owner can't afford original spec JDM parts? So what!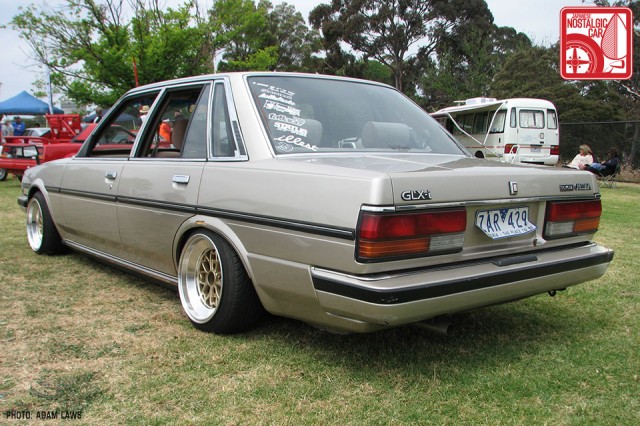 This gold MX73 is partner in crime to "suspect" above, where one goes, the other follows. Another awesome Cressida that is way past sensibly low, wears fantastic wheels and looks magic rolling down the road. Perfect 80s squareness.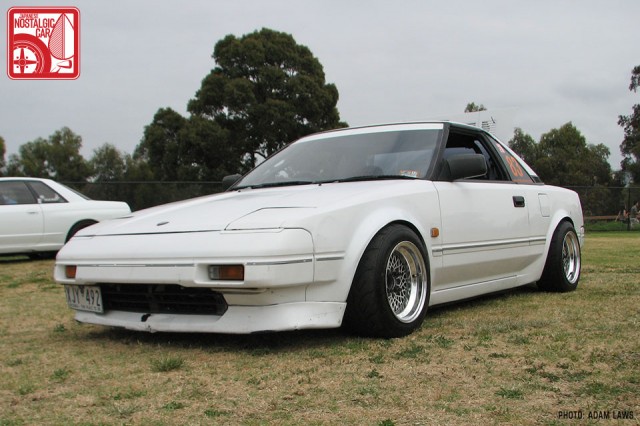 Got dish? Got stance? The only way I can describe this Toyota MR2 AW11 is FAT! It looks simply amazing squatting so low on such wide rubber. The last time I saw this car it was being punted hard at the Haunted Hills Hillclimb (YouTube that too!) and sounded as good as it looks. Taking a different angle to most, this midmounted 4AGE uses twin carbs for induction. Another star of the show.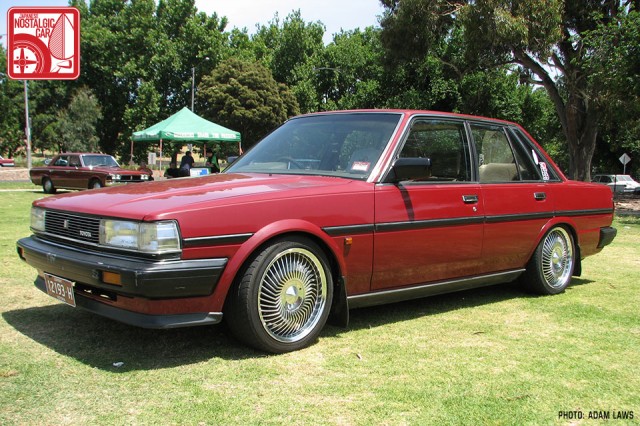 Young Hendo who owns this fantastic Toyota Cressida MX73 will be stoked his car has made the pages of JNC. The VIP spec wheels have been a love 'em or hate 'em addition for the show, but for me it completes the car perfectly. What you can't see is the fantastic 1UZ V8 conversion that looks completely factory stock, along with the Nissan 300Z brake conversion. When he cracks open the Varex butterfly controlled muffler and lets that V8 sing at full noise, it is a glorious thing to behold. One very fast lounge room on pimp spec wheels!
Here ends a long 80s oriented post. Stay tuned for more updates!
Adam is a committee member of the Toyota Classic Car Club of Australia (Victoria), which organizes the Classic Japan Car & Bike Show. If you'd like to join the club, please contact him here.