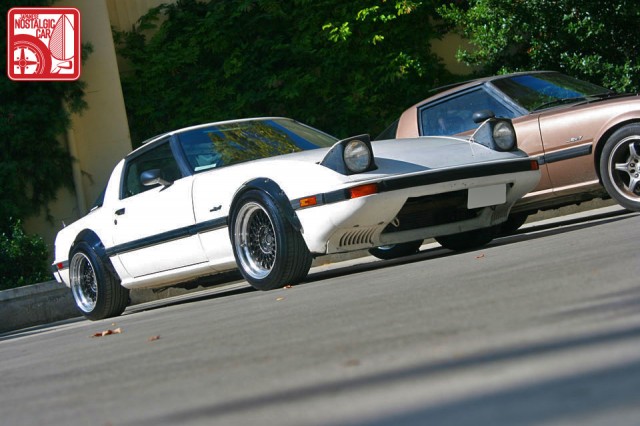 SevenStock is SoCal's annual gathering of all things rotary, a celebration of an engine so competitive it was banned from SCCA, IMSA and Le Mans. This year, the Mazdafarian Mecca was the Pomona fairgrounds, home of the NHRA Museum. That seems only fitting, as the Wankel is also a stupendously capable quarter-mile killer.
In fact, they are so good at it that it's pretty rare in the States to see an old school rotary with any sort of JDM flair. But this first-gen Mazda RX-7 was oozing JDM cool with bolt-on fender flares, low-down stance and stepped-lip meshies.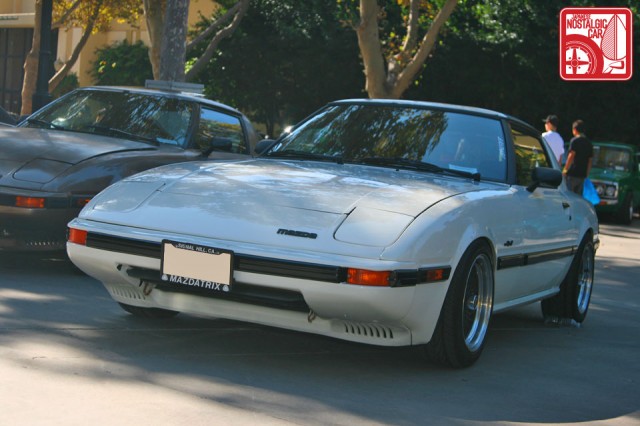 See the difference a set of ZG flares make. One is brutish, the other svelte. Of course, the smooth-sided SA22 is no less droolworthy.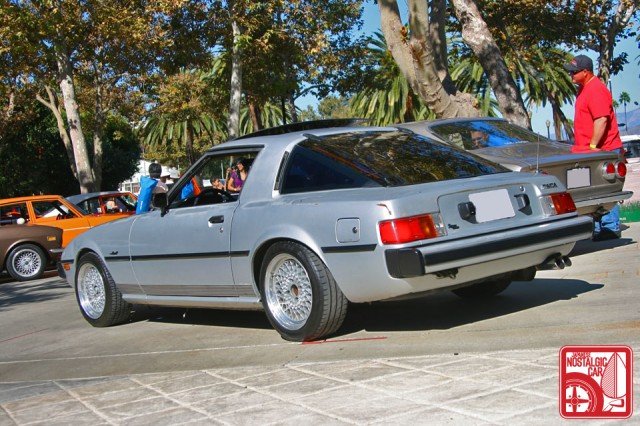 Some of us are partial to the earlier pre-urethane cars, just because Mazda went through the trouble of painting all the bumpers whatever color the body was. Classy!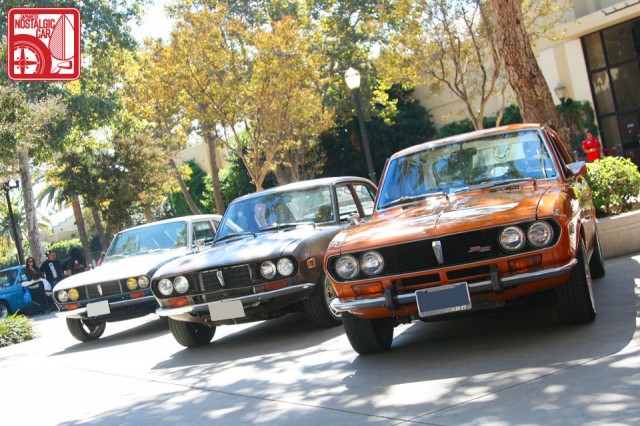 SevenStock boasted what must be America's highest concentration of Mazda RX-2s, perhaps even all of them.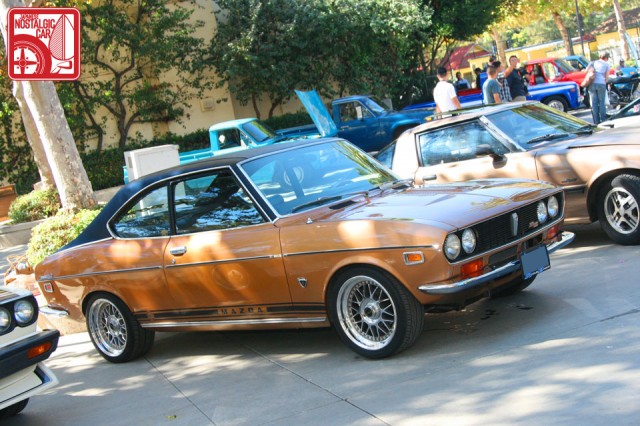 We've seen this RX-2 at several shows, but its beautiful brownness keeps us coming back. No one would have the balls to paint a car this color today and slather it with enough vinyl roofing to pitch a tent, but that's what makes this car so 70s cool.
The majority of nostalgic Mazdas are set up for the drags, with a giant silver radiator peeking out from behind the grille and staggered skinny/fat wheels. The interesting thing about this one is that the "littles" up front are Epsilon meshies!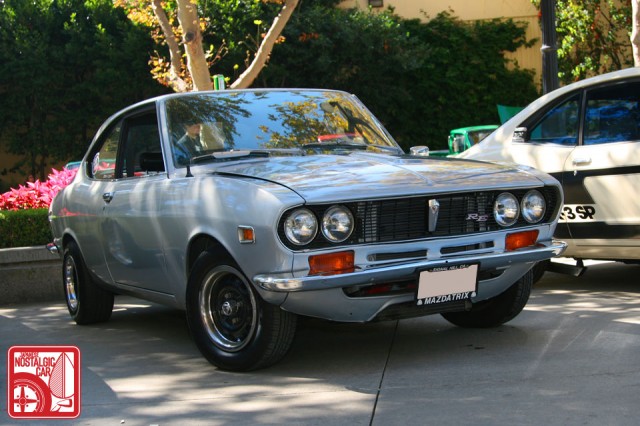 This silver sleeper was extremely clean, hustling challengers with stock, beauty-ringed steelies.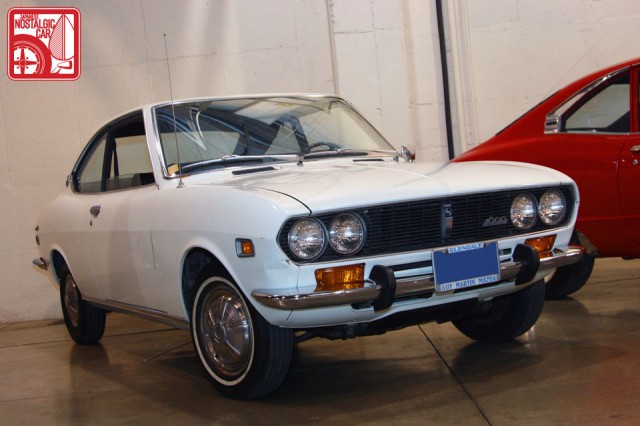 A Mazda 616 managed to sneak in despite the fact that it has a 1.6 liter piston engine. It's plain as can be in appliance white, but that's what makes it a rare beauty and we hope it stays that way. It may be the finest example left in the country.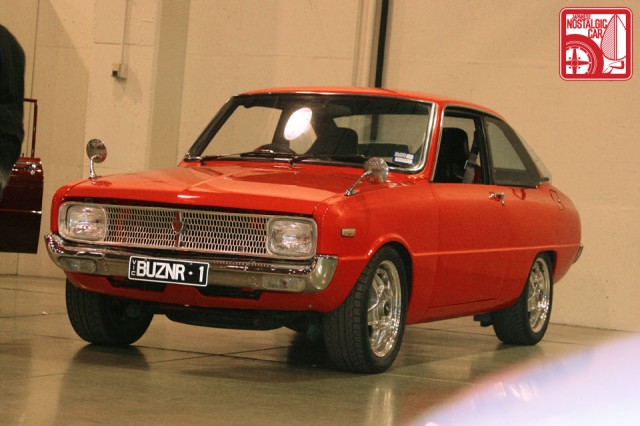 For a moment we thought we had stumbled into the wrong hemisphere when we saw this Aussie R100, complete with Simmons wheels.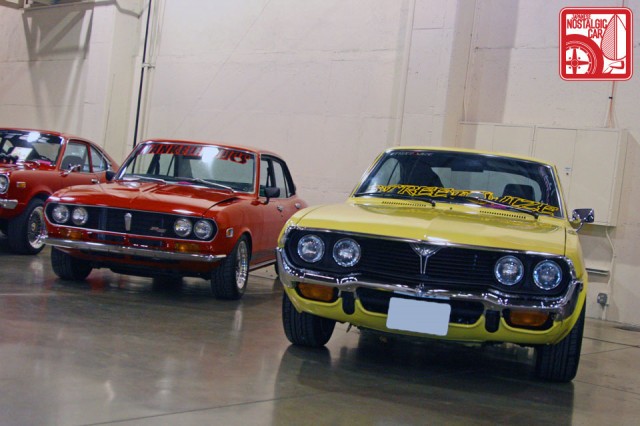 These are the same RX-2 sedan and RX-4 pair we saw at JCCS, two of SoCal's finest rotaries. It makes us want to launch an Indiana Jones style rescue mission to find this long-forgotten Luce.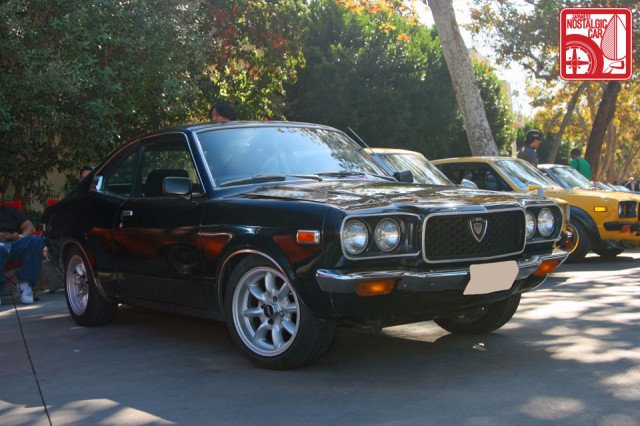 Despite their popularity when new, the Mazda RX-3 is in alarmingly short supply these days. Even at SevenStock, there were but a handful. Where have they all gone? These were giant killers in their day, but seem to have fallen to the unyielding march of time.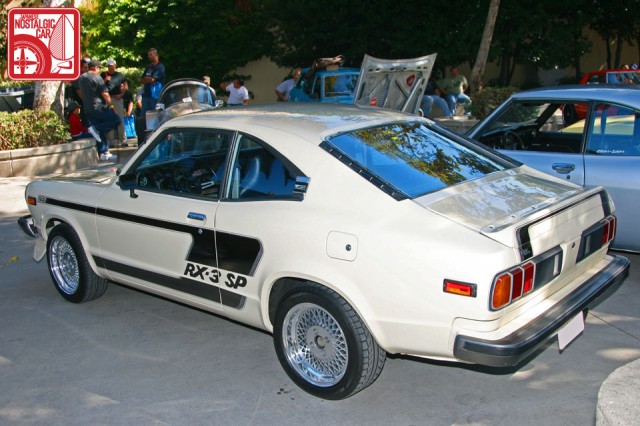 At least there's one 1977 RX-3 SPs around. These are certainly collector-worthy for American hoarders, especially since the SP trim package wasn't offered in Japan. This one sports the rare ivory white color, and sits on custom chromed Enkei 92s. It's lost the SP louvers for the rear windows, but that's probably a good thing.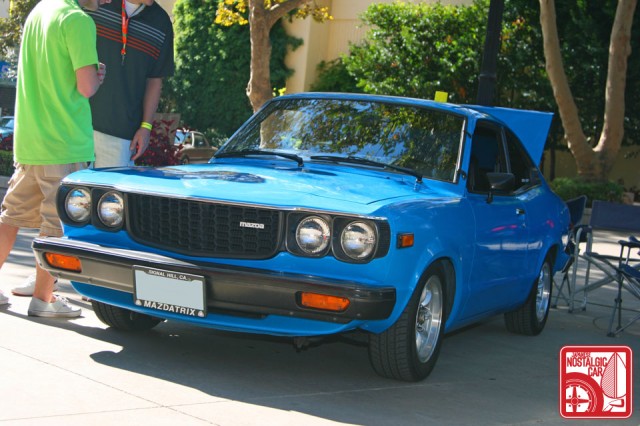 There's something to be said for simplicity. This RX-3 looks like something one might have seen tearing around Watkins Glen plastered with SCCA stickers back in the 70s.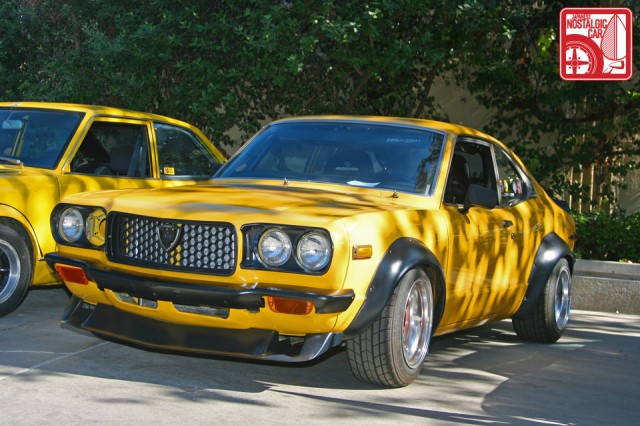 Same era but half a world away, this RX-3 looks like something that would have been devouring Skyline GT-Rs on Fuji Speedway. The owner of this car has clearly studied Japanese racing history well.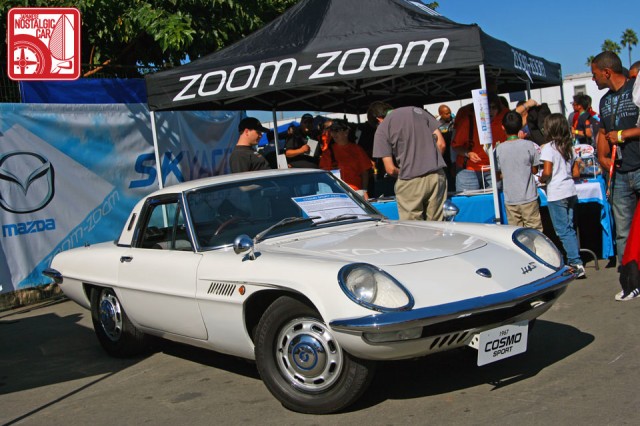 Cue the miniskirts and go-go dancers, the Mazda 110S is here! Its timeless style and sky's-the-limit optimism about the rotary engine's potential puts it among Japan's best of the best in late-Sixties GTs.
How cool is it to have a car that says "Rotary Wagon" on the back? The badge on the hatch of this RX-3 Wagon is pure elegance. Mazda designers sure knew their typefaces.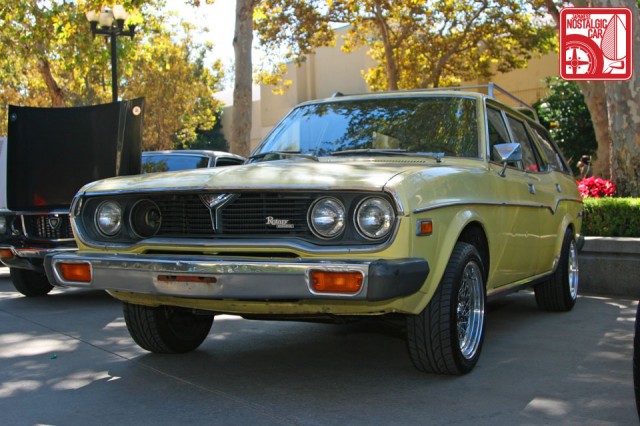 Too bad that by the mid 70s our safety bumpers would muck up the car itself. We're not sure why light yellow seems to be the color of choice for RX-4 Wagons. There have been only two shown at SevenStock throughout the years, and both of them are yellow. Add the Coupe shown above and that's a 100% yellowness factor for American-spec Luces.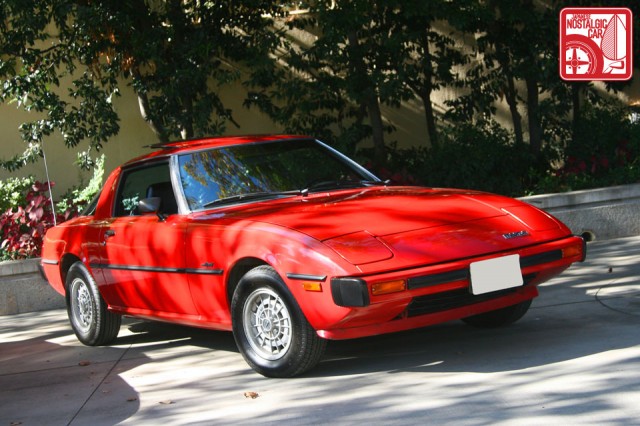 First-gen RX-7s would be prime candidates for collectibility if there weren't so many of them built. They're sporty, have the racing provenance up the wazoo and are equipped with a wholly unique engine architecture. Plus, the late Seventies was a veritable Dark Ages for sports cars and this thing came out of nowhere to revive the genre.
Still, it's good to see some bone stockers. Give them a few years and they'll be as coveted as early 240Zs.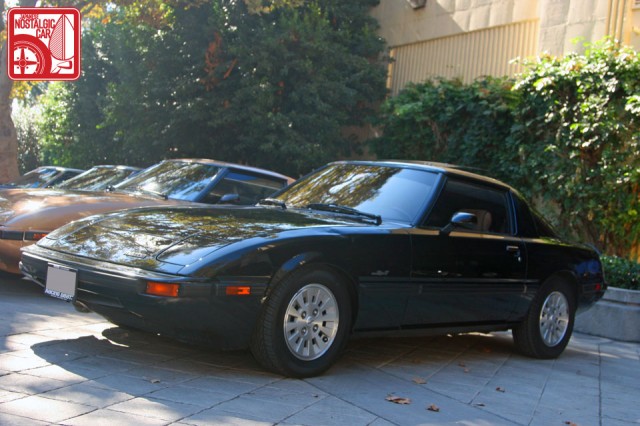 Aside from the Cosmo, you won't see any Mazdas this original at SevenStock.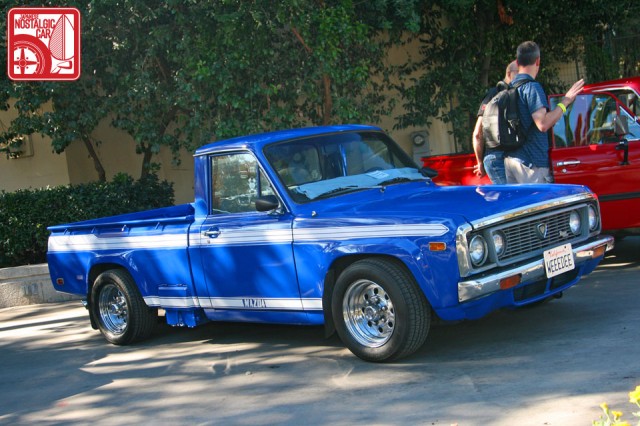 Mazda was so convinced that rotaries were going to take over the world they put them in everything, including pickups. The Mazda REPU has got to be one of the coolest trucks ever built.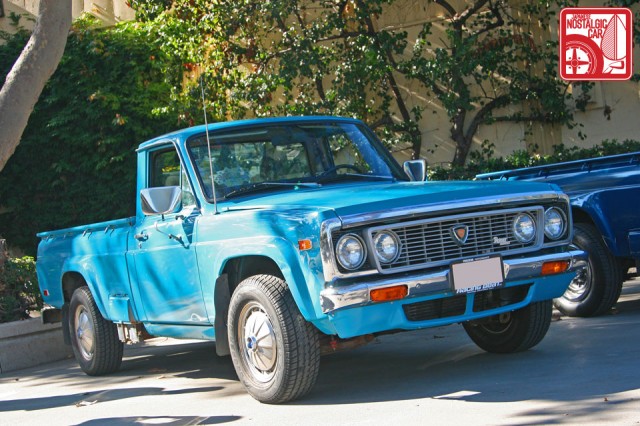 Amazingly, there are still stock ones out there, and judging from the mirrors this one was even called into trailer duty.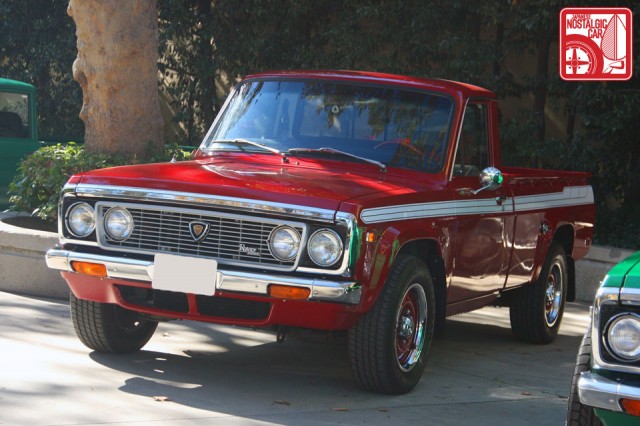 It's refreshing to see so many of these trucks gathered at SevenStock. They were only sold in North America, so these are likely to be the most rust-free crop of REPUs left in the world.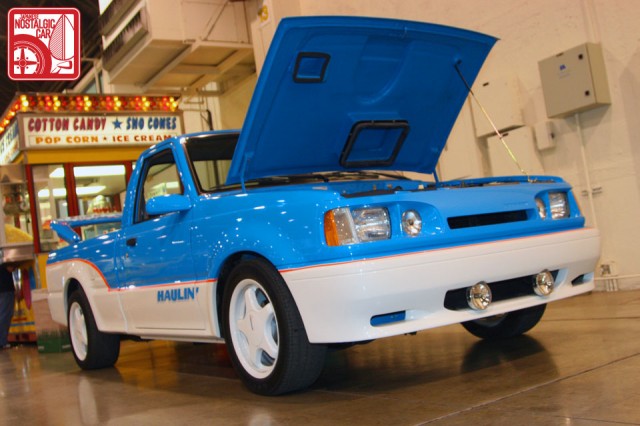 Since the idea of a Wankel pickup never made it past one generation, Racing Beat built their own out of a B-series. How 80s is that paint job?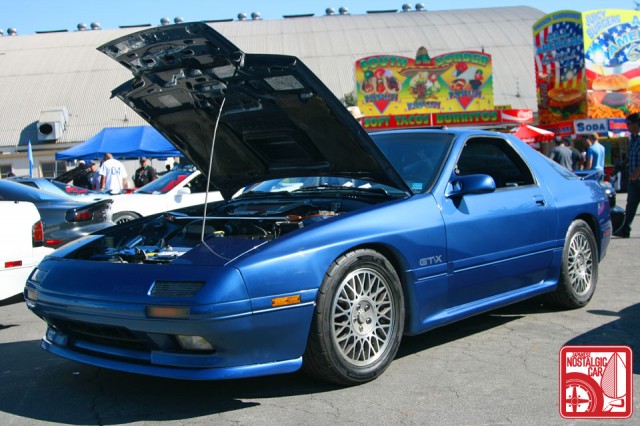 It's hard to believe, but the FC RX-7 has already crossed the magical 25-year threshold to become a bona-fide classic. It was nice to see this beautiful blue specimen untainted by a crazy body kit.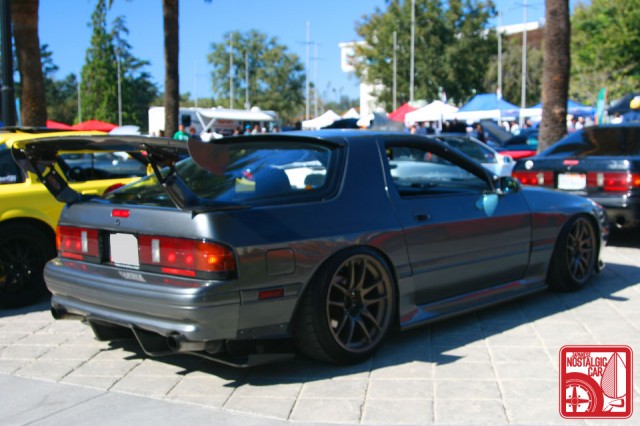 Of course, there is something to be said for crazy body kits done right. This one looks like it would be right at home on the Wangan with a death-defying hashiriya behind the wheel.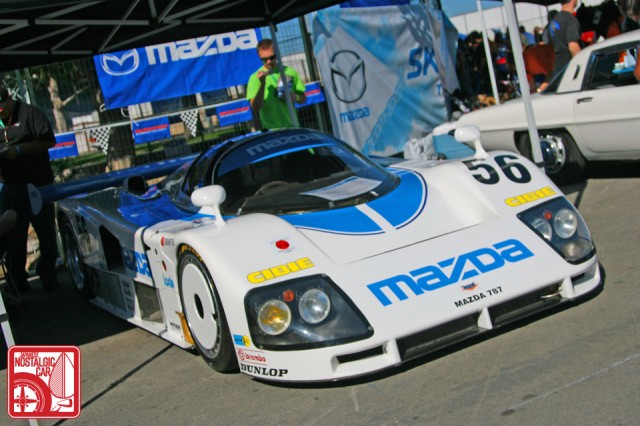 Mazda displayed one of its Le Mans 787 race cars, though sadly not the 787B championship car, whose Renown warpaint we immortalized in T-shirt form. Still, this was one of three quad-rotor cars that pounded Sarthe circuit into submission, and in actuality blue and white fits the Mazda corporate colors much better.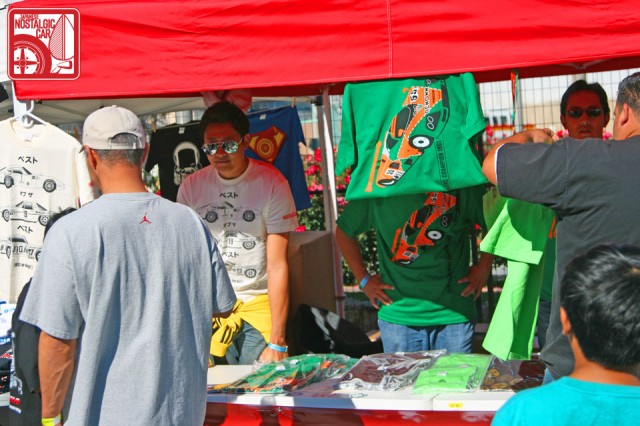 But that didn't stop us from hawking the ol' orange and green! The 787B 20th Anniversary shirts were a big hit, and we sold out of several sizes. But we have since made more and they are ready for purchase in the JNC Shop.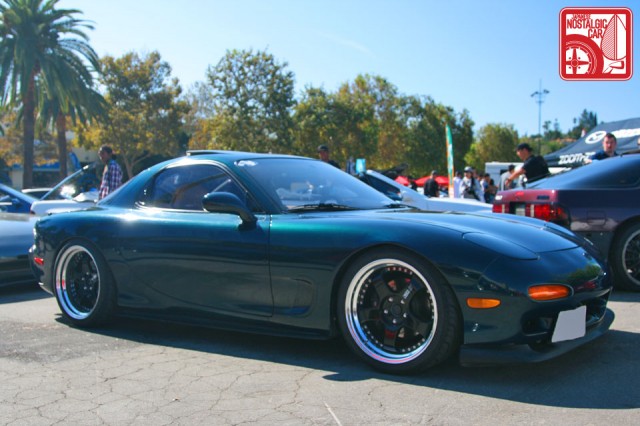 Yes, we know FD RX-7s are not quite nostalgic yet, but this one was too gorgeous not to share. The FD is one of the most beautiful cars ever to come out of Japan but sadly, all too often they're afflicted with garish body kits and too-big spoilers.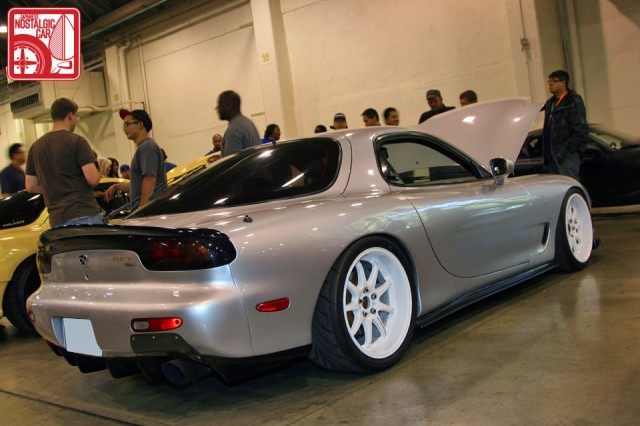 In fact, we at JNC prefer the FD with little to no spoiler at all. Even the stock one is a bit much. Yee hit it on the nose when he called it a Klingon battle axe. In any case, Gawd, can a car be any sexier? We eagerly await the day when these become nostalgic. Let's hope there will be unmolested examples left. But for now, more pics await your perusal in the gallery below.
Photos by Dan Hsu