In Part 07 of our 2011 JCCS coverage we'll look at some race cars that, unlike the Mazda 787 from Part 01, are within the reach of the common man. This isn't to say they are any less impressive. They're just don't cost a kajillion dollars.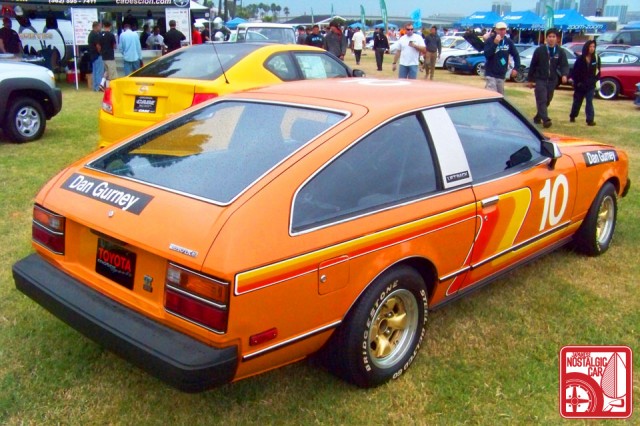 The Toyota Pro/Celebrity race has been a feature of the Long Beach Grand Prix since 1975. Each year as part of the main event, Toyota puts some of the top drivers in the world — and a bunch of movie stars that don't know a stick shift from a cucumber — into identical cars and lets the go at it, Death Race style.
This A40 Celica was driven by one of the greats, Dan Gurney, whose All American Racing team campaigned many a Toyota in IMSA  GTO/GTU series throughout the 1980s. He's also raced in NASCAR, Formula 1, and had a special edition 1969 Mercury Cyclone named after him. In fact, he designed much of the course used in the LBGP, run on public streets.  His orange Celica is a  beauteous blast from the past, with Toyota's vintage tricolor racing stripes and classic radials with "Bridgestone" lettering on the sidewalls. It would have been quite a sight to see a fleet of these racing side by side.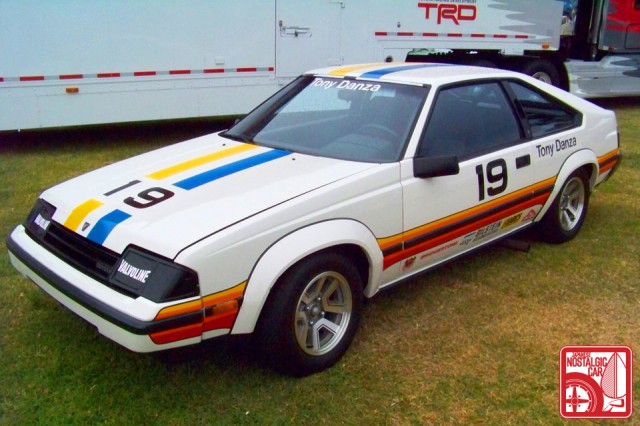 A few years later actor Tony Danza tried to show them who's the boss behind the wheel of this A60 Celica. These cars are part of the American branch of Toyota Motorsports' special collection of historic cars.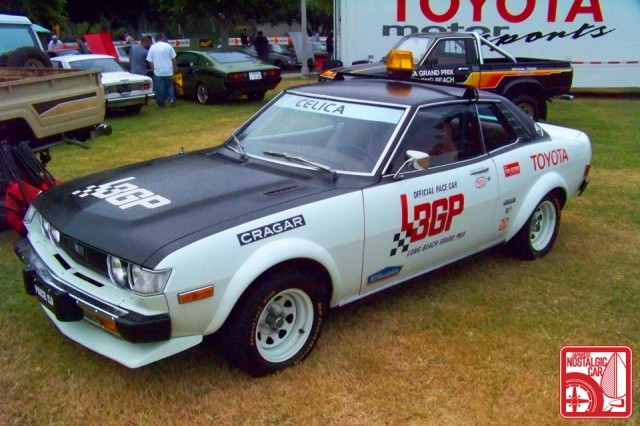 At the inaugural running of the Long Beach Grand Prix this 1975 Toyota Celica served as the pace car.  Going back to our little conversation yesterday about American vs Japanese modification styles, this one definitely fits the former. Now imagine if the folks at Long Beach had known about these Fuji-devouring Celicas back then.

Those were likely running 152E motors like the one in Toysport's Celica here, 16-valve race-only versions of the 18R-G tuned by Yamaha.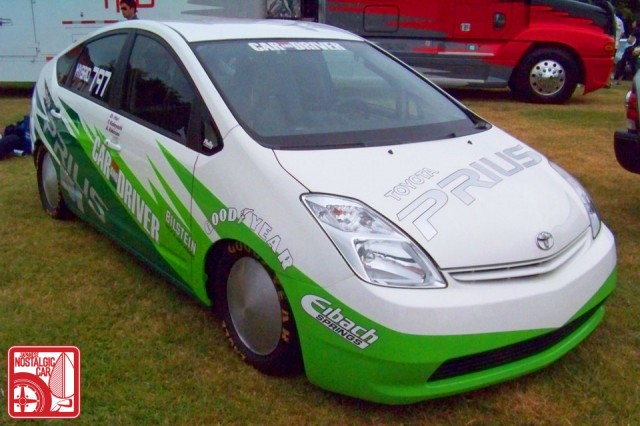 Toyota also brought out its Greensport Prius, which set the hybrid land speed record at the Bonneville Salt Flats in 2004, posting an average speed of 130.794 mph.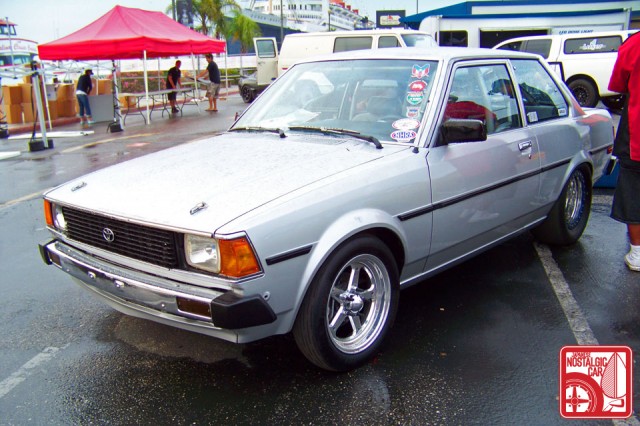 Santos Renovales has built some of the most famous drag Corollas of all time. This car, powered by a heavily modified Tacoma 2.4L, has run 9.42 seconds @ 142mph in the quarter mile and it's still a doorslammer.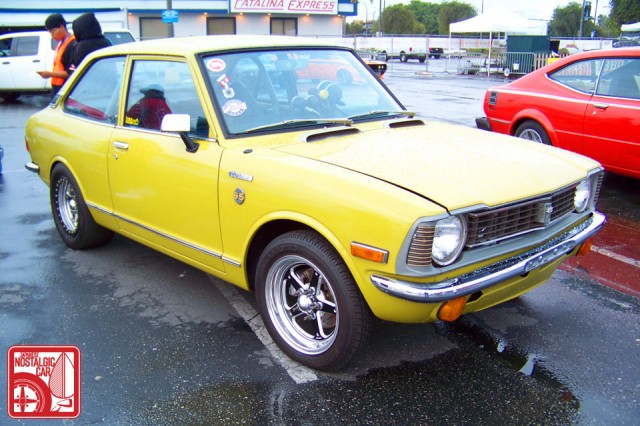 Unfortunately we don't know much about this car, but if it's parked by Santos it must be quick. Santos' previous car, a '69 Sprinter, squeezed over 500hp out of a 3TC for a sub-10 second ET.

The deafening brap of a bridgeported rotary accompanied this TE27 as it rolled into the show. It's an angry Levin. See the gallery below for the engine setup.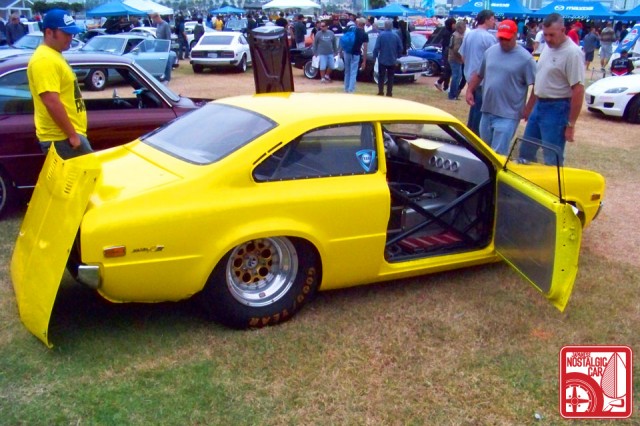 This yellow monster of a Mazda R100 is well known around SoCal. Since Mazda had a tie-in with Ford until not too long ago, it's not out-of-marque cheating to use a 9-inch rear end, is it?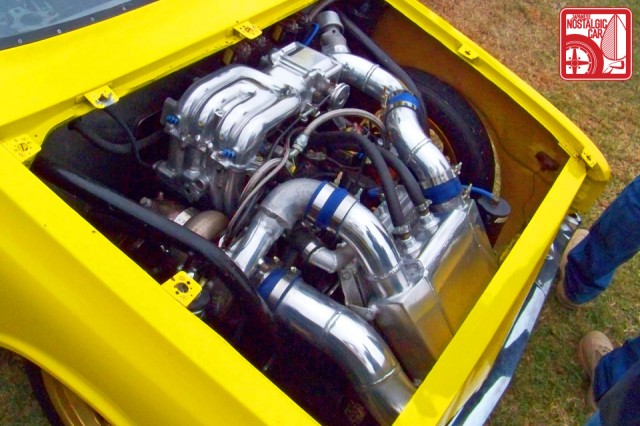 Suitcase nuke.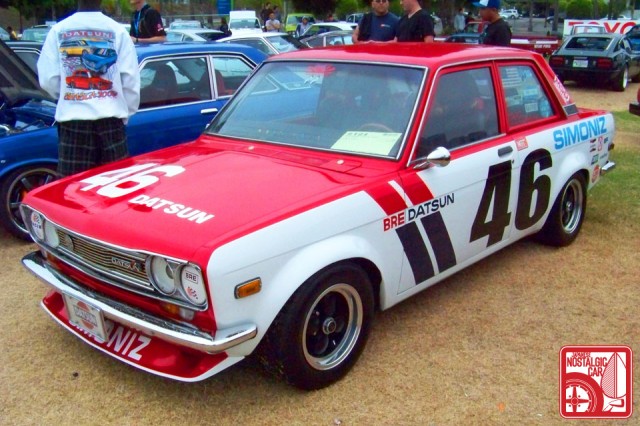 When there are 10 or more Datsun 510s in a group, there's bound to be at least one BRE tribute. It's understandable, though, as Peter Brock's 2.5 Trans-Am Challenge racers put non-Z Datsuns on the map.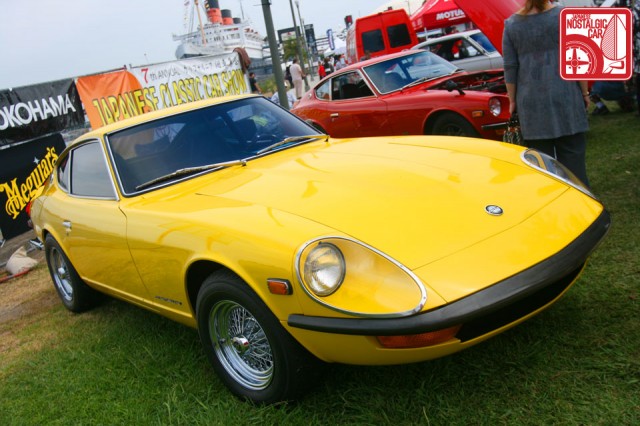 Lastly, a car that any Nissan nut should recognize. Clearly this Datsun 240Z is not a race car, but it's of great historical importance. It was once Mr. K's personal ride, and it is now owned and lovingly preserved by his former secretary, Johnnie Gable.
There are more pics in the gallery below and we have a couple more installments left, including all the vintage motorcycles. In case you missed it or want to revisit, here are Parts 01 – Best of the Best, 02 – Ganso VIP, 03 – Street Style, 04 – Rolling Stock, 05 — Wagons and Trucks, and 06 – The Mod Squad.
Photos by Dan Hsu and John Roper.