In Part 04 of our 2011 JCCS coverage we take a look at some cars that have been faithfully restored to original spec or, on rare occasion, simply preserved over the years.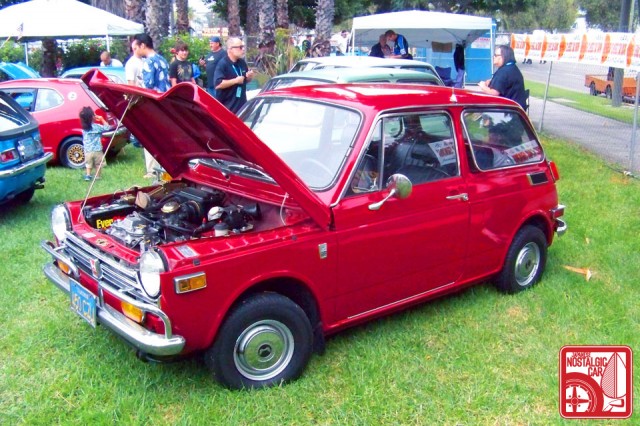 The name Honda may be synonymous with "modified Japanese car" but not when it comes to classics. Several meticulously restored N600s populated the lawn at Harry Bridges Memorial Park.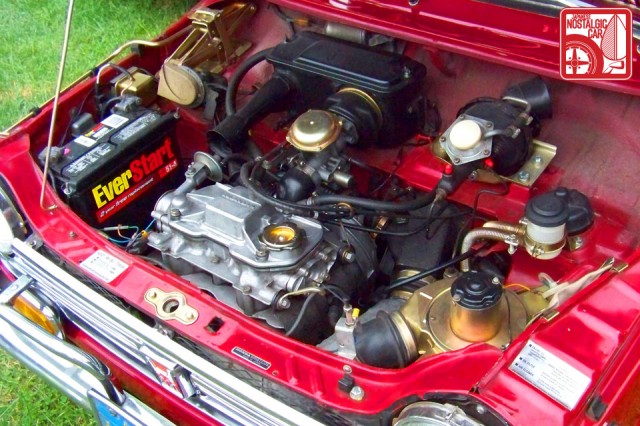 A detail of the 600cc two-cylinder shows just how clean it is.

Just as many of the sportier Honda Z600 Coupes attended as well.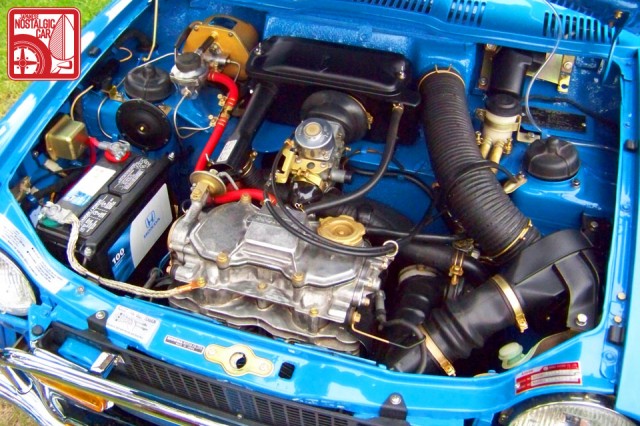 The 600cc motor is identical to the one found in the N600, and just as beautifully restored.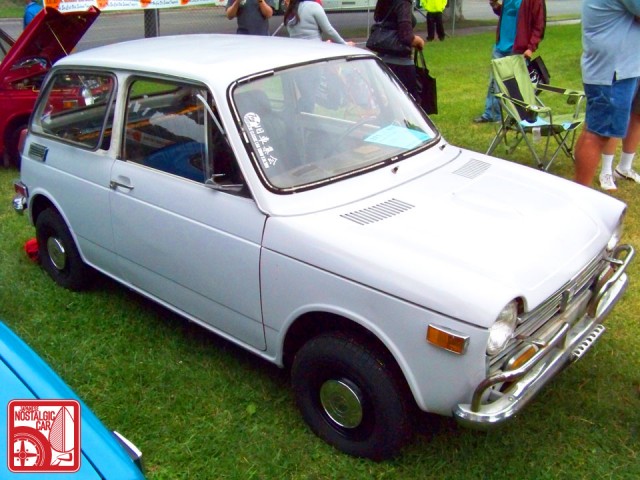 Most of these N- and Z-series were the handiwork of Tim Mings, aka Merciless Mings, the US's top US authority on 600cc Hondas.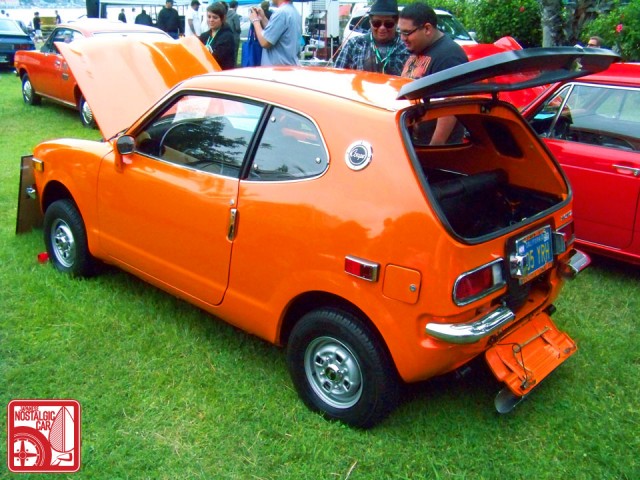 Spare tire drawer.
Toda Power, maker of some of the highest-quality Honda and 4AG aftermarket parts, kicked it old school with a 1978 Honda Civic at their booth!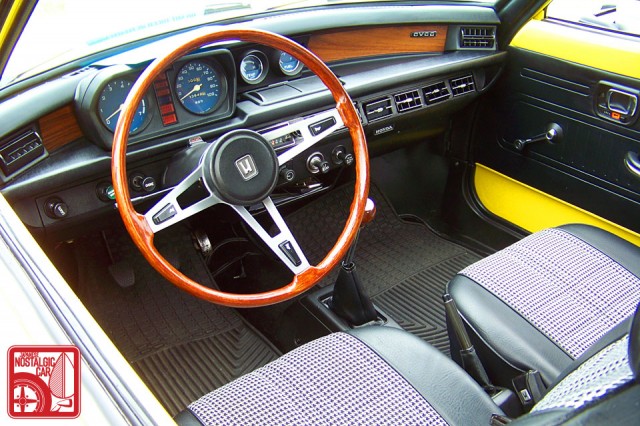 Gorgeous houndstooth upholstery and faux wood dash.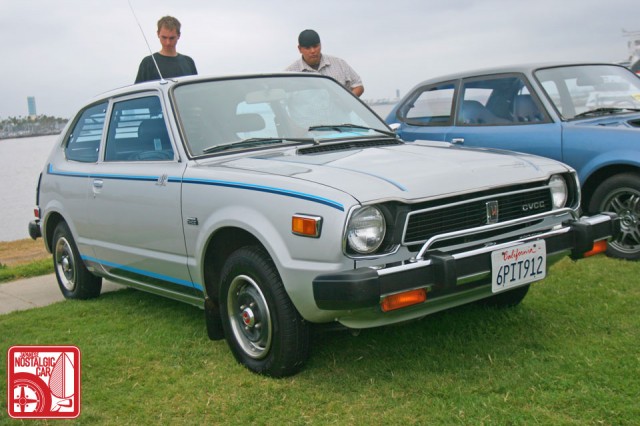 Another 1st-gen Civic, complete with period stripes and rear louvers.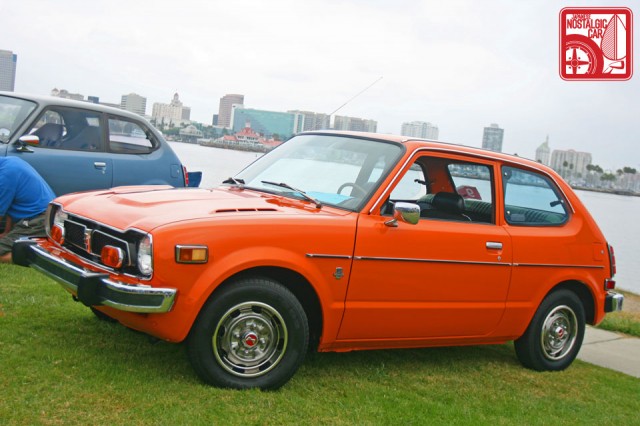 Brandon Smith's 1974 Civic with the earlier 1.2L engine. Amazingly he is the original owner! Orange is the perfect color for this car.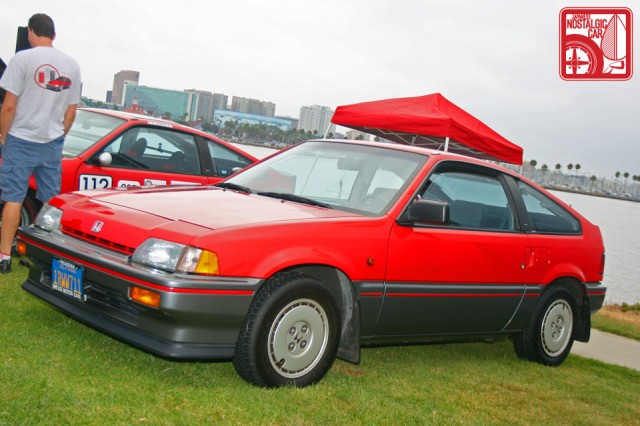 JCCS is probably the only car show where you can see a completely unmolested Honda CRX like Rogert Melgoza's beautiful two-tone '87.

Christopher Hoffman's 1987 CRX Si won Best '80s Honda in 2010. He is also, incredibly, the original owner. The car is all original, meaning unmodified and unrestored.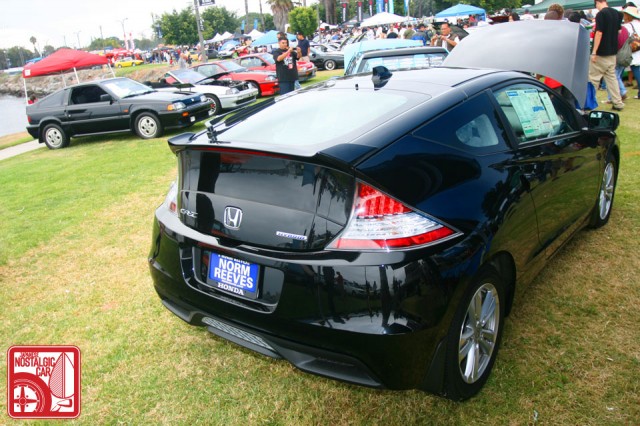 A 2011 Honda CR-Z with its forefathers. SoCal people, remember to check out the Norm Reeves Honda car show and toy drive on December 18th.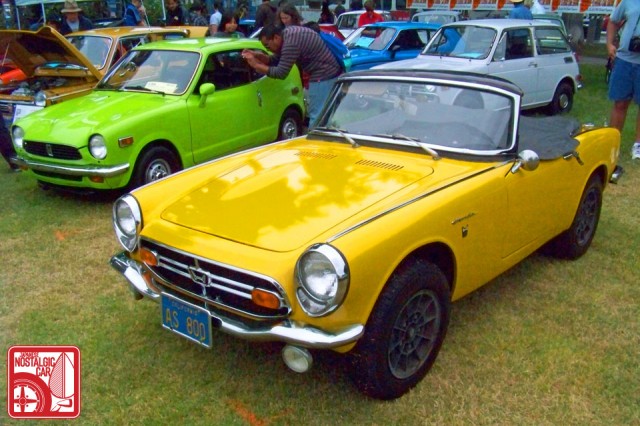 Those who attended last year might remember this Honda S800 as one of the two 800cc cars (the other being a Toyota Sports 800) that we had at the JNC booth last year. It was the only S-car at the show.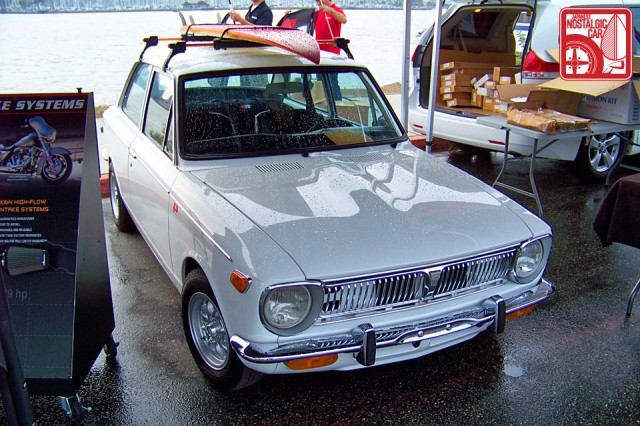 Surf's up! Joji Luz of Toy Garage had his rare E10 Corolla gracing the K&N Filters booth, rockin' a surfboard on a genuine vintage TRD roof rack.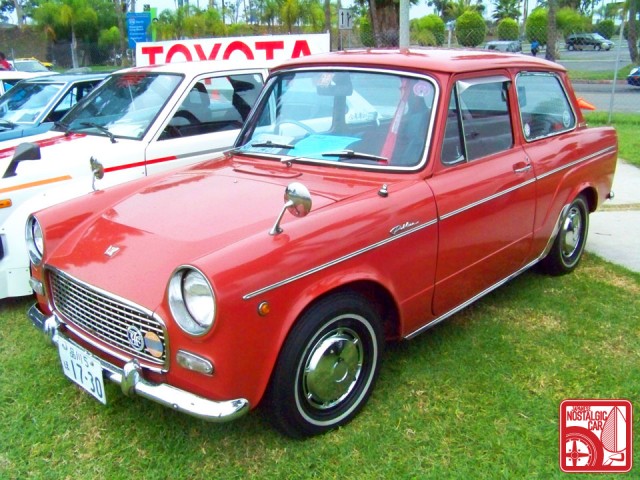 Steve Koptio's Toyota Publica is a familiar sight at the Queen Mary but we never tire of seeing it. If you lived in 1960s Tokyo this slightly-bigger-than-kei car would be an aspirational model like a Buick.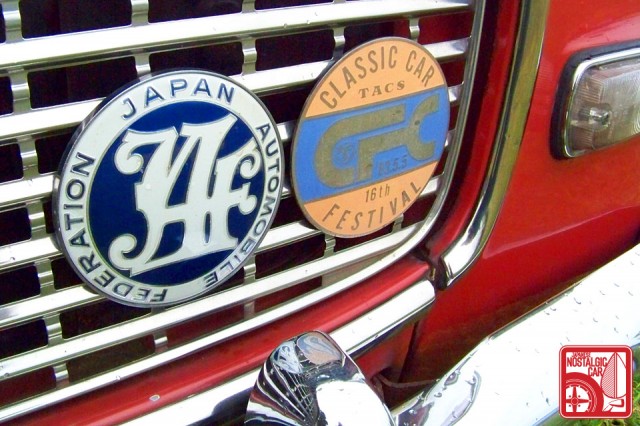 Grille badges look great on stock cars.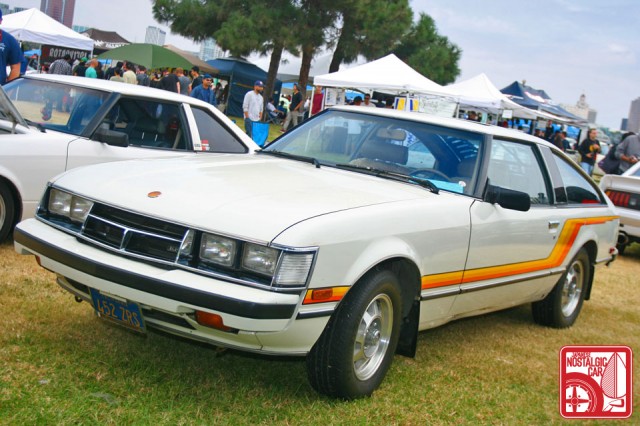 Another one-owner car, Ralph Rodriquez's 1980 Toyota Supra Pace Car Edition, inspired by the actual Supra pace cars used at the Long Beach Grand Prix.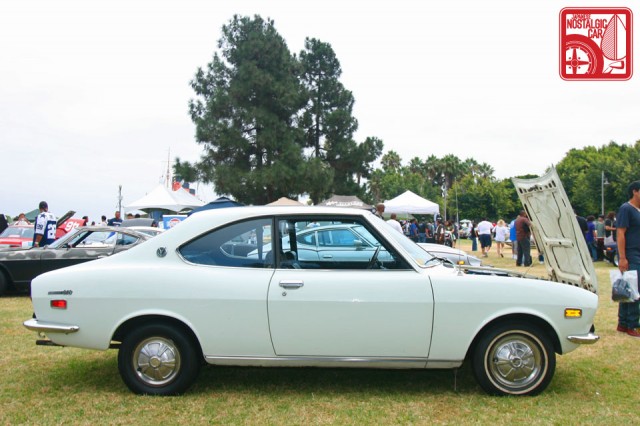 This may look like an RX-2, but it's actually an extremely rare Mazda 616, the 1.6L piston-engined sibling of the rotary.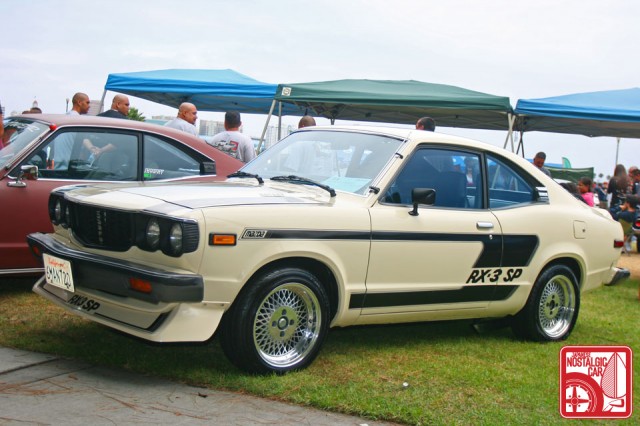 Jose Vasquez's rare ivory-colored Mazda RX-3 SP on Enkei 92s. It has a 13B under the hood so it's not stock, strictly speaking, but it looks that way.

Alex Bircheff's all-original and perfectly shiny FB RX-7.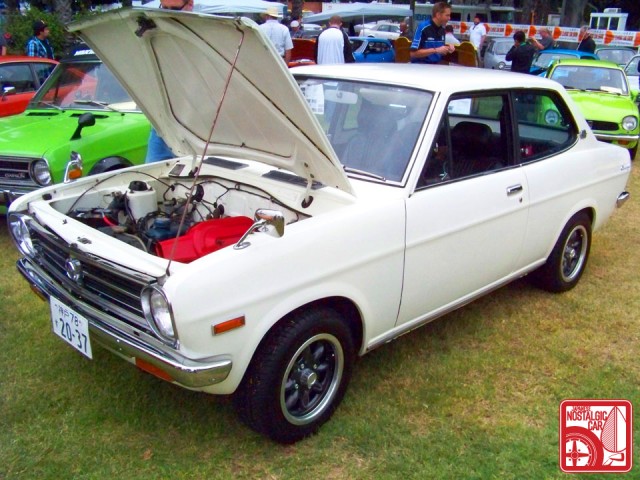 This RHD B110 Sunny once belonged to JNC's very own Matt (sans Minilites). It lives on, one of the cleanest examples in the US.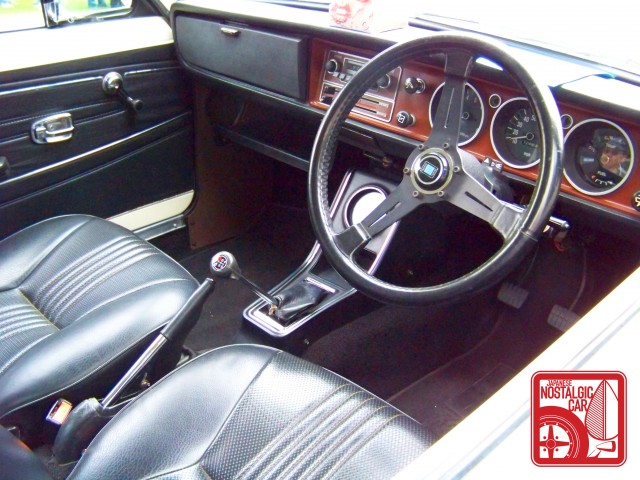 You can almost smell the vinyl.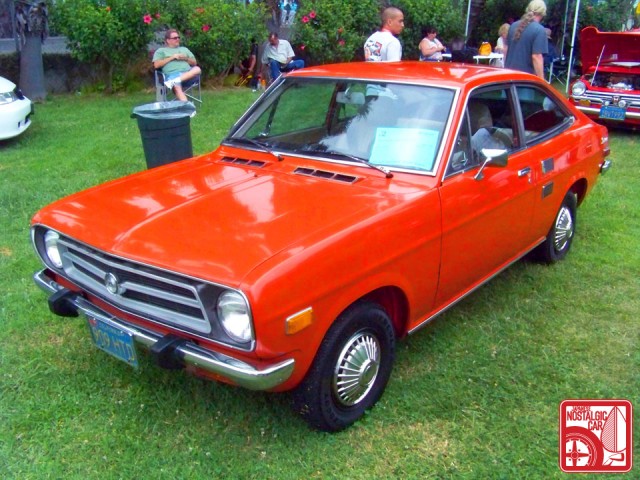 This year it was slightly upstaged by a 38,000 mile USDM Datsun 1200 Coupe. It was an automatic, but that's okay. Had it not been, it probably wouldn't have survived this long.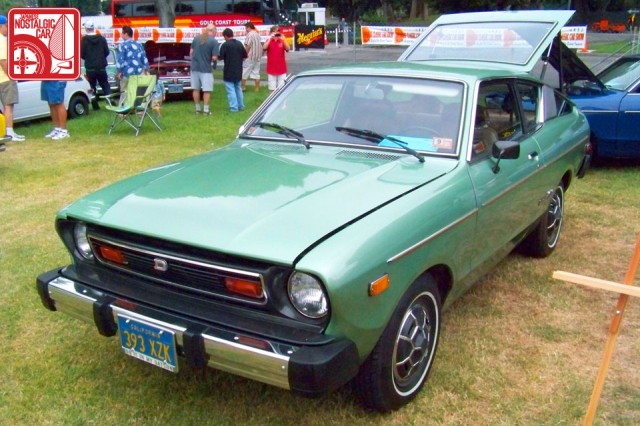 This B210 is another return customer for JCCS. It won the Kousoku Yuen Magazine award a few years back.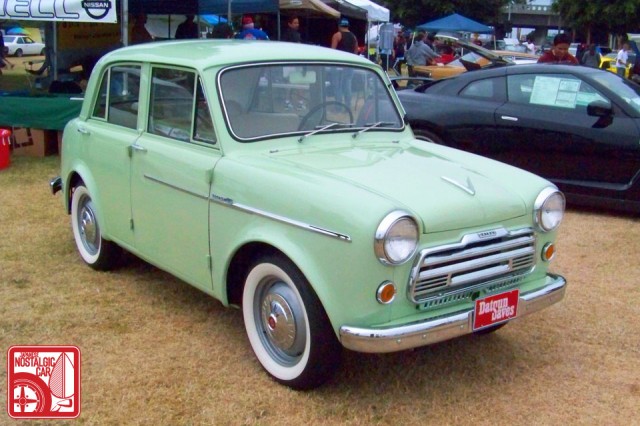 This Datsun 210 won Best in Show a few years back. This thing is probably older than most of your mothers.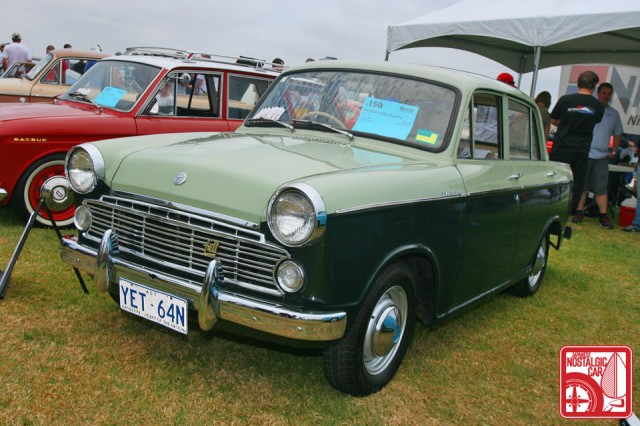 I loved the period two-tone green on Greg Childs' all-original RHD 310 Bluebird. It hails from Australia and it has only 47,000km (30,000 miles) on the odometer.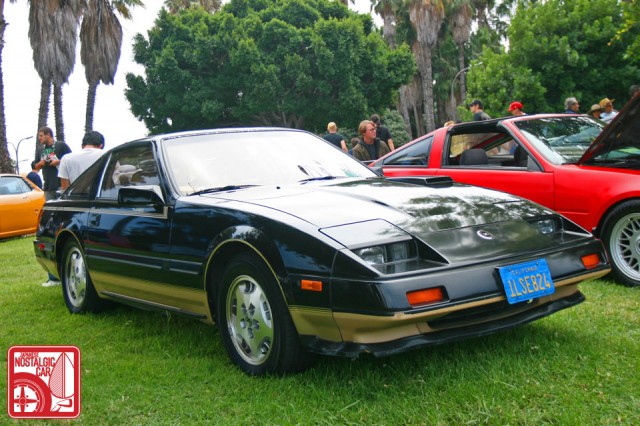 I don't think we saw a single stock S30 Z, but Sean Vo's 1985 Nissan 300ZX Turbo was an excellent specimen for a stock Z31. Time to bust out the Phil Collins cassette.

We saw this bright red first-gen Civic lurking in the parking area. A future JCCS entrant, perhaps?

Same with this worn but clean kouki AE86 hatch. You really don't see many hachiroku in this unmolested state anymore.

Sometimes the parking area looks like a Japanese used car dealer lot as people use the draw of the show to sell their wares. This stock Datsun 610 had a "For Sale" sign in the rear window.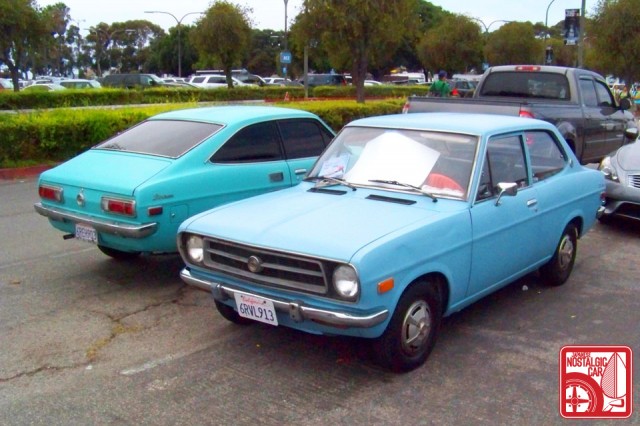 Our John "Datsunfreak" Roper was tempted to take one of these B110 Sunnys, back to Texas with him but, sadly, it wouldn't fit in his checked baggage.
Stay tuned for more JCCS coverage and in case you missed it, here's Parts 01 – Best of the Best, 02 – Ganso VIP, and 03 – Street Style.
Photos by John Roper and Dan Hsu.