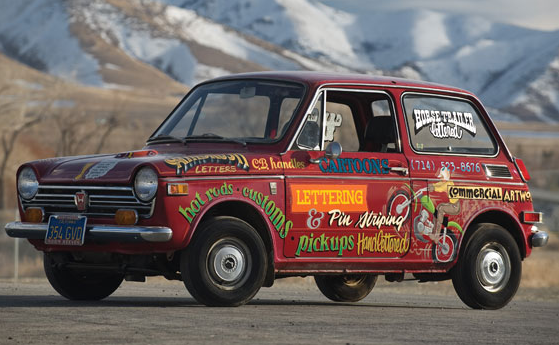 Here's a bonus weekend post illustrating just how much Hondas have infused American culture. Ed "Big Daddy" Roth was creator of the Rat Fink and a legend in the hot rod and Kustom Kulture scene of the 60s. His custom choppers and show cars were among the most famous of their era. You may recall names like Road Agent, Mysterion, or Road Agent from your youth, and anyone who grew up playing with Hot Wheels knows the Beatnik Bandit.
Many of Roth's personal cars, however, were Hondas, which he used to sell Rat Fink merchandise at hot rod shows and run his custom painting business. A couple of years ago his Honda Civic went up for sale, and now his 1973 Honda N600 will follow.
The N600 currently part of a huge single-owner collection of 80-plus iconic American hot rods and customs that includes famous show cars by Boyd Coddington, George Barris and more. But not for long. Soon they will change hands at RM Auctions' "Icons of Speed and Style" bidding frenzy to be held at the Petersen Automotive Museum in Los Angeles on September 26, 2009.