Recently, we profiled some bizarre tie-ups between JDM and European car companies, like the weird alliance between Nissan and Alfa Romeo and between De Tomaso and Daihatsu. But one that we forgot, and to be honest, it's the one that really takes the cake…is the alliance between Mitsubishi and AMG.
Great! You're thinking. So AMG does a deep-skirted, big wheeled, boosted up Starion, right? Well….er, no. The vehicle of choice for AMG to work its magic on is the Debonair V3000 luxocruiser.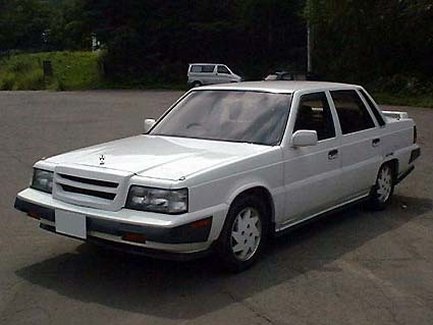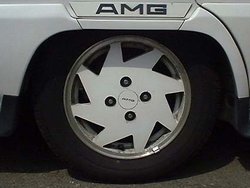 The Debonair was introduced in 1986 and was pitched into the hotly contested JDM executive car class, where cars like the Mazda Luce, Nissan Cedric, Laurel, & Gloria and the Toyota Cresta, Chaser & MarkII were competing. The Deb is the usual mid 80s gadget laden JDM luxobarge, with its "unique gadget" being electrically height adjustable suspension. It was powered by a 200ps DOHC 3.0L V6 driving the front wheels. In comparison to the Toyota and Mazda, magazines of the era report that the Deb is quite an inferior proposition dynamically, with very soft rolly handling.
But that didn't stop the Debonair from being quite a big sales success in its class. The previous generation Debonair was, rather inexplicably, so popular that it remained in production largely unchanged for over 20yrs (a little bit like the Toyota Century in that regard) so when the "modern" FWD Debonair hit the market in 1986, there was no shortage of conservative Japanese businessmen who had been loyal to the Debonair nameplate for years.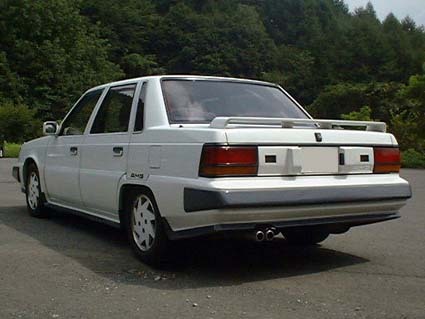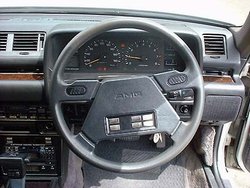 In other words, it was probably the last car in the whole Mitsubishi lineup that you would think would receive the AMG treatment. So…you would think that under the bonnet lies some fire breathing, 450ps 6.3L German V8, right? Well, not quite. The Debonair V3000 AMG is mechanically identical to the stock one. The only "contributions" (and I use that term loosely) that AMG made to the Deb were AMG branded wheels (weeny, shadow-offset items hiding meekly inside the guards) and steering wheel, and a somewhat visually challenging bodykit, with lots of unsubtle AMG badging everywhere.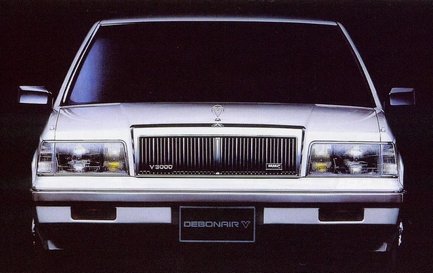 So yes, it doesn't go any faster or handle any better (or look any better…) than a non-AMG Debonair. And if you asserted that the car was more of a cynical marketing exercise than an atempt to make a credible sports sedan….well you wouldn't get any argument from us.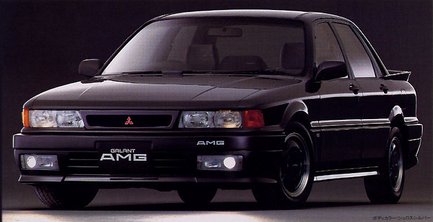 The Debonair isn't the only Mitsubishi to get the AMG treatment, a couple of years later AMG would again be branded on a Mitsubishi sedan, but it would be a non turbo FWD Galant (above and below). This time round, there would be more mechanical upgrades to give a decent 30ps power hike (via higher compression pistons and hotter cams), there was also a suspension makeover and this time the visuals were a lot more integrated and pleasing. The Galant AMG was well received by the magazines but it was rather confusingly positioned in the Galant model range, being slower than the turbocharged and AWD VR4 edition, which was a much faster car.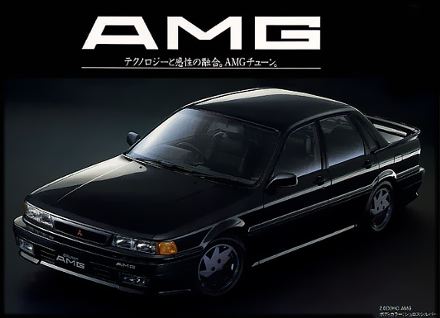 As far as we know, AMG and Mitsubishi went their separate ways after that.