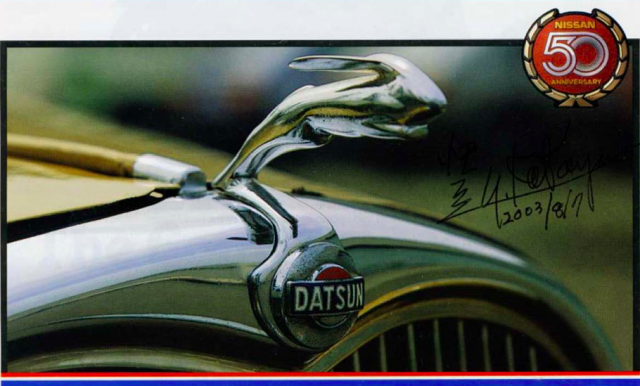 The 1935 Datsun Model 14 was Nissan's first factory production vehicle and the management deemed, as was appropriate for cars of the era, that a sculpture be affixed to the vehicle's prow. Luckily, the choice of a figure was right there in the car's name.
According to Dan Banks, Z Car Club or America historian, Datto connotes the concept of a "speeding hare" in Japanese, and that's exactly how one would pronounce the first half ot Datsun in its native tongue — dattosan. Shaping of the ornament fell to Ryuichi Tomiya, the in-house designer responsible for everything from paintings in the dealer brochures to the cars themselves. It even required that Tomiya-san take a field trip to the Tokyo zoo. In the end, he modeled it after the rabbits found in the garden of a major Nissan stockholder.
The hood ornament is nickel-plated brass and measures 12 centimeters long. Today, a prime example will fetch nearly $1500 on Yahoo Japan Auctions.
[Special thanks to Dan Banks. Image: Z Car Club of America]