Despite their notable absence from JCCS, on the streets, and in the collective memory of the American public, the Plymouth Arrow was actually quite a popular car. And you could have easily been the big man on campsite with this funky "Teepee" option. With it, your re-badged Mitsubishi Lancer Celeste's sloping fastback could be transformed into a soaring nylon cathedral! 
Best of all, this comfy, mobile wigwam was "Chrysler Corp Approved" and could be purchased at Plymouth dealers for about 80 bucks.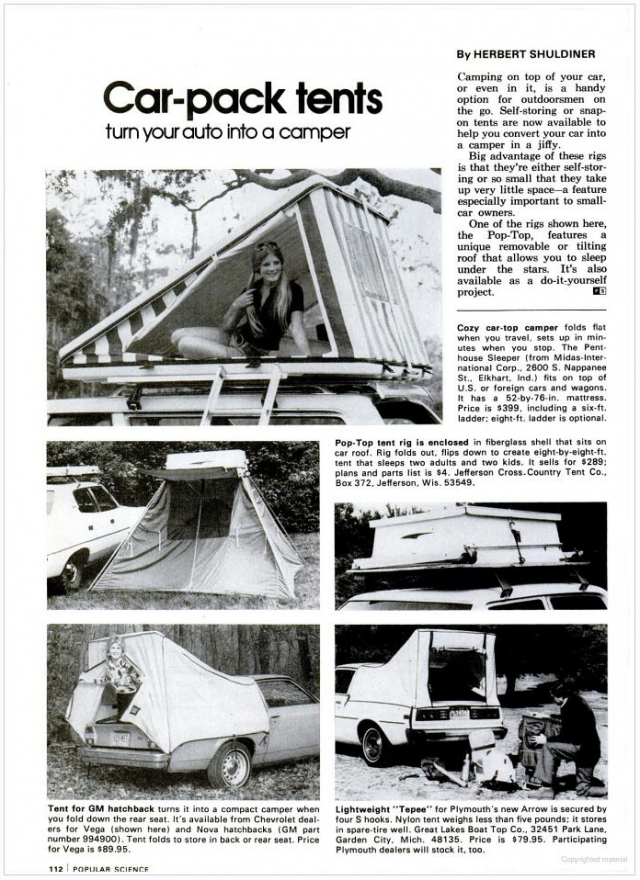 It was even featured in Popular Mechanics. Of course, the message here seems to be that if you had erected an entire Pop-Top fiberglass tent on your Cressida or Datsun 810 wagon you could be getting au naturel with a young Drew Barrymore lookalike, but the typical Teepee tenant might have to fly solo with Aron Ralston-levels of seclusion. Perhaps our lone wolf would have fared better with a Plymouth Fire Arrow.