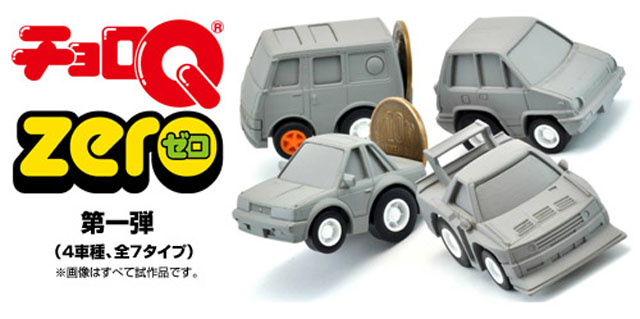 Walk into the toy section of any Japanese department store back in 2005 and you'd see shelves stocked aplenty with Choro-Q. Older JNCers may recognize these small pullback toys as Penny Racers when they were sold in the US in the 1980s. Drop a one cent coin (or ten yen piece) into a slot on the back and the car would perform all manner of stunts across your kitchen floor.
However, despite their vast lineup of super-deformed (yet surprisingly detailed) Japanese autos, in recent years Choro-Qs have dwindled and disappeared from store shelves. Some blamed the lack of interest in toy cars among Japanese youth.

Apparently, reports of their demise have been greatly exaggerated. Takara Tomy is re-launching the line as Choro-Q Zero. Why Zero? Because the lineup is returning to its origins in the 1980s with a focus on the classics! The first four models released will be the Nissan Skyline Silhouette, Toyota Soarer, Nissan Caravan, and Honda City R.
Intended for the collector, they will be priced much higher than past Choro-Qs (¥1029 vs ¥360). The first four will be released September 30, 2011.
Hat tip to Toyotageek.