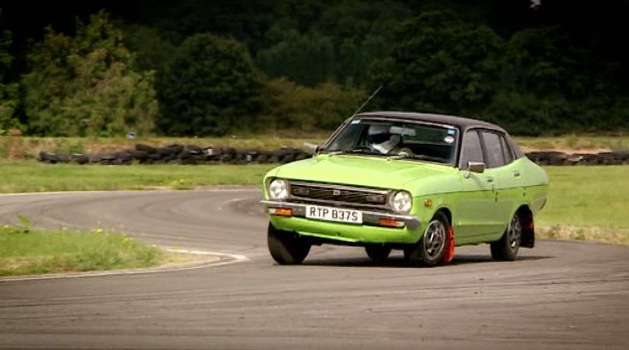 Aaaand we're back, thanks to a new hard drive. We're still trying to assess the data loss but it's likely everything since the last backup was destroyed, based on the drive's horrible scratching noise, which sounded like a school of piranhas chewing on a blackboard. Anyway, onto more nostalgic car news.
In his most recent column for The Telegraph in response to the 100 Ugliest Cars, Top Gear host James May reveals that he has just purchased a Datsun 120Y. You may know it as the B210 or Sunny, but we just call it brilliant! Here's a guy that is among the most famous petrolheads in the world, a presenter on the number one car show in the world, and a bloke that can clearly afford any car in the world – as evidenced by the Rolls Royces and Bentleys in his stable – and he buys an old Datsun. We wonder if it's that gorgeous black-on-lime green specimen that was on set in the GT-R episode and on track as it schooled Britain's finest at the hands of the Stig.
When you think about it though, May is probably the only Top Gear man who would buy a Datsun. Who else would fit the bill, Lambo-owning power-sliding Clarkson? Porsche-loving metrosexual Hammond? Not bloody likely. On the other hand, May's nickname is Captain Slow, so maybe this isn't an entirely good thing for our cause. Regardless, May is our new favorite Top Gear presenter. Clarkson can go suck on a Peel P50.