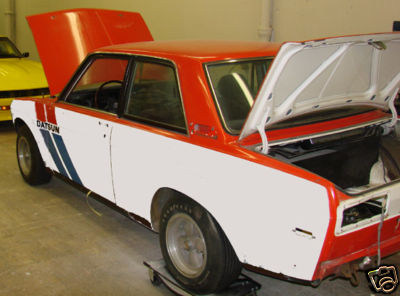 A while back, this Datsun 510 sold on eBay for $13,000, a steep price for what appeared to be a BRE-themed Datsun 510 replica. Only, it wasn't a replica. According to the seller, it's a one-of-a-kind prototype for a Datsun factory program that would have allowed buyers to put together their very own street-legal BRE Trans-Am 2.5 510. Goodies include a Nissan factory performance 5-speed, BRE suspension package, mild cam upgrade, high volume oil pump, raised compression, American Racing Libre wheels, 1 of 3 alleged hand-built LSDs, and a slew of BRE badging.
This could have been Datsun's equivalent of the Boss Mustang or Camaro Z/28, but unfortunately the program never got off the ground. The aftermarket parts developed for it ended up being sold through BRE or Interpart. The seller also says that there were several of these prototypes built, but this is likely the only surviving complete, 100% numbers matching example.
The original owner was purportedly once a middleman between Nissan USA and BRE. The car also comes with an explosion of memorabilia and some very nice NOS spare parts. But get this. With the car exactly as it was when it sold for $13,000, the price tag is now $65,000 with a BuyItNow of $79,000. That's almost a 600% increase in price with just the discovery of its proper bloodlines, the passage of a few months and a yellow 240Z upholstered with a wetsuit (if that's your thing). Google stock, eat your heart out. Thanks again to David of Motoring J Style for the tip!
[Source: Motoring J Style]