In honor of the 40th anniversary of the 1972 Nissan Skyline JNC is proud to announce our first ever art contest. Simply submit an original work that captures the spirit of the Ken & Mary Skyline. The winner will be chosen by Mary herself, Diane Krey-Wesley! 
The C110 Skyline was a pivotal car in Japanese automotive history, and not just because it was successor to the fire-breathing GT-R that dominated Japan's touring car races. Its ads depicted a fictional couple named Ken and Mary taking long, sun-drenched road trips at a time when the average Japanese was just getting used to the idea of driving as leisure.
The commercials transcended the intended audience of car buyers and captured Japan's collective imagination in the same way "See the USA in your Chevrolet" enthralled Americans. It wasn't just about a car, it was the romance of the open road. The ads were so popular that Diane became an celebrity in Japan, and even today the cars are known by the nickname kenmeri.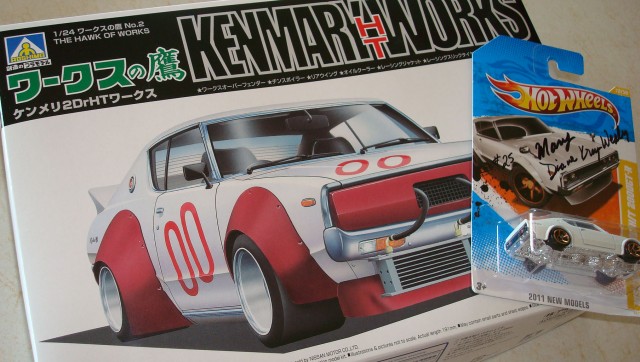 The prizes will include an Aoshima KenMary Works model kit, Hot Wheels kenmeri Skyline signed by Diane, and some other goodies that we cannot reveal just yet.
The Rules:
Artwork can be of any medium. It can be an existing work, but must have been created by you
Submit via email at kenmeri@JapaneseNostalgicCar.com and use Art Contest as the subject (scanned artwork OK)
Submit via mail at JNC | 1518 Federal Ave #201 | Los Angeles, CA 90025. We aren't responsible for items lost or damaged during delivery and unfortunately cannot return anything to you (but Diane might end up with it hanging above her mantle!)
All submissions must be received by Monday, October 01, 2012 (or 1-10-2012 in international format, ha!)
Now go forth and create! We (and Diane) are looking forward to your submissions.