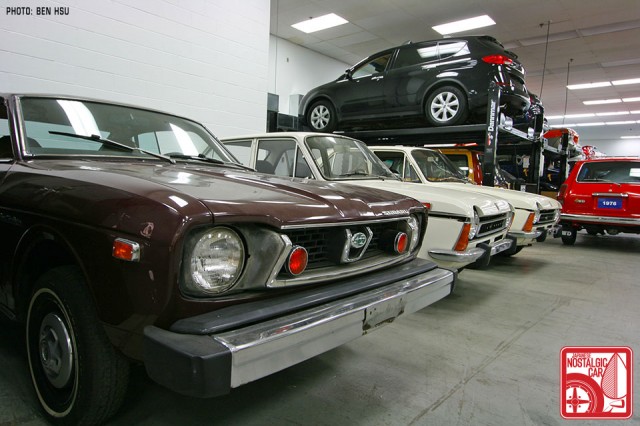 You'd never guess as you drove by, but in a nondescript warehouse just across the Delaware river from Philadelphia lies the most eclectic stash of boxer motored, all-wheel-drive vehicles in the US. Earlier this year, we at JNC had the rare opportunity to visit Subaru of America's incredible historic car collection.
Subaru describes the collection as more of an "attic," where significant concepts, classics and race cars are stored for posterity. With cars stacked on lifts and crammed doorhandle to doorhandle, it's certainly not a museum, and it's not open to the public. However, it's still amazing, and something that we are very glad exists.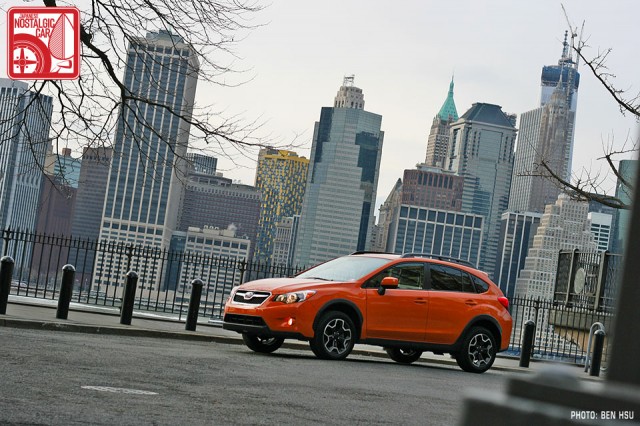 To get there, a representative met us in New York and tossed over the keys to a pumpkin coach. But unlike Cinderella, we had 148 horses instead of two. Also, all-wheel-drive and a slick 5-speed manual. The car choice was fitting, because if this ad is to believed, the Subaru XV Crosstrek has inside it all the Subies we were going to see. It would be a 90-minute drive to SoA headquarters in Cherry Hill, but first we'd have to escape from New York.
Strangely, driving a bright orange hatchback with robotic flower wheels is kind of fun in a city where just two car colors — taxi yellow and town car black — are allowed. Manhattanites pointed and rubbernecked at the half-whimsical, half-rugged contraption floating through their drab concrete canyons.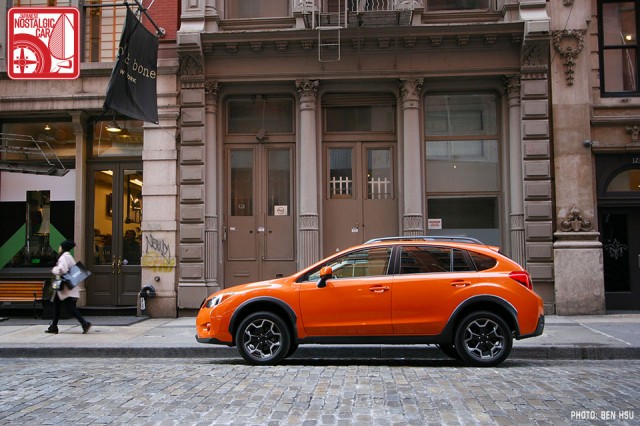 Subaru would probably like for us to say that the XV's great for extreeeme(!) adventures involving snowboards or canoes or something, but we really just used it to pound the pothole-filled streets of Gotham into submission.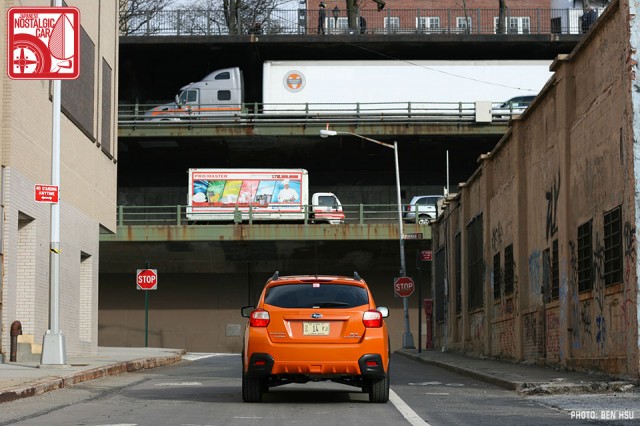 Manhattan's colossal infrastructure is stuck in a constant cycle of crumbling and getting patched. For some reason, a clump of 1.6 million human barnacles have all decided to attach themselves to a tiny ribbon of land 2 miles wide. So many underground tunnels criss-cross below that the very streets are just a thin crust of asphalt. Seasonal temperature changes then warp it into a driving surface about as smooth as a pile of stegosaurus bones. It's a miracle that the whole teeming hive doesn't just collapse in on itself.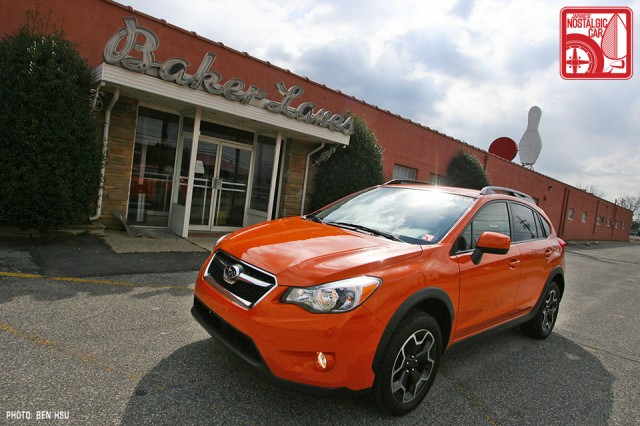 Soon our backs were to NY's skyline as we found ourselves in Springsteen country, sweatin' it out on the streets of a runaway 'merican dream! Navigating New Jersey's famous turnpikes and townships is its own harrowing adventure, partially because of jughandles, but mostly because you simply cannot believe how many strip malls and bowling alleys there are.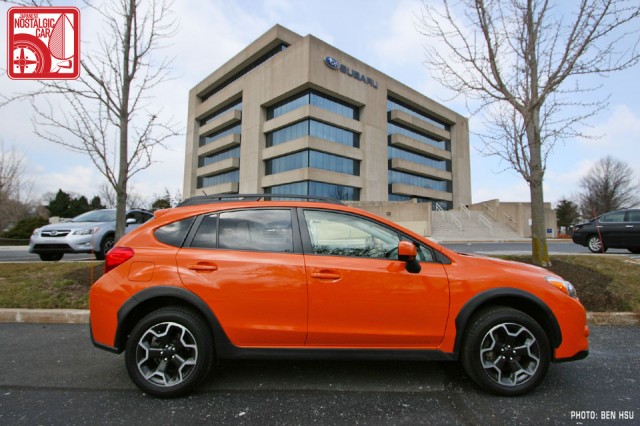 Finally, we arrived in Cherry Hill and found the Subaru of America mothership. The main headquarters building houses only a bunch of cubicles, but it's the never center where all decisions regarding your precious Legacys and STIs are made.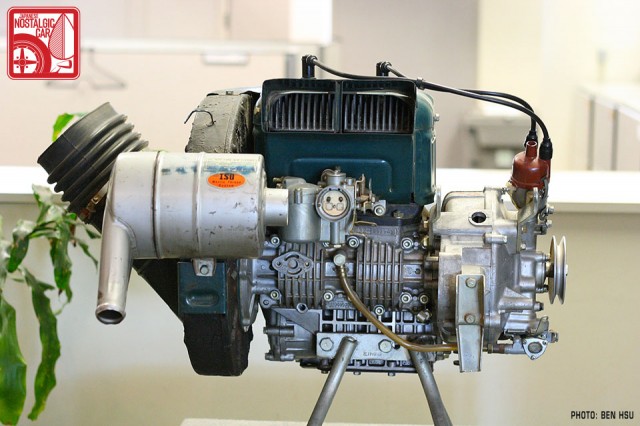 The actual warehouse is in a separate building just a two-minute drive away, but first we had to sign in at the front desk. It's notable, however, that the HQ lobby has a lone 356cc, two-stroke motor from a Subaru 360, so small we almost walked right past it.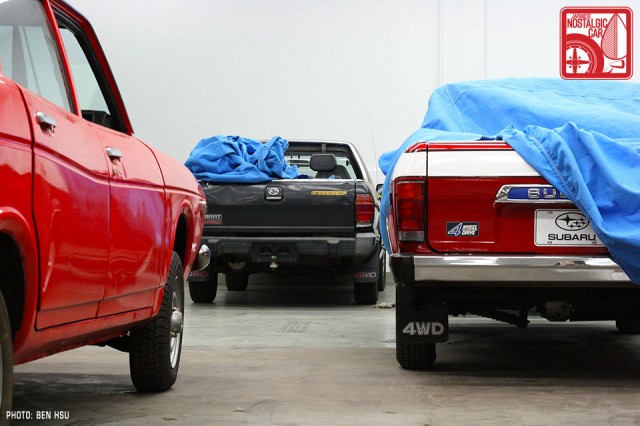 At last, it was time to see the "attic," hidden in a completely unremarkable warehouse whose only giveaway is a Subaru sign by the entrance. We were greeted there by a number of SoA staff, all of whom, you'll be glad to hear, were die-hard car enthusiasts.
The collection contains about 40 vehicles, ranging from a 1963 Rabbit scooter to one of only two Impreza 22Bs in the country. Because space is limited, SoA installed two rows of lifts along the walls, spaced just far enough apart to crack a door open in case the cars need to be moved.
SoA didn't always have the attic. Early on, cars were simply sold off till the inventory was gone. They've had to buy back many of the older cars in the collection and restore them. The most well known example is probably the 1986 XT Coupe that was shown at SEMA in 2011.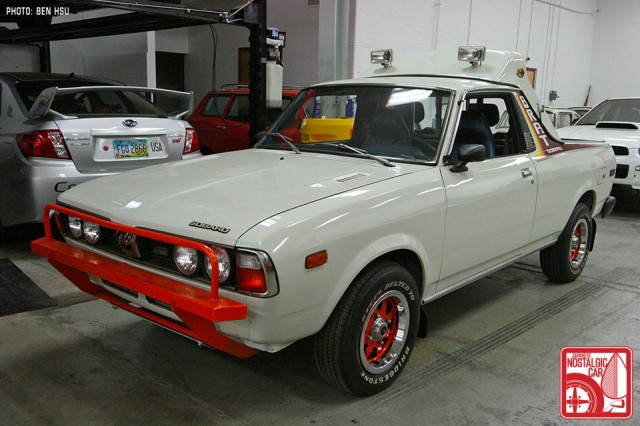 One exception was this 1978 Subaru BRAT, which has stayed in the SoA collection since day one. In fact, it's the first BRAT ever to roll off the assembly line, serial number 001.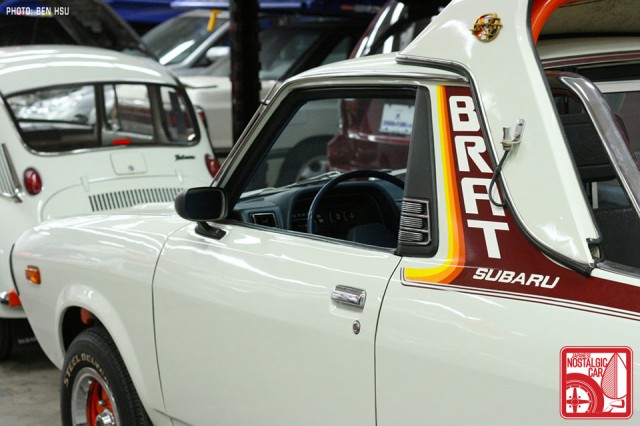 Back in the day, BRAT One was sent on tour across the US as a promotional vehicle, so it was loaded to the nines with optional equipment like auxiliary lights, a brush guard, and an air deflector. Supposedly, the latter allowed an engineer sitting in the bed to light a cigarette while the BRAT traveled at 60 miles per hour. Though its fantastic stripe package is legit, its orange-painted accessories are unique to the show car and not officially offered.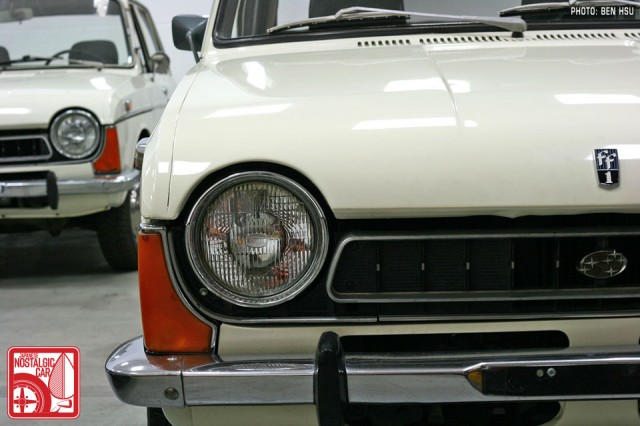 We'd never seen so many FF-1s in one place outside of Japan. The attic contains at least five, including two white sedans, a 1970 1000 and a 1971 1100.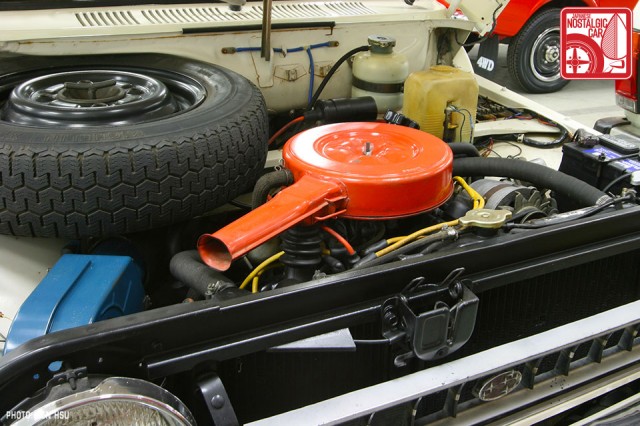 As the name implies, the FF-1 was a front-engined, front-wheel-drive car. The layout was considered fairly innovative for the time, as most of its rivals were still FR. Its boxer motor left plenty of room under the hood for the spare tire, a setup that put more weight on the driven wheels and gave Subarus a reputation for being great in snow years before they began offering AWD.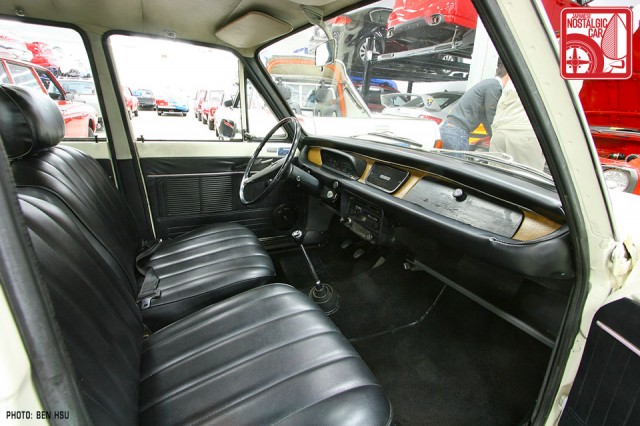 The interiors of these cars are downright spartan, but they got the job done. No infotainment systems need apply.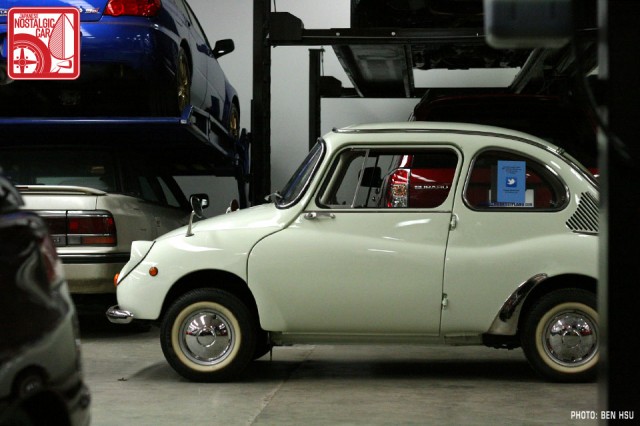 This is where it all started, the Subaru 360. SoA has four tentomushi ("ladybug" in Japanese) in its collection, three of them from their first year as a US distributor, 1968. It's astounding to consider that first-gen Legacy Turbo Sedan and WRX STI behind it were all borne from this humble machine.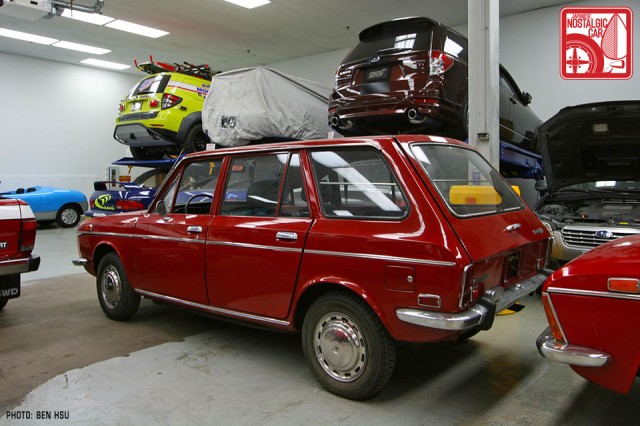 Being the wagon freak that I am, I was stoked to find a 1970 FF-1 Deluxe Wagon among the collection. It's the only one I've ever seen in person. Behind it are several SEMA show cars that Subaru has built over the years, including the insane 2009 Mountain Rescue Forester.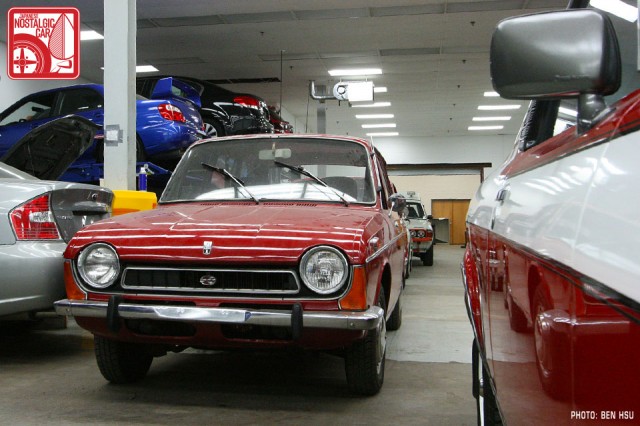 Since Subarus are well known their prowess in mountainous and snowy climates, most met their fates by abuse or salt. Simply finding restore-able examples has proven a challenge. Nowadays, examples of rare production cars, like the silver Legacy Spec B, number 1 of 500, are immediately brought here and stored.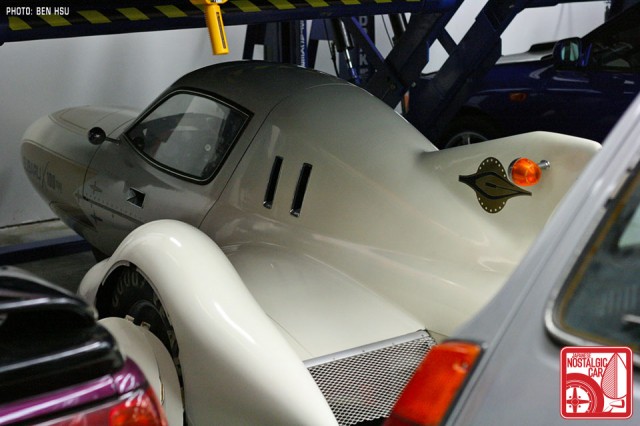 Tucked behind several cars, we found the 1980 Subaru Gyronaut X-100, a three-wheeled prototype capable of over 100 miles per gallon. Apparently, it achieved this feat while averaging 55 miles per hour. It was designed and built at Subaru Technical Center in Santa Ana, California.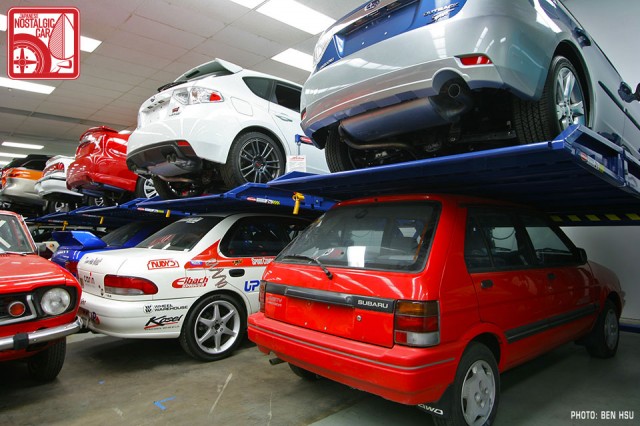 In another corner, we found another car the world has forgotten entirely, a 1992 Justy 4WD. Amazingly, the three-cylinder hatchback came with a continuously variable transmission over 20 years ago.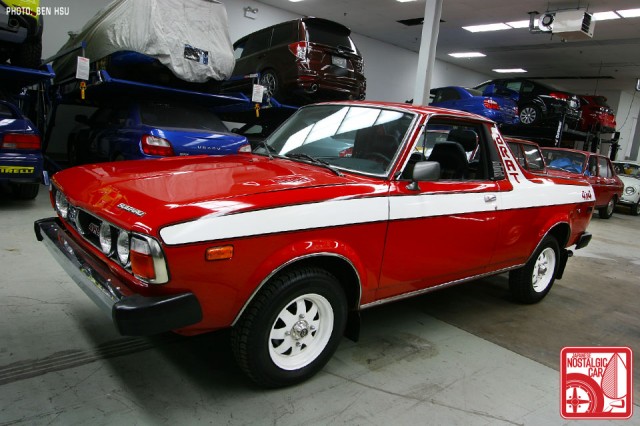 One of my personal favorites was this 1978 BRAT. Sure, the white one can't be beat due to its historic value and low serial number, but I rather prefer ones without the accessories.
Plus, how can you not love color-matched plaid seats? This is one fun feature we wouldn't mind seeing on the otherwise funky XV.
SoA is allowed only a small budget to keep the collection going. They can afford to buy just one or two cars per year. As you can imagine, there's a long queue for restoration, and the next one up is a violet 1975 GF Hardtop Coupe (aka Leone). Apparently "Front Wheel Drive" was novel enough to deserve its own badge with prominent placement right on the front fender.
While many of the cars can be seen by the public on the auto show circuit, there are no plans to open the facility to the world any time soon. For now, though, we're just glad that the collection exists and that someone with the resources to do so is restoring and preserving these pieces of history. We are honored to have had the opportunity to see Subaru's Valhalla.
Continue onto Part 02, in which we check out some of Subaru's nostalgic race cars and take a couple classics outside the warehouse.