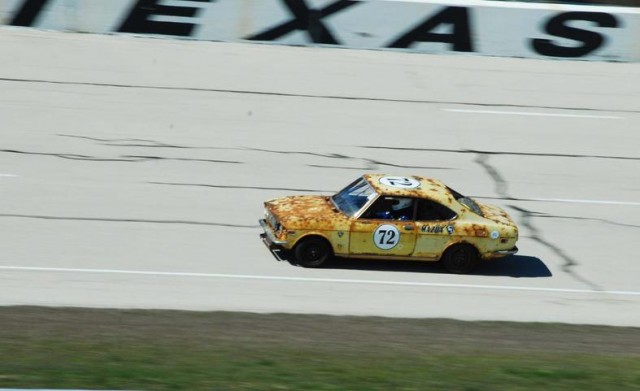 There's something heroic about a 40-year-old Mazda RX-2 that's more rust than steel charging down the banked lanes of Texas World Speedway. In this case, however, one may just as easily witness a decidedly unheroic banzai-flagged Mitsubishi Cordia or sombrero-clad Chevy Monza doing the same. Such are the sights of the 24 Hours of LeMons, the not-misspelled enduro series in which $500 is the upper price limit of each participating car.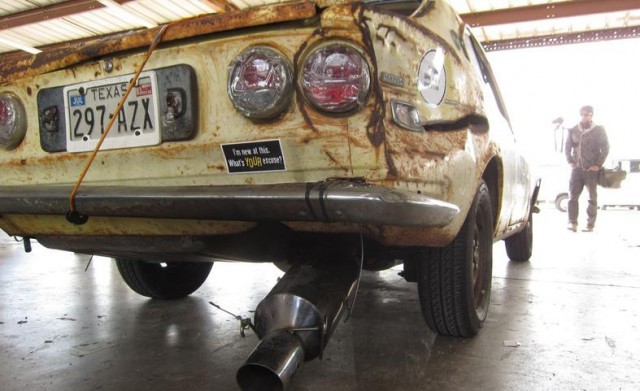 As you can imagine, this series can deplete at an alarming rate stocks of vintage Japanese cars that have not quite reached collector value. But as LeMons tours various raceways around the nation it can occasionally become the venue for a forgotten heap's triumphant last hurrah.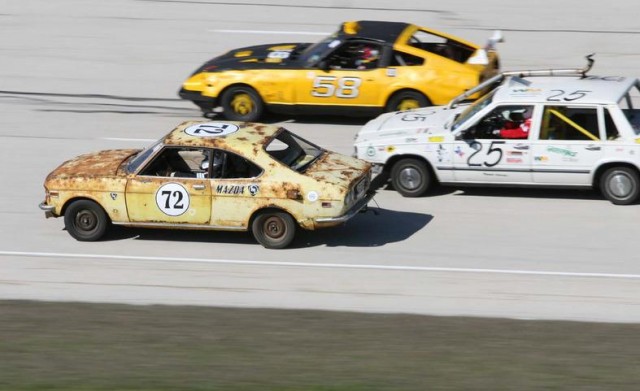 Such was the case for this Capella, whose previous owner had let it rot in a Gulf Coast swamp after its storage barn collapsed around it. Our friend Murliee Martin, LeMons Supreme Judge and beat reporter says that Sensory Assault (teams are encouraged to conjure wacky names and themed cosplay) dug out the rusty patina-ed rotary and began dropping a 13B two weeks before race start.
And like the city of Hiroshima from whence it came the RX-2 rose from its ashes to thrive again! Of course, some would not call coming 47th of out of 57 entries thriving. Yes, but as with all LeMons contests the real winner isn't who crosses the finish line first (in this case a Black Gold-ish 280ZX) but which car defies expectations to finish at all. And in this particular round, the RX-2 took the Index of Effluency trophy, hands down.
[Images: Murliee Martin, Car and Driver]