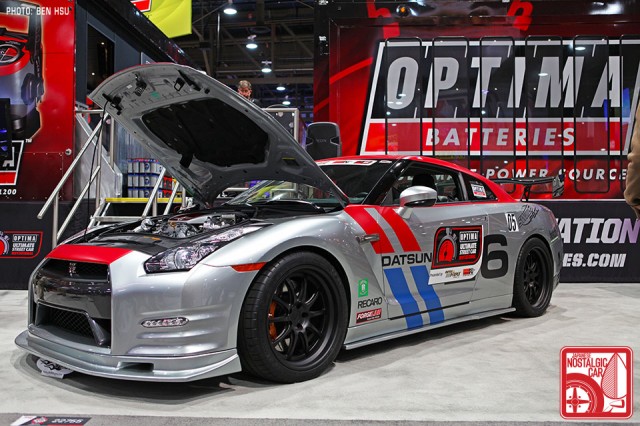 The SEMA show is a purist's worst nightmare. Stock is a dirty word to these people. You won't find a single unmolested car in the whole Death Star-sized convention hall, but that's not necessarily a bad thing. Those brave enough to venture inside will encounter the craziest automotive freak show on Earth.
We cover SEMA every year not because it's bursting at the seams with nostalgics, but because it's a barometer of where trendsetters of the automotive industry are headed. So even if nostalgics themselves were largely absent, at least there was this Nissan GT-R decked out in BRE livery at the Optima Batteries booth. It did a great job translating the graphics to a much larger and differently proportioned body. It was more faithful than many actual 510s doing the BRE thing.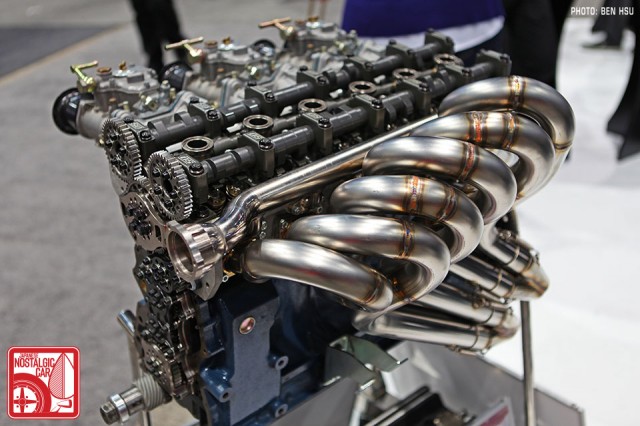 OS Giken showed their updated TC24-B1Z twin-cam motor for the L-series, a remake of the original's concept but and it's even better as a complete unit with a new valvetrain and gear-driven timing. It was shown at Nos2Days but never get tired of seeing this thing.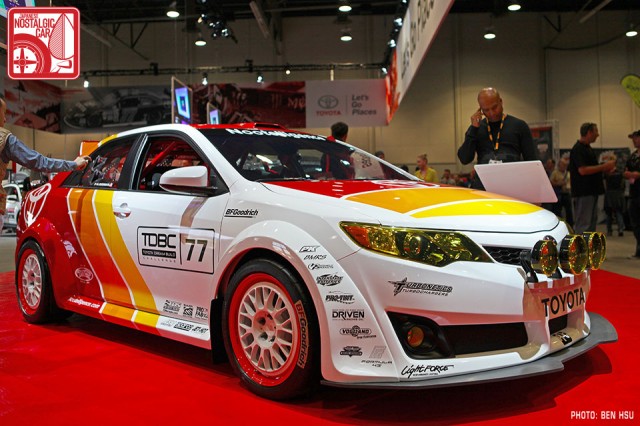 Let's take a quick spin around the OEM booths to see what they're up to. At Toyota, NASCAR driver Parker Kligerman constructed this bonkers twin-turbo V6 Camry rally car. It's part of the Dream Build Challenge, in which athletes get seven weeks and one Toyota to do whatever crazy thing they want. We just like the vintage racing livery.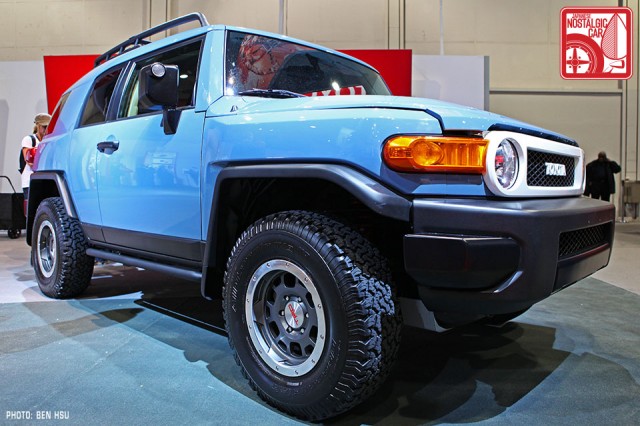 In other ToMoCo news, it's a sad day, but one the very few new cars we would consider buying is shuffling off this mortal coil. The FJ Cruiser's lifespan is coming to an end and there's no successor in line.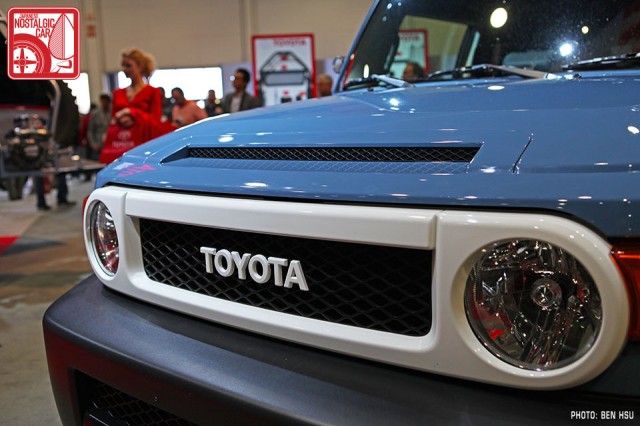 To give it a proper send off, Toyota is building a limited run of Trail Teams Ultimate Edition FJ Cruisers. It comes with a TRD skid plate, Bilstein shocks, a roof rack and black 16-inch bead-lock wheels. Only 2500 will be built and it will come in an exclusive Heritage Blue paint. The coolest feature? An FJ40-like white grille.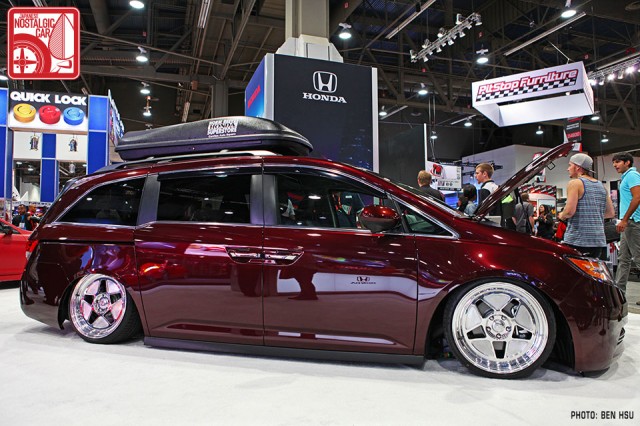 Honda took the opportunity to unveil a redesigned Civic or something, but we're not even going to show you that because they completely upstaged themselves with a 1029-horsepower Odyssey.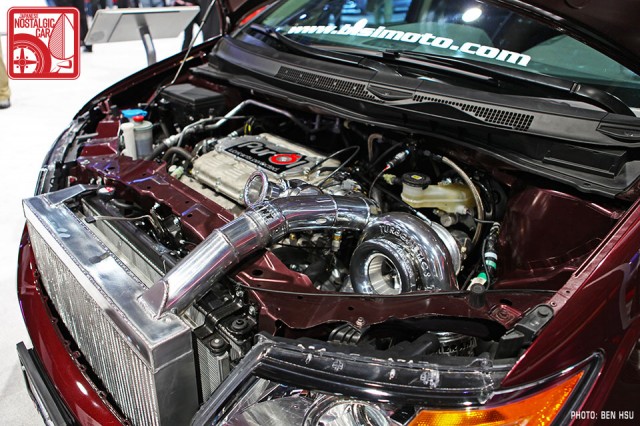 We do love a minivan, and a twin-turbo, manual trans bus on air suspension is too cool for school.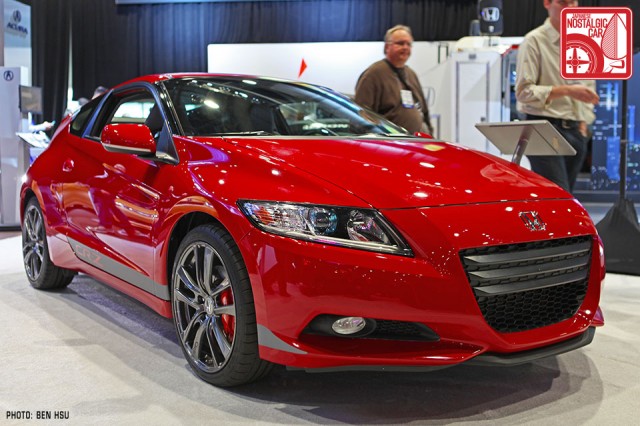 Honda also addressed complaints about the CR-Z not having enough power by offering a supercharged version via their HPD arm. New power rating: 187hp, a 47-pony bump. Will this bring the CR-Z closer to its intended mission as a revived CRX? We are doubtful.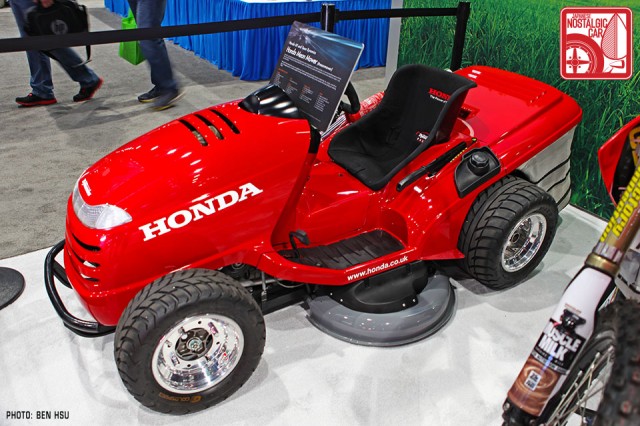 Oh and because SEMA, here's a 133 mph lawn mower with a 0-60 time of four seconds, courtesy of a VTR 1000cc motorcycle engine.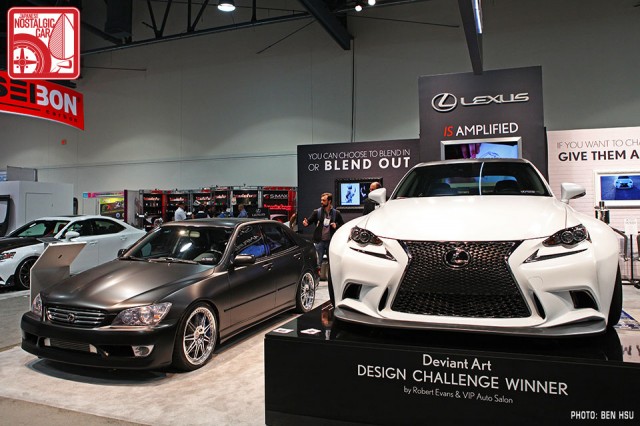 We were rather surprised that the Lexus booth wasn't just all about the new spindle-grille Predator face IS. They actually devoted a third of their precious booth space to a first-gen IS 300. No, it's not nostalgic yet, but compared to the other stuff at the show, but it did bring back memories of SEMA during the height of the tuner era.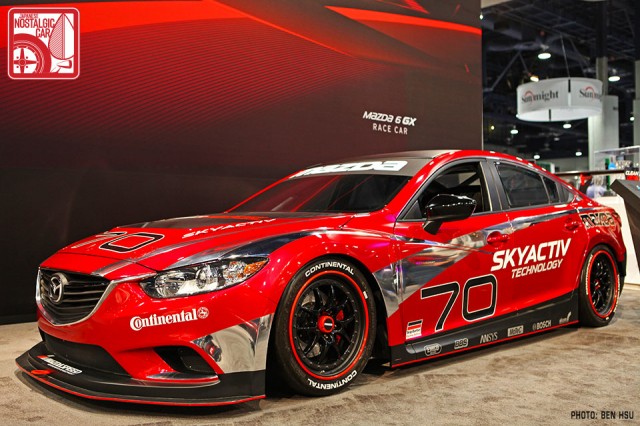 Fresh off a hugely successful first season in the Rolex Grand-Am GX series was the SpeedSource Mazdaspeed 6. It helped reign in the manufacturers' engine championship for Mazda, another stunning debut for a brand new race motor, the SkyActiv-D diesel.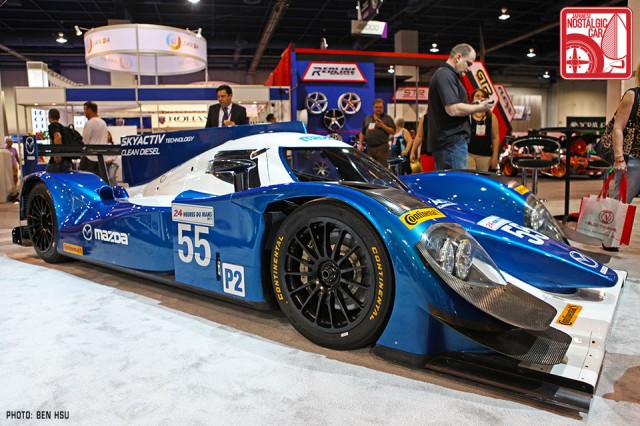 Over at the Continental Tires booth was another Mazda diesel, a LMP2 car that will race at Le Mans next year as Mazda returns to the race that made the 787B a legend.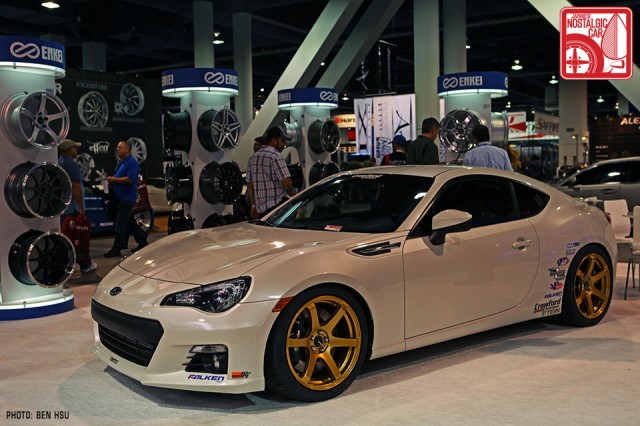 Over at the Enkei Wheels booth was Crawford Performance's awesome turbo Subaru BRZ on T6S wheels, as well as another reminder of bygone days, an S13 decked out in the language of drift.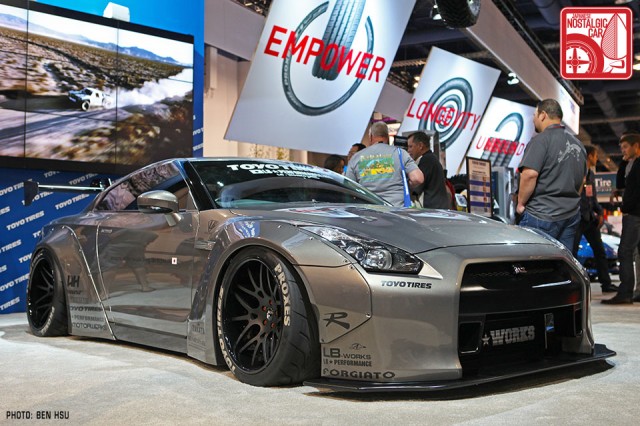 Toyo Tires had the wicked Liberty Walk GT-R on display, making an already monstrous car look even more intimidating.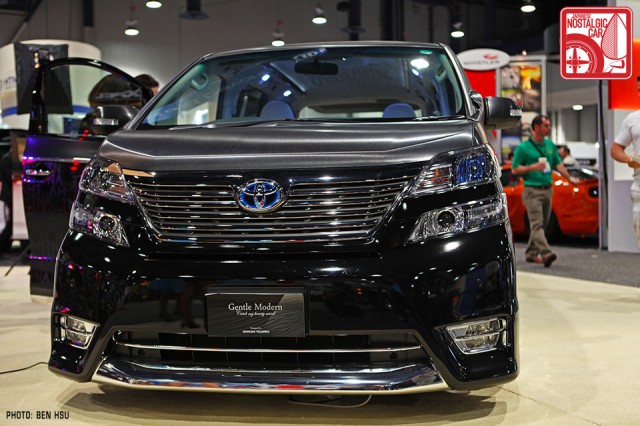 Then, randomly, a Toyota Vellfire, king of the JDM VIP vans.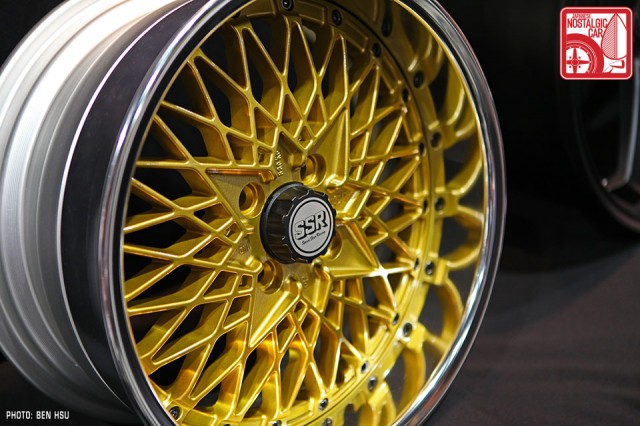 Over at SSR, we got some more details about the reborn SSR Reverse Mesh. 16-inch wheels will range from 5.5 to 10.0J widths, with prices starting at $540 and going up to $630. 19-inch wheels will range in width from 7.0 to 12.5J with prices from $790 to $990. We did inquire about whether it will come in nostalgic-friendly sizes and lug patterns. "We trying to," they said. The US office has to make a solid case for the mothership in Japan.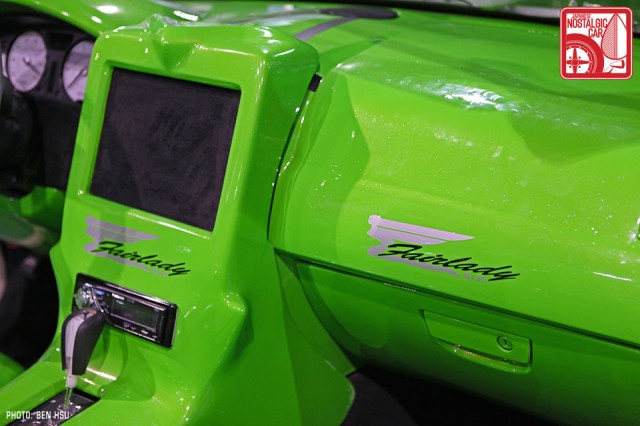 Just as we were losing all hope of finding another classic model, we turned the corner and saw this sexy Fairlady convertible!
That's right, folks, this is the hot new ish in town. Does your old Datsun have a side opening trunk? Rims taller than a stepladder? Enough green plastic to astroturf every high school football field in Texas? Well then stare in awe at this magnificent creation.
It's also rocking hella dope features like the new "protruding screw" shift knob. Oh, your center console fits around the shifter gate with no gap? That's weak sauce, bro. And what's that, you actually have a touch screen? That's out; a piece of black felt is what's chill these days.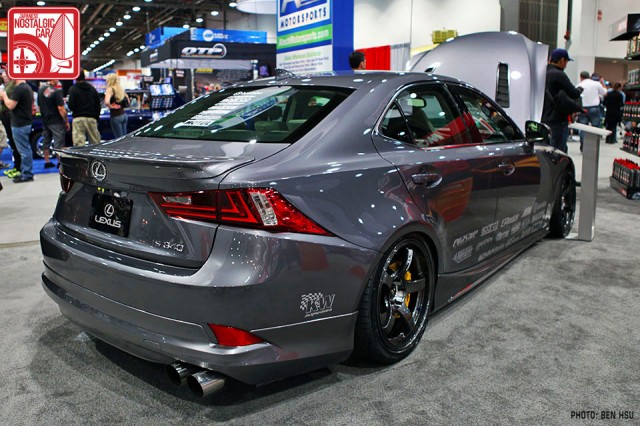 We couldn't end with that affront to taste with a clear conscience, so here's something to cleanse your palate. We found this Lexus "IS 340" at the Motul booth, powered by a single-turbo 2JZ stroked to 3.4 liters. We dig how builder Philip Chase ditched the cyborg gizmos of the new IS and went with the tried-and-true, less-techy-but-more-powerful god motor of Toyota speed junkies. Plus, the Advan TCIIIs are pretty sweet too.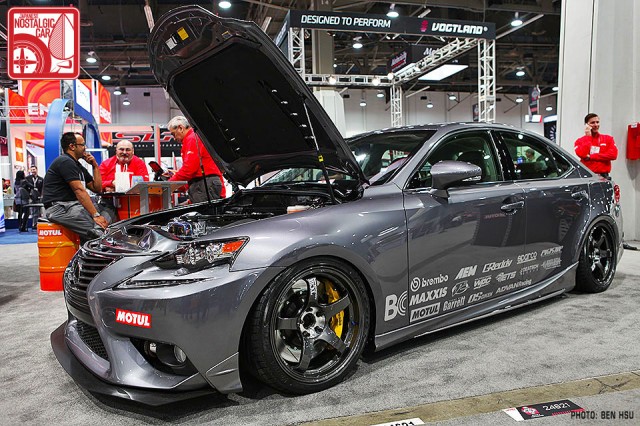 This is the kind of build that SEMA should be about. It takes us back to the glory days, when Toyotas had proper straight sixes, a swapped R154 and was built to 700hp. To us, it's the sexiest third-gen IS on the planet.