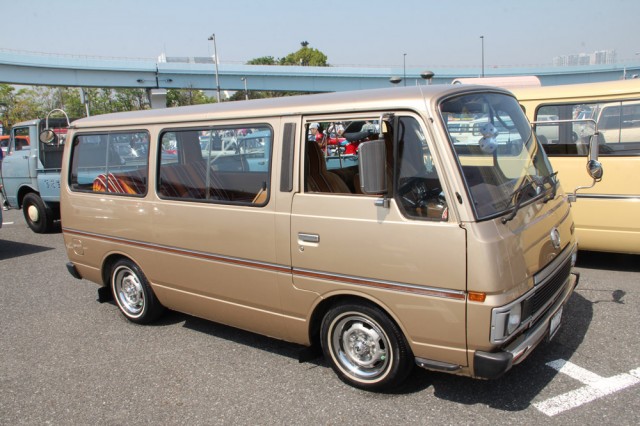 All hail the one-box! Our final installment of the 2012 Mooneyes Street Car Nationals is going to be van-tastic! After all, the SCN is a festival of Amesha Kulture, and what's more American than vannin'?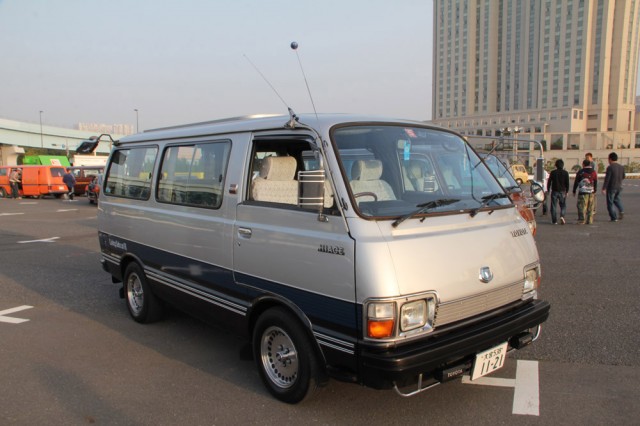 Custom van culture in America usually centered around the Chevy Beauville variety — cubic but with at least some semblance of a hood. There were plenty of those at the Nationals, but this is JNC and we know you're here for Japanese COE bricks.
In the US vans followed a sad trajectory from rock-n-roll shuttles to rolling shorthand for pedophiles. Van culture died around the time it became uncool to airbrush a Boris Vallejo barbarian girl on the side of your ride, making Japan potentially the only place in the world where vanning lives on with pride.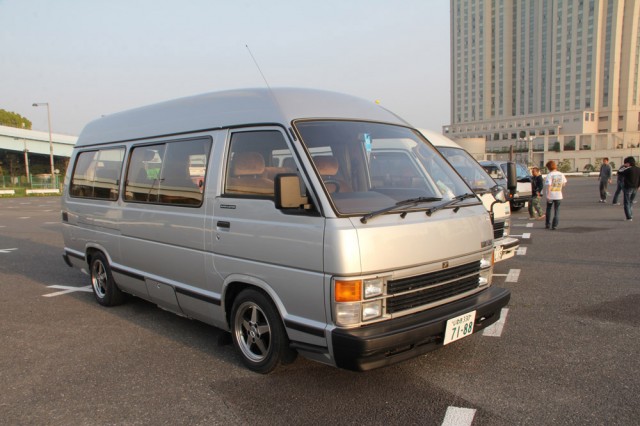 Cab-over-engine vans like the Dodge A100 and Chevy Corvair Greenbrier were a brief flash in the pan here in the US. Drivers clearly felt more comfortable when separated from the rear of an 18-wheeler by more than a thin sheet of glass. But one-box vans continue thrive in Japan, in sizes ranging from the smallest kei jidosha to the big honkin' H50 Toyota Hiace.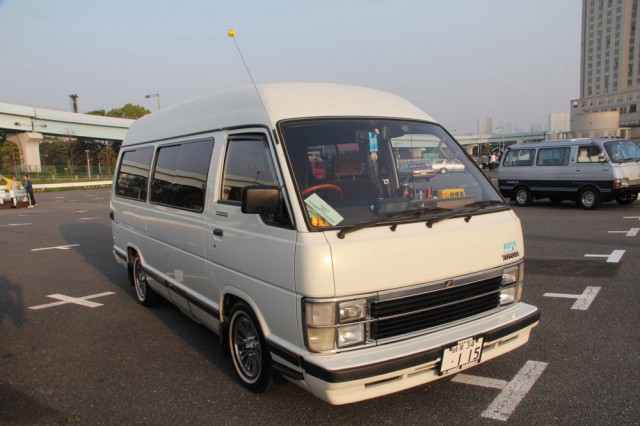 Like in 1970s America, vans represent the freedom to roam, but in Japan there's an addtitional factor: many of these crates are likely more luxurious (and spacious) than the average Tokyo apartment.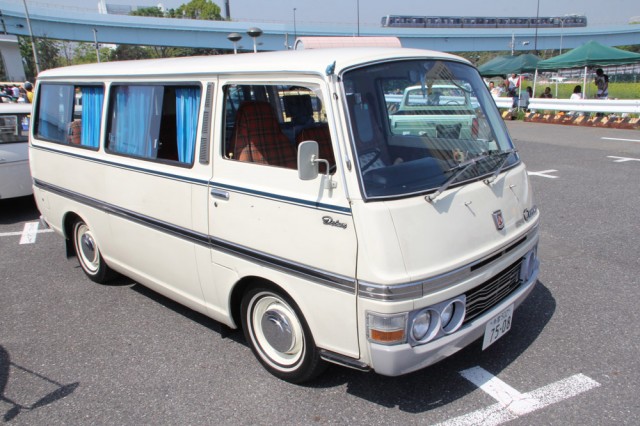 A be-curtained rear cabin is perfect for life on the road. When this Caravan's rockin',  don't come a-knockin'. We usually don't condone painted bumpers where chrome ought to be, but light gray contrasts nicely with off-white and doesn't look too contrived. Color-matched steelies are cool no matter what though.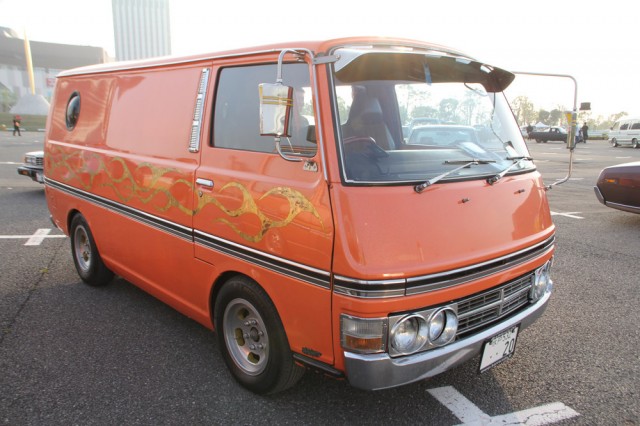 Eagle-eyed JNCers spotted this orange beast in the background of one our previous installments. This E20 Nissan Caravan's been given the full American custom van treatment — porthole window, gold leaf tribal flames, trucker mirrors, a window visor, and slot mags.
Honestly, we're not too into the America-on-crack aesthetic. In a classic case of grass-is-always-greener syndrome, we'd rather see a stock-bodied E20 Caravan, even if the owner couldn't resist a random John Deere licence plate. Lots of flat, front-end acreage also meant that the "Caravan" emblem could be enormous.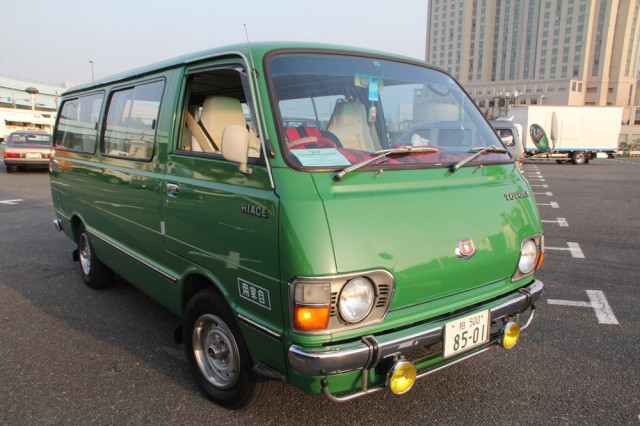 The kanji on the door of this green H20 Hiace means that either it was once employed as a commercial vehicle, or the owner dreams of truckin'. Either way, we love the vibrant 70s shade of green and the neato bumper-hangy foglight bar.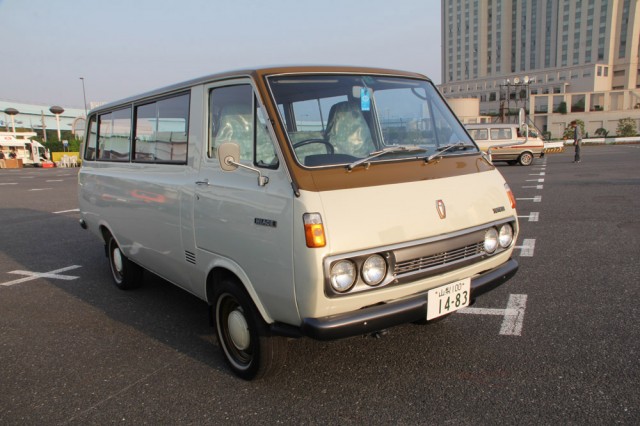 Previous generation H10 Hiaces aren't as popular with customizers, partly due to their rarity and partly due to weirder looks. Even the cowl-to-roof two-tone treatment is a bit strange, but the important thing is that there' still examples out there for posterity.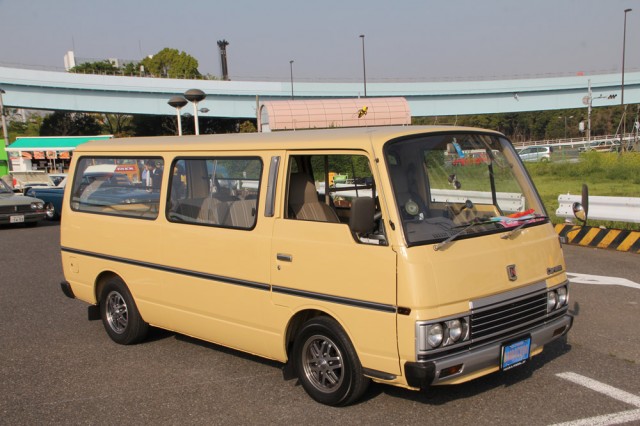 Nissan was using the Caravan name long before Lee Iacocca's minivan came along. When the Dodge bearing the same name debuted in 1984, Nissan was well into the second generation E23.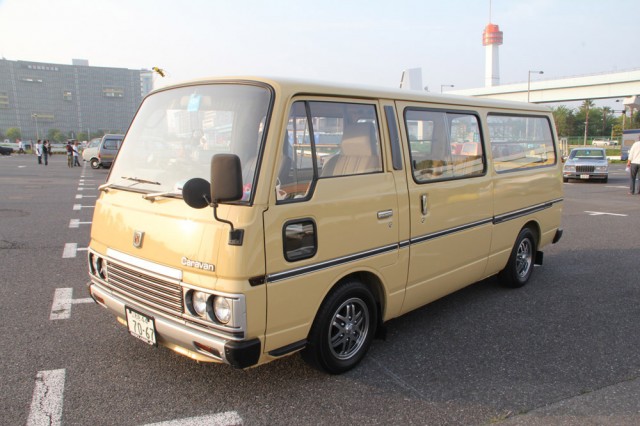 This almost looks like the same van as above, but the Japanese plate gives it away. We can also now show you the awesome auxiliary window on the passenger side so you don't careen into a passing kei car while changing lanes.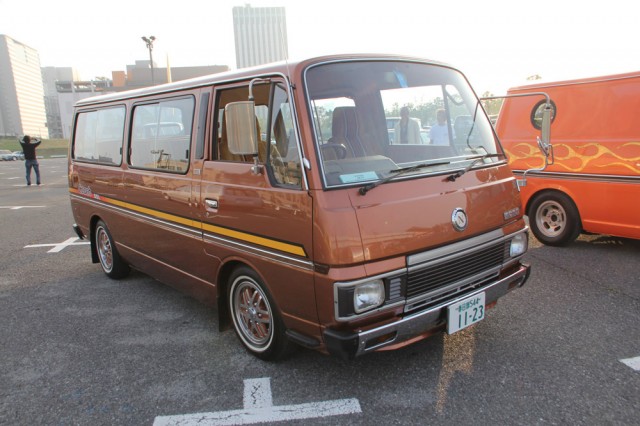 What up, Homy? Originally a Prince model, the Homy was combined with the Caravan line after the PMC-Nissan merger like the Gloria with the Cedric. Differences are negligible — the square headlights are zenki/kouki thing, not a Caravan/Homy thing — but the dinner plate "N" emblem is a dead giveaway.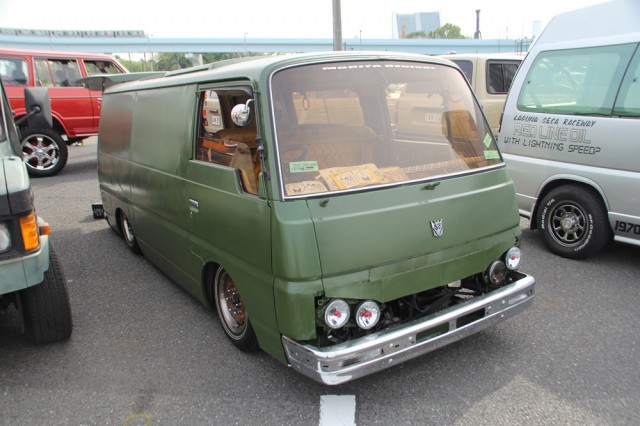 And then there's the option of boarding up your side windows with sheetmetal and replacing the logo with a Decepticon symbol. Note the tsurikawa in the rear window.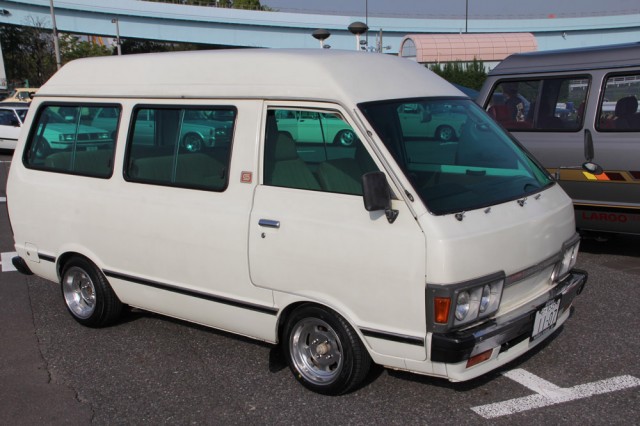 But if you really want to talk Transformers, look no further than the Nissan Vanette, which formed the basis of the characters Ironhide and Ratchet. We can't decide if it looks awesome slammed, or if the space allocated for wheel wells is comically small.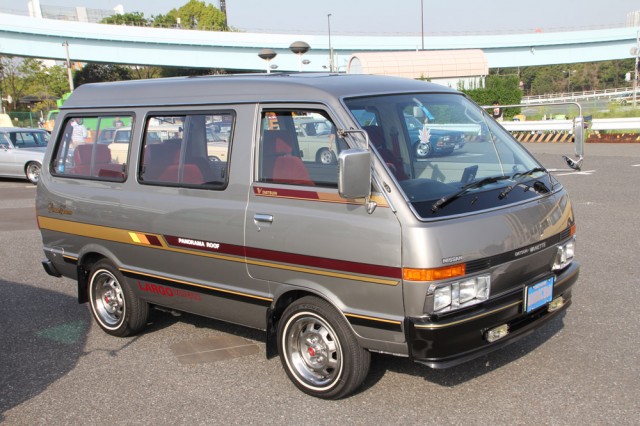 The upscale Largo Vanette had a large sheet of glass up above called the Panorama Roof. Contrary to popular belief, the Datsun name was indeed used in Japan, on Nissan's smaller cars like the Vanette, Sunny and trucks.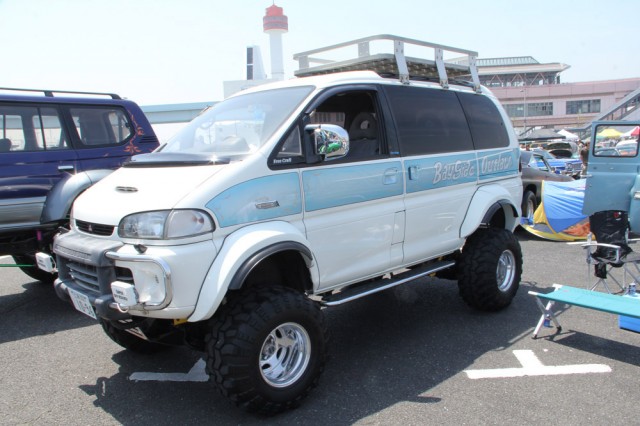 There's an entire subculture of lifted Mitsubishi Delica off-roaders in Japan. They're considered quite the capable 4×4, and are frequently enlisted into camping duties. Of course, no vannin' article would be complete without one with a custom airbrushed name like the Bayside Outlaw.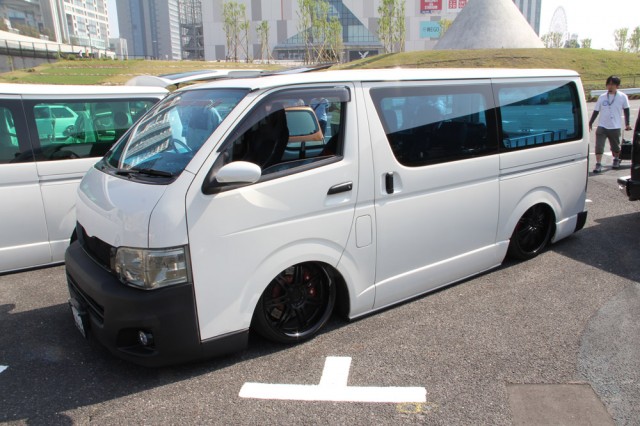 The custom van craze may be all but dead in America, but the Japanese love vans more than ever. In fact, when the sleek H200 Toyota Hiace debuted in 2004 it launched a new era of one-box madness. Modded H200s are everywhere, and although it's a cargo van, dare we say its lines are like modern art. Loud colors and snazzy decals may be gone, but vanning is forever!
Our coverage of the 2012 Street Car Nationals is over, but if you missed them here are the  coupes, utes, sedans and wagons.
Photos courtesy of MQQNEYES.