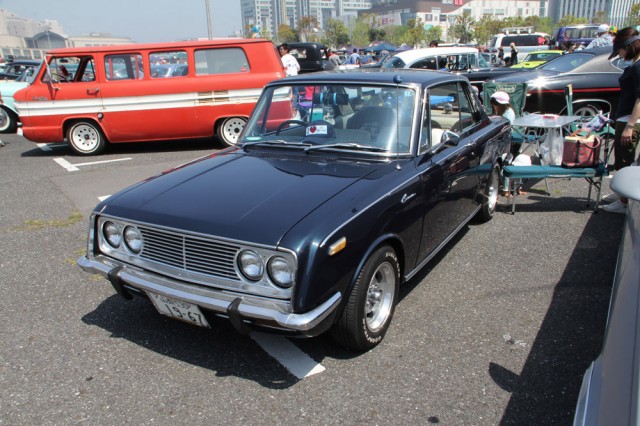 The Mooneyes Street Car Nationals may take place in Tokyo, but unlike the typical kyuusha gathering the SCN is a celebration of Amesha Kulture. That's why you're more likely to spot a Chevrolet Corvair Greenbrier van than a G-nosed Z, and if there's a barikan Corona it's going to have white-letter radials on slot mags.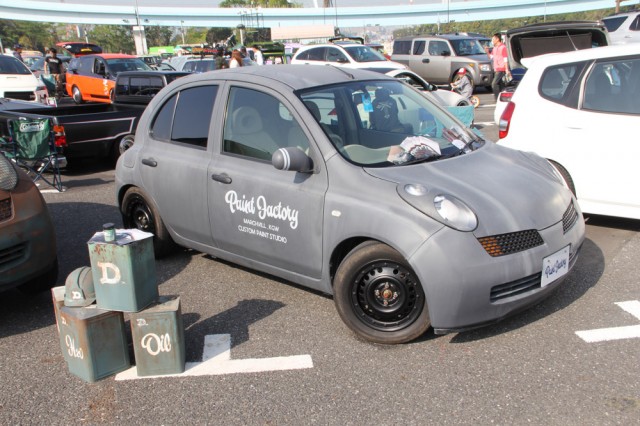 The age of the car doesn't matter, the important thing is that the heyday of American automobiles is honored. Despite its new-ness the immensely popular K12 Nissan March is almost an iconic a car in Japan as the Subaru 360, so naturally it would be ripe for the hot rod look.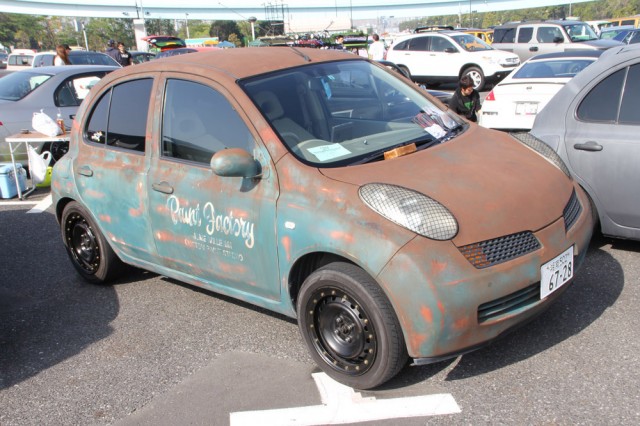 We're not sure if the Paint Factory is being ironic, but it must take some skill to give a car from the mid-2000s the patina of a '50s Detroit barge left out for decades in the harsh southern California sun.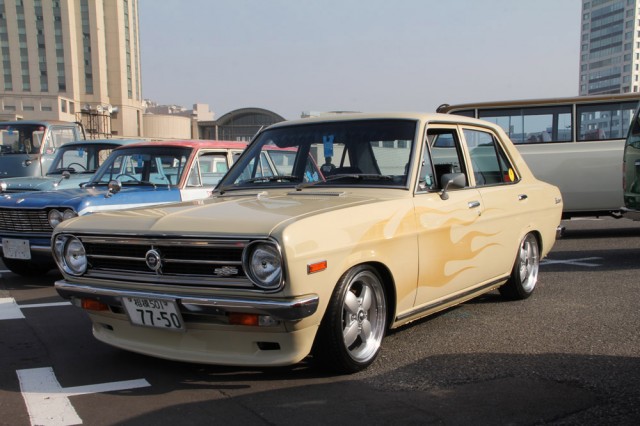 The Amesha concept can manifest itself in interesting ways. Flames are clearly a trademark of the American street machine, but can easily be overdone. If you must flame, a subtle ghosting is perfect for a B110 Sunny whose new school VTO Libre tributes and ominous SSS badge indicate something less than stock.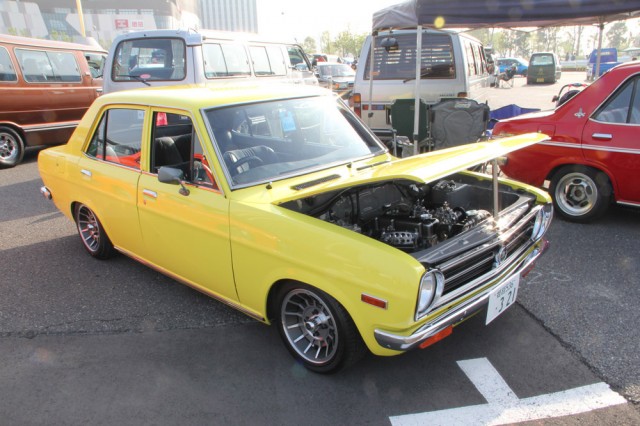 While we go gaga over JDM barrels, amesha fans seek out American brand rims like Appliance. Their A/P Turbo-Vecs were a copy of American Racing's Vector, but there's nothing cooler to a certain subset of Japanese car nuts than a wheel that was born in SoCal.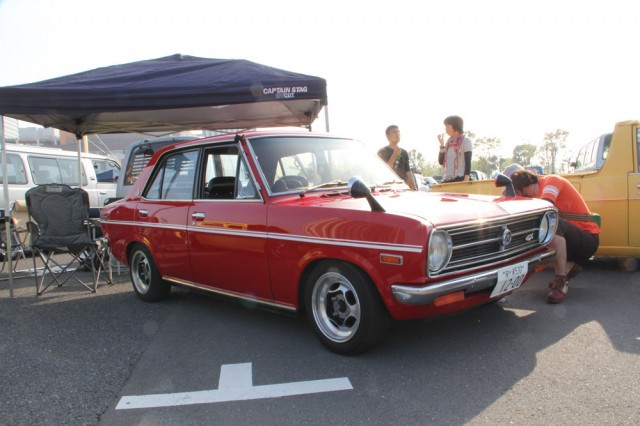 The challenge to find the most arcane wheel is universal. Since JNC's dear readers are primarily based in the good ol' US of A, can anyone venture a guess as to what this Sunny sedan's a-rocking? Make your best guess and put it in the comments, then read the paragraph below for the answer. Honor system!
The Sunny is rolling on Motor Wheel Spyders, introduced in 1969 by a company called Motor Wheel based in Lansing, Michigan. Winners receive 1,000 internet points, which are redeemable for absolutely nothing and have a cash value of zero.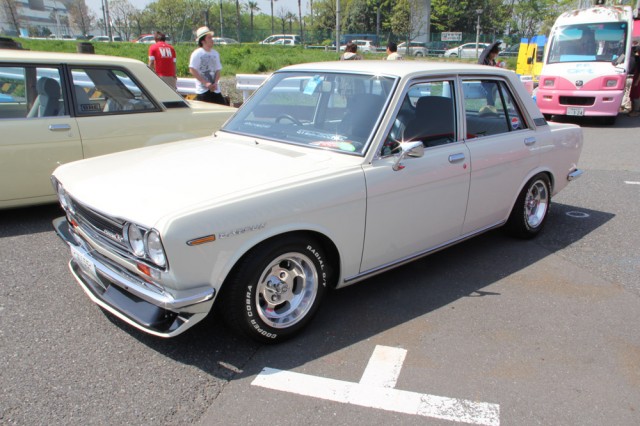 Cooper Cobra tires aren't available in Japan, but Mooneyes imports them for the discerning USDM maniac. Clearly this is a newfound level of insanity, and our own JDM maniacs have some catching up to do.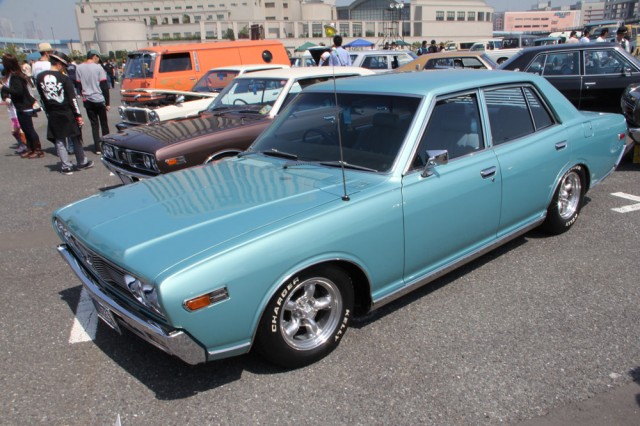 The Barracuda 230 Gloria had been around a long time, and when you're the purveyor of American style customs you've got to roll on the most elite USDM goods. That's why Iida-san keeps it fresh by wrapping his Torq Thrust IIs in Kelly Charger GTs with painted sidewall letters.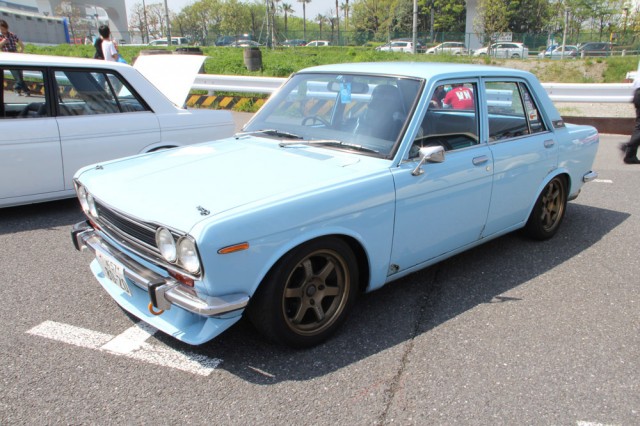 Admittedly this baby blue Bluebird seems a bit out of place at the SCN. Hood pins, a tow hook, and Volk TE37s give the impression it'd be more at home lapping Tsukuba Circuit than cruising to the drive-in like the Cooper Cobra 510. Still, it was simply too beautiful a shade of sky to ignore.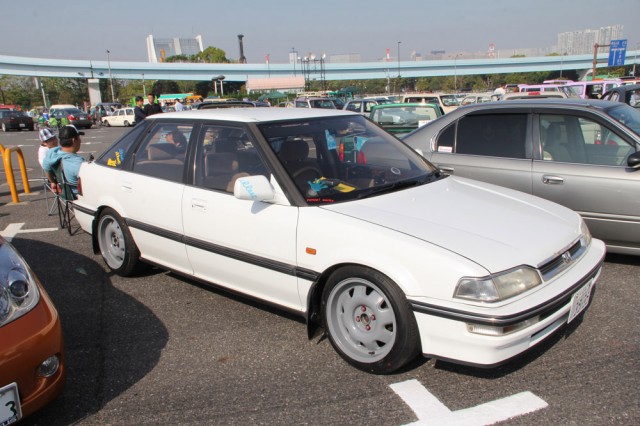 Though plain, we show you this Honda Concerto because not many gaijin are aware of its existence. A Civic-based cousin to the British Rover 200, it was another cog in Japan's experiment in multi-dealer sales channels. If you'll notice, Honda was naming a lot of their 80s cars — Concerto, Prelude, Quint(et), Ballade — after music and poetry for a high-class feel.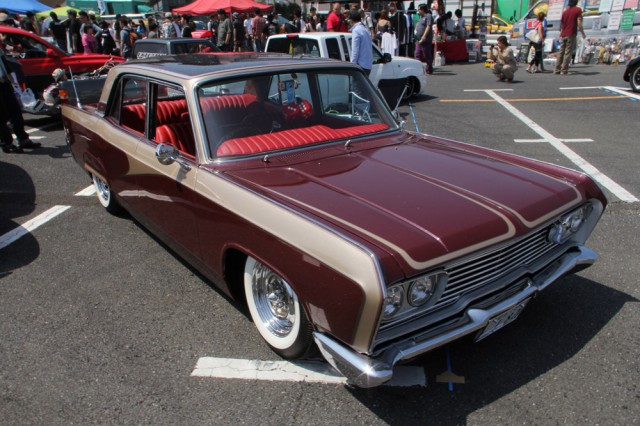 More than any other car, the Mitsubishi Debonair seems to attract the Barris-type kustomizers. Scalloped two-tone, fender skirts, and an interior tucked and rolled tighter than a fresh joint — this sled's got it all.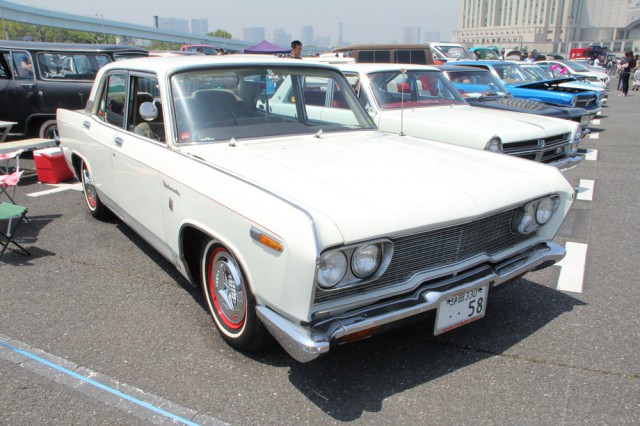 By contrast, a cocaine-white Debo' looks positively sedate. Add subtle red pinstriping with a glimpse of color-matching and you've got a strong case of less being more.
Taking the glitziest luxury barge and sprucing it down is a time-honored tradition among hot rodders. At Mooneyes car shows in the States you'll find rows of de-blinged 60s Cadillacs and Lincolns. In Japan the natural option is the Toyota Century.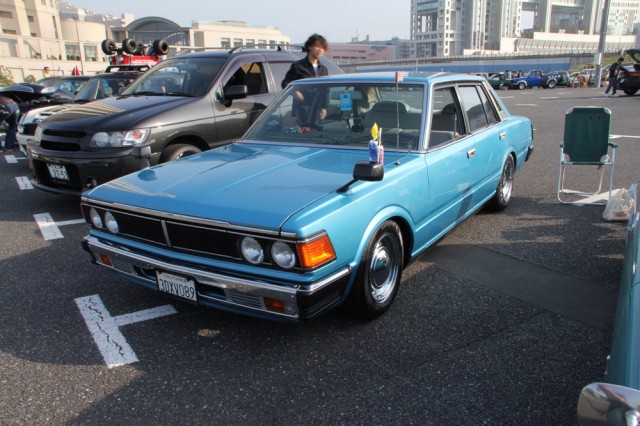 At first glance this may look like a run-of-the-mill 430 Cedric, but we've heard it's undergone many not-so-easy modifications that still look stock to the casual observer. The hood contours, for one, aren't original but they look like the could be. What else is this car hiding?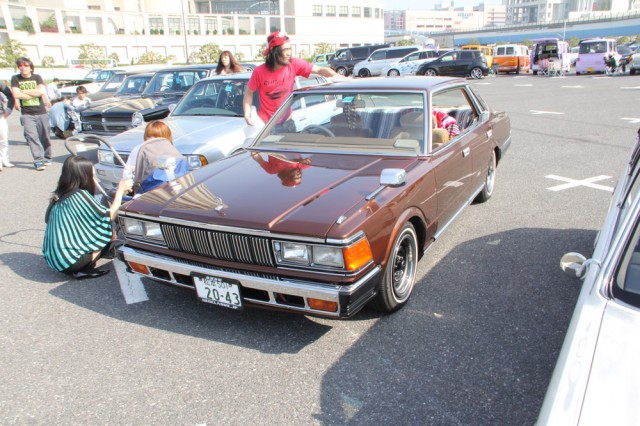 Here's another 430 Cedoguro that checks all the boxes to set our hearts aflutter. It's boxy, brown, and B-pillar-less. What more can a JNCer want? While late-70s American luxo barges grew to ludicrous dimensions, Japanese ones remained comparatively svelte and thin-bumpered.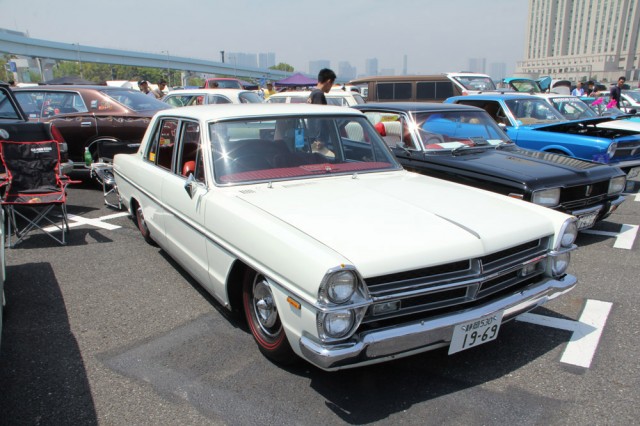 There's no color combo quite like white with a red interior, and redline tires are the perfect complement without going overboard. The resulting tateguro is the perfect sedan for mobbing around the alleys of Tokyo.
This Special Six may seem unassuming but we've seen enough Seibu Keisatsu to know that whereever 130 Nissan Cedrics lurk, nefarious activities are afoot.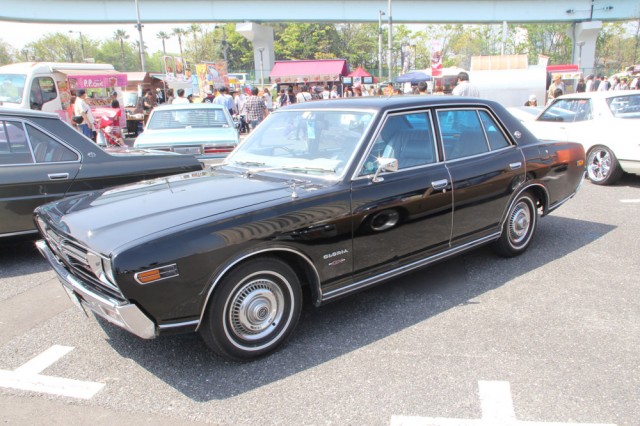 Likewise, the 230 Gloria is common car chase fodder for the West Tokyo Police Department. It's inspiring to see a nearly bone stock example, but what do purists think if the fender mirrors have been removed?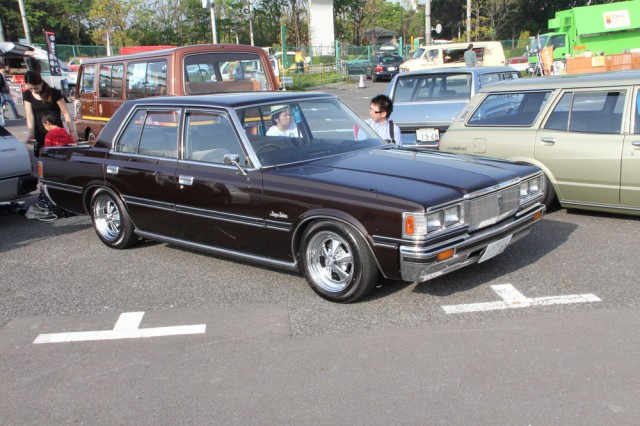 Previous generation Toyota Crowns had at least some curves, but in 1979 the S110 became unapologetically boxy. Somehow the rear overhang manages to be downright sexy, and surprisingly a set Cragars (or some facsimile thereof) seem perfectly at home.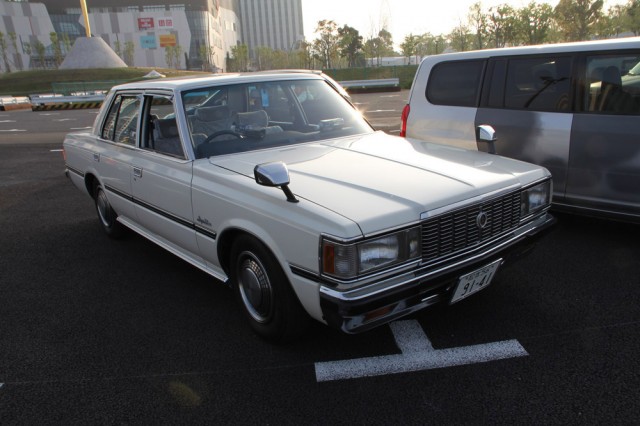 The kouki S110's grille didn't angle inward at the bottom, giving the front an even more blunt-nosed mug. There's nothing quite like a business sedan with a Toyota straight six.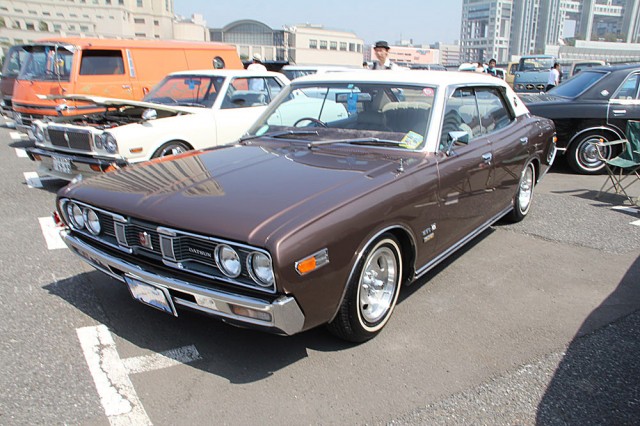 White vinyl and matched tires, not to mention God's own shade of metallic brown, are what make this 230 pop. A Datsun badge was probably added for Americana's sake, even though the 230 Cedric/Gloria was sold under the Datsun brand in nearly every western nation except the US.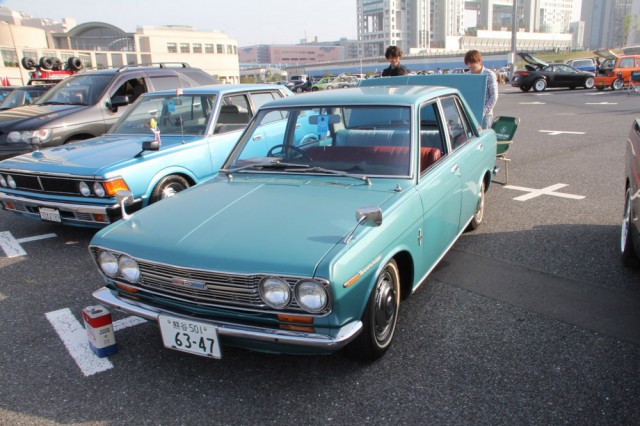 We've seen this medium blue 510 sedan many times before but it remains one of our favorites. It lives as solid proof that you don't need anything other than a light drop. Bonus points awarded for the vintage Nissan oil can.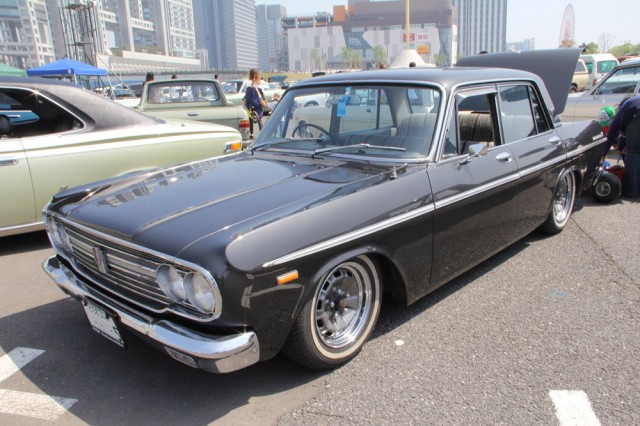 S40 Crowns usually appear in lighter colors like tan or baby blue. Coat a slammed one in metallic gray and suddenly it's the meanest low-down cruiser we've ever seen. A car like this is capable of giving children nigthmares.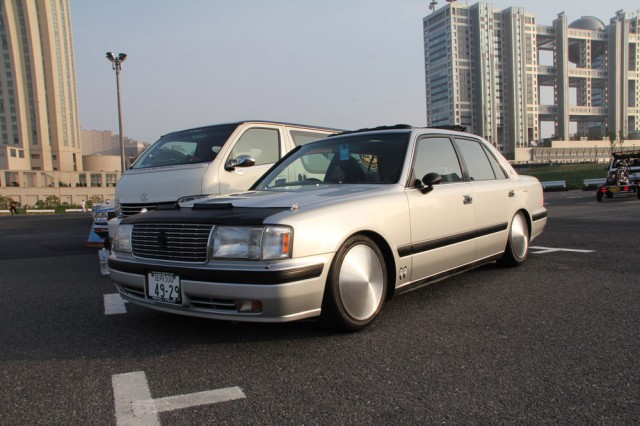 It's not quite nostalgic and mid-90s Crowns are everywhere in Japan, but there's something about this S150 that demands a second look. Making a sedan most commonly seen in taxi and cop car duty look this freakin' cool with just a nice stance and a set of Moon Discs sure takes a deft practitioner of Japanese minimalist voodoo
Stay tuned, there's more of the 2012 Mooneyes Street Car Nationals to come, but in case you missed it here's Part 01 – Coupes and Utes.
Photos courtesy of MQQNEYES.