Some of you may be wondering what the deal with the two-door sedan is. Isn't that just a coupe, and didn't we already see the classic coupes at JCCS? The answer to that is, confusingly, no.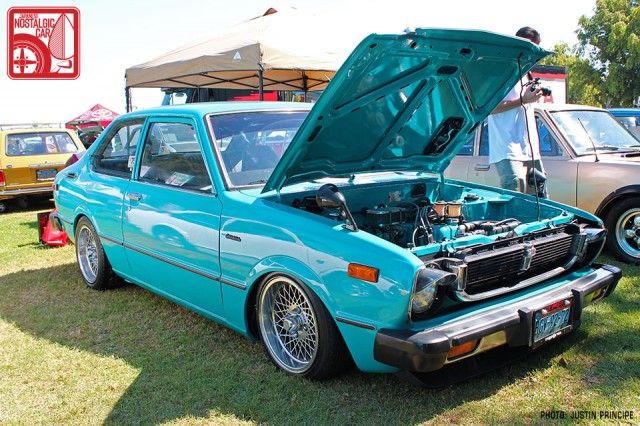 Back in the decade of disco, Japanese automakers were churning out as many as half a dozen body styles for their most popular models. Toyota was probably most egregious with the Corolla, which had no less than six body styles offered for much of the 70s.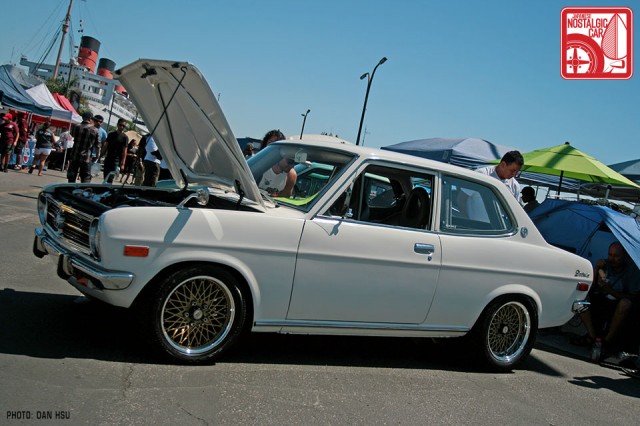 Despite what the term implies in modern parlance, traditionally a sedan could be both a two- or four-door design. What made a sedan a sedan was its roofline and the slope of its C-pillar, not its number of exits.
Two-door sedans had longer rooflines than their coupe counterparts. Coupes would slope more heavily in the rear, making the overall shape sportier. Two-door sedans, on the other hand, often adopted the roofline of the four-doors, making them a bit more upright.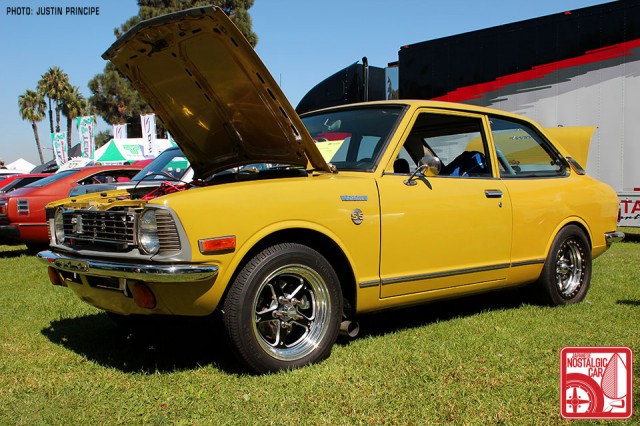 It's what separates the TE27 "mango" from the TE21 "peanut," even ones running 2T-C with massive turbos and side-dump exhaust.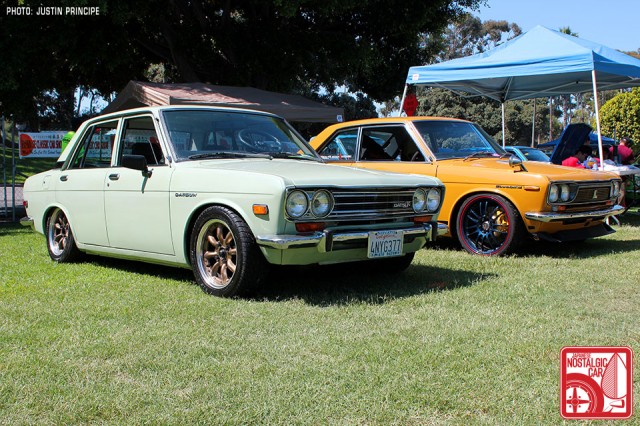 To take the classic example of the Datsun 510, note the sloping C-pillar of the JDM Bluebird Coupe built by Mario Lozano. Contrast that with the squarer roofline of Eddie Luna's beautiful Cactus Green '72 sedan.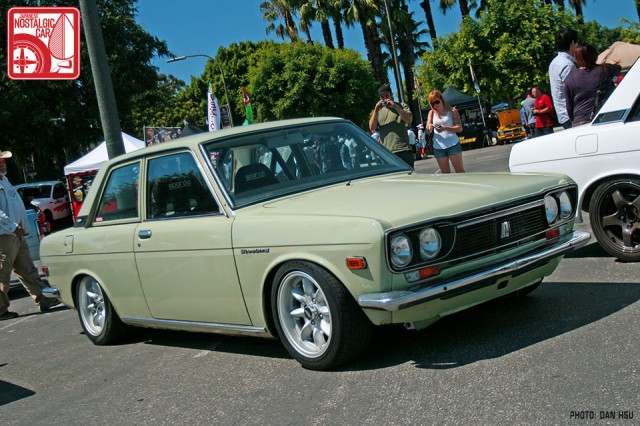 Now compare those with Mynor Campos's '72 two-door sedan. American 510 freaks may long for the grass-is-greener JDM Coupe, but it's the other way around in Japan. Ironically, the two-door sedan was sold for only one year there, making what is plentiful in the US rare and sought-after in its homeland.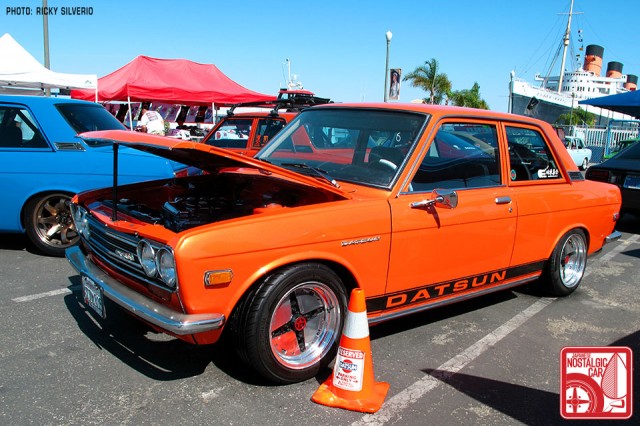 There is something to be said for the two-door sedan's charm. Perhaps it's because we're used to seeing them, but its squareness just looks right. With the right stripe and wheel choice your two-door sedan can appear even boxier.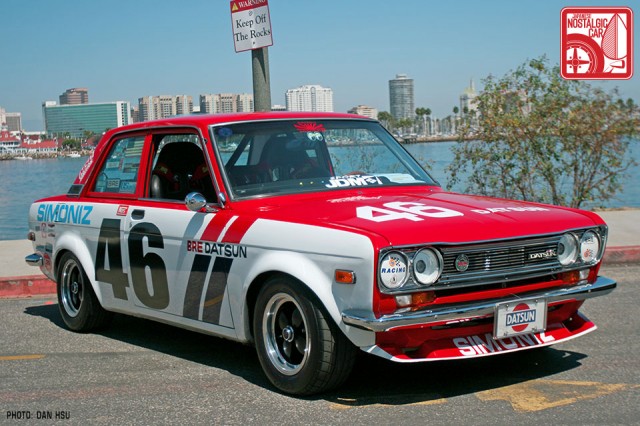 In Japan Nissan's motorsports flag was carried by the Skyline and S30 Z, so it was up to Peter Brock's BRE livery to iconify the Bluebird. Numerous replicas have since been created both here and abroad, though sometimes the fonts aren't exactly on point. This otherwise nicely built example was at parked next to the booth where driver John Morton was signing autographs.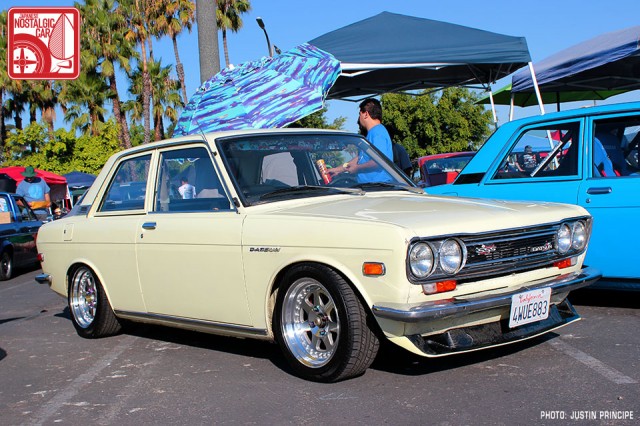 Even without the BRE colors there are cars that have a distinctively BRE flavor. Aside from the wheels, this 510 could be a dead ringer for one of the best-constructed USDM style 510s in Japan, which was displayed at the Mooneyes Street Car Nationals earlier this year.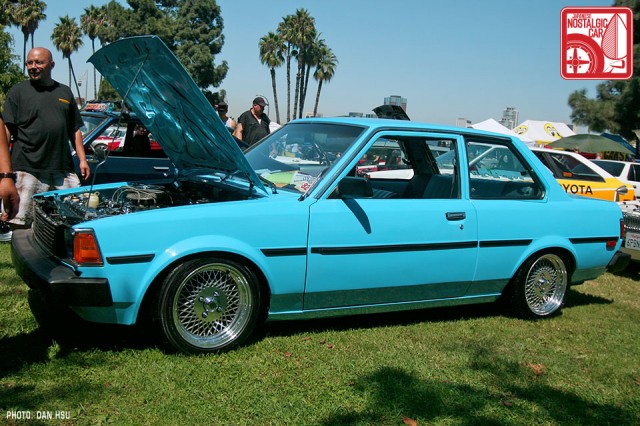 Eventually automakers realized that they could save a lot of time and money by whittling down the variations in body style. Sure, that made the array of choices a bit less dizzying, but we sort of miss the fact that sometimes you have to look twice at cars like Martin Solis' gorgeous TE72 on chromed Enkei 92s to realize it's missing two doors.
We have more JCCS coverage coming up, but for more photos now check out the gallery below as well as Part 01, 02, 03, 04, 05. 06, and 07.