Grease up your rizento because second color of the Mad Manga is coming. Earlier this year, Hot Wheels shocked the minicar world by creating what is almost certainly the first diecast zokusha outside of Japan.
A recolor in red and gold is now upon us, and the Lamley Group has the first detailed shots of the car in all its flared, finned, and shark-nosed glory.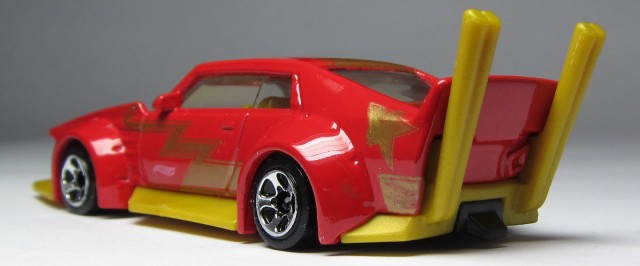 Naturally, we have Hot Wheels designer extraordinaire Jun Imai to thank for this insane/incredible creation. It caused a minor stir in the Hot Wheels collecting community when first announced and this will likely continue the controversy. What do JNCers think? Let us know in the comments.

Or, you can tell Imai-san himself at JCCS on September 15 in Long Beach, California. Yes, the mad manga scientist will be at our JNC booth. We'll have some Imai-designed Hot Wheels like the Datsun 510, Toyota AE86 Corolla, hakosuka and kenmeri Skylines, and Mazda RX-7 available but supplies are limited so bring your Hot Wheels for him to autograph.
For more photos of the Mad Manga and other diecast cars, check out the Lamley Group.
Photos by John Lambert.