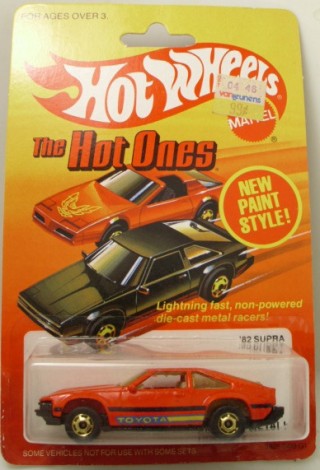 As the holidays descend upon us visions of toy cars are dancing in our heads. In addition to the Mazda RX-7 appearing in the 2012 Hot Wheels main lineup, there's even more excitement for fans of old school Japanese cars in store.
The 2012 Hot Ones series will feature even more nostalgics from the 1980s. The list thus far includes new castings such as the 1985 Honda CR-X, Subaru BRAT, Plymouth Arrow (Mitsubishi Lancer Celeste) Funny Car, '87 Toyota (which is likely a pickup), '85 Yamaha V-Max, and a retool of the original A60 '82 Supra.
Back in the 80s, the Hot Ones were cars fitted with special gold wheels, thinner axles and flexing "suspension" that made them faster down an orange track. These features eventually spread across the entire Hot Wheels line. In 2011, the Hot Ones made a comeback as a collector series that featured special packaging and detailing, bringing back many of the 80s castings fans like us grew up with. However, some of the cars were new castings that didn't exist in the 80s, and it looks like we're about to get a face full of Reagan-era Japanese awesomeness.