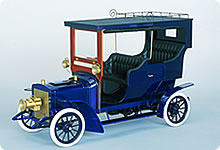 Well, it's here, the final day of the year. Now before we all get hammered and pretend we know the words to "Auld Lang Syne," let's take a look back at all the nostalgic car happenings that took place during our planet's latest orbit 'round the sun.
We think 2007 can be safely called a banner year for nostalgics. First of all, it marked 100 years since Komanosuke Uchiyama finished construction on the 1907 Takuri (pictured). It was powered by a 2-cylinder 1.9L boxer engine, but had the added effect of being the first ever Japanese-made car. Sayonara, walking!
But what about companies that still exist, you say? Well, in 1907 Daihatsu was also founded, and immediately began cranking out (ha!) engines. Their first car wouldn't come along until 1930, and even then it only had three wheels, but the
company had been firmly established. In honor of its centennial, this past May the Daihatsu museum opened in Osaka.
2007 also saw the 50 years of one of the most revered names in motoring, the Nissan Skyline. All 12 generations were put on special display at the just-completed $3 billion Tokyo Midtown, and the newest iteration embarked on a country-wide tour that culminated at the Ken & Mary tree in Hokkaido. Nissan's Ginza showroom housed another exhibit, and in October, the reincarnated GT-R made its debut at the Tokyo Motor Show.
In May 1967, Mazda's iconic rotary engine spun freely into the world in the form of the Cosmo 110S. Of all the Japanese automakers, Hiroshima-based Mazda has made the most aggressive and much-needed push towards making its history known, with a killer website and special edition RX-8s for Japan and the US. As a result, Mazda wins the completely unprestigious Japanese Nostalgic Car's Manufacturer of the Year Most In Touch With Its Roots Award.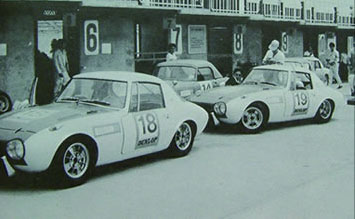 Yes, 2007 was a big year, but biggest most of all for the Big T. Not only was it Toyota's 70th birthday, but also its 50th year in motorsport. Not that it noticed any of this, however – Toyota was too busy surpassing GM to become the biggest automaker in the world. At the end of October, Toyota USA celebrated its 50th anniversary, marking exactly half a century of Japanese cars in America. The very next day marked 25 years of Japanese cars built in America, with the anniversary of Honda's Marysville, Ohio plant opening.
But enough about the manufacturers. What about the enthusiasts? You guys are the pioneers, baby! The nostalgic car universe is still in its infancy, but growing in leaps, bounds and jetpack-assisted flights thanks to you, dear reader. The Japanese Classic Car Show was bigger than ever this year. The mainstream media began to take a closer and much-deserved look at vintage J-cars. The Times, both LA and New York, published pieces on the emergence of Japanese classics. Shows like Motoring J Style stepped onto the scene, and even more events are planned for next year. Commercials and TV coverage too.
Oh yeah, and we started! Okay, technically we started in 2006, but the website you're reading right now launched in January. It wasn't just us,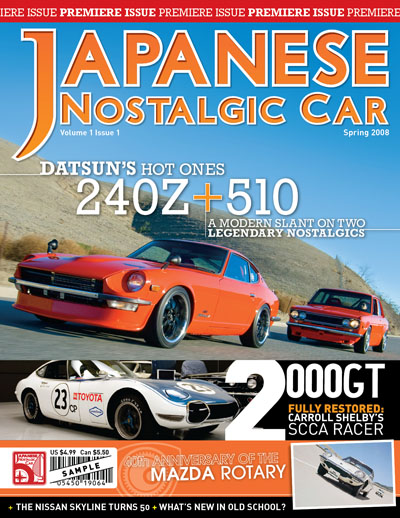 either – there were also our partners in crime at grandJDM and Old Japanese Car in what Hemmings called a "mini-explosion" of English language sites about old school JDM. We'll be sure to mention this honor next time we're going through airport security.
Explosion or not, we're truly honored to have been a tiny part of the fast-growing world of nostalgics. As you may have heard, we're coming out with a magazine for 2008, with unique content and full color photography. As with all our endeavors, we hope this will help support the scene, the shops, the enthusiasts and, of course, the cars. Look for a subscription announcement in the first week of January.
Wow, this is post is beginning to rival War and Peace in length, but we'd like to leave you with this. It's a new year's card originally sent out on January 1, 1936, and comes courtesy of our friend Dan Banks and The Dan Banks Collection. According to Dan, the 1935 Datsun Model 14 on the postcard was drawn by Ryuichi Tomiya, who did many of Datsun's early catalogs and advertising materials. Hanging from the hood ornament is a shimenawa, a straw rope with paper strips warding off evil spirits and welcoming Toshigami, the Shinto god of the New Year. The card was sent by a Datsun franchise to a customer in Kamakura and says "Wishing you continued happy motoring in the Datsun this year!"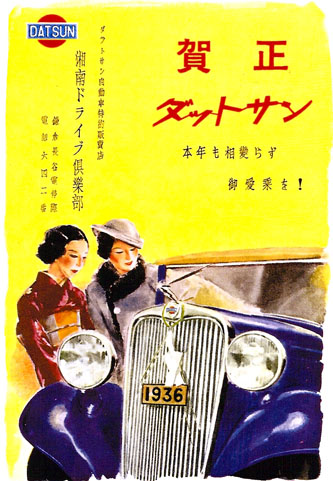 Happy motoring, indeed, with much more to come in 2008!
HAPPY NEW YEAR!