The plan was simple. Three classic car shows, one week, 1,000 miles of driving. We even had at our disposal Japan's latest long-distance luxe-UV, a brand spanking new 2013 Infiniti JX35. What could go wrong? A lot, apparently. Oh, it wasn't the Infiniti's fault at all —unless you can blame it for being too attractive to thieves — but I'm getting ahead of myself here. Let's start at the beginning.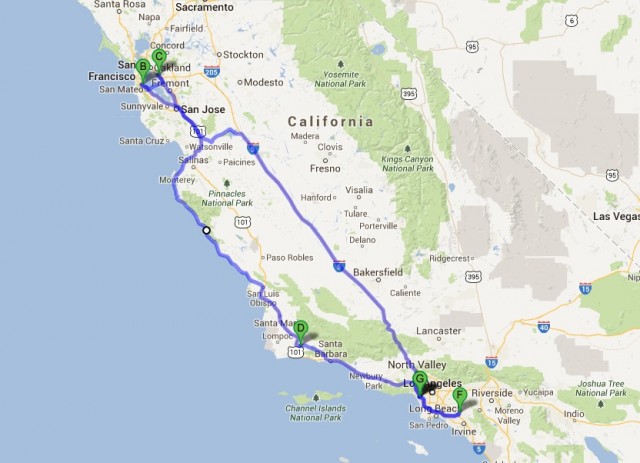 The beginning, in this case, would be JNC world headquarters in beautiful, smoggy Los Angeles. From there, we'd head north to SFO to pick up my car-fiend cousin Steve, a native New Yawker who had for some reason never before visited California.
We'd give him the grand tour — Shokuji J-Tin, a few days shooting photos in San Fran and talking JNC bidness with the NorCal team, then down the Pacific Coast Highway in time for the Solvang Roadster Classic and the Motorsport Auto West Coast Z-Car Nationals, both on the following weekend.
Our last Infiniti SUV was the biggest honkin' bullet train in Nissan's arsenal. The JX was the newest, a $50,000 sculpture of glass and steel. We almost felt bad loading all our booth gear into the brand spanking new Kasane Washi-trimmed interior (supposedly inspired by traditional origami parchment), but it was the only way to haul it 400 miles across the California Republic.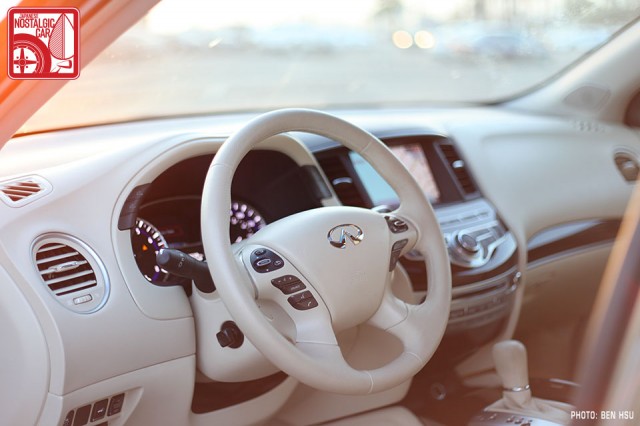 Normally, a six hour trek over the state's dreaded inland regions is sleep depravation torture (especially in an A/C-less nostalgic). The southwestern sun relentlessly bakes you into an oven of fetal warmth that'll lull even the most Four Loco-wired tweaker into a balmy sleep — not ideal for driving long distances.
But not us! With morgue-level cooling power and ventilated Barcaloungers puffing a constant frosty breeze onto our badonks, we sauntered forth fresh as a summer's breeze.
Floating on a cushion of sumptuous white leather did elicit a pang of guilt when we passed the beef slaughterhouses along Interstate 5 —  known by LA-to-SF commuters as "Cowschwitz" — but the JX was so god-forsakingly luxurious that we were easily willing to sell our souls to PETA hell.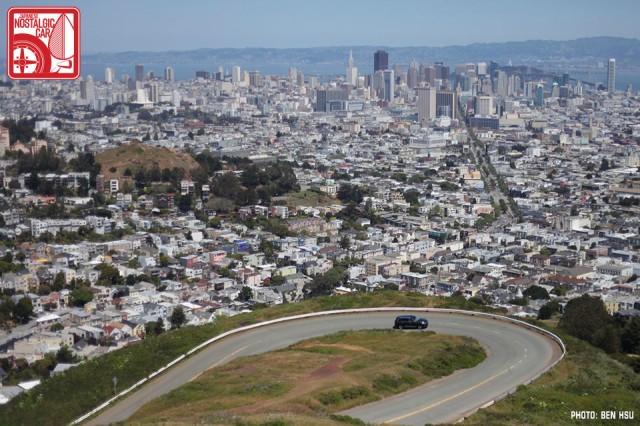 The drive to San Francisco International Airport could not have contained less drama. We welcomed Steve to Cali and showed him what is hands down the most beautiful city in the US — Land's End, the Golden Gate Bridge, Palace of Fine Arts, and fine sandwich dining at Ike's Lair. For a quick overview of  Baghdad by the Bay, we hit up Twin Peaks, home of that famous winding road used in every third car commercial.
We know San Fran, but not well enough to drive it blind, and having Infiniti's in-house developed GPS was a huge time saver when you want to pack many sights into a limited time. I abhor the term "infotainment," but Infiniti's is best-on-market right now — simple, intuitive, and with Bluetooth integration that works, even with my incredibly buggy Motorola Droid X that confounds every other automaker's system.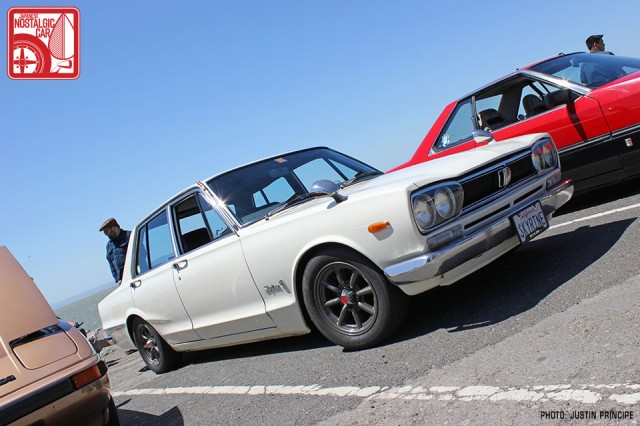 The next day we arose bright and early to set up our booth at the Wangan-like bayside of San Leandro Marina. We were joined by JNC editor Ricky Silverio and contributing photographer Justin Principe, who were instrumental providing you with show coverage from their hood. For the full monty, see Shokuji J-Tin parts 01, 02 and 03.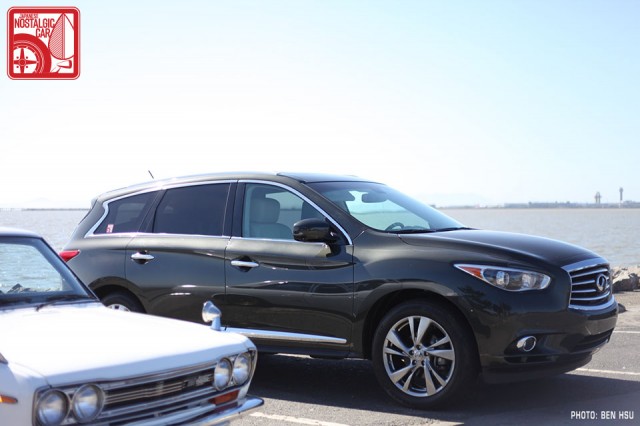 With our memory cards overflowing with photos, we packed up the JX and the JNC crew went out for some well earned pizza. We spent the next couple of days talking JNC plans  and scheduling some shoots around the Bay Area's nostalgic scene.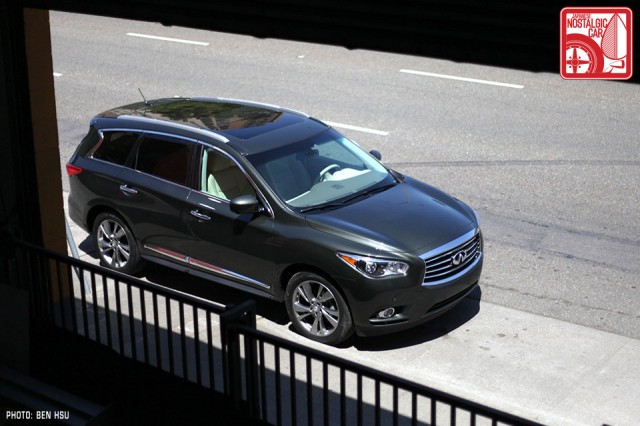 One of our stops was Oakland tuning house Performance Options. Owner Joey Gauthier is well known for building some of the Bay Area's slickest resto-mod Toyotas, but his shop caters to old school cars of all marques. Joey graciously showed us around as we filled up even more memory cards in preparation for a future feature. Here's the view from the second floor balcony that overlooks the shop.
Next on the agenda was San Jose's Z Car Garage, but first we decided to stop in Japantown for a quick bite. That's when everything went horribly, gut-wrenchingly wrong.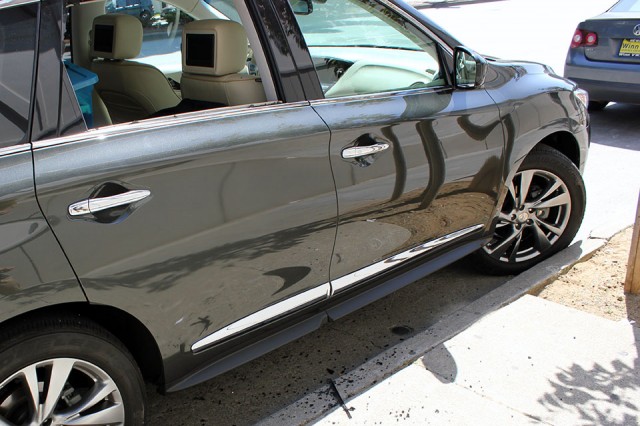 Here's a JNC pro tip: when visiting Japantown San Francisco, do not park on Geary Street, even if it's smack dab in the middle of the day and there are people everywhere.
"Hey, I don't remember leaving the rear window down," I thought to myself as we returned to the car. It took me a second to realize that the window was actually no longer a window and 10,000 bits of tinted glass instead. Commence flipping the F out! Sadly, no amount of pounding things like an enraged ape could summon back the digital SLR camera and laptop that had been stolen.
We checked with security; no cameras on that side of the building. We asked some construction workers nearby. Apparently that area is notorious for car break-ins, especially when you have out-of-state plates like the JX's Tennessee manufacturer tags. That's when Steve noticed that all along the street lay shards of automotive glass from other cars. Boom. We had fallen right into their trap.
It wasn't just the equipment that hurt. Countless hours of JNC work were on the memory card and hard drive of that equipment — photos that had taken weeks to shoot, sort and retouch; artwork that had to be redrawn; ideas from brainstorming sessions that will now never be realized.
And then there was the question, so what exactly happens when you sustain damage to a $50,000 press car?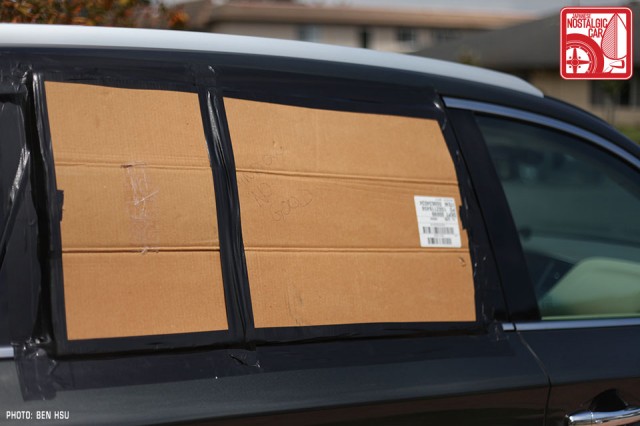 Turns out they could not have been more understanding. Infiniti and Page One even offered to give us another car from their San Francisco fleet so we didn't have to drive back to LA with a cabin full of glass. Unfortunately, the only vehicles that could fit our gear were already booked.
We couldn't wait, either, as the sudden downturn in luck meant that we had to book it back to HQ to have even some hope of meeting our deadlines. At this point my mind was so frazzled I didn't even know what data I had backed up. There was only one thing to do — good ol' cardboard and duct tape!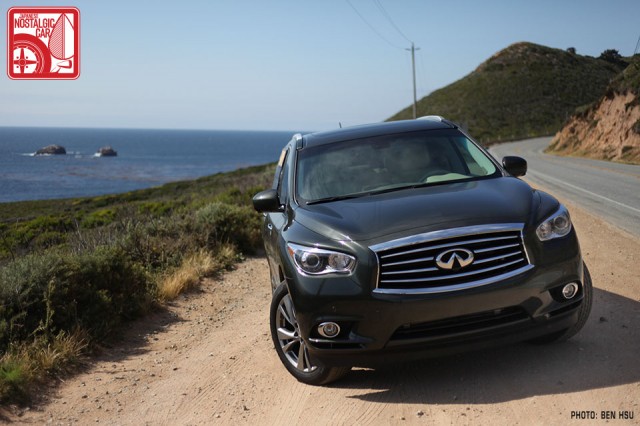 This was not how I wanted to introduce California to Steve. Though forced to cut our San Francisco leg short, the least I could do was take him down the Pacific Coast Highway. However, since we didn't have any way to secure the car we'd have to do all 440 miles in one go.
At this point I need to give Ricky and Justin a heartfelt thanks for helping me cool down and change six zillion passwords on various personal and JNC accounts. And if it wasn't for Justin's double coverage at Shokuji J-Tin, we'd hardly have photos of that event. Also, Australian editor Kev deserves a big domo arigato for holding down the fort with articles from halfway around the world while all this went down.
If you've never driven the PCH, put it on your bucket list. It's truly one of the world's great byways. North to south is better, as it puts you closer to scenic cliffs plunging into the Pacific, as well as the nonstop chain of stunning overlook vistas that dot Highway One. If you can avoid the tourists in their endless parade of rental Mustang convertibles, you'll be treated to some of the most breathtaking scenery America has to offer.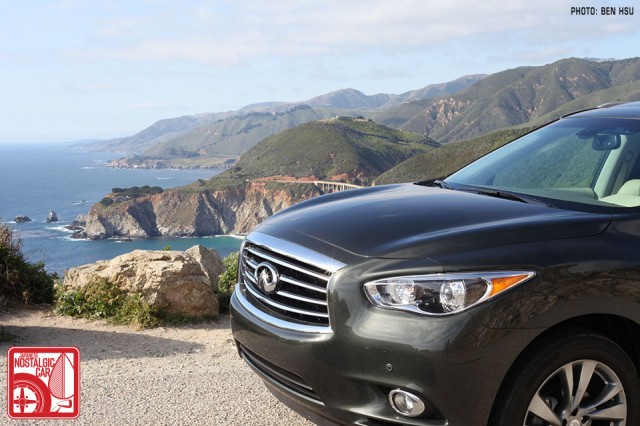 Roads like this are why god created cars. I never knew why Dustin Hoffman, racing to stop the wedding of his true love in The Graduate, opted to drive the slower route from Berkeley to Santa Barbara until I drove it myself for the first time in 1999. Turns out, back in 1967 when the movie was filmed, it was the most direct route, but even if the 101 was complete, it'd probably still have been worth it. And having someone who had never experienced it before along for the ride made me appreciate it all over again.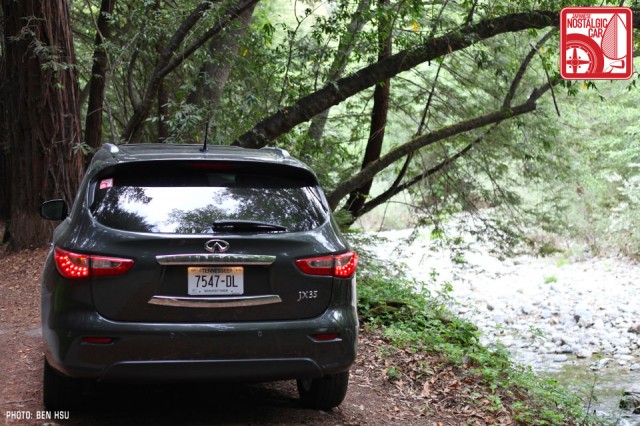 After winding down the coast for about two hours, Highway One enters Big Sur. In the 1960s its wilds and natural beauty became a prime location for artists' retreats. Many a spiritual journey took place here, and there are still colonies (nudist and otherwise) present.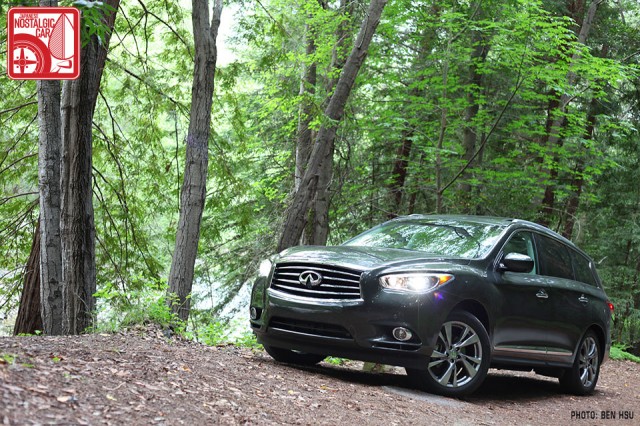 When we had the Infiniti QX56 we quickly got used to (and grew to like) its alien styling. The JX is the next interpretation of Infiniti's Dynamic Adeyaka theme introduced on the astounding Essence concept. The result is a lot of interesting surfacing, odd at some angles, but downright dazzling in others.
The scenery wasn't the only thing that turned our heads. Automotive decor that Steve never saw in New York, from a Gene Hunt Quattro to a JDM Mitsubishi Delica 4WD livened up the landscape too.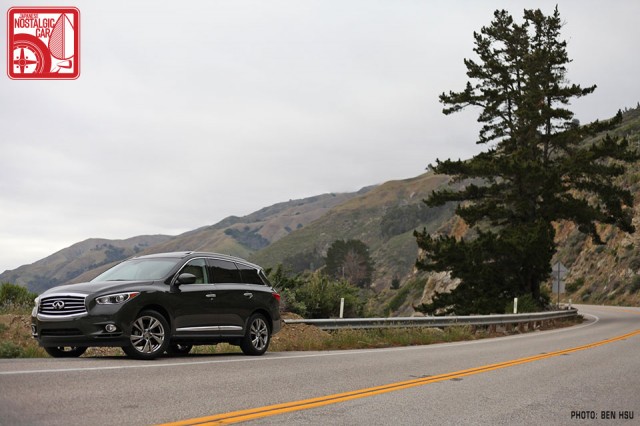 If you'll remember, the QX used to be based on the venerable Nissan Pathfinder when it debuted in 1996. Now that it's graduated to the uber-big Patrol platform, the new Pathfinder-based JX has been called upon to fill that gap. If all this is confusing, don't worry. Next year Infiniti will completely do away with its alphabet soup and replace every model name with Qs. That's right, you get a Q! You get a Q! Everybody gets a Q!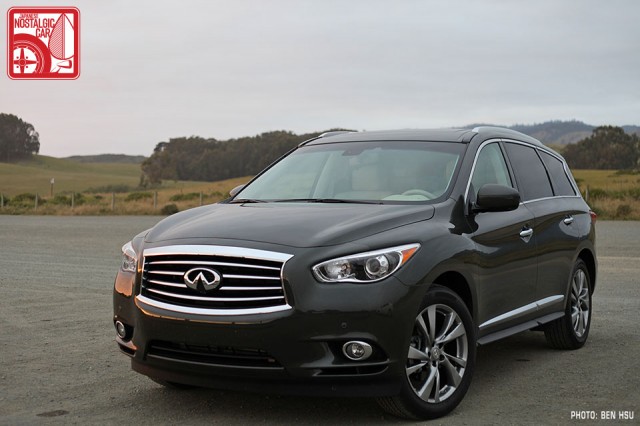 The numeric part will then become an arbitrary number no longer tied to engine size. The G37 will become a Q50, the JX35 a QX60. That's because Infiniti is in the midst of launching a global branding takeover in many countries where Gs and Ms are meaningless. Engine size, too, is quickly becoming irrelevant as fewer liters backed up by hybrid powertrains produce more power than pure displacement (A JX hybrid has already been announced).
BMW's numbers are already devoid of any connection to the motor, so rather than mislead customers it was time to make the switch. What better letter to represent the entire Infiniti line? It had to be Q, made famous by the original Q-ship, the 1990 Infiniti Q45.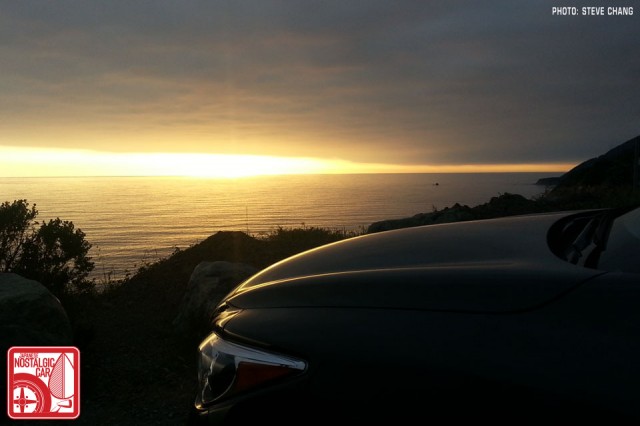 As we approached San Luis Obispo the sun began to set. From there, we'd turn inland and connect with the 101, passing Solvang back to LA. The next day, we took the JX in to have the window replaced and they gave us a G37 for the day.
Most JNC readers are probably already familiar with the G37. Same VQ-series, but with 328 horses to the JX's 265, mounted longitudinally and with Nissan's variable valve timing system. In the much smaller and cozier G, the extra 63 ponies felt like a Titan V rocket booster. It's truly astounding how many Nissans share some variant of this V6 workhorse. If we counted correctly, that's 18 different models.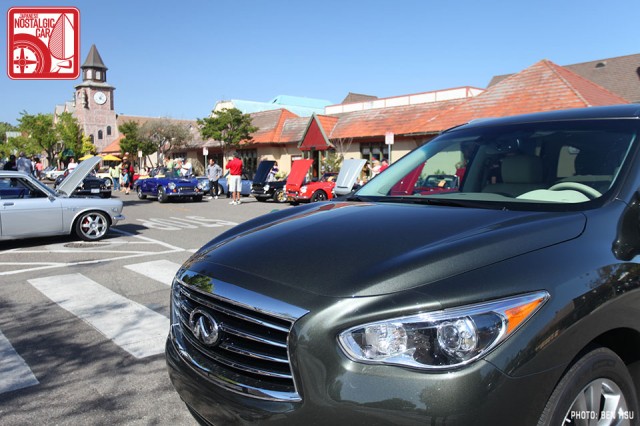 The repair was easy enough, and a few hours later we were back in the JX. And few days after that, we were backtracking 140 miles up the coast to Solvang for the Datsun Roadster Classic.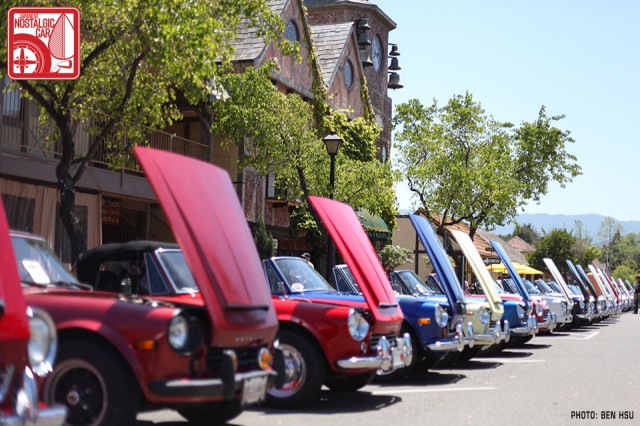 The annual gathering of Nissan's first successful sports car brought 90 examples the gorgeous two-seaters together. Unfortunately, due to the setbacks caused by the break-in we couldn't give the show the full coverage it deserved.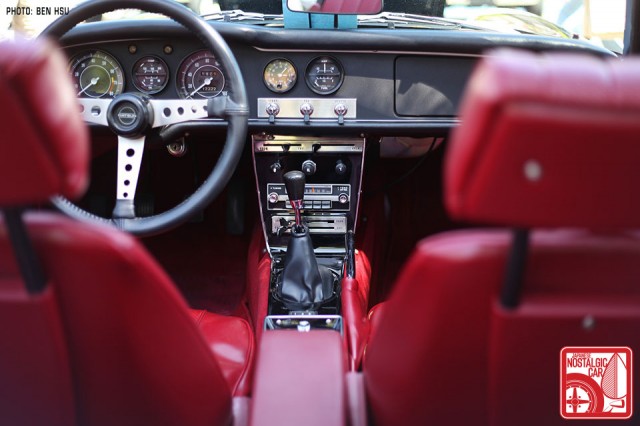 It's noteable though, as one of the few shows where, as a result of the droptops, interiors are just as much on display as the cars themselves. It was a pleasant reminder that Nissan's been crafting splendid cabins for over 50 years.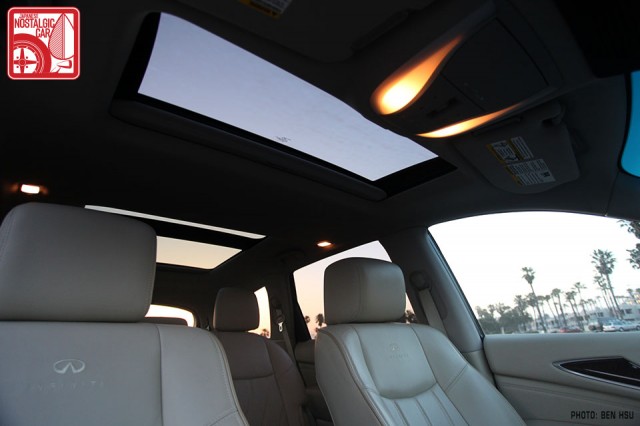 For an SUV, the JX was almost as open-air as the Roadsters thanks to a gargantuan dual sunroof. We took the coastal route back to LA through Malibu with all six openings open. The JX slipped effortlessly into the stream of blinged out beach bunny Land Rovers, and I think the emerald chariot even got a few looks from them.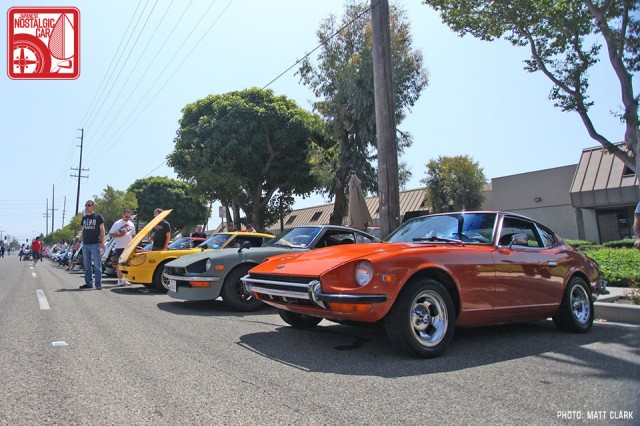 The next day had us up to our eyebrows in Nissans once again at the Motorsport Auto's Z-Car West Coast Nationals. After what we'd been through, the drive to Orange County was a cakewalk. For our full coverage of the event, see Parts 01 and 02.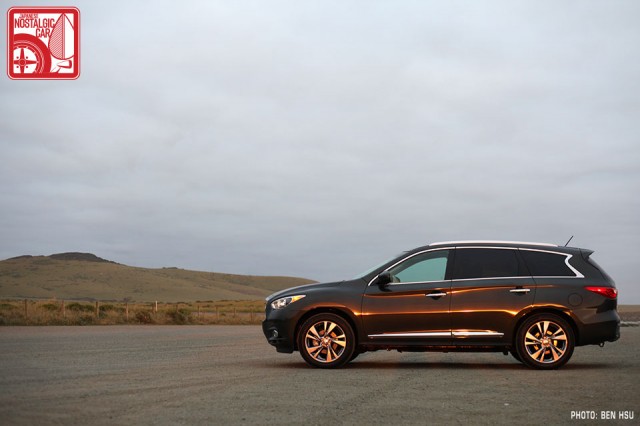 And with that, our one-week-plus-a-day time with the JX was over. In spite of the hapless events in San Francisco, I think we managed alright. We apologize that some of our event coverage over the last month has appeared out of order.
As for Steve, he fell head over heels in love with California. In fact, he's picking up an entire lifetime in New York and moving to LA at the end of the month. Ultimately, it wasn't the glittering coastlines or perpetual sunshine that got to him; it was the glorious deluge of car culture we take for granted here.
Welcome to Cali, buddy. Just be sure to watch where you park in Japantown.