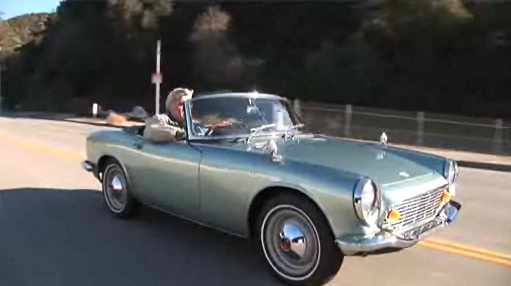 If you don't know by now that comedian and late night talk show host Jay Leno is a car collector extraordinaire, then we hope the alien probing wasn't too painful and welcome you back to planet Earth. The great thing about Leno is that he's not just some rich guy who throws money at the latest horsepower-soaked auction queen to pad his collection. The man knows and loves machines, and works on everything he owns, from Stanley Steamer to Fiat Topolino.
His latest acquisition is a 1965 Honda SM600, which, under his care, promptly underwent a meticulous frame-off restoration with the help of Brian Baker of Formula H Motoworks. "If this had 'Porsche' written on it, it'd be worth $250,000, but because it's Honda, for some reason they don't get the respect they deserve," spake His Chinliness. Word up, Mr. Leno. If you've never heard a Honda S-car revving to its 9,500rpm redline through a Flowmaster during a fly-by, you need to drop everything and watch this video on Jay Leno's Garage. It's absolute music.
Thanks to dear reader tkmedia for the tip.