Reader extraordinaire gamby sent us a link to this BringATrailer.com, which posts on interesting classics up for sale, including some of Japanese stock. That got us thinking, one of the most frequent questions we get is, "How much should I pay for a [insert Japanese classic of choice here]?" to which we usually answer, "How ever much you want." This usually results in, "Thanks for nothing."
Perhaps it's about time we started following the market and giving you, our dear readers, reports on how it's looking for J-tin. After all, we're entering the era when Japanese cars are truly being recognized as serious classics. If you think this would be useful, let us know in the comments. Without further ado, here's the car that gamby sent us.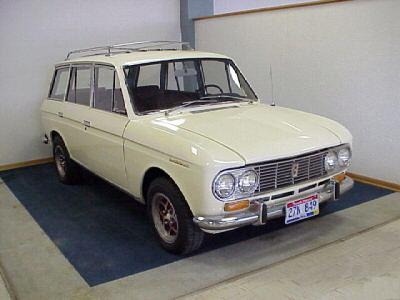 1967 Datsun Bluebird 411 Wagon. Predecessor to the iconic 510, the 411 was styled by Italian design house Pininfarina. This example is a not a pure survivor. It was repainted and reupholstered at least once in its lifetime, but the good news is it spent most of its life as an exhibit in a dealership showroom. 65,000 miles, aftermarket wheels of unknown brand, virtually rust-free. According to the owner, only minor rust exists, such as in the battery tray. Starts right up and runs, he says. It would take far more than the selling price to restore one to this condition (seller claims $8500 spent on restoration), if you can even find one. Sold at $4000 [ebay]. A very reasonable buy for a virtually one-of-a-kind car.