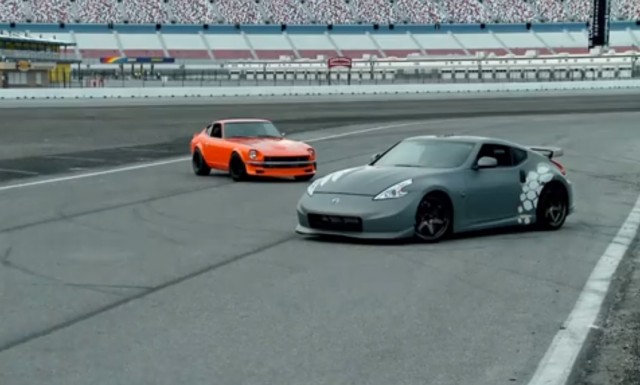 What's faster, a home-brew Datsun 240Z or a professionally built Nissan 370Z? Last year, Nissan Performance (ie, NISMO USA) reached out to the tuner community and asked them to modify a Z34 by voting for their favorite mods on Facebook. The result was the kind of money-no-object dream build most of us can only wish for, made from the best parts the aftermarket had to offer, from a GReddy turbo kit to Volk TE37-SL wheels to Yokohama Advan Neovas.
Gordon MacSwain, on the other hand, is someone we can all relate to. He built his S30 Z with his own hands in his Columbus, Ohio garage over a period of three and a half years. Along the way, Gordon updated all its mechanicals, including the engine, which is now an RB26DETT. Fans then chose to pit his baby against the crowdsourced Z. So, how does a sub-2300lb, 360hp nostalgic fare against a more powerful but heavier modern machine? Watch the video below. 
Not bad for a 40-plus-year-old car, eh? For those interested, here's parts 01, 02, and 03 of the 370Z build.