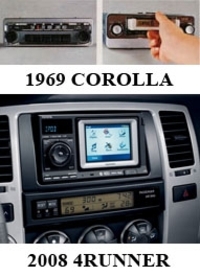 We often harp on Toyota for not doing much to celebrate it's 50th birthday here in the US of A, but we kid out of love. Also out of the realization that it's possible to do even less (we're lookin' at you, Nissan). That's why it's so refreshing to see the Big T succumb to the nostalgia and reflect upon its adolescence.
On the official Toyota Open Road Blog recently, the automaker took a look back on some of its past brochures to check the features that were trumpeted on those marketing materials. Amusement ensues.
Some of them fall into the "seemed like a good idea at the time category" like the 1963 Toyopet Tiara's old school linear speedo and turn sig switch on the steering wheel. Others remind you just how sparse these cars were and what kind of features we expect to come standard today. For instance, the 1965 Corona touted its sun visors, inside rear-view mirror, the fact that every door had an armrest, and front seat-belt anchors. The belts themselves were optional, however.
The thing we found most surprising though is that Toyota USA actually kept old brochures to refer to. Ha! We kid, we kid.