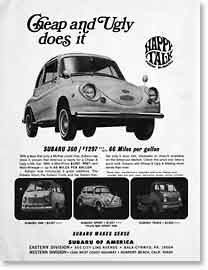 We apologize for the short notice, but we just discovered Subaru of America will be celebrating their 40th anniversary at the Philadelphia Auto Show. A small show, yes, but Philly is right next door to Subaru's Cherry Hill, NJ headquarters.
Subaru of Japan, on the other hand, is celebrating their 50th anniversary. More on this later.
Cars on display in the City of Brotherly Love will include the 360, FF1, Brat, SVX PPG Pace Car and STI 22B. Tomorrow, Sunday, is the final day for the show. Times and directions for the show can be found at the Philadelphia Auto Show website.