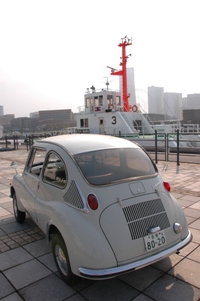 As part of Subaru's continuing celebration of its 50th anniversary, its official Japanese blog has taken the car that started it all – the Subaru 360 – out for a spin. It's short drive, but a rare glimpse into the O.G. kei car, and in case you were wondering how it feels to be behind its wheel, here's our poorly translated version of their writeup.
First off, the author points out how surprisingly low the seating position is, yet visibility is excellent. The 360 was intended to seat four adults, and the author notes that this is possible, without mentioning specifics about comfort (or lack thereof).
Shifting the three-speed transmission into first gear and letting out the clutch, he says (perhaps our Japanese translating skills are failing us here, or maybe this is entirely accurate), "it begins to move, without being completely awkward."
The steering response is "very natural," but compared to modern kei cars, it's vastly underpowered. That's to be expected, considering its engine is about the size of a moped's. Unexpectedly, the author finds the comfort level quite adequate, despite being significantly less so than modern cars.
So there you have it. Doesn't sound like it's something we'd take on modern roads with 18-wheelers and SUVs thundering about, but it might come in handy as a deployable dinghy if our wagon runs out of gas.
[Subaru]