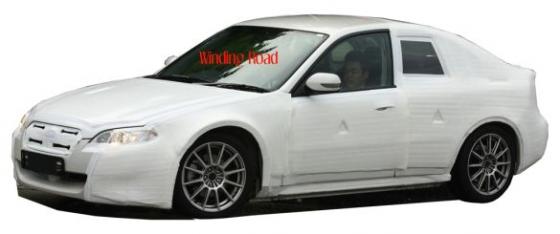 As you probably know, FR is coming back in a big way. Nissan, Toyota and Subaru (having joined forces with the Big T), all have lightweight RWD coupes in the pipelines.
First, let's check in with the Toyobaru joint venture that we've been following since last year. This Subaru Legacy-lookin' test mule was spotted by spy photographers in da UK wearing a lot of camouflage and a Toyota badge. All signs point to this being the much ballyhooed AE86 (and possibly Celica) successor. Sorry, Toyota fans, Latest rumors swirling around the interwebs say that it will be sold as a Toyota only in Japan and as a Subie elsewhere in the world. Maybe that's just as well since by all accounts it'll be powered by Subaru's flat four, which many swear will not make it a true Toyota.
As for Nissan, there's been talk of a Silvia revival, which may actually beat the Toyobaru to market in 2010. Latest word is that it might sport hybrid or all-electric power. Instant torque!
Lastly, there was much excitement at JNC headquarters when we saw a leaked photo of the new 370Z showing a hint of old school 240Z C-pillar. Unfortunately, pictures released since don't seem to have the design cue so we're not sure what to believe. For now, we're siding with the first leaked pic, because that looked more like an official Nissan image. That, and because we have hope in our hearts.